Eeek! You read that some spices have oxalate in them. Your heart skips a beat and you start to Google what low oxalate spices you can use.
Firstly, don't panic. The amount of oxalate spices add to your food is usually minimal. Chances are, you really don't need to worry about oxalate in spices. I promise!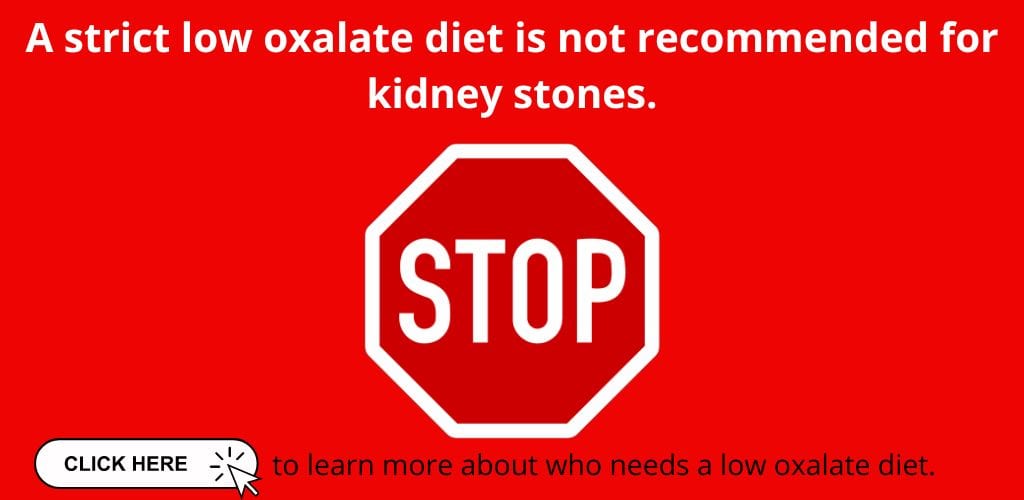 Who Needs Low Oxalate Spices?
Firstly, who should be worried about low oxalate spices in the first place? Oxalate is blamed for a whole host of conditions. Nearly all of them have NOT been shown to be improved with a low oxalate diet.
Oxalate is most known for it's role in kidney stone formation. Most kidney stones are made of calcium oxalate. However, high urine oxalate is not usually the cause of kidney stones (high urine calcium is!). Make sure you know what the cause of your kidney stone is before stressing about low oxalate spices.
The only way to know the cause of kidney stones is a 24-hour urine test. Chances are, there are other diet changes that would make a much bigger difference than a low oxalate diet.
The American Urological Association recommends reducing how much oxalate you eat, ONLY if you have high urine oxalate levels and confirmed calcium oxalate stones. They also recommend to make sure you are eating enough calcium (1,000-1,200mg per day).
How Much Oxalate Should I Eat?
The right amount of oxalate is different for everyone. Many people with kidney stones do not need do even consider oxalate in their food choices. IF you do have high urine oxalate, despite eating enough calcium, it does make sense to limit very high oxalate foods.
I DO NOT recommend "counting" oxalate or aiming for a certain amount of oxalate per day. There is no published guideline for how much oxalate a "low oxalate diet" is anyway! Instead, I recommend looking the foods you eat frequently to see if there are any very high oxalate foods that stick out.
Notorious High Oxalate Spices
These spices are most known for being "high" oxalate spices:
Turmeric (50mg oxalate per teaspoon)
Cinnamon (40mg oxalate per teaspoon)
Clove (42mg oxalate per teaspoon)
Black pepper is often cited as being "high" in oxalate. However, a teaspoon of ground black pepper only has 12 mg of oxalate.
Does Oxalate in Spices Matter?
Remember, we need to look at the big picture here. How much oxalate is that cinnamon on your applesauce really adding to your day. Chances are, it isn't significant.
Black pepper is perhaps the most notorious "high" oxalate spice. However, one entire teaspoon of black pepper has about the same amount of oxalate in a SINGLE baby spinach leaf. You likely are eating a LOT more than 1 baby spinach leaf, and likely a LOT less than an entire teaspoon of black pepper in one sitting.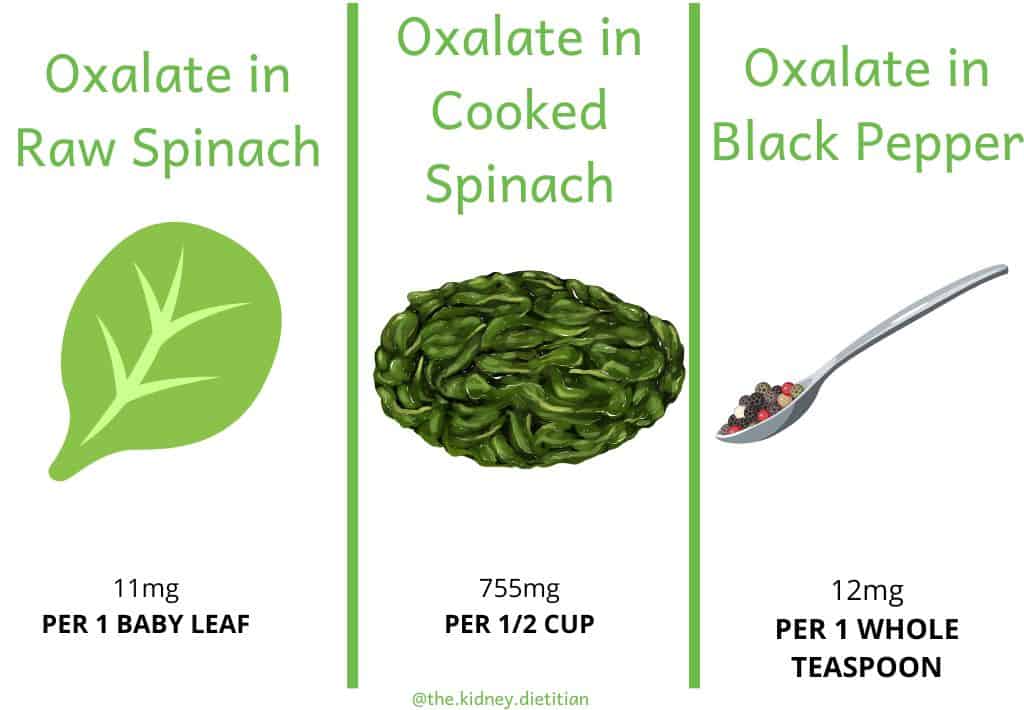 High Oxalate Spices: When To Be Concerned
The only time I get remotely concerned about oxalate in spices with supplements.
Supplements are potentially a very concentrated source of a spice (and therefore oxalate). You can easily consume a much larger dose of oxalate in supplement form. However, you are likely not eating large amounts of spices in food.
The most common high oxalate supplements I see are:
Cinnamon
Clove
Turmeric
Green "superfood" powders and pills
Low Oxalate Spices: The List
Here are a list of low oxalate spices and herbs. Remember, for most people, ALL spices are "low oxalate" and can be enjoyed to make your food delicious. Honestly, the salt you cut out by using spices to make food delicious is doing you MUCH more good than choosing low oxalate spices.
Low Oxalate Spices
Spices lower in oxalate with estimated oxalate amounts.
| | Oxalate (mg per teaspoon) |
| --- | --- |
| Chili Powder | 8 |
| Cayenne Powder | 6 |
| Allspice | 20 |
| Basil, dried | 9 |
| Cardamom, ground | 6 |
| Cumin, ground | 20 |
| Curry Powder | 24 |
| Dill, dried | 9 |
| Fennel Seed, dried | 22 |
| Garlic Powder | 0 |
| Ginger, ground | 16 |
| Nutmeg, ground | 2 |
| Oregano, dried | 8 |
| Onion Powder | 20 |
| Paprika | 6 |
| Parsley, dried | 6 |
| Red Pepper Flakes, crushed | 2 |
| Rosemary, dried | 9 |
| Thyme, dried | 2 |
| White Pepper | 1 |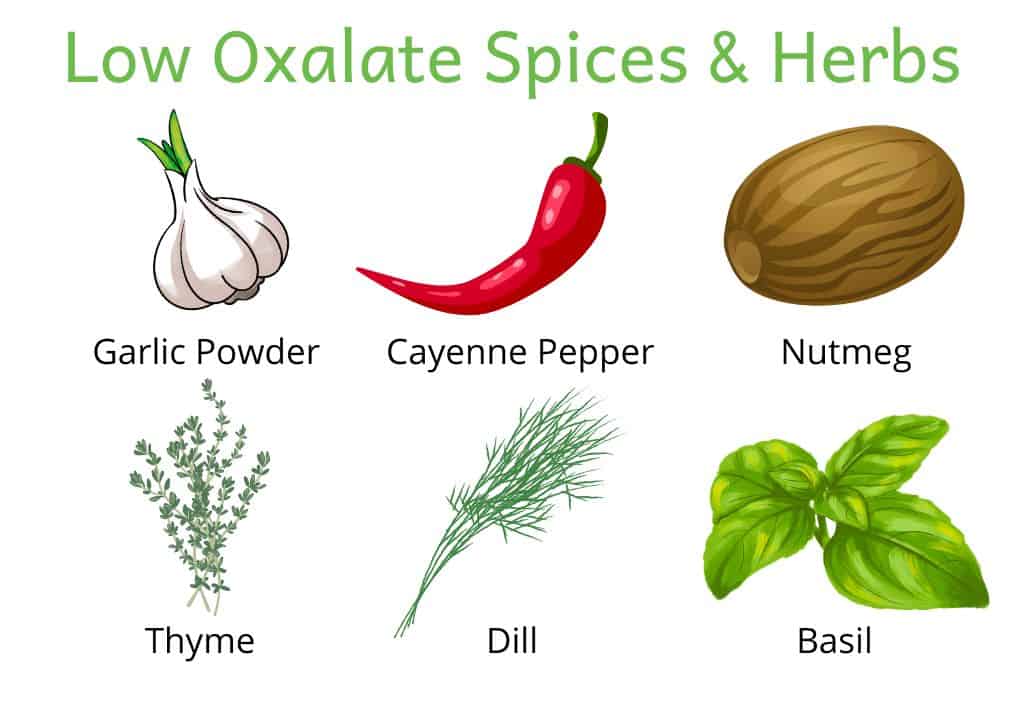 Low Oxalate Spices: A Kidney Stone Dietitian's Advice
For every single person I've ever worked with, I advise them to NOT WORRY about oxalate in spices used in cooking or on food. The amount of oxalate you are realistically going to get from even higher oxalate spices in minimal.
Instead, spend your energy diving into your 24-hour urine test to know what is REALLY causing your kidney stones. Chances are, you are eating too much sodium, protein or added sugar, too little calcium and produce, or simply not drinking enough water.
Happy Eating!
Melanie