Although collecting your urine for 24 hours isn't the most glamorous task, the information you get from this test is invaluable. Plus, it is a whole lot better than needles in my opinion! A 24-hour urine test will test for oxalate and many other minerals and factors that impact your risk for kidney stones.
Learn more about this test for oxalate and other kidney stone urine risk factors.
Why To Test For Oxalate
Testing for oxalate is important for people who have had kidney stones. A 24 hour urine test will test for oxalate, and other important urine risk factors for kidney stones like urine volume, calcium and citrate levels.
Your doctor may also test for oxalate and kidney stone risk if have Crohn's disease or have had bariatric surgery or other type of intestinal surgery. All of these conditions can change how your body absorbs oxalate and put you at higher risk of kidney stones.
Risks of High Oxalate Levels
The biggest risk of high oxalate is kidney stones. High levels of urine oxalate increase your risk for the most common type of kidney stone, calcium oxalate.
Some animal studies have shown that oxalate crystals can cause faster progression of Autosomal Dominant Polycystic Kidney Disease. (1)
Rare Complications of High Oxalate Levels
In extreme situations, high oxalate can cause kidney damage. However, these complications usually only happen with a history of Roux-en-y gastric bypass surgery, excessive vitamin C supplementation, or a rare genetic condition called primary hyperoxaluria. (2) (3)
Some cases of kidney damage have been reported with extraordinarily high oxalate intakes. But, in all cases, oxalate foods were being consumed in very high concentrations such as in supplements or smoothies. (4) (5)
If kidney damage is severe, this can cause kidney failure. If oxalate levels remain high in kidney failure, oxalate can build up in the blood. This is a condition called oxalosis. Oxalosis can cause arthritis, bone disease, anemia, skin ulcers and heart and eye problems.
Risks of Low Oxalate Levels
Oxalate itself doesn't have a function for humans. Therefore, there are no risks of low oxalate levels.
3 Ways to Test For Oxalate
There are a few ways your doctor can test for oxalate. Let's walk through the 3 common oxalate tests.
24 Hour Urine Oxalate Test
The most common way to test for oxalate is with a 24-hour urine oxalate test. This test measures the amount of oxalate in your urine for an entire day.
A 24-hour urine oxalate test is the best way to know if you need to limit how much oxalate you eat. If your urine oxalate is not high, oxalate is likely not the cause of your kidney stones and you do not need to limit high oxalate foods.
To complete a 24-hour urine test, you need to collect your urine for a 24-hour period. Your doctor will give you exact instructions about when to start and stop your urine collection. You may need to add a preservative to the collection. Different labs have different collection protocols, so be sure to follow your instructions carefully.
There is not an official definition of a "high" level for oxalate on a 24-hour urine test. But, an oxalate level over 40mg of oxalate per day should be addressed. Keep reading to learn how to lower oxalate levels.
A 24-hour urine test will give you the most complete picture of the cause of kidney stones. Oxalate is only one possible cause. See below for other important things a 24-hour urine test will measure.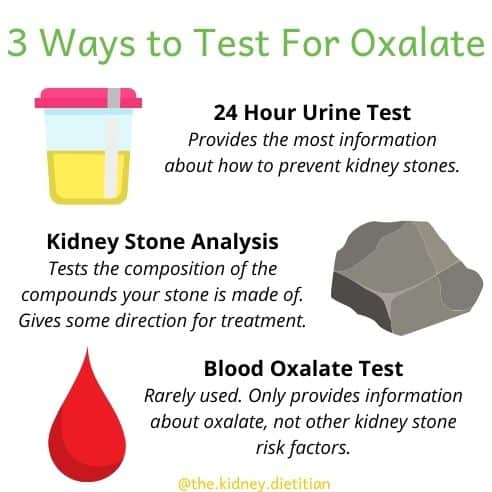 Kidney Stone Composition Analysis
You can test for oxalate by analyzing your kidney stone itself. It is important to know what kind of kidney stone you have, because medical and nutrition treatment is different for different kinds of kidney stones.
To get your kidney stone analyzed, you usually simply need to give your stone to your doctor. If you pass a kidney stone at home, try to catch it with a screen or fine mesh colander. If it passes at the hospital or doctor's office, make sure your medical team sends it to be analyzed. If you have surgery to remove a kidney stone, confirm your doctor will analyze the stone fragments.
Chances are, your kidney stone is made from many different compounds. It is rare, for example, for a kidney stone to be 100% calcium oxalate.
Blood Oxalate Test
A blood oxalate test is less common. This test doesn't check other kidney stone risks, so it doesn't give a comprehensive picture of why kidney stones are forming.
This test is most commonly ordered for the rare genetic condition, primary hyperoxaluria. It could also be used for people who have had bowel surgery or are being evaluated for a kidney transplant.
A normal blood oxalate level is <2.0 mcmol/L. (6)
How Much Is An Oxalate Test?
The cost of your oxalate test depends on your insurance coverage. I recommend checking with your insurance before you schedule an oxalate tests to make sure it is affordable. Alternatively, you can work with the finance department at your doctor's office to help you determine coverage.
In most cases, the oxalate test will be covered by your insurance if you have a history of kidney stones or hyperoxaluria.
Beyond Oxalate: Other Important Pieces Of A 24-Hour Urine Test
A 24-hour urine test will measure much more than oxalate. Oxalate is only a (relatively small!) piece of the puzzle when it comes to kidney stone prevention.
Urine Volume
Goal: At least 2 1/2 liters
Urine volume is perhaps the most important thing you can change to reduce kidney stones. The higher your urine volume, the less concentrated the minerals in your urine are. This equates to a lower risk of kidney stones!
For kidney stone prevention, a urine volume of at least 2 1/2 liters per day is recommended. (7)
Urine Calcium (Ca)
Goal: Less than 200mg (women) or less than 250mg (men)
High urine calcium (or, hypercalciuria) is the most common cause of kidney stones. If urine calcium is high, your doctor will probably check to make sure you do not have hyperparathyroidism, sarcoidosis or other causes of hypercalciuria.
Counterintuitively, people who have high urine calcium do not need to limit how much calcium they eat. Instead, it is important to eat enough calcium from food for kidney stone prevention. (7) (8)
To lower urine calcium, your doctor may prescribe a thiazide diuretic. Limiting sodium to 2,300mg per day and avoiding too much added sugar and protein can also reduce urine calcium levels. (8)
Urine Citrate
Goal: At least 550mg (women) or 450mg (men)
Low urine citrate levels cause kidney stones. Citrate makes it harder for kidney stones to form. (9)
If you have low urine citrate, your doctor may prescribe potassium citrate. You can also increase urine citrate levels by eating plenty of fruits and vegetables and avoiding large amounts of protein. (9)
Citrate supplements, such as Litholyte* and Moonstone* are also available. Ask your doctor if these supplements are right for you. In some cases, these supplements could increase urine pH too much.
Urine pH
Goal: 5.8 – 6.2
Urine pH is a measure of acid levels in your urine. Low urine pH means there is too much acid. High urine pH means there is not enough acid.
Most people have a urine pH that is too low (or, they have too much acid in their urine). Low urine pH is a risk factor for uric acid kidney stones, and (to a lesser extent) calcium oxalate kidney stones. (7)
To increase urine pH, make sure to eat plenty of fruits and vegetables. Aim for at least 5 servings each day. Too much protein can lower urine pH, so avoid too much animal protein.
Urine Sodium (Na)
Goal: 100mEq (translates to eating 2,300mg of sodium)
The amount of sodium in a 24-hour urine test is almost an exact measurement of the amount of sodium you eat. Because eating too much salt puts you at risk of kidney stones, this is a great way to check in and see how much salt you are eating. For many people, this can be eye opening!
Sodium on 24-hour urine tests is usually given in milliequivalents (mEq). Use this equation to figure out how many milligrams of sodium you are eating:
Sodium intake (milligrams) = 24-hour urine sodium (mEq) x 23
Remember, most people should eat no more than 2,300mg of sodium per day for kidney stone prevention.
Urine Urea Nitrogen (UUN)
Goal: Varies
Urine urea nitrogen is an estimate of how much protein you eat. This is important because too much protein can lower urine pH and citrate. Excess protein can also increase urine calcium and possibly oxalate. (7)
To use UUN to see how much protein you are eating, use this equation:
Protein intake (grams) = [(Body weight in kilograms x 0.031) + UUN in grams] x 6.25
Supersaturation Calculations
Goals: Calcium Oxalate <4, Calcium Phosphate <1, Uric Acid <1
You may have a value for the "supersaturation" for calcium oxalate (SSCaOx), calcium phosphate (SSCaP) and uric acid (SSUA) on your 24-hour urine test results. Think of these as a "risk score" for the chance of forming that kind of kidney stone.
Supersaturation is determined by all the things in the 24-hour urine test that impact risk for that particular kind of kidney stone.
Where Does Oxalate Come From?
Oxalate that shows up on oxalate tests comes from two primary sources: what your body makes (aka the liver), and what you eat.
Oxalate From Your Liver
Your liver can make oxalate from certain compounds including some sugars, ascorbic acid (aka vitamin C!) and some proteins. (10)
The oxalate your liver makes accounts for a large amount of the oxalate in your body! Up to 50% of the oxalate in your urine can come from oxalate liver production. (10)
Oxalate From Your Food
Oxalate also comes from the food you eat. However, dietary oxalate only accounts for 10-50% of the oxalate in your urine. (10) (11)
How to Lower Oxalate Test Levels
It may surprise you that the best way to lower urine oxalate levels is not necessarily to cut oxalate out of your diet.
Here are some things you can do to lower oxalate levels if your oxalate test is high.
Eat Enough Calcium
Counterintuitively, it is important for people with calcium oxalate kidney stones to eat enough calcium. Calcium binds to oxalate in the intestines, and reduces how much oxalate gets absorbed. (12)
Eating enough calcium tends to be the most effective way to lower oxalate.
Aim to eat 1,000-1,200mg of calcium per day. A goal of 3 servings of calcium-rich foods per day will meat this calcium goal. Dairy tends to be the best source of calcium. But, some dairy substitutes can also be good sources of calcium for kidney stones. (7)
Importantly, calcium supplements can add to kidney stone risk, whereas calcium in food reduces risk. (13)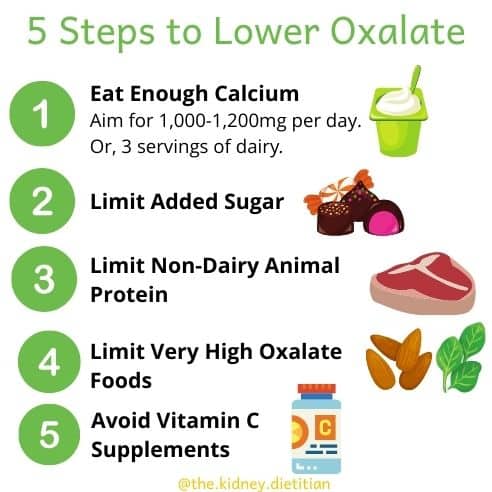 Avoid Too Much Protein & Added Sugar
Because your liver can make oxalate from some proteins and sugars, it is a good idea to make sure you eat the right amount of these nutrients. (10)
Most people should aim for a total protein intake of 0.8-1.0 grams per kilogram body weight per day. However, protein needs vary widely. Ask your dietitian how much protein is right for you.
The American Heart Association recommends no more than 25 grams of added sugar per day for women, and 36g for men.
Importantly, fruit does not contain added sugar. For most people, fruit should not be limited because fruit tends to help stop kidney stones. (14)
Oxalate Foods
If your urine oxalate is high, you should stay away from a few foods that are very high in oxalate. Here are foods that are very high in oxalate:
Spinach & chard
Almonds
Beets
Rhubarb
Raspberries
Navy Beans
Get my full oxalate list here!
Remember, the 24-hour urine oxalate test determines the right amount of oxalate for you. (7) If oxalate is still high despite getting in enough calcium, you may need to limit oxalate further. For most people, consuming enough calcium is enough to bring down oxalate levels to a safe range.
Work with your dietitian to figure out how much oxalate is right for you!
Avoid Vitamin C Supplements
Your liver is very good at making oxalate from vitamin C. Avoid any supplement, cough drop, vitamin or supplemented food that has vitamin C in it. (7) (10)
Look out for "ascorbic acid" – this is just a fancy word for vitamin C.
How Often Should I Re-Test For Oxalate?
Most people with kidney stones will need more than one 24-hour urine oxalate test. How often you need to re-test depends on many factors. If most things on the test look good, you may just need to re-test every 1-2 years.
However, if you make changes to your medications or diet, it makes sense to test more often. Oxalate tests and 24-hour urine tests will change almost immediately after medication or diet changes are made. However, I recommend re-testing after 2-3 months to make sure your diet is sustainable.
More Help With Kidney Stone Prevention & Oxalate
I know that this kidney stone stuff can be complicated and overwhelming. If you'd like more help learning with kidney stone prevention, check out these resources I've put together to help you stop those stones for good!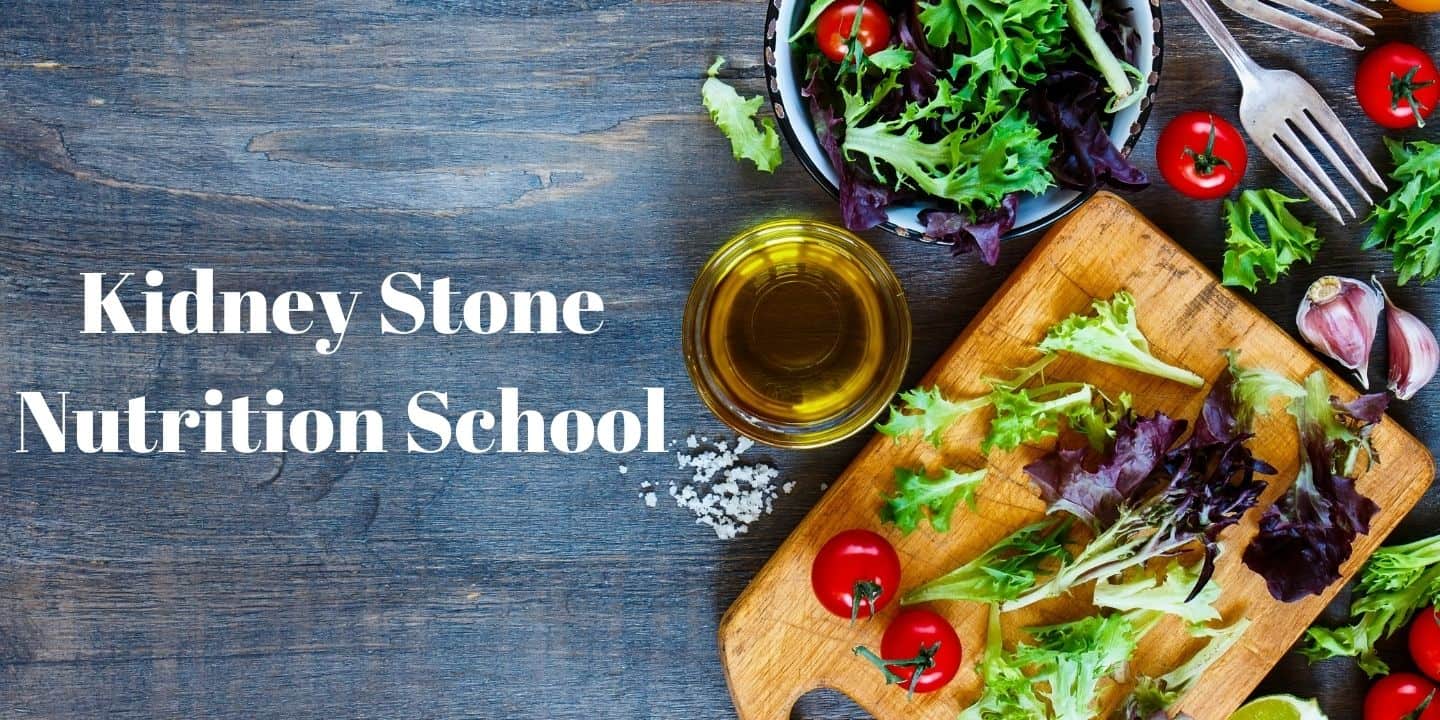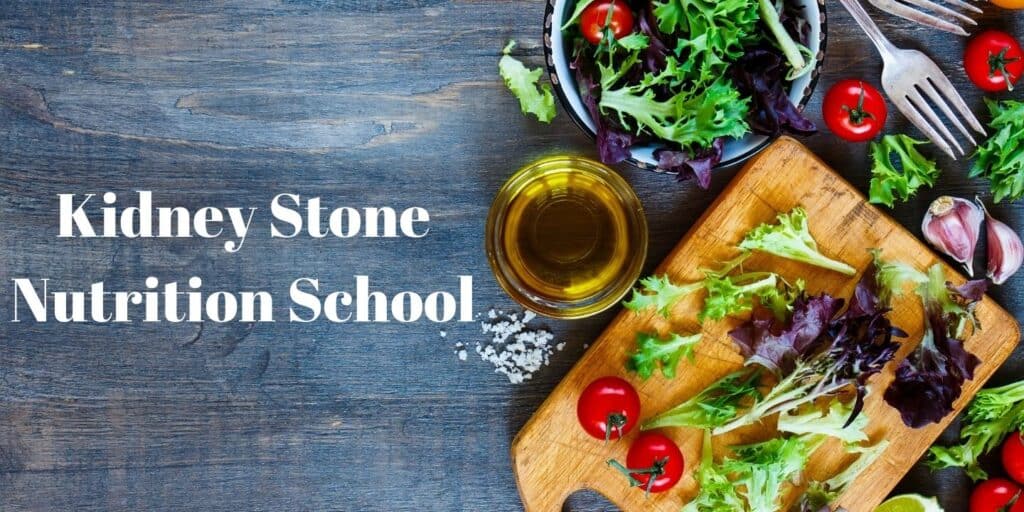 My signature 6-week online course is a deep dive into your oxalate test and 24 hour urine results. You will have a crystal clear picture of where to focus your kidney stone prevention efforts. At the end of the course, you'll know exactly what you should eat, and how your food can help stop those stones.
The course includes recorded lessons (so you can listen whenever it works for you!) along with worksheets, recipes and example meal plans to help you apply what you learn right away!
If you join during a live launch, you'll also have small group calls with me and other students! This is an invaluable time to ask questions and learn from me and your fellow students!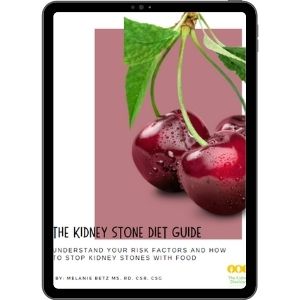 My Kidney Stone Diet Guide is a deeper dive into your 24-hour urine test. It includes step by step instructions to help you identify your kidney stone risk factors, and how to target them with the food on your plate!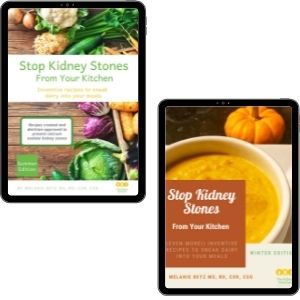 For many people, getting in enough calcium to lower oxalate on a 24-hour urine test can be a struggle. So, I created two eCookbooks that are filled with recipes that sneak in that calcium. Recipes are also low in sodium, added sugar, protein and oxalate to check all your possible kidney stone nutrition boxes!
As always, you can read up on everything kidney stones and nutrition right here on my site! Check out my personal favorite articles:
Happy Eating!
Melanie