As a condiment girl, low sodium sauces are essential! A low sodium diet does NOT have to be bland and boring. Low sodium sauces DO exist!
This post dives into all of my favorite low sodium sauces – organized by store bought and homemade options!
*Please note that this post contains clearly identified affiliate links. As an Amazon affiliate, I may earn a small commission on qualifying purchases (at no extra cost to you).
Why Are Low Sodium Sauces Important?
Most of us are eating way more sodium than we need. The Dietary Guidelines for Americans recommends no more than 2,300mg sodium per day. Yet most of us are eating closer to 3,500mg. Eating too much sodium can lead to high blood pressure, heart disease, stroke and kidney disease. (1)
If you have high blood pressure, kidney stones or heart, kidney or liver disease, a low sodium diet is especially important.
Most of the salt we eat comes from sodium that is ALREADY in foods – like sauces! Foods like sauces and other processed foods add about 80% of the sodium in our diet. So, swapping low sodium sauces for higher sodium options is key!
What is a Low Sodium Sauce?
The Food and Drug Administration (FDA) defines a low sodium food as anything with 140mg or less of sodium per serving.
There is not a standard portion size for sauces. Most sauces have a 2 tablespoon serving size. However, some are larger. A portion of pasta sauce is typically a 1/2 cup. Some are smaller. Soy sauce is typically listed as a 1 tablespoon portion.
Store Bought Low Sodium Sauces
Let's be real. We can't made ALL of our sauces at home ALL the time. Good news! There are lots of delicious low sodium sauces available at the grocery store. You just need to be choosy and make sure to read the Nutrition Facts label.
Here are my favorite low sodium sauces to get you started!
Worcestershire Sauce
This may come as a surprise! Worcestershire sauce fits into the low sodium sauce category. One teaspoon only has 65mg of sodium.
I love Worcestershire sauce because it packs such a big punch of flavor. One teaspoon is plenty to add a ton of umami flavor to soups, stews, dressings or meat dishes.
I typically buy Lea & Perrin's Worcestershire sauce*.
Coconut Aminos
Soy sauce is notoriously high in sodium. One tablespoon of soy sauce has about 850mg of sodium!
Coconut aminos is an amazing substitute for soy sauce in any recipe. Sodium content of coconut aminos varies a lot from brand to brand. I like Coconut Secret Coconut Aminos* with only 270mg sodium per tablespoon.
Balsamic Glaze
This might be my favorite! Balsamic glaze is a powerhouse of flavor. I LOVE to use this on caprese salad, avocado toast, roasted vegetables, fish and chicken. Honestly, it would probably be delicious on almost anything!
I love Gia Russa Balsamic Glaze* with only 5mg sodium per tablespoon.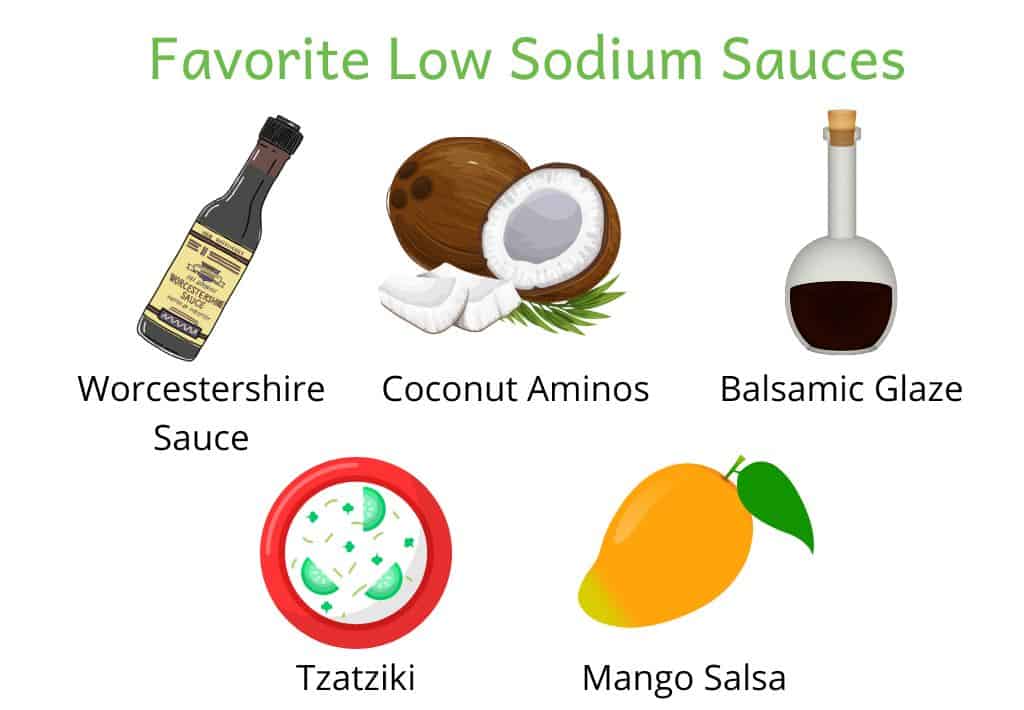 Tzatziki
Mmmm! Creamy, garlic and dill heaven! Tzatziki is a yogurt based Greek sauce typically flavored with lemon, garlic and dill. You can absolutely make your own tzatziki at home. But, there are plenty of low sodium options available commercially!
Tzatiki by 365 by Whole Foods* only has 95mg sodium per 2 tablespoons. Cedar's Foods Tzatziki* has the same. Cava Tzatziki* has only 60mg sodium per 2 tablespoons!
Mango Salsa
Most jarred salsa has around 250mg sodium per 2 tablespoons. Not sure about you, but I certainly need more than 2 tablespoons of salsa!
Mango salsa tends to be lower in sodium than just tomato salsa. A good example is this Green Jay Mango Salsa* with only 60mg sodium per 2 tablespoons.
Many grocery stores also have fresh mango salsa made in-house. These tend to be be very low in sodium too! I LOVE adding these to grilled chicken or fish. Or, on tacos to freshen them up! Of course, you can make your own fresh mango salsa too!
Pssst – here are my favorite low sodium tortilla chips*!
(Some!) Tomato Sauce
Most tomato or marinara sauce in a jar is PACKED with sodium. They typically have about 600mg sodium per 1/2 cup. The lowest sodium tomato sauce is likely one made at home. But, in a pinch, there are some MUCH lower sodium options out there!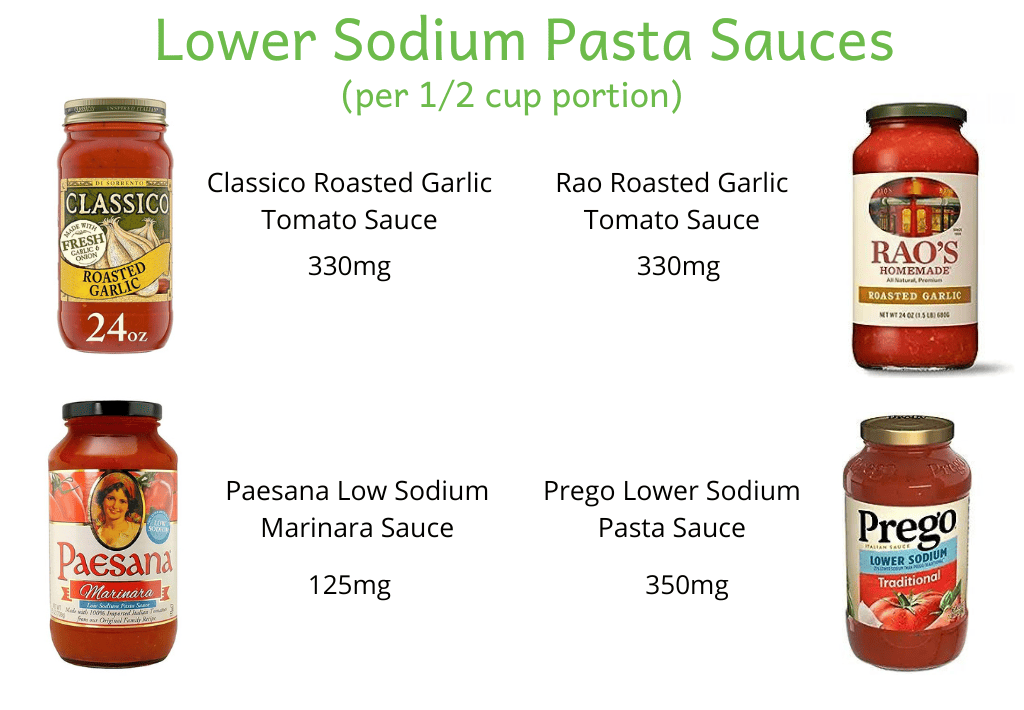 Both Classico Roasted Garlic Tomato Sauce* and Rao Roasted Garlic Tomato Sauce* have 330mg sodium per 1/2 cup.
The less common Paesana Low Sodium Marinara Pasta Sauce* has only 125mg sodium per 1/2 cup! Prego Lower Sodium Pasta Sauce* has 350mg sodium per 1/2 cup. Kroger Low Sodium Pasta Sauce has 300mg sodium per 1/2 cup.
If you have chronic kidney disease (CKD), watch out for potassium salt substitutes in tomato sauce labeled "low sodium". Potassium salt substitutes can add a dangerous amount of potassium for people with CKD.
Mustard
Yes! I classify this classic condiment as low sodium. Per teaspoon, most mustard has around 60mg sodium. Mustard is so pungent, you really don't need much to add a TON of flavor!
Mustard is a great addition to other sauce recipes to add a TON of flavor without much salt.
I also love Dijon mustard* (115mg per teaspoon), whole grain mustard* (80mg per teaspoon) and cannot get enough of this honey mustard* (45mg per teaspoon).
Homemade Low Sodium Sauces
Usually, sauces you make at home are lowest in sodium. You have completely control of how much salt goes into that sauce.
I truly believe you can make ANY sauce low sodium if you make it at home. Here are my favorite low sodium sauce recipe!
Tahini Dressing
Tahini dressing is a creamy, flavorful sauce for everything from salad to roasted cauliflower.
You can experiment and create your own low sodium tahini dressing by blending tahini, fresh lemon juice, water and some garlic cloves. Or, check out this recipe!
Low Sodium Ranch Dressing
As a Midwest girl, my life wouldn't be complete without ranch dressing! You can easily make your own low sodium ranch dressing at home for that creamy treat!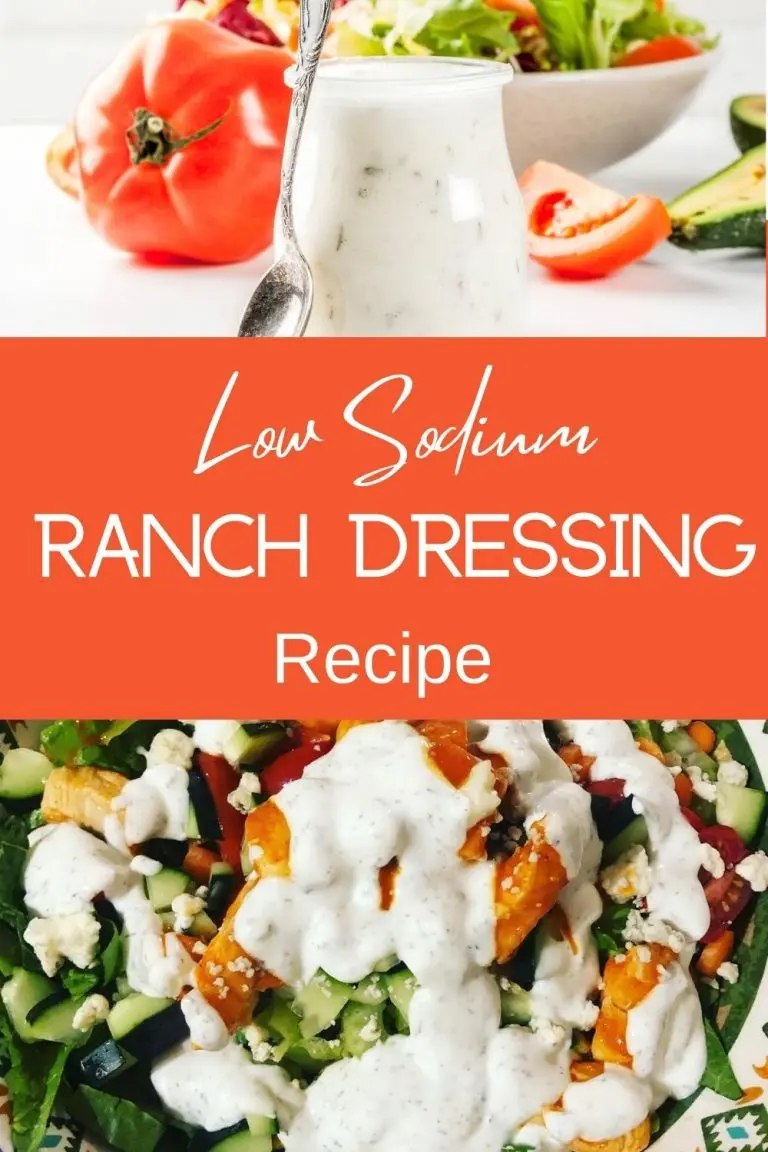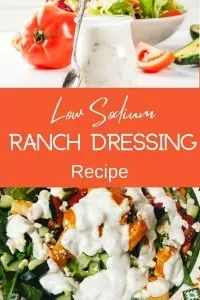 Homemade Pesto
Pesto from a jar tends to be pretty high in sodium (up to 500mg per tablespoon!). But, it is SO easy to make your own at home. Plus, homemade pesto tastes WAY better!
I love this basil pesto recipe!
Low Sodium BBQ Sauce
Bottled BBQ sauce is packed with sodium. Typically BBQ sauce has around 300mg sodium in 2 tablespoons.
You can make your own BBQ sauce at home for a fraction of the salt!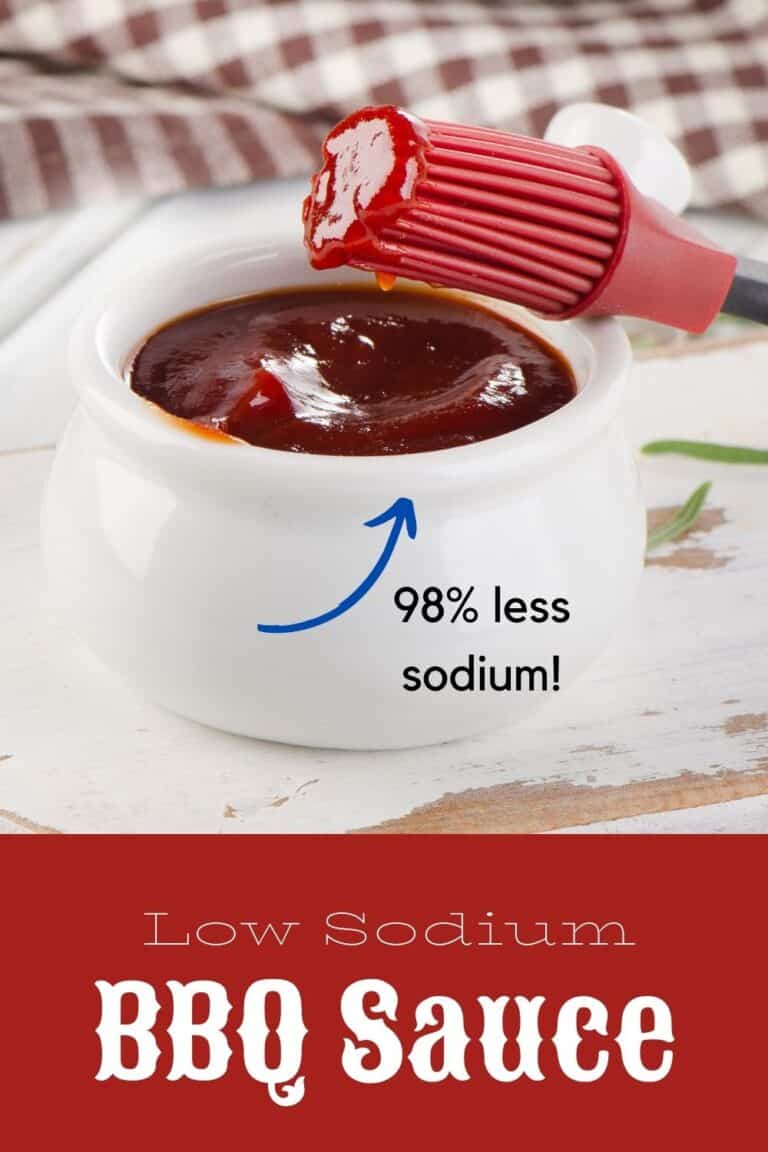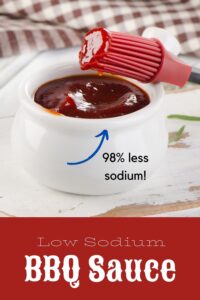 Homemade Vinaigrette
Vinaigrette dressing has a bit of a "health halo" compared to creamy dressing. But, bottled creamy dressings tend to be LOWER in sodium than vinaigrette! Creamy dressings tend to have more fat.
I'd highly recommend making your own vinaigrette at home. It honestly couldn't be easier!
Mix 3 parts oil to 1 part vinegar. You can add a bit of sweetness with honey or sugar. I also like to add just a bit of an emulsifier like as mayo or Dijon mustard. Whisk and voila! Essentially a sodium-free salad dressing is made!
Experiment with your favorite oils and vinegars. My favorite vinegars to use are apple cider, sherry* and red wine*. Fancy flavored vinegars are a wonderful low sodium sauce in themselves!
Roasted Red Pepper Sauce
Not a classic, but it should be! Homemade Roasted Red Pepper Sauce is amazing on pasta, fish, chicken and roasted veggies.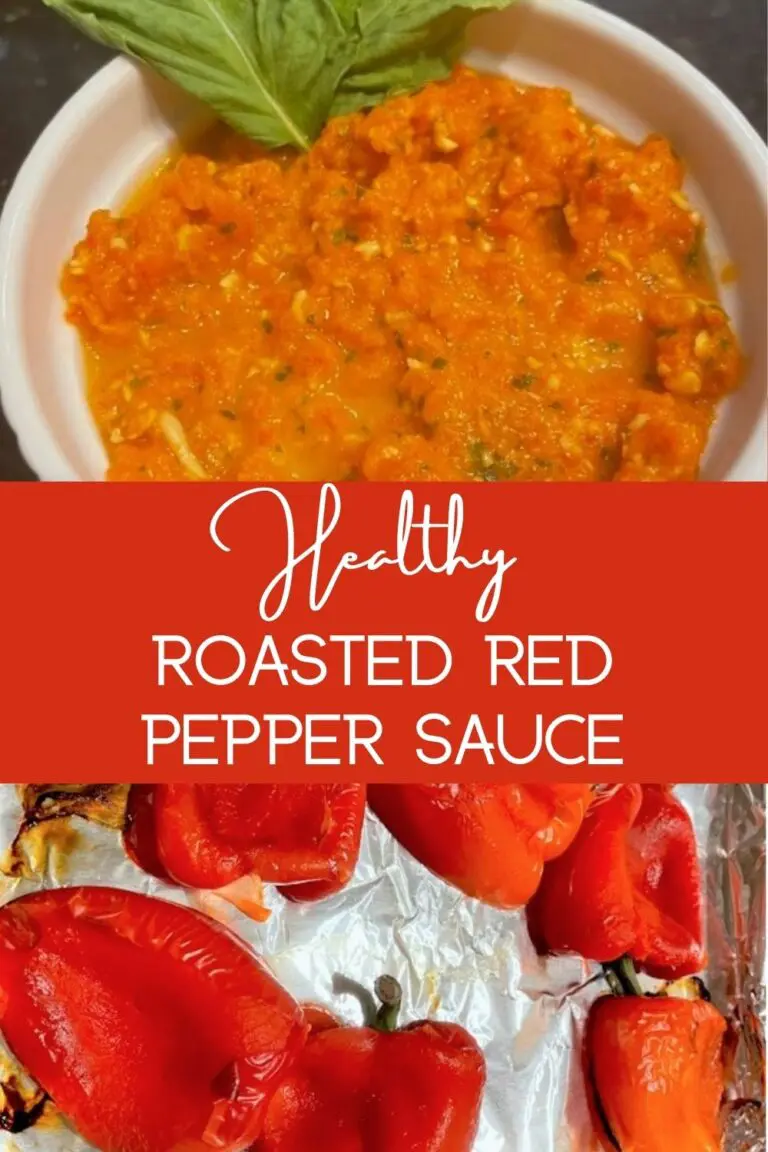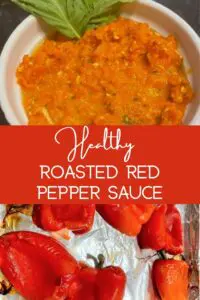 High Sodium Sauces
I'll end with some of the sauces that tend to be VERY high in sodium. Remember, sodium in sauce varies a TON based on brand. So, you may be able to find some great lower sodium options, even for these sauces. Always read those Nutrition Facts labels!
High sodium sauces:
Olive tapenade
Italian dressing
Most tomato and marinara sauce
Most BBQ sauces
Alfredo
Soy sauce
Teriyaki sauce
Fish sauce
Even with these high sodium sauces, you can make your own at home to significantly cut back the salt. This is a wonderful way to enjoy your favorite sauce that is traditionally higher in sodium.
Happy Eating!
Melanie