Love cottage cheese, but don't want all the sodium? This low sodium cottage cheese is for you!
*Please note that this post contains clearly identified affiliate links. If you click on these links and choose to make a purchase, I may receive a commission (at no cost to you). As an Amazon Associate I earn from qualifying purchases.
Types of Cottage Cheese
There are many different types of cottage cheese on the market. There are two main decisions to make when deciding which cottage cheese to buy.
Curd Size
Cottage cheese comes in both large and small curd. As advertised, the curds in large curd cottage cheese are bigger and a bit more fluffy. Curds in small curd cottage cheese are smaller and more dense.
The best curd size is really personal preference. There is not a big difference in nutrition between the two.
Amount of Fat
Cottage cheese is typically available in 3 levels of fat:
Fat-free
Low-fat (or 2% milkfat)
Full-fat or whole milk
Again, the best choice here comes down to personal preference and your health goals. Other than fat, there are not significant differences in the nutrition of fat-free vs. full-fat cottage cheese.
Benefits of Full vs. Low-Fat Cottage Cheese
| Potential Benefits of Low-Fat Cottage Cheese | Potential Benefits of Full-Fat Cottage Cheese |
| --- | --- |
| Lower calories | Better absorption fat-soluble vitamins & minerals |
| Lower saturated fat | Higher satiety |
About half of the fat in cottage cheese is from saturated fat. Although the American Heart Association recommends keeping saturated fat to no more than 6% of total calories, we are learning more about different types of saturated fat. Whereas saturated fat from foods like fatty meats and butter isn't ideal and should be limited for heart health, saturated fat from dairy products is not associated with the same harmful effect as from other animal foods. (1)
Sodium in Cottage Cheese
Is sodium in cottage cheese a big deal in the first place? It could be.
Most cottage cheese has around 700mg of sodium per cup. (1) This is about 30% of the sodium we should have in an entire day. This is quite a bit.
The Dietary Guidelines for Americans recommends no more than 2,300mg sodium per day. Eating too much sodium can lead to high blood pressure, heart disease, stroke and kidney disease. (2)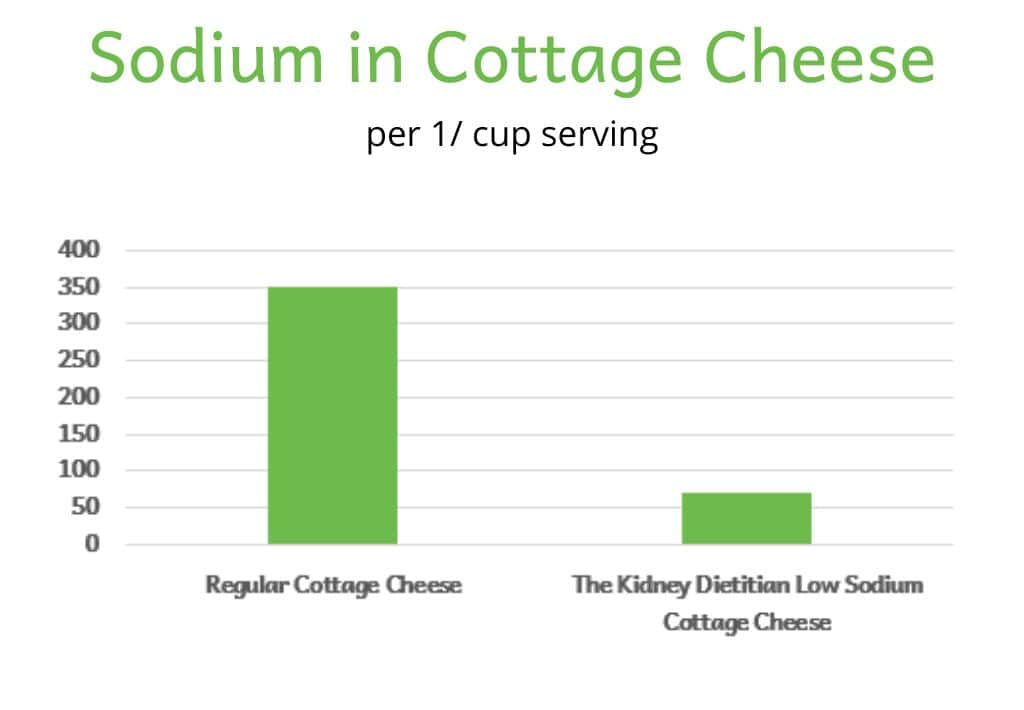 A low sodium diet is especially important for people with some health conditions. Too much salt is especially harmful for people with high blood pressure, kidney disease, kidney stones caused by high urine calcium, liver or heart failure.
Is Low Sodium Cottage Cheese Healthy?
Absolutely! Low sodium cottage cheese is a great option for a balanced meal pattern.
Cottage cheese is packed with protein, calcium, vitamin D, vitamin B12, potassium and other vitamins and minerals. Although most cottage cheese does have quite a bit of sodium, low sodium cottage cheese DOES exist!
If you have oxalate kidney stones, cottage cheese is a wonderful source of calcium to help lower urine oxalate levels.
NOTE: If you have kidney disease, cottage cheese and other dairy products contain a fair amount of phosphorus and potassium. Ask your renal dietitian what is best for you!
Low Sodium Cottage Cheese Brands
It can be hard to find, but you can buy low sodium cottage cheese!
The two brands I find most often are:
Farmer Cheese
If you can find Farmer Cheese, it is a fantastic TRICK to finding low sodium cottage cheese. Farmer cheese is very similar to cottage cheese. The curds are just a little more firm. Best of all, it almost never has a ton of salt added to it – like cottage cheese typically does!
Some of the delicious Farmer Cheese brands I've tried are:
Low Sodium Cottage Cheese Recipe
As mentioned, low sodium cottage cheese can be really hard to find in the grocery store. When all else fails, you can make your own! This way, you can 100% control the sodium in your cottage cheese.
Plus, it REALLY isn't that hard. I promise!
Here is Alton Brown's foolproof homemade low sodium cottage cheese. I just modified the recipe to be low sodium!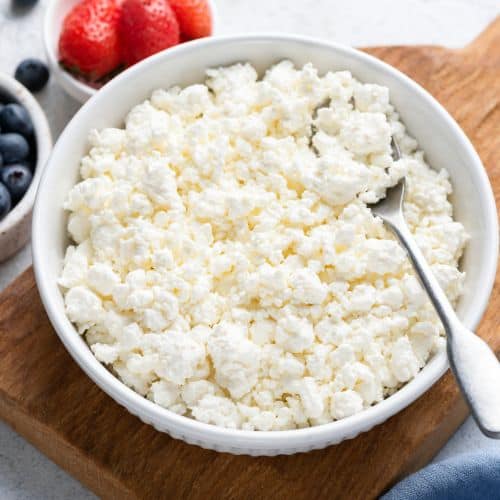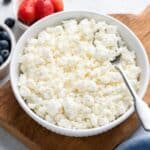 Print Recipe
Low Sodium Cottage Cheese
Creamy cottage cheese with a fraction of the sodium!
Ingredients
1

gallon

skim milk

3/4

cup

white vinegar

1/8

tsp

salt

1/2

cup

half-and-half
Instructions
Warm milk in a large saucepan over medium heat. Heat to 120 degrees F. Remove from the heat and add vinegar. Stir slowly for 1 to 2 minutes. The curd will separate from the whey. Cover and allow to sit at room temperature for 30 minutes.

Pour the mixture into a colander lined with cheesecloth. Let drain for 5 minutes. Gather the edges of the cloth and rinse under cold water for 3-5 minutes, until the curd is cooled, squeezing and moving the mixture the whole time. Once cooled, squeeze to get rid of as much liquid as possible.

Add the salt and stir, breaking up the curd into bite-size pieces. When ready to serve, stir in the half-and-half.
Notes
Nutrition Facts (per 1/2 cup – estimated due to liquid loss): 90 calories, 2g fat, 1g saturated fat, 6mg cholesterol, 72mg sodium, 5g carbohydrate, 0g fiber, 0g added sugar, 12g protein, 113mg calcium, 132mg potassium, 163mg phosphorus, 0mg oxalate
Recipe adopted from Quick Cottage Cheese, Alton Brown.
How to Use Low Sodium Cottage Cheese
You can serve and use low sodium cottage cheese exactly the same way as regular cottage cheese!
Unsurprisingly, low sodium cottage cheese lacks some of the flavor of regular cottage cheese. My favorite way to add flavor is with fruit! Lookin at you peaches!
You can also use low sodium cottage cheese on toast, with tomatoes or other salads or as an ingredient in dishes like lasagna. Cottage cheese is a key ingredient to add calcium to my Crustless Zucchini Quiche recipe!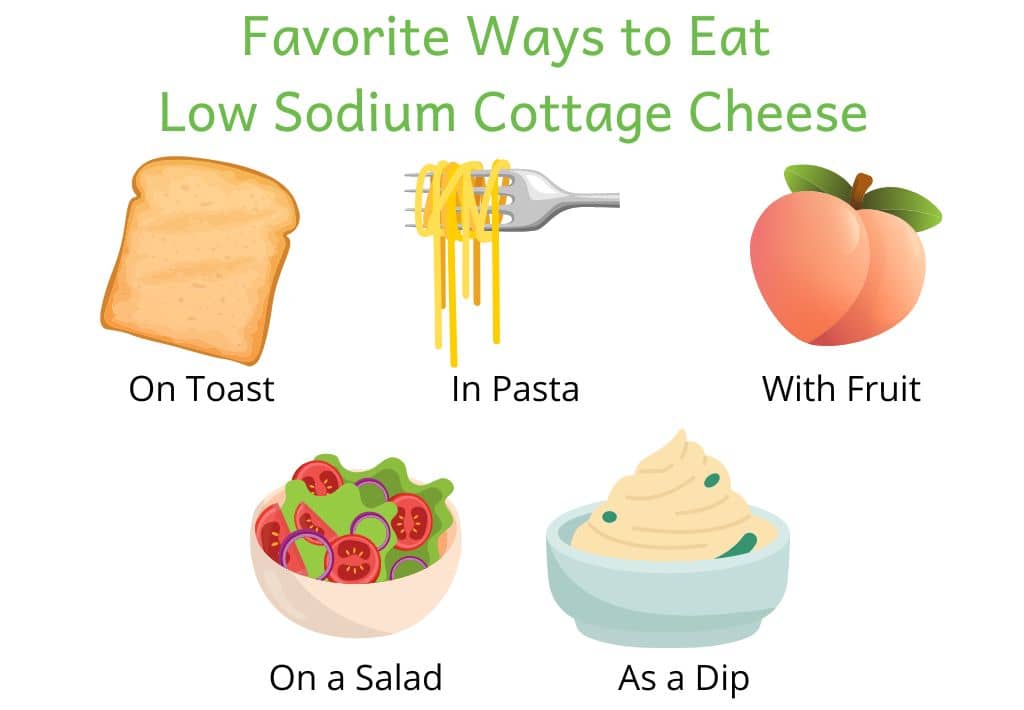 Other Low Sodium Cheese Options
Cheese is often ostracized for "having too much sodium". Poor cheese! There are MANY delicious cheeses that are naturally low in sodium.
My favorite low sodium cheeses are:
Swiss
Fresh mozzarella
Ricotta
Goat cheese
Cream cheese
Happy Eating!
Melanie