Who doesn't love a crunchy, tangy and slightly sweet pickle? I sure do! But, pickles are notoriously high in sodium.
Pickle lovers, never fear! My low sodium pickle recipe will satisfy your love of pickles without all the salt.
Sodium and Health
Too much (or too little!) sodium can be harmful. The Dietary Guidelines for Americans recommend no more than 2,300mg sodium per day. However, most of us are eating much more than that. Eating too much sodium can lead to high blood pressure, heart disease, kidney disease, kidney stones, stroke and even osteoporosis. (1)
Remember, less is not always better! We can overdo a low sodium diet. Our bodies need some sodium to keep water where it should be and for nerves and muscles to work. Very low sodium diets have been associated with negative health consequences. (2) A good rule of thumb is to avoid eating less than 1,500mg sodium per day.
Sodium in Pickles
Pickles are notoriously high in sodium. One pickle spear has about 280mg sodium. Eleven pickle chips have about 380mg sodium.
The Food & Drug Administration (FDA) defines a "low sodium food" as one with less than 140mg sodium per serving. (3) Pickles far exceed this criteria.
Note: ALL foods can fit in a low sodium diet! The key is to balance higher sodium foods with lower sodium ones. Most people should keep total daily sodium within 1500-2300mg sodium. Even higher salt pickles can fit!
Can Pickles Be Good For You?
Sure! All foods can give us energy, health benefits and joy!
Add Flavor
Pickles (low sodium or not!) pack a BIG flavor punch. Adding pickles or other pickled vegetables to sandwiches and salads can bump up the flavor without more higher sodium ingredients like dressing, lunchmeat, bacon and other high sodium foods.
If you choose low sodium pickles, they can really help keep sodium in the meal down!
Healthy Bacteria
Traditionally, pickles were touted to be good for you because of bacteria used in fermentation. Although little modern data supports this, pickles and other fermented foods such as kefir, kimchi and miso have been touted to help gut health. Although probiotics can definitely be beneficial for some specific health conditions like antibiotic-associated diarrhea and inflammatory bowel disease, it is unclear if the bacteria in fermented pickles is the right kind and there is enough of it to improve health.
Importantly, most pickles today are not fermented with bacteria and have no probiotic properties. However, if you search for them, you can find pickles traditionally fermented with good bacteria.
Micronutrients
Because they are made from cucumbers, pickles do contain small amounts of vitamins and minerals. Pickles have some vitamin A, K, potassium, calcium and other micronutrients.
However, you likely will not consume enough pickle to get a significant amount of these nutrients. It is likely better to eat cucumbers to get these nutrients!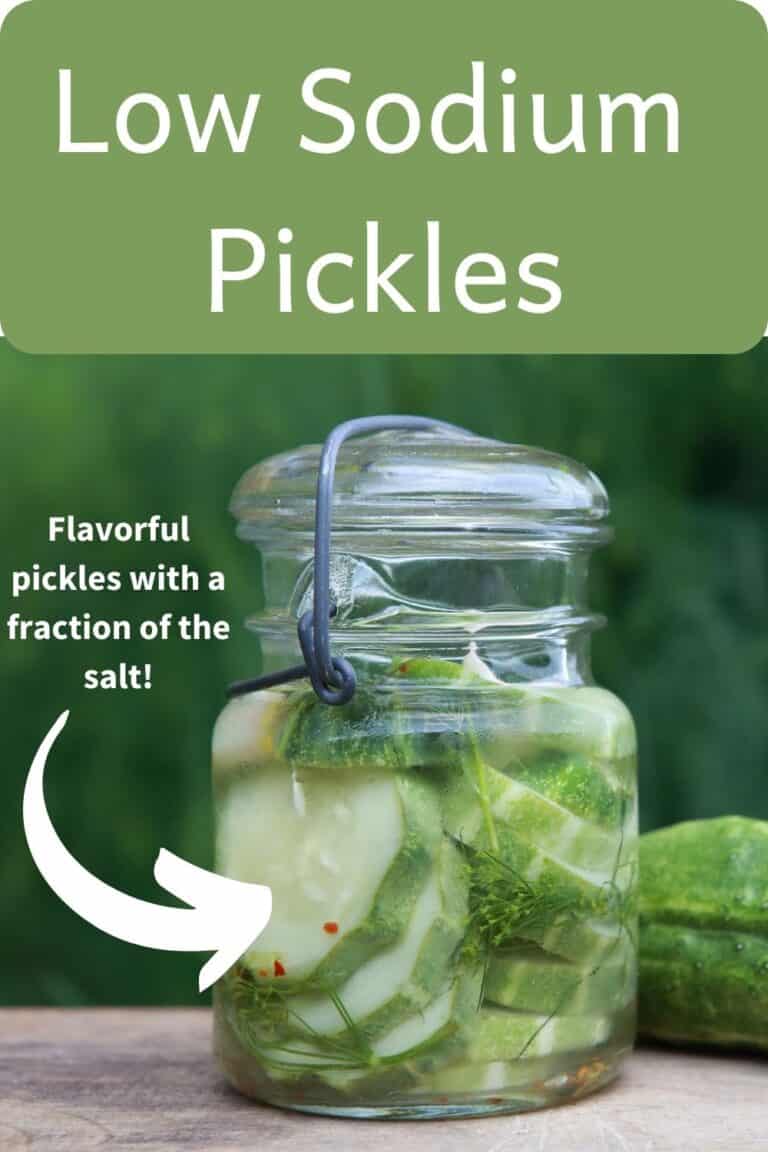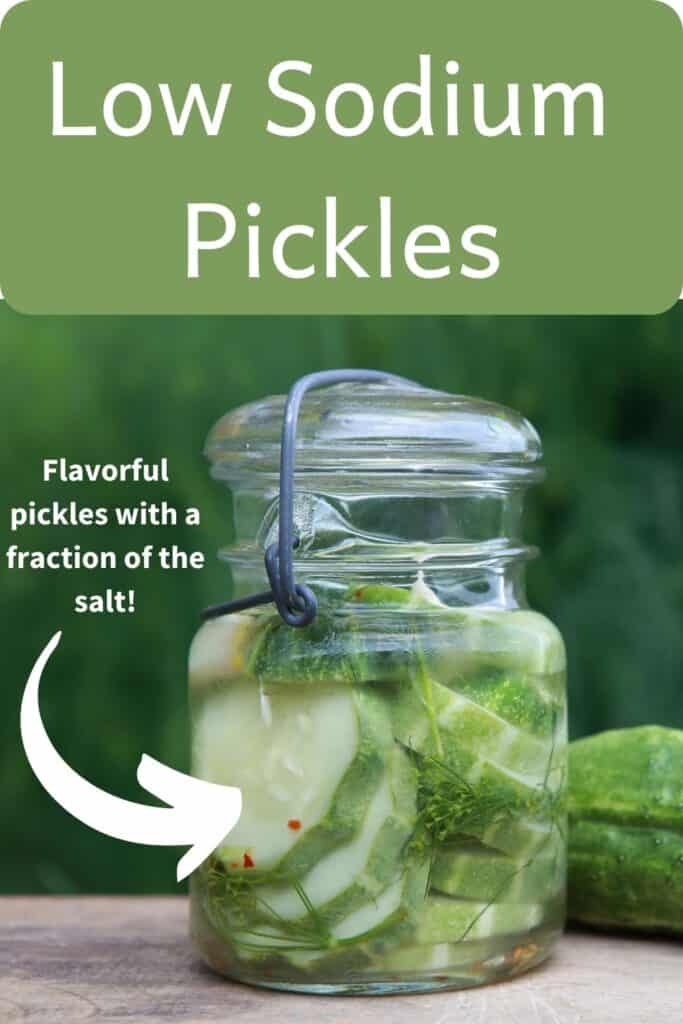 Store Bought Low Sodium Pickle Options
If you choose to forgo making your own pickles and buy them, here are my favorite low sodium pickle options.
In general, bread & butter and sweet pickles tend to be lower in sodium than dill pickles. However, they also tend to be higher in sugar.
Low Sodium Pickle Ingredients
You just need a few simple ingredients to make pickles. This recipe calls for: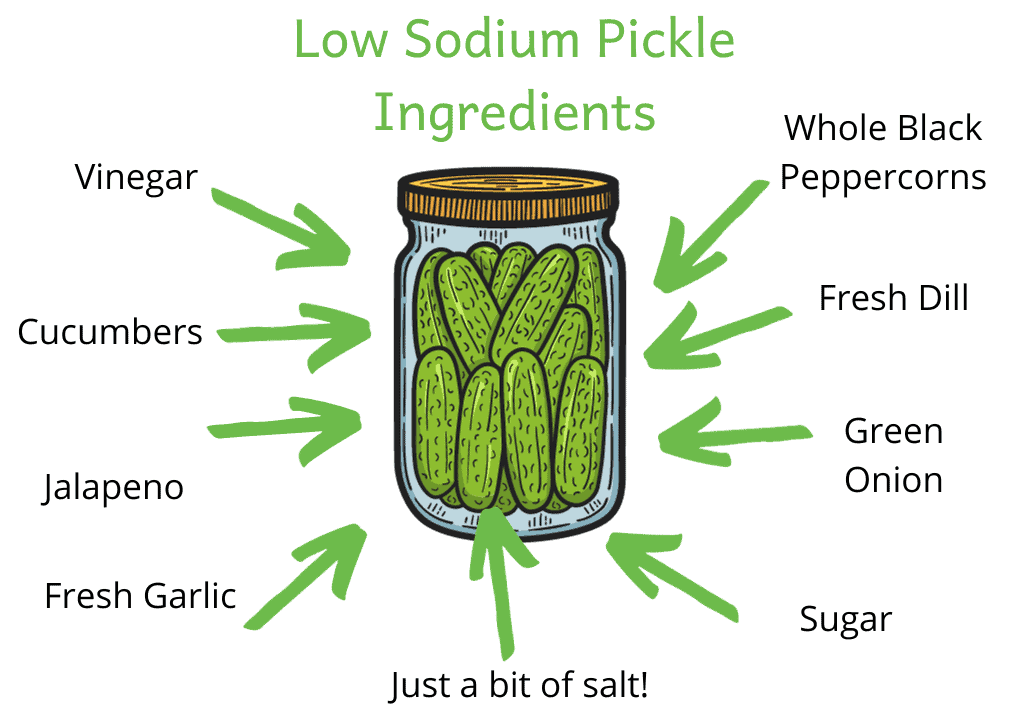 Cucumbers
Obviously a staple for any pickle recipe. Pickles are made from cucumbers! You can use any type of cucumber for this recipe. I tend to use standard cucumbers, but English, Persian and Kirby cucumbers all work too.
This recipe works great for pickling other types of vegetables. Here are some other vegetables that are delicious pickled!
Asparagus
Garlic
Carrots
Cauliflower
Okra
Green Beans
Beets
Radishes
Onions
If you choose a harder vegetable (like carrots), I recommend steaming the vegetables for about 5 minutes to soften them before pickling.
Garlic
If you've been around here long, you know how much I love garlic! I use 4 garlic cloves in this recipe. But, you could absolutely use more or less to your liking.
Jalapeno
This is optional. If you like spicy pickles, add it! For medium spice, add the jalapeno without the seeds. Or, you can easily leave jalapeno out to let the dill and garlic shine!
Fresh Dill
What smells better than fresh herbs in your kitchen? Fresh dill is my personal favorite!
You'll definitely want to use fresh dill for this recipe. Dried dill weed just won't cut it.
Green Onion
I only use the white part of the green onion for this recipe. Save the green part to garnish your dinner!
Whole Black Peppercorns
I chose whole peppercorns to add a bit of pepper kick without the unattractive black flecks all over my pickles.
Distilled Vinegar
Plain old white distilled vinegar works great for this recipe! You could certainly experiment with apple cider, red wine, white wine, rice or other flavored vinegars to make pickles.
Salt
Yep! I do use a little salt in these pickles. I found using just a little really helped bring out that "pickley" flavor. Notice that even with this salt, these pickles only have 37mg sodium per serving. This is MUCH less than the 200-300mg sodium in most traditional pickles.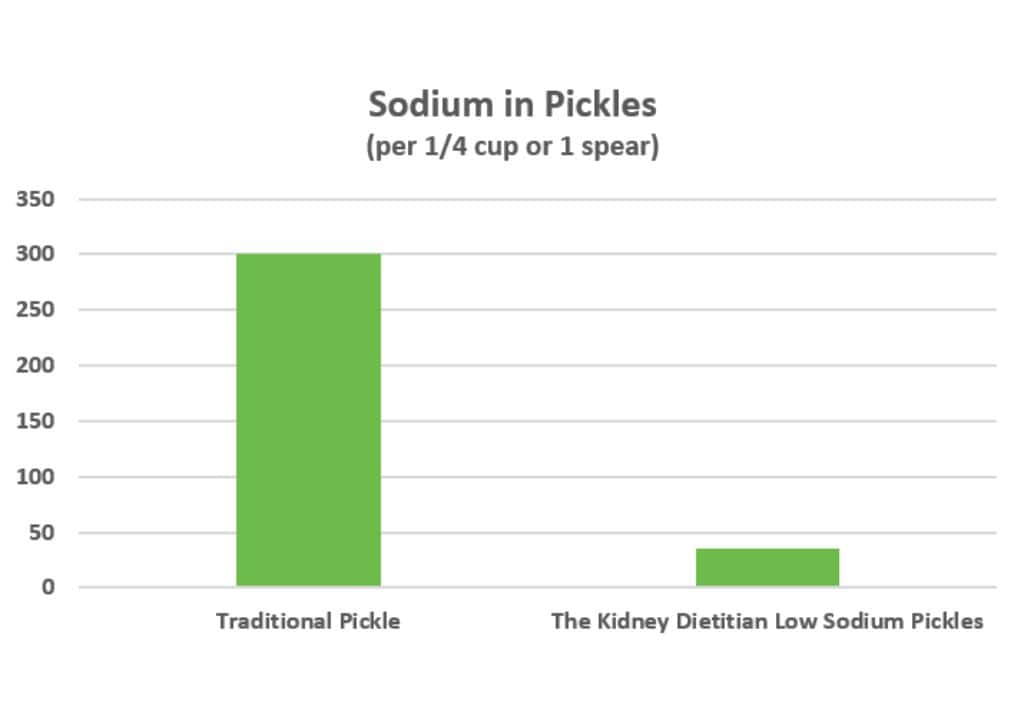 Sugar
I also use just a little sugar to help balance out the saltiness and acid in these pickles. You could use honey, agave or other sugar substitutes as well.
How to Serve Low Sodium Pickles
You can serve and eat low sodium pickles exactly the same way as traditional pickles! Here are my favorite ways to eat pickles:
Salad topping
As a side dish (especially with sandwiches!)
With a cheese plate to level it up!
Blended into a veggie dip with Greek yogurt and some sour cream and other spices
On top of a martini (if I am feeling spicy!)
Chopped up into a salsa
Happy Eating!
Melanie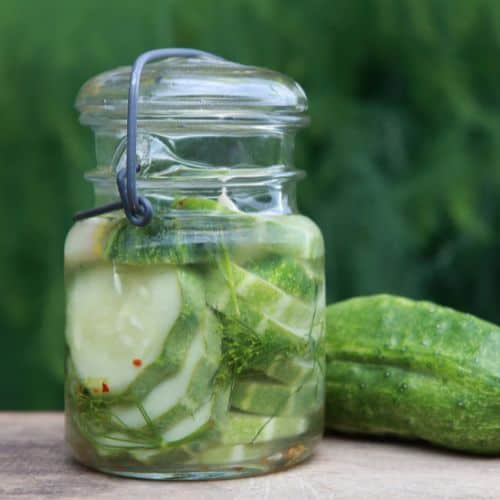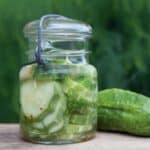 Print Recipe
Low Sodium Pickles
Delicious, tangy dill pickles without all the sodium!
Ingredients
2

cucumbers

sliced thin

4

garlic cloves

2

jalapenos

halved or quartered

6-10

fronds

fresh dill

2

green onions

white parts only

2

tsp

whole black peppercorns

1

cup

distilled vinegar

1

cup

water

1/2

tsp

salt

1

tsp

sugar
Instructions
Evenly stuff cucumbers, garlic, jalapeno, dill, green onions and peppercorns into jars or food storage containers.

Make brine. Bring vinegar, water, salt and sugar to a simmer over medium heat. Stir occasionally. Heat just until simmering and salt and sugar are dissolved.

Pour brine over cucumber mixture. Add enough to fill each jar.

Refrigerate 3-5 days. Enjoy!
Notes
NUTRITION FACTS (per 1/4 cup): 5 calories, 0g fat, 0g saturated fat, 0mg cholesterol, 37mg sodium, 1g carbohydrate, 0g fiber, 0g added sugar, 0g protein, 5mg calcium, 41mg potassium, 7mg phosphorus, 0mg oxalate
Nutrition Information calculated assuming 50% of brine ingredients and only cucumbers are consumed.