Biscuits and other bread foods add a surprising amount of sodium to our diet. In fact, "breads and rolls" top the list for the Center on Disease Control (CDC)'s Top 10 Sources of Sodium in the US Diet.
Never fear biscuit lovers! My low sodium biscuit recipe is quick, easy AND delicious. It has about 80% less sodium compared to your average biscuit, only 130mg sodium.
*Please note that this post contains clearly identified affiliate links. If you click on these links and choose to make a purchase, I may receive a commission (at no cost to you). As an Amazon Associate I earn from qualifying purchases.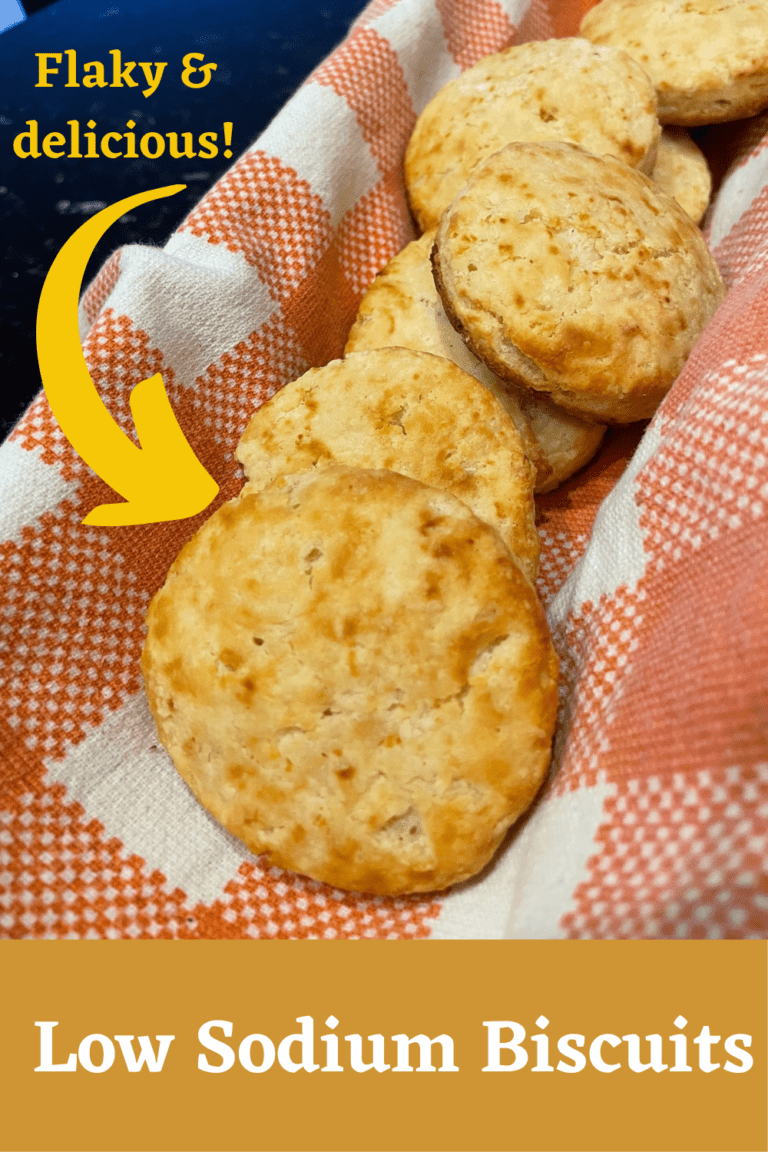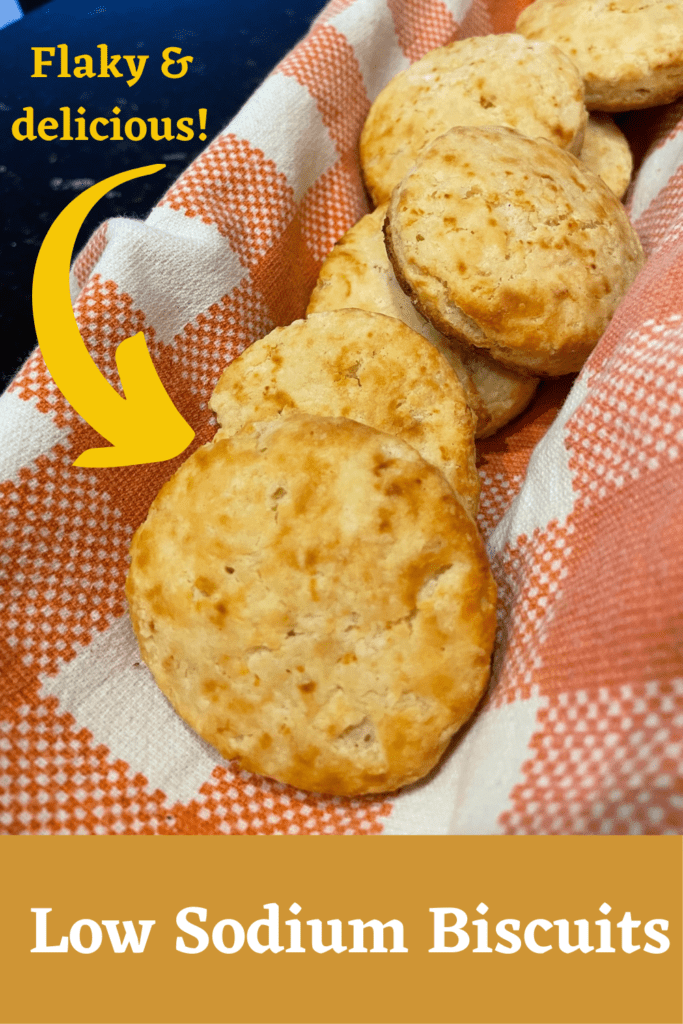 Sodium in Biscuits
Most biscuits have 450-500mg sodium per biscuit. This is about 20% of your daily recommended intake in a single biscuit! Jeepers!
For example, Pillsbury Grands! Homestyle Biscuits have 450mg sodium per biscuit. Annie's Organic Flaky Biscuits have 570mg sodium per biscuit. A biscuit from Kentucky Fried Chicken has 520mg sodium.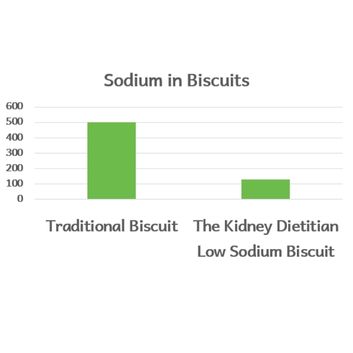 Why are biscuits so salty? Sodium in biscuits mostly comes from 2 key ingredients: baking powder and salt.
Baking Powder
Yep! Baking powder!
Baking powder has a surprising amount of sodium in it. Most traditional making powder has about 60mg sodium per 1/8 teaspoon. This might not seem like a lot. But it adds up!
Most biscuit recipes call for about 2 tablespoons of baking powder. This adds 2,880mg of sodium to the recipe. Assuming the recipe makes 8 biscuits, this is 360mg of sodium per biscuit from baking powder alone!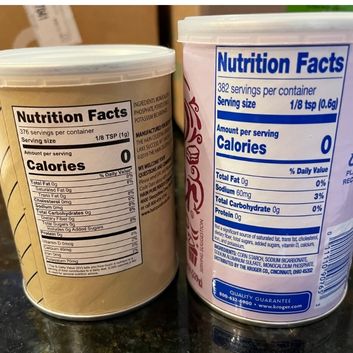 Low Sodium Baking Powder
Luckily, there is a wonderful sodium-free baking powder. Hain Pure Foods makes a ZERO sodium baking powder*. I love this product! It can be used in place of traditional baking powder in any recipe.
Rumford also makes a low sodium baking powder* that has only 35mg sodium per 1/8 teaspoon.
Unfortunately, both of these products can be difficult to find. I typically order them online. Hain Pure Foods Sodium Free Baking Powder is available at Amazon*.
Rumford Low Sodium Baking Powder is also available on Amazon*.
Salt
Salt certainly adds sodium to biscuits too. Most biscuit recipes call for 1-2 teaspoons of salt. Assuming a recipe makes 8 biscuits, this adds anywhere from 230-460mg of sodium per biscuit.
Other Quick Breads & Sodium
All bread has some sodium in it. But, some are higher in sodium than others.
A "quick bread" is leavened without yeast. Instead, quick breads are typically leavened with baking powder or baking soda. Both of these ingredients add a fair amount of sodium.
As a result, quick breads are typically higher in sodium compared to yeast breads. Yeast breads are leavened with yeast, which is sodium free.
Biscuits are an example of a quick bread. Here are examples of other quick breads:
Pancakes
Cornbread
Muffins
Scones
Soda Bread
Most sweet breads such as banana bread, pumpkin bread or zucchini bread
All of these breads are higher sodium bread options. Use a sodium-free baking powder* to keep the sodium down!
Low Sodium Biscuit Ingredients & Equipment
All Purpose Flour
Any biscuit recipe needs flour! I went with good old fashioned all purpose flour for this recipe. No need to be fancy.
Sodium Free Baking Powder
I used Hain Pure Foods Sodium Free Baking Powder* to keep sodium as low as possible.
You could also use Rumford Reduced Sodium Baking Powder*. This would add 168mg sodium per biscuit, for a total of 298mg sodium per biscuit.
Another low sodium replacement for baking powder is Cream of Tartar and Baking Soda. Use them in a ratio of 2:1. For this low sodium biscuit recipe, use 4 teaspoons Cream of Tartar and 2 teaspoons baking soda. This will add 252mg sodium per biscuit, for a total of 382mg sodium per biscuit.
Danger: Potassium in Low Sodium Biscuits & Kidney Disease
Some people with kidney disease need to limit how much potassium they eat. Not everyone does!
Hain Sodium Free Baking Powder* may not be right for you if you have high potassium levels. This product has potassium bicarbonate in it, which adds a lot of potassium. Each biscuit has 545mg of potassium in it; 484mg of this potassium is from the sodium-free baking powder.
Rumford Reduced Sodium Baking Powder* has a minimal amount of potassium in it. This may be a safer option for you if you have high potassium blood levels.
Ask your Registered Dietitian what is right for you!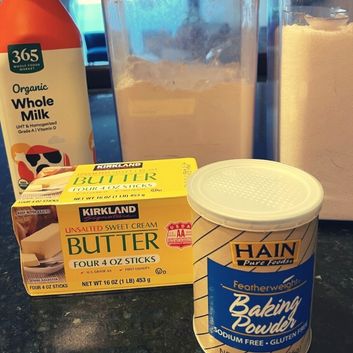 Sugar
You need just a touch of sweetness for a delicious biscuit. Don't worry, this tiny bit of sugar only adds 2mg of sugar. This is NOT a significant amount for most people.
Salt
I tried making low sodium biscuits with no salt at all. They were not very good. So, I opted for a 1/2 teaspoon of sodium. I saved so much sodium with the Sodium Free Baking Powder*, we had room to add a little salt for flavor.
Even with the added salt, this low sodium biscuit only has 130mg of sodium. This is about 80% less sodium than traditional biscuits.
Unsalted Butter
Biscuits need some sort of fat to get that characteristic biscuit flakiness! I went with the traditional option: butter.
Be mindful to use unsalted butter. Unsalted butter has very little sodium. Salted butter has about 90mg sodium per tablespoon.
Whole Milk
I needed a liquid to bring the biscuit dough together. I went with whole milk for a little more fat to give our biscuits more flavor and texture. You could use cream for even more richness.
Buttermilk is commonly used in biscuits, however it does add a little more sodium. One cup of buttermilk has about 360mg sodium. Compare this to whole milk, which has 105mg sodium. If you use buttermilk, this only adds about 25mg sodium per biscuit.
You could also use low-fat or skim milk. Plant based milks would also work.
Biscuit Cutter
You certainly don't need a biscuit cutter to make biscuits. However, it makes me feel more fancy! I have these no-frills biscuit cutters*.
However, a floured drinking glass to cut biscuit dough works just fine!
How to Serve Low Sodium Biscuits
Enjoy these low sodium biscuits just like you would traditional biscuits!
Top them with your favorite spreads such as jam, jelly or honey. I simply cannot eat a biscuit without some butter and honey!
You could even make your own low sodium sausage gravy! Modify this recipe by omitting the salt and use my Low Sodium Sausage recipe in place of the breakfast sausage.
Can You Buy Low Sodium Biscuits?
Of course! They are hard to find, but you can find some low sodium biscuits.
Here are two good options.
This biscuit mix from Augason Farms* is made without a leavening agent. You could add our trusty Hain Sodium Free Baking Powder*, which would make a biscuit with 250mg sodium.
There is also Bernard Low Sodium Biscuit Mix. This makes a biscuit with 65mg sodium.
Happy Eating!
Melanie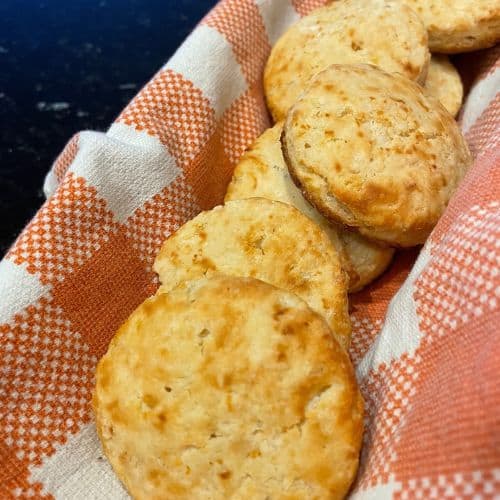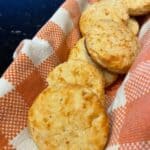 Print Recipe
Low Sodium Biscuits
Flaky, buttery biscuits without all the sodium!
Ingredients
2

cups

all purpose flour

2

tablespoons

Hain Sodium Free Baking Powder

2

tablespoon

sugar

1/2

teaspoon

salt

5

tablespoons

butter

unsalted

1

cup

whole milk
Instructions
Sift flour, baking powder, sugar and salt into a large mixing bowl. Add butter in chunks. Cut butter into flour mixture using a pastry cutter.

Add milk and mix with a fork until just combined.

Turn dough onto a well-floured surface. Shape into a rectangle, about an inch thick. Work with dough as little as possible to help keep the biscuits light and flaky! Let dough sit 20-30 minutes.

Shape dough into rectangle about 10×6 inches. Using a 3-inch biscuit cutter, cut out 8 biscuits. Place on baking sheet.

Bake 10-15 minutes until golden brown.
Notes
Nutrition Facts (per biscuit or 1/8 recipe)*: 166 calories, 7g fat, 4g saturated fat, 18mg cholesterol, 130mg sodium, 23g carbohydrate, 1g fiber, 2.5g added sugar, 3g protein, 309mg calcium, 545mg potassium, 49mg phosphorus, 10mg oxalate
*Nutrition facts account for 20% dough loss
Recipe modified from "All Purpose Biscuit", New York Times. Available here.