Sausage and other processed meats such as bacon, lunchmeat, bologna and salami are notoriously bad for kidneys. Sausage is usually packed with sodium, potassium and phosphate additives. But, you can make your own low sodium sausage at home for a more kidney friendly option!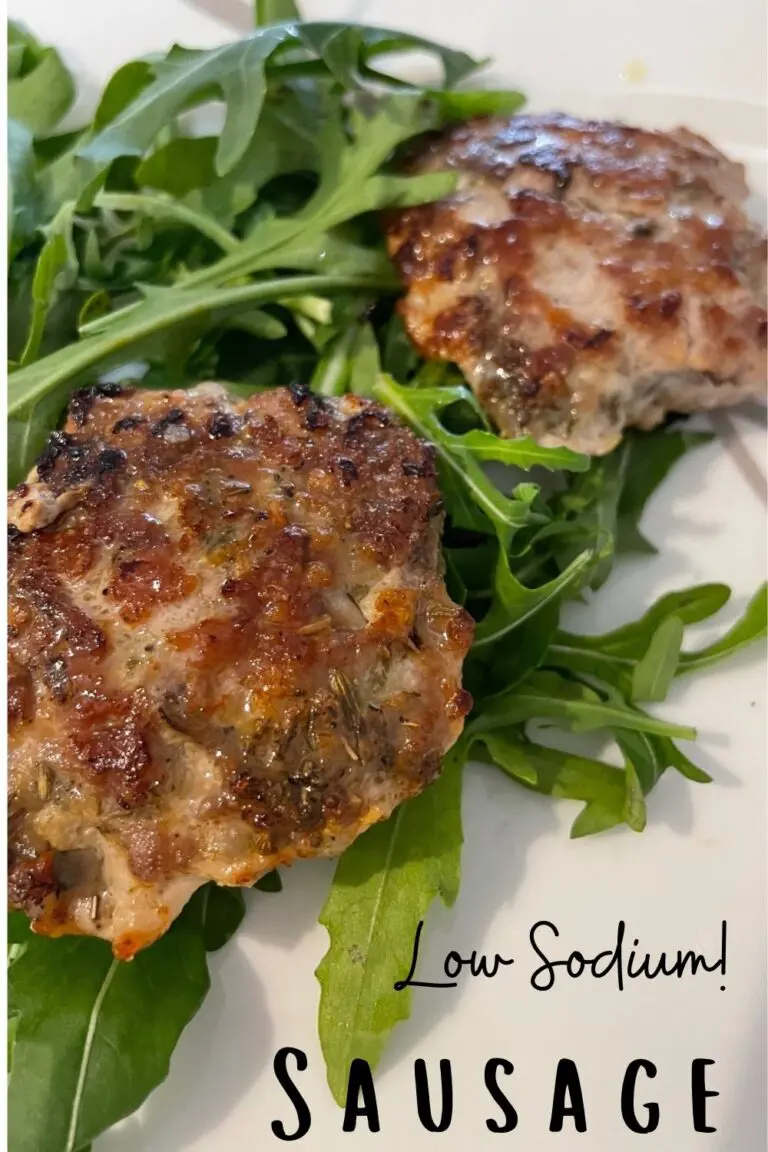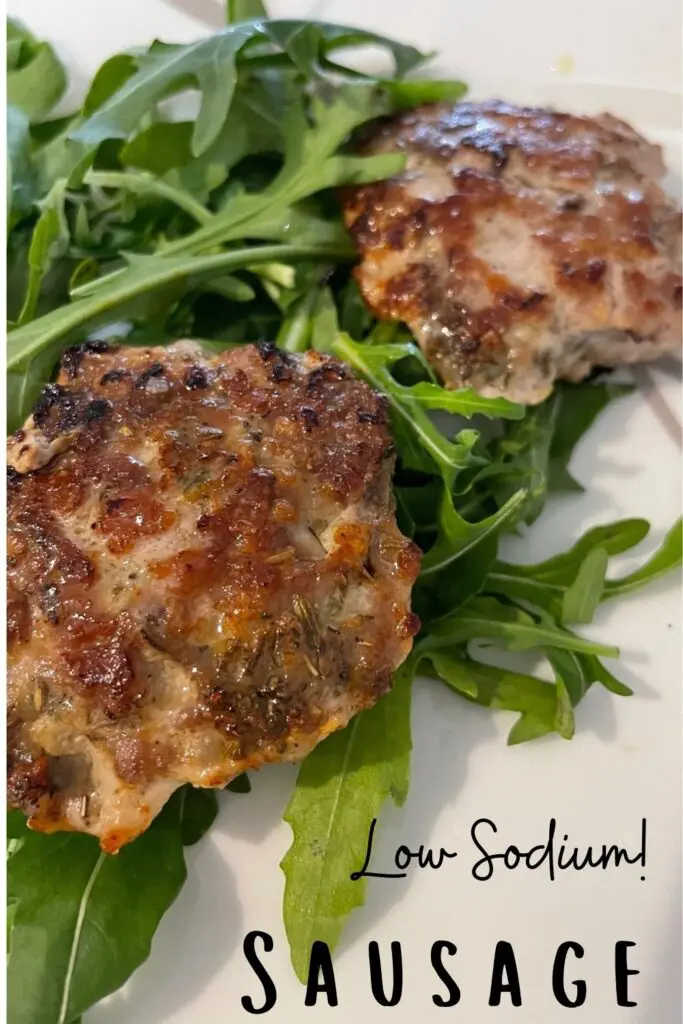 Is Low Sodium Sausage Healthy?
This homemade low sodium sausage is much healthier than most commercial or store-bought sausage.
Low Sodium
Most sausage has around 650mg of sodium for 2 patties, or about 2.5 ounces of sausage. Of course, the sodium amount is very different across brands.
This low sodium sausage recipe only has 167mg of sodium. This cuts the sodium by about 75%! If you leave out the salt entirely, this sausage only has 69mg of sodium per serving.
This sausage is still flavorful without the salt because of all of the tasty spices! Sage, thyme, red pepper flakes and even a touch of sweet from brown sugar help make this sausage delicious without the salt!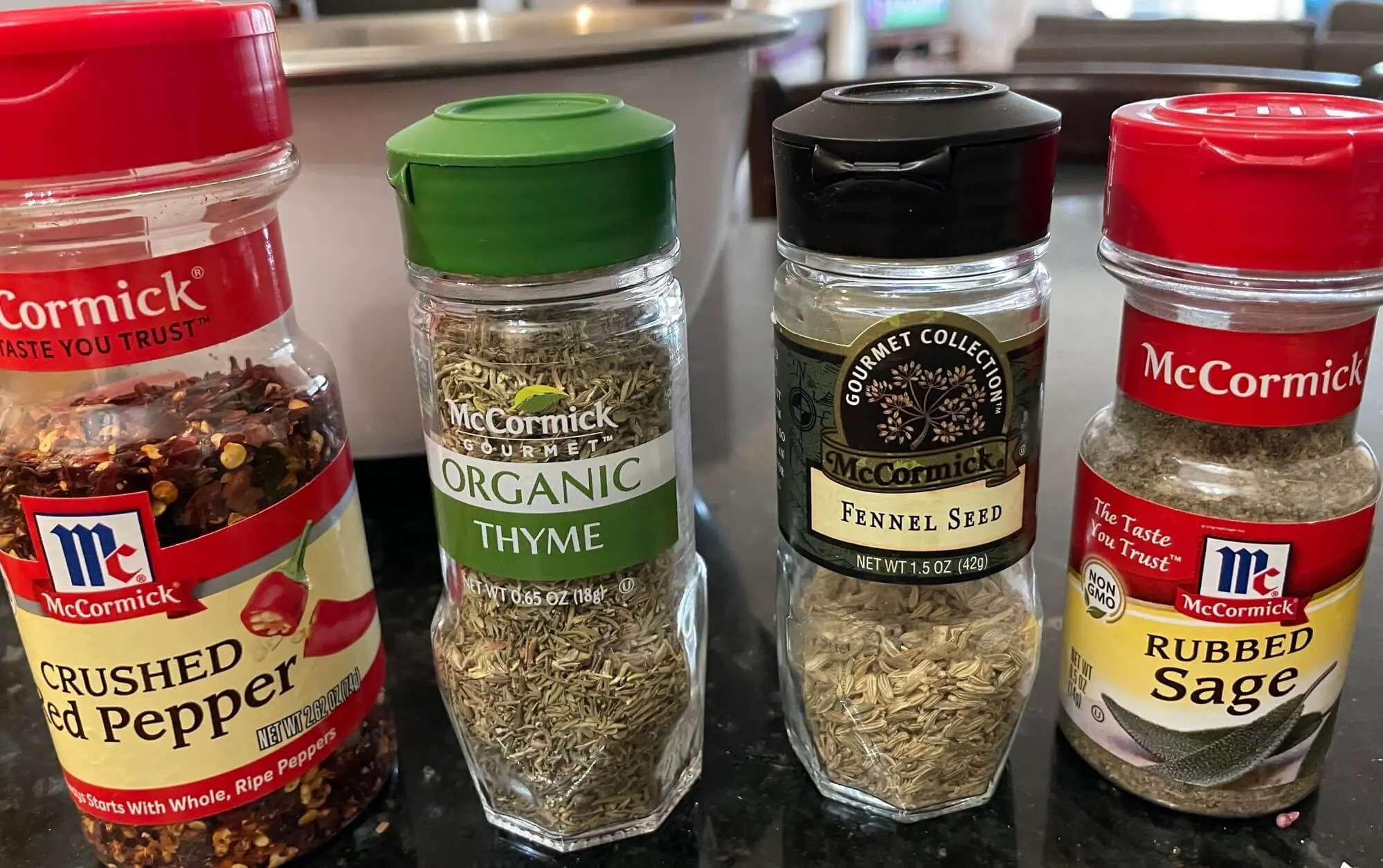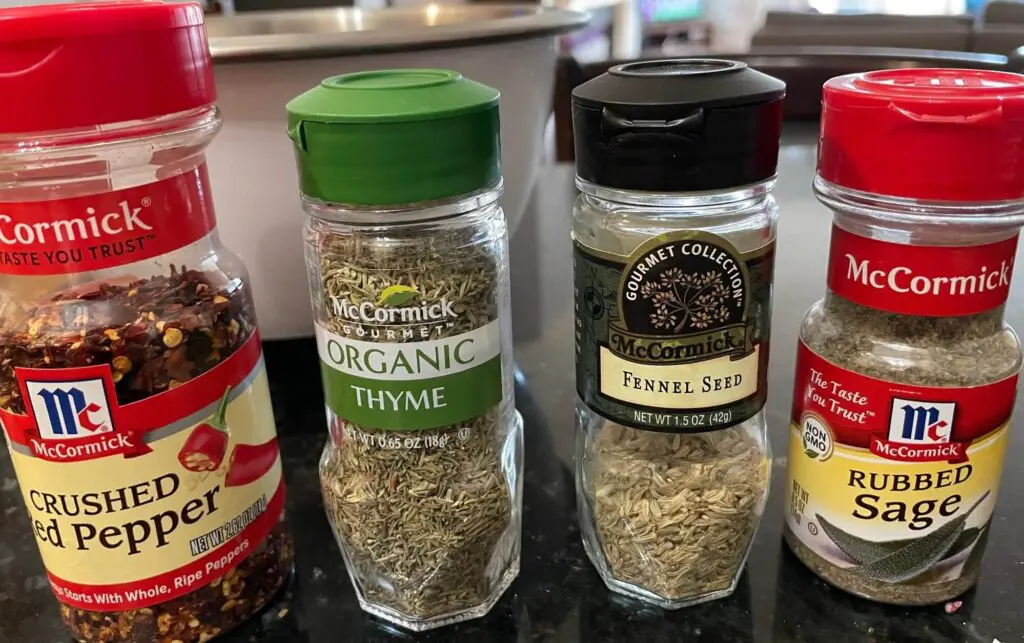 This recipe is a great choice for people who need to follow a low sodium diet. A low sodium diet is important for people with heart disease, kidney disease, liver disease, and many other health conditions. In fact, a low sodium diet is recommended for everyone in the Dietary Guidelines for Americans.
Kidney Health
Lower Phosphorus
Most commercial sausage has phosphate additives in it. Phosphate additives can be harmful to people with kidney disease. Making your own sausage at home allows helps make sure your sausage is phosphate additive free.
Remember that all meat does have some phosphorus. Work with your Registered Dietitian to know how much is right for you.
Lower Potassium
Many processed meats also have extra potassium added to them. Making your own sausage can help make sure there are no potassium additives too!
All meat has some potassium in it. Remember, potassium is only a concern if you have high blood levels. Work with your Registered Dietitian to know how much potassium is right for you.
High Protein
Protein needs are different for everyone with kidney disease. People who have kidney disease who are not on dialysis should usually limit protein. However, people who are on dialysis need more protein.
Any kind of meat has a lot of protein in it. If you need to limit protein, enjoy low sodium sausage in smaller portions.
Can I Use Other Ground Meats?
Yes! This recipe works with ground chicken, turkey, beef or lamb.
Ground chicken or turkey will have less fat than ground pork. Be careful not to overcook it, or your sausage will be very dry!
Store Bought Low Sodium Sausage
There are not many low sodium sausages available to buy at the grocery store.
Here is a list of the lowest sodium sausages I could find. Let me know in the comments if you have a low sodium sausage you would like to add to this list!
Note that this sausage recipe is much lower in sodium than any of the store-bought sausages.
What About Turkey Sausage?
People often choose turkey sausage as a healthier option to pork or beef sausage. Turkey sausage and turkey bacon are usually lower in fat and calories compared to pork. However, turkey sausage and bacon are usually higher in sodium.
Always remember to check those Nutrition Facts labels!
How To Serve Low Sodium Sausage
Sausage Patties
Use this low sodium sausage recipe however you would usually use sausage!
I love to serve it with eggs, fruit and potatoes or toast for a fancy Sunday brunch.
Ground Sausage
You can also use this recipe in place of ground sausage in recipes. For example, ground sausage is often used in pasta or stuffed vegetable recipes.
I do recommend leaving out the egg if you plan to use this low sodium sausage recipe in ground form, rather than in a patty.
Happy Eating!
Melanie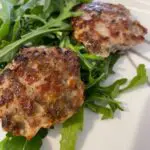 Print Recipe
Low Sodium Sausage
Flavorful, homemade sausage patties without the salt! Perfect for people who are trying to cut back on the salt.
Ingredients
1 1/4

lb

ground pork

1

egg

beaten

1

tsp

dried sage

1

tsp

dried thyme

1/2

tsp

fennel seed

1

dash

red pepper flakes

1/4

tsp

black pepper

1/4

tsp

salt

2

tsp

brown sugar
Instructions
Combine all ingredients in a bowl.

Using your hands, mash all together until very well mixed.

Using a heaping tablespoon, form 12 patties. The mixture will be fairly wet, but will come together with some love!

Heat a nonstick skillet over medium high heat. Cook patties 4-5 minutes per side.
Notes
Nutrition Facts (per 2 patties): 215 calories, 15g fat, 5g saturated fat, 94mg cholesterol, 0g fiber, 2g added sugar, 19g protein, 167mg sodium, 19mg calcium, 238mg potassium, 158mg phosphorus, 0mg oxalate