In my opinion, eggplant is one of the most underrated vegetables. Perhaps most popular for Eggplant Parmesan (which is also delicious!), eggplant can be used in so many different ways. Eggplant is both low in potassium (for people with kidney disease who need to limit potassium) and oxalate (for people with kidney stones who need to limit oxalate). This quick and easy overnight marinated eggplant is delicious and versatile!
How to Serve Overnight Marinated Eggplant
On a Charcuterie Plate
My personal favorite way to use overnight marinated eggplant! Add some healthy veggies to your next charcuterie tray with this recipe. Add some grapes, apple slices, roasted red peppers or artichokes for even more produce!
As a Meat Replacement on Sandwiches
Eggplant is a wonderful addition to sandwiches. Because of it's hearty texture, eggplant is even often used in place of meat. Mushrooms are another great veggie substitute for turkey, chicken or other meats on sandwiches.
To make my favorite eggplant sandwich, top a whole grain bread or pita with marinated eggplant, roasted red peppers & red onion and some goat cheese. If you are feeling fancy, add some fresh parsley and a sprinkle of lemon juice!
On a Salad
Top your favorite greens and veggies with some of this overnight marinated eggplant. The marinade helps flavor your salad without a ton of dressing. I like to drizzle some extra red wine vinegar to give the entire salad some extra flavor.
A Simple Side Dish
Of course, eggplant can also be served as a simple side dish. A great accompaniment with your favorite entrée!
As a Fancy Crostini or Pizza
My second favorite way to serve this overnight marinated eggplant! Slice a baguette into thin slices and drizzle with olive oil. Bake at 400'F for about 10 minutes until crostini are toasted. Top with eggplant. YUM!
Toss some of this eggplant on your next homemade pizza for some extra veggies. Try making your own homemade pizza crust!
As a Healthy Veggie Snack
Keep some marinated eggplant in your fridge to grab when snack cravings hit!
Happy Eating!
Melanie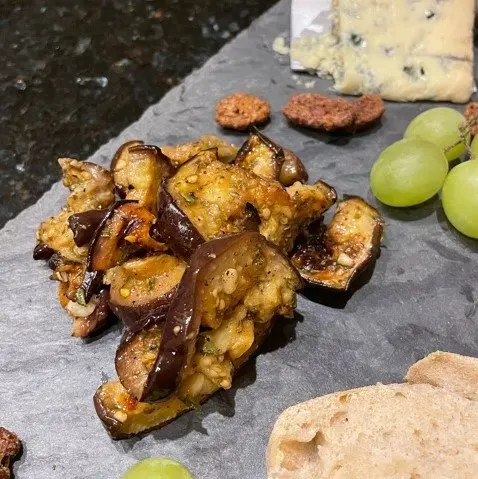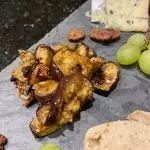 Print Recipe
Overnight Marinated Eggplant
Garlicky eggplant marinated overnight in olive oil and lemon juice.
Ingredients
2

medium

eggplants

1/2

cup

olive oil

2

lemons

juiced

4

cloves

garlic

minced

1/2

tsp

crushed red pepper flakes

2

tsp

dried oregano

2

tsp

dried parsley

1

tsp

black pepper

1/4

tsp

salt
Instructions
Halve the eggplants lengthwise. Slice into 1/4-inch slices.

Arrange eggplants in a single layer on baking sheet (you will probably need 2-3 sheets). Drizzle with olive oil and sprinkle with a tiny bit of salt.

Bake eggplant at 450'F for 20-30 minutes. Or, until soft.

In a large bowl, whisk remaining ingredients together. Toss marinade with eggplant. Let refrigerate overnight.
Notes
Nutrition Facts (per 1/3 cup): 116 calories, 9g fat, 1g saturated fat, 0mg cholesterol, 51mg sodium, 9g carbohydrate, 2.4g fiber, 0g added sugar, 1g protein, 12mg calcium, 131mg potassium, 17mg phosphorus, 15mg oxalate