Corn fritters are one of my favorite savory summer treats! As a mid-Michigan native, I have wonderful memories of stopping by a farm stand to pick up fresh corn on the cob. Although nothing beats boiled corn with a little butter and salt, corn fritters are a close second! I've modified my traditional recipe to make healthy corn fritters.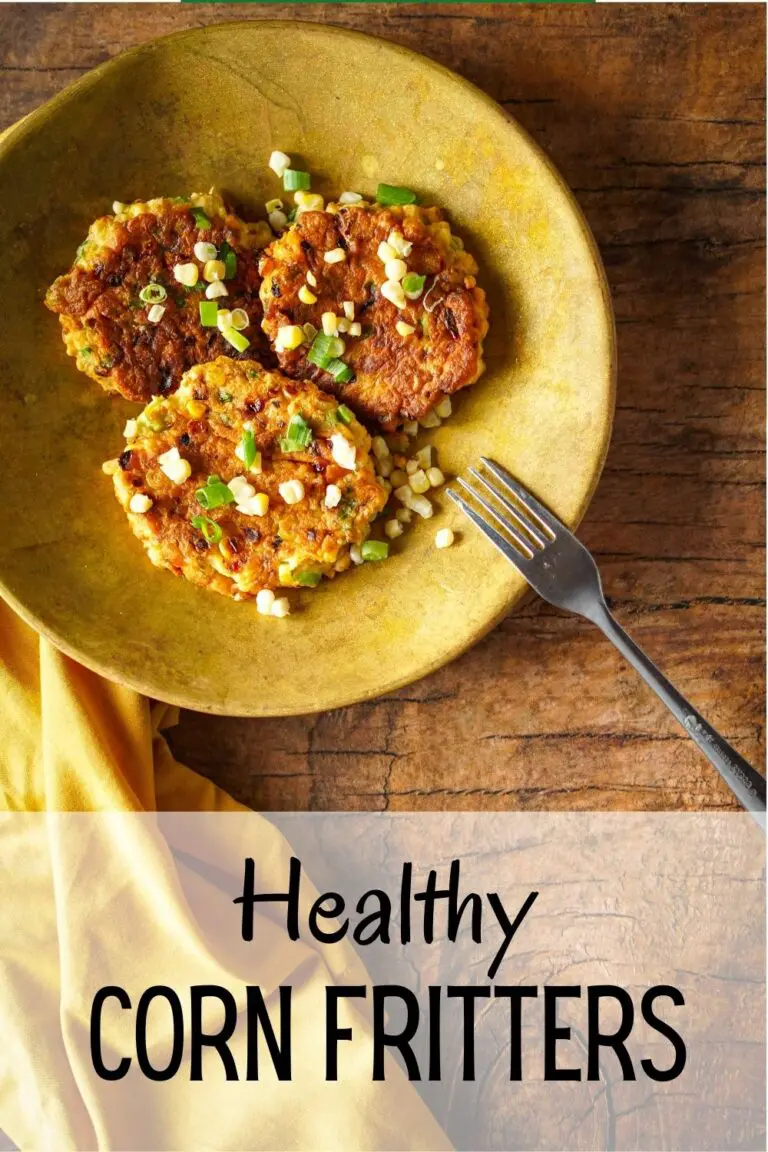 Why Are These Healthy Corn Fritters?
Low Sodium Corn Fritters
These healthy corn fritters have a ton of flavor from garlic, pepper and a dash of cayenne. No need to pack them full of salt!
Lightly Pan Fried
Unlike traditional deep fried corn fritters, these healthy corn fritters are not cooked submerged in oil. Instead, they get their crispy outsides from just a little vegetable oil.
Source of Fiber
Corn may have a bad reputation because it is "too starchy", but corn can absolutely be a part of a healthy eating pattern. Corn is packed with fiber at 3 grams per 1/2 cup.
Serving of Vegetables!
Yep! Corn is a vegetable! And, vegetables don't have to be boring.
If you have diabetes or high blood sugar, count corn in your carbohydrate for the meal. Remember, the goal for diabetes is to eat the right amount of carbohydrate. Not completely cut it out.
Kidney Friendly Corn Fritters
Last (but certainly not least!), these healthy corn fritters are kidney friendly! Vegetables are irreplaceable in any kidney friendly diet.
Corn is a great low potassium veggie. And, corn is low in oxalate if you have high levels of oxalate and want to prevent kidney stones.
How to Serve Corn Fritters
I love to serve corn fritters as the main event. Serve them with a side salad (may with a succotash for a more Southern feel?) and call it a day!
Or, healthy corn fritters can also be a tasty side dish. They go great with fish, chicken or pork.
Healthy Corn Fritter Toppings
You certainly don't need to top these corn fritters with anything. But, to spice it up a bit, try these scrumptious toppings:
Happy Eating!
Melanie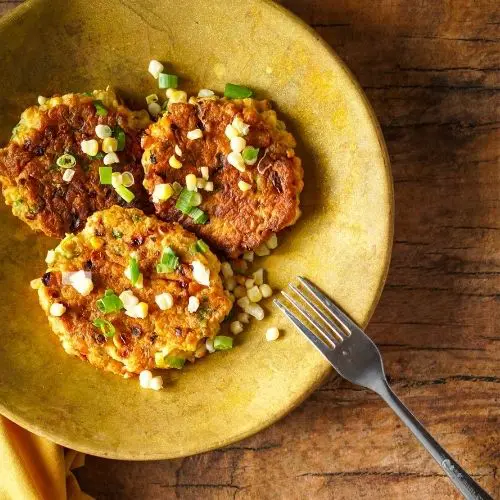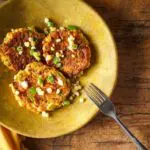 Print Recipe
Healthy Corn Fritters
Quick and easy low sodium corn fritters. The perfect summer savory treat!
Ingredients
3

cups

corn

frozen or fresh cut off cob

1/2

cup

all purpose flour

2

tsp

sugar

1/4

tsp

baking soda

1/4

tsp

garlic powder

1/4

tsp

onion powder

2

dashes

cayenne pepper

1/8

tsp

salt

1/4

tsp

black pepper

1

egg

lightly beaten

1/3

cup

low-fat milk

1

tbsp

canola oil
Instructions
Combine corn, flour, sugar, baking soda, spices, salt and pepper in a large mixing bowl. Stir until combined.

Add egg and milk. Mix just until combined.

Heat oil in a skillet over medium heat.

Drop 1/4 cup fritter batter onto heated skillet to make each fritter. Push batter down a bit to make the fritters a bit thinner (about 1/4 inch thick). Cook 3-5 minutes per side, until browned and cooked through.

Garnish with green onion or one of the recommended toppings if desired. Enjoy!
Notes
Nutrition Information (per 2 fritters): 219 calories, 6g fat, 1g saturated fat, 48mg cholesterol, 38g carbohydrate, 3g fiber, 2g added sugar, 7g protein, 181mg sodium, 38mg calcium, 288mg potassium, 138mg phosphorus, 3mg oxalate