What is better than an ear of freshly picked sweet corn? My mid-Michigan roots may make be biased, but corn on the cob is one of my favorite summer foods! But, is corn healthy? Is corn okay to eat if you have kidney disease or high potassium? Read on to understand everything you need to know about potassium in corn.
Health Benefits of Corn
Before we jump into the nitty gritty, lets talk about the health benefits of corn!
Counts as a Veggie!
The first benefit of corn is simply that it is a vegetable! Yep! Corn might have a bad reputation because it is higher in starch than other veggies, but it absolutely counts as a vegetable and can help you meet your goal of 5 servings of vegetables per day.
If you have diabetes, or are concerned about your blood sugar, just make sure to count corn as part of your carbohydrate for that meal. Remember, your goal to control blood sugar is not to completely avoid carbohydrate. Instead, you just need to eat foods higher in carbohydrate, like corn, in healthy portions!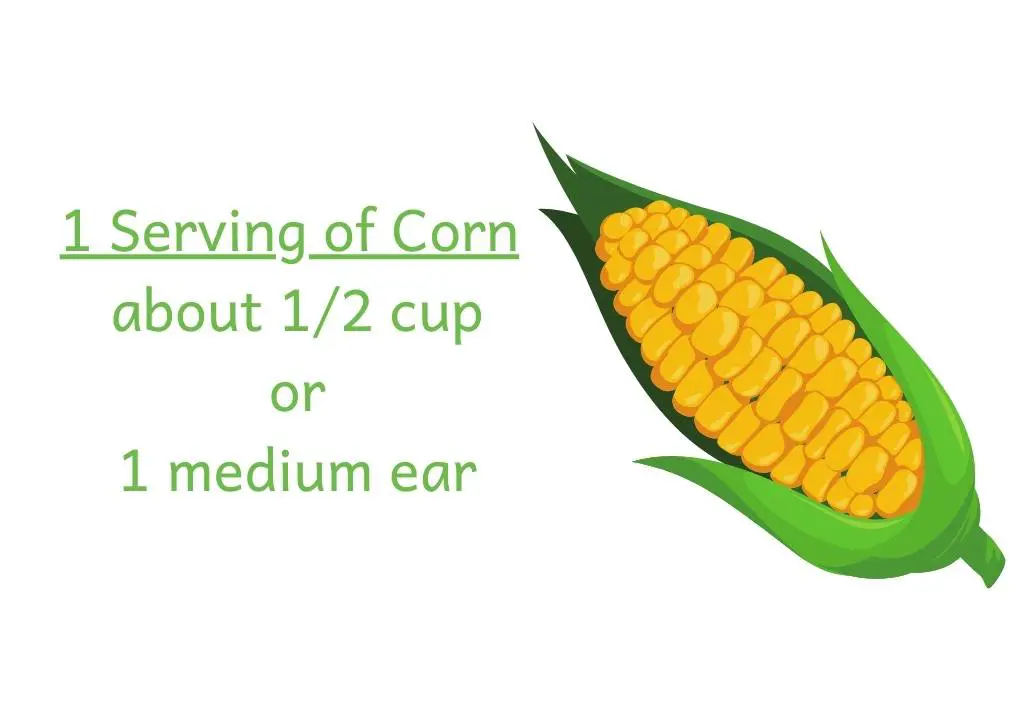 Fiber
Corn is a great source of fiber! A 1/2 cup of corn packs 3 grams of fiber. This is just as much as a slice of whole grain bread!
Natural Sweetness
Lastly, corn is delicious! Corn has a wonderful sweet flavor that is impossible not to love. Using corn, or other sweet veggies like carrots, to add just a touch of sweetness can cut down how much sugar or salt you need to make a tasty dish!
Potassium in Corn
And, the highlight of this post, the potassium in corn is a benefit for many people! A high potassium diet can help control blood pressure.
How Much Potassium Should I Eat?
Why should you care about potassium in corn? Getting potassium right can be confusing. Let's clear it up!
Potassium for General Health
Most people should be eating more potassium. In fact, 98% of people in the United States are not eating enough! High potassium diets can help control blood pressure and promote heart health. The general recommendation for potassium is 2,600mg for women and 3,400mg for men.(1) Corn is a great way to add extra potassium to your day!
Kidney Disease
However, some people might need to limit how much potassium they eat. People who have kidney disease are at risk of high potassium blood levels, a condition called hyperkalemia. If this is you, you may need to limit how much potassium you eat. A 2,000mg potassium diet is considered "low" in potassium. But, your dietitian might have different recommendations for you.
Remember, not everyone with kidney disease needs to limit potassium. Only people who have high potassium need to limit how much potassium they eat. Ask your doctor or dietitian how much potassium is right for you.
The Amount of Potassium in Corn
So, how much potassium is in corn? The answer depends on the type of corn and how you cooked it. Check out this table to compare potassium in corn.
| Corn | Serving Size | Potassium (mg) |
| --- | --- | --- |
| Fresh Corn on the Cob (white or yellow) | 1 medium ear | 368 |
| Boiled Fresh Corn on the Cob (white or yellow) | 1 medium ear | 158 |
| Canned Corn | 1/2 cup cooked | 109 |
| Frozen Corn | 1/2 cup cooked | 192 |
| Popcorn | 3 cups popped kernels | 180 |
| Cornmeal, de-germed | 1/4 cup | 56 |
| Cornmeal, whole wheat | 1/4 cup | 88 |
| Hominy | 1/2 cup | 8 |
Cooking Methods & Potassium in Corn
How corn is cooked has a big impact on how much potassium ends up in your body! Boiling corn (or any food!) tends to pull lots of vitamins and minerals from the food. Potassium included!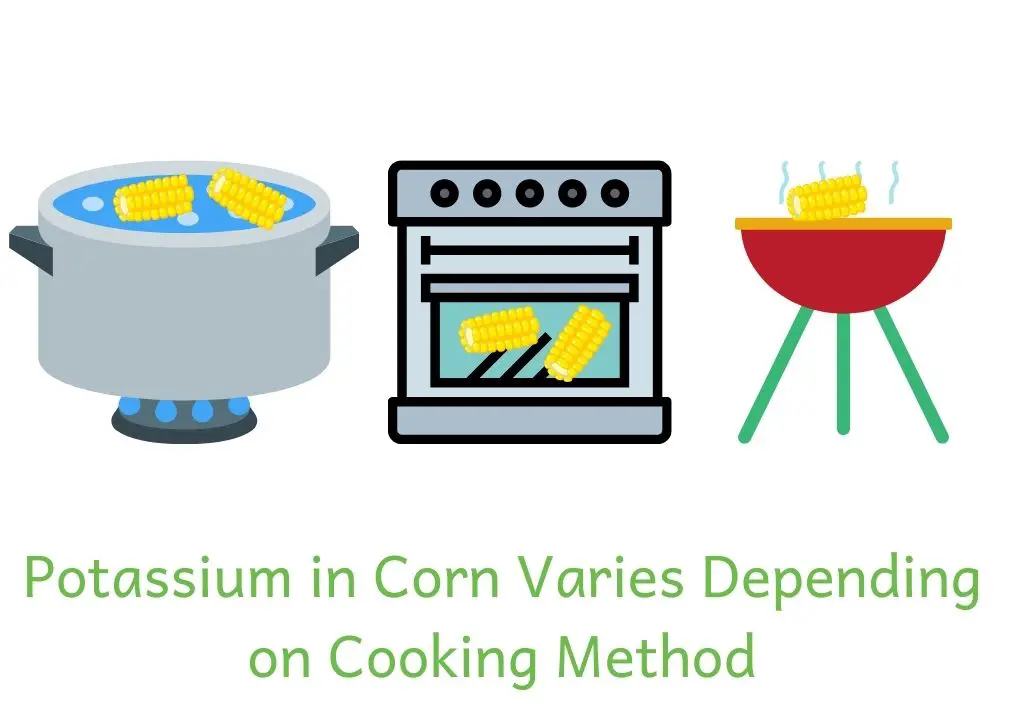 Boiled Corn
Generally, boiling food reduces potassium by half. Notice that 1 ear of fresh corn on the cob has about 60% more potassium in it compared to boiled corn on the cob. Because most people boil corn on the cob before eating it, that extra potassium in the "fresh" corn on the cob doesn't make it into our bodies.
Any cooking method that utilizes water will reduce the amount of potassium and other water soluble nutrients in the food. Steaming will reduce nutrients a small amount, but not as much as boiling. Braising and pressure cooking also cause a loss of water soluble nutrients.
"Dry" cooking methods like baking, roasting or grilling, will not reduce potassium significantly.
Canned Corn
For a similar reason, canned corn tends to be lower in potassium than fresh or frozen. Canned corn is stored in liquid, which pulls some potassium out.
Be mindful of sodium in canned corn for a kidney friendly diet. Look for "low sodium" or "no salt added" canned options. Or, try frozen corn!
Healthy Corn Recipes
Here are some of my favorite healthy recipes that feature corn.
Lower Potassium Corn Recipes
Higher Potassium Corn Recipes
Happy Eating!
Melanie