If you are like me, baked beans are a staple during the summer. A pot luck simply wouldn't be complete without sweet, velvety, scrumptious baked beans!
What is a baked bean lover to do if they need a low sodium diet? Never fear! My low sodium baked beans are SO easy and delicious, you won't miss the canned stuff!
*Please note that this post contains clearly identified affiliate links.  If you click on these links and choose to make a purchase, I may receive a commission (at no cost to you). As an Amazon Associate I earn from qualifying purchases.
How Much Sodium in Baked Beans
There is usually quite a bit of sodium in baked beans. The USDA estimates a 1/2 cup of baked beans has 435mg of sodium. (1) If they are made with meat, add an extra 100mg of sodium! (2)
WHOA! That is nearly a quarter of the sodium most of us need in an entire day in that measly 1/2 cup of baked beans. Yikes! The Dietary Guidelines for Americans recommends eating no more than 2,300mg of sodium per day.
These low sodium baked beans only have 55mg sodium per 1/2 cup. This is nearly 90% less sodium than traditional baked beans.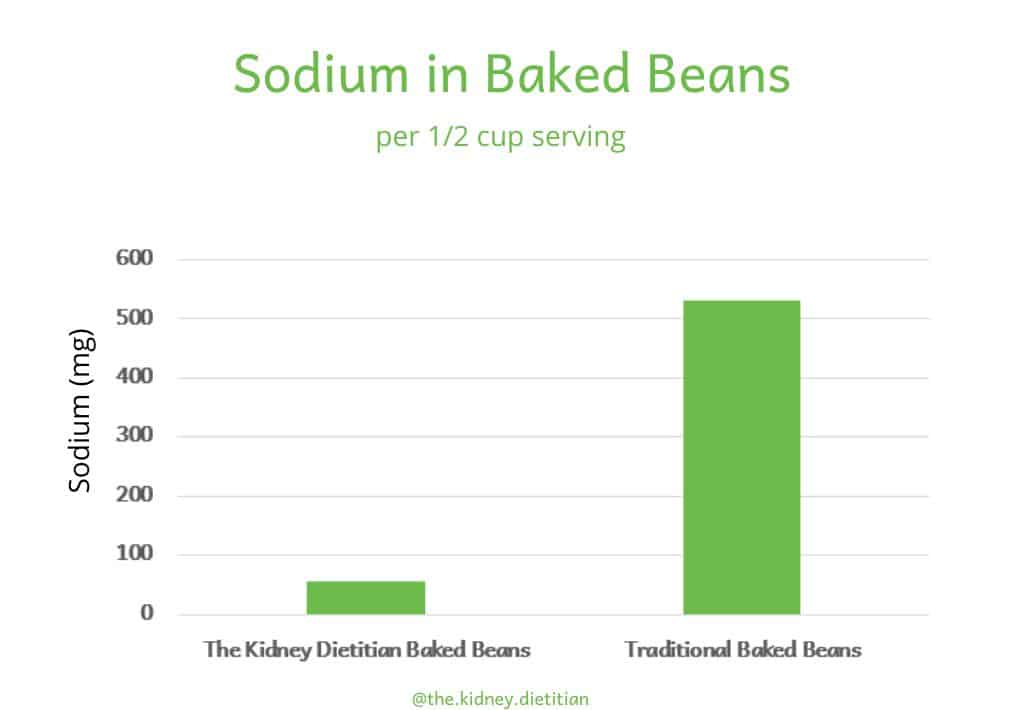 Why Low Sodium?
Too much salt can lead to high blood pressure, heart disease and stoke. High blood pressure is the leading cause of kidney disease. A high sodium diet may also lead to bone loss and osteoporosis. (3)
A low sodium diet is especially important for people with kidney disease, kidney stones, hypertension, heart disease and liver disease.
Remember, the goal is NEVER to totally eliminate sodium from your diet. Instead, it is important to eat the right amount of sodium. Most of us are eating nearly 1,000mg more salt than we need. (4)
Sodium that is already in food, like canned baked beans, is where most of us are getting salt. Choosing low sodium baked beans can help you meet your sodium goals.
Ask your dietitian how much sodium is right for you!
Salty Baked Bean Ingredients
Most of the sodium in traditional baked beans comes from the sauce. The sauce is typically made from ketchup, barbecue sauce and other salty condiments. This adds up!
Many baked beans also have bacon or other smoked meat in them. This adds even more sodium!
To make my low sodium baked beans, I used low sodium ketchup and just a little barbecue sauce to keep the sodium down. I cut the barbecue sauce in half by using ingredients from my popular low sodium BBQ sauce recipe!
Don't worry! You'll still get a TON of flavor from all the spices!
Key Low Sodium Baked Beans Ingredients
Onion
Onion (and garlic!) tend to be a STAPLE in my low sodium cooking. An entire onion goes into these low sodium baked beans for extra flavor.
Great Northern Beans
I chose great northern beans for my low sodium baked beans. Navy or great northern beans are the classic choice.
You could also use pinto beans for this recipe – these are a lower oxalate bean, if you need a low oxalate diet.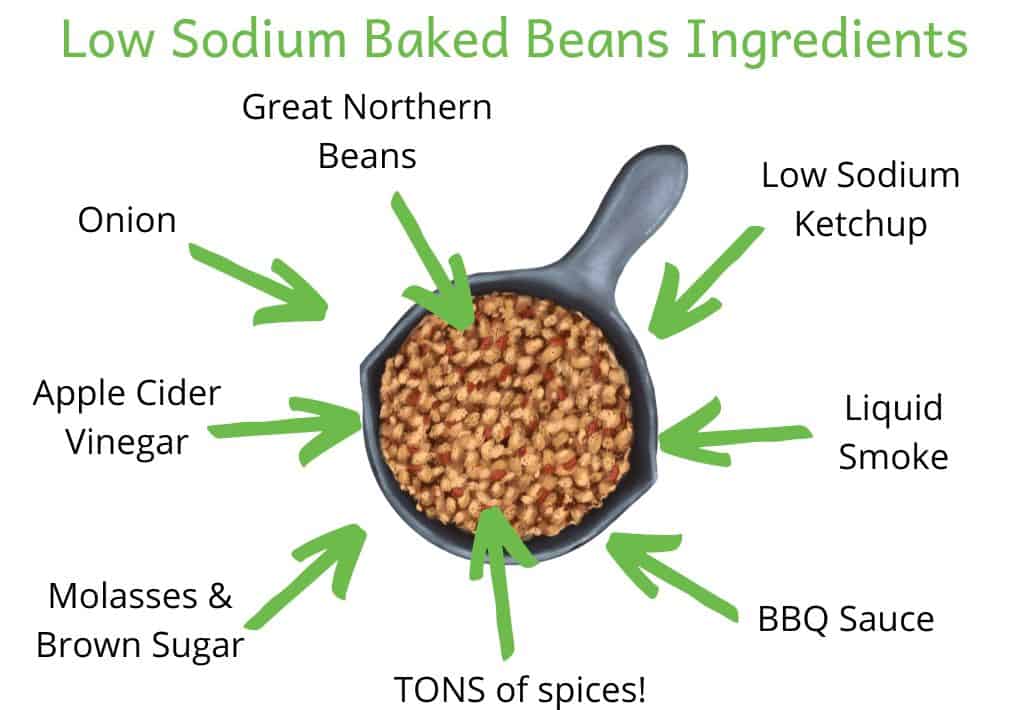 Coffee
Yes! You read that correctly! Coffee adds some flavor depth and interest to these baked beans, without a bit of sodium!
Barbecue Sauce and Low Sodium Ketchup
For convenience sake, I did use some higher sodium condiments in our low sodium baked beans. Because some of the barbecue sauce is drained after cooking, I opted to use the "real" stuff.
The ketchup is added after cooking and is not drained off. So, I chose to use low sodium ketchup here. Traditional ketchup has around 170mg sodium per tablespoon. Most low sodium ketchup has closer to 60mg.
If you have kidney disease, look for a low sodium ketchup that does NOT use a potassium salt substitute. I love French's Low Sodium Ketchup* and Kroger Brand Reduced Sodium & Sugar Ketchup.
Brown Sugar & Molasses
Low sodium baked beans need something for that classic sweetness. To help keep the added sugar down, I choose flavorful brown sugar and molasses. These sweeteners add a TON more flavor than white sugar, so I could get away with using less!
Liquid Smoke
If you love smokey flavor and haven't tried liquid smoke, RUN to the grocery store to get some!
Liquid smoke is a WONDERFUL way to add a ton of flavor to foods that traditionally use salty smoked meat. Most have little to no sodium, and are free of phosphate additives. I love to use liquid smoke in things like baked beans (of course!), collard or mustard greens or on grilled meat.
I use Colgin Liquid Smoke* that has ZERO sodium. Stubb's Hickory Liquid Smoke* only has 45mg sodium per teaspoon. You really don't need to use very much of this pungent stuff!
Apple Cider Vinegar
Acid is magic in most low sodium recipes. I used slightly sweet apple cider vinegar for our low sodium baked beans. Add acid to your dish in the form of vinegar or lemon/lime juice to add a BURST of flavor.
Spices!
Key to any low sodium recipe, I there are a TON of spices in our low sodium baked beans. I used the spices from the low sodium BBQ sauce recipe!
Are Low Sodium Baked Beans Healthy?
Yes! Whereas most baked beans are PACKED with sodium and sugar, these baked beans only have 55mg sodium and 5g of added sugar per 1/2 cup serving.
Baked beans are a fantastic source of fiber and plant protein. A 1/2 cup has a whopping 7 grams of fiber! That is the equivalent of 2-3 apples!
PLUS, what is better than a healthy recipe that you just THROW in the slow cooker!? If you don't have one already, I've had this 3 quart Crock Pot* for over a decade!
Nutrients of Concern for Kidney Health
Being The Kidney Dietitian, I have to address some common concerns about beans on a kidney-friendly diet.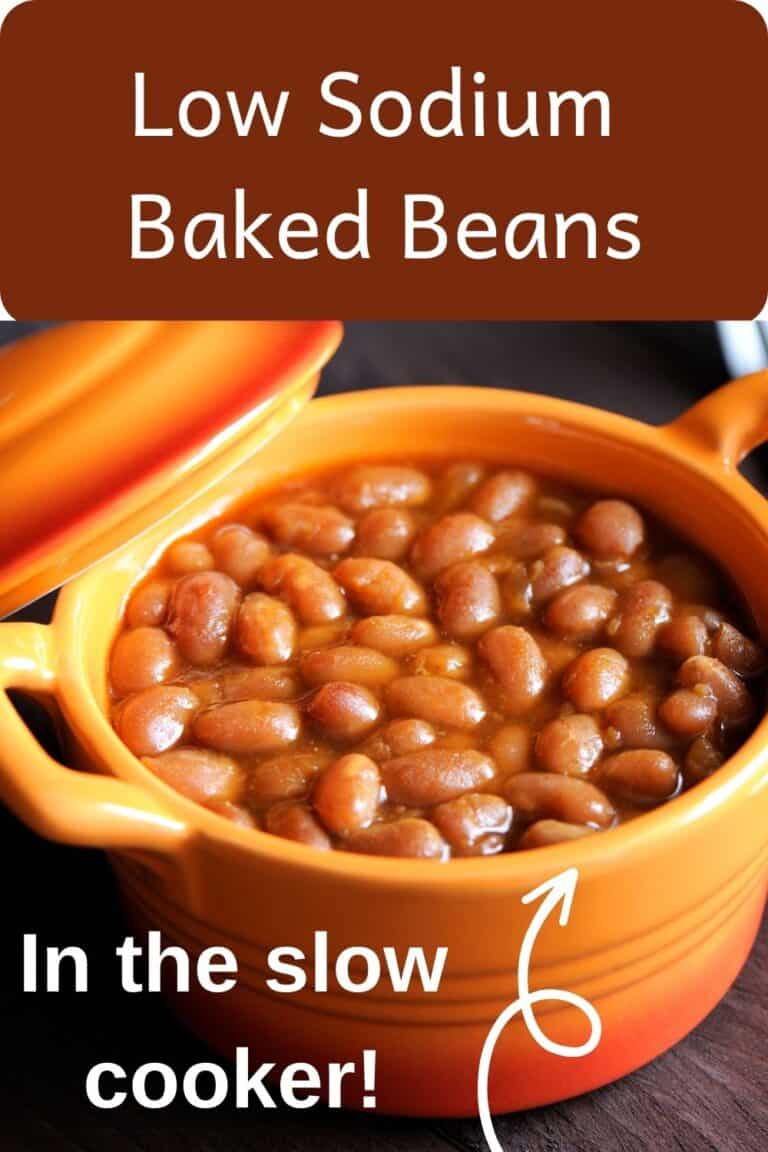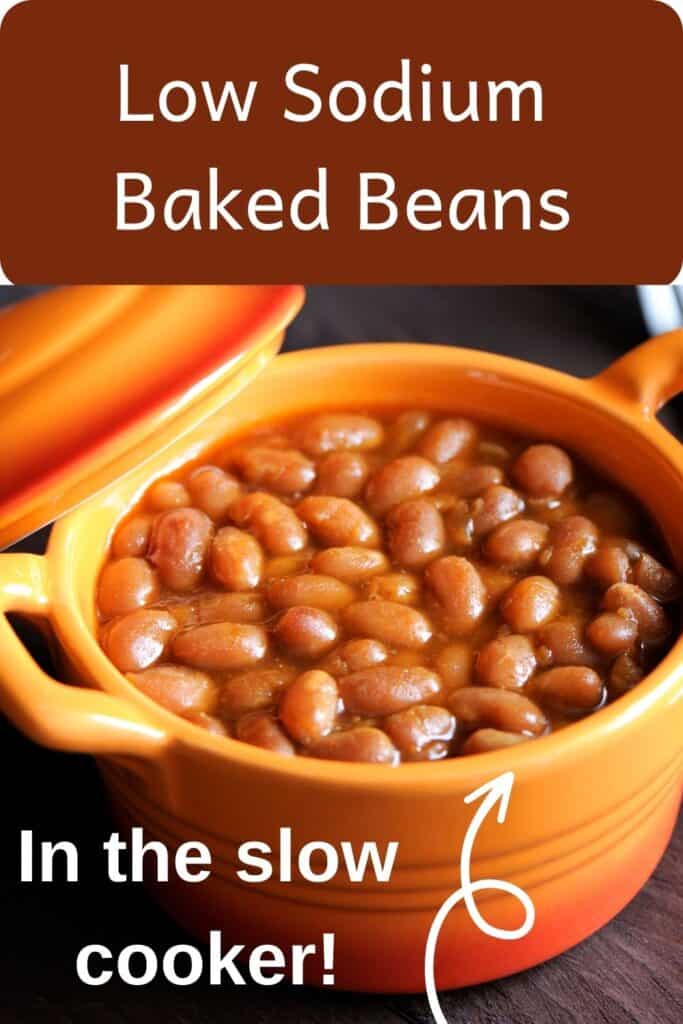 Potassium
Historically, beans were ostracized for people with kidney disease because of potassium and phosphorus. But, we now know that plant protein foods, like beans, are actually much better for kidneys than animal protein! (5)
Not everyone with kidney disease needs a low potassium diet. In fact, a high potassium diet is good to help control blood pressure for many people with kidney disease.
We also think about phosphorus very differently . The phosphorus in plant foods, like beans, doesn't get absorbed into our bodies. It is the phosphorus that is added to processed foods we need to look out for. Learn more about the new & improved low phosphorus diet for kidney disease!
Oxalate
Eeek! Beans for kidney stones!? YES!
Beans are also ostracized unnecessarily for kidney stones. Although they can be higher in oxalate, not all beans are. Plus, many people with kidney stones DO NOT need to be on a low oxalate diet. For most, a eating enough calcium is MUCH more important than stressing about oxalate. (6)
As always, nutrition for kidney stones is different for each person, depending on their 24-hour urine test results.
I help prevent kidney stones with this personalized approach in Kidney Stone Nutrition School!
Sugar
These low sodium baked beans have 5 grams of added sugar. This is less than half the added sugar in most baked beans.
You could reduce the sugar by leaving out the brown sugar and molasses. This would reduce the added sugar to 3 grams per 1/2 cup serving.
Store Bought Low Sodium Baked Beans
There are so many key ingredients in traditional baked beans that are VERY high sodium. It was hard to find a commercial low sodium baked bean option.
The best I could find was Bush's 25% Less Sodium & Sugar Baked Beans*. A 1/2 cup still has 390mg of sodium. Honestly, you might as well make them at home! My low sodium baked beans have 85% less sodium than this!
Happy Eating!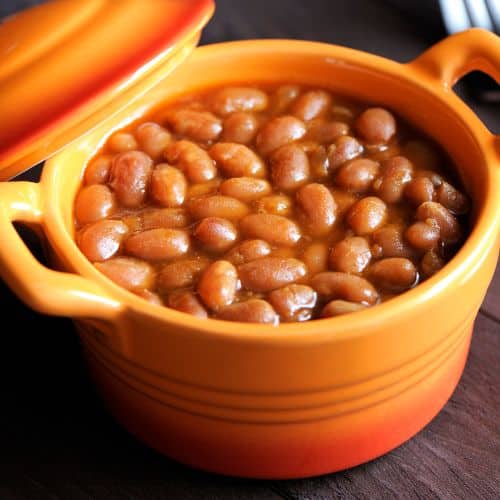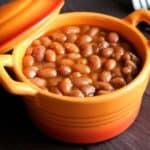 Print Recipe
Low Sodium Baked Beans
Smokey, delicious low sodium baked beans!
Ingredients
1

white onion

chopped

1

tbsp

vegetable oil

1

lb

great northern beans

dried

5 1/2

cups

water

1/2

cup

coffee

1/4

cup

barbecue sauce

2

bay leaves

1/4

cup

low sodium ketchup

2

tbsp

brown sugar

packed

2

tbsp

dark molasses

2

tbsp

apple cider vinegar

1

tsp

liquid smoke

2

tsp

ground mustard

1/4

tsp

paprika

1/4

tsp

black pepper

1/4

tsp

garlic powder

1/4

tsp

onion powder

1/4

tsp

chili powder
Instructions
Combine onion and vegetable oil in a microwave safe bowl. Microwave for 5 minutes, or until onion is soft.

Add cooked onions, beans, water, coffee, barbecue sauce and bay leaves to slow cooker. Stir to combine. Cook 7-9 hours on HIGH, until beans are very soft.

Drain cooked beans. Reserve 3/4 cup of cooking liquid. Return beans to slow cooker.

To beans, add reserved cooking liquid and remaining ingredients.

If beans have more liquid than you prefer, turn the slow cooker to HIGH and cook, uncovered 2-10 minutes until thickened.
Notes
Nutrition Facts (per 1/2 cup cooked beans): 191 calories, 2g fat, 0g saturated fat, 0mg cholesterol, 55mg sodium, 35g carbohydrate, 7g fiber, 5g added sugar, 10g protein, 108mg calcium, 684mg potassium, 124mg phosphorus, 79mg oxalate
Recipe adapted from Slow-Cooker Barbecued Baked Beans, America's Test Kitchen.