Looking for a delicious low sodium BBQ sauce recipe? Look no further! This sauce is delicious on nearly anything you want to throw on the grill!
*Please note that this post contains clearly identified affiliate links. As an Amazon affiliate, I may earn a small commission on qualifying purchases (at no extra cost to you).
Benefits of a Low Sodium Diet
Why should you use low sodium BBQ sauce anyway? The Dietary Guidelines for Americans recommends that everyone limit how much salt they eat to 2,300mg per day. Most of us are eating closer to 3,200mg of sodium per day!
A low sodium diet can help prevent heart disease, high blood pressure, stroke and even some cancers.
It is especially important for some people to follow a low sodium diet. A sodium diet restriction is often recommended to people with these health conditions:
Kidney Disease
Heart Disease
High Blood Pressure
Heart Disease
BBQ Sauce on a Low Sodium Diet
If you are a BBQ sauce lover like me, finding a good low sodium BBQ sauce is key. Nearly 80% of the salt in our diet is already our food. Only 20% of the sodium we eat comes from salt we add to food.
So, to really reduce your salt, it is important to know how much salt is in your food. Here are some of the most common sources of salt:
Condiments (BBQ sauce, ketchup, salad dressing, soy sauce, etc.)
Salty snacks (salted nuts, chips, pretzels, etc.)
Deli and other processed meats (bacon, sausage, salami, pepperoni, etc.)
Restaurant foods
Frozen or canned prepared foods
How Much Sodium In BBQ Sauce?
The amount of sodium in BBQ sauce depends on the brand.
Here is the sodium in some popular BBQ sauce brands. All sodium amounts are given in 2 tablespoon portion sizes.
Sweet Baby Ray's Original Barbecue Sauce (290mg sodium)
Heinz Original Sweet & Thick BBQ Sauce (300mg sodium)
Kraft Slow Simmered Original BBQ Sauce (350mg sodium)
Yo Mama's Foods Keto Barbecue Sauce (150mg sodium)
Famous Dave's Rich & Sassy BBQ Sauce (360mg sodium)
Annie's Organic Sweet & Spicy BBQ Sauce (260mg sodium)
As you can see, the amount of sodium in BBQ sauce varies quite a bit! Most of these BBQ sauces are very high in sodium. For comparison, this low sodium BBQ sauce recipe only has 7mg of sodium.
Always remember to check the nutrition facts label on whatever BBQ sauce you buy!
Can't I Just Buy Low Sodium BBQ Sauce?
It certainly makes sense to try to find low sodium BBQ sauce at the grocery store. Store bought options save time!
Whereas low sugar BBQ sauces are common, it is surprisingly hard to find a BBQ sauce that is low sodium. The definition of a low sodium food is less than 140mg of sodium per serving.
The only two BBQ sauces I found with less than 140mg of sodium per 2 tablespoon serving are:
Let me know in the comments below if you have a low sodium BBQ sauce you love!
Low Sodium BBQ Rubs
You could also add that delicious BBQ flavor with a rub instead of a sauce! Be careful, most rubs have quite a bit of salt. Check out these salt-free BBQ rubs*.
Or, you can make your own rub at home!
Low Sodium BBQ Sauce Recipe Ingredients
Because it is so hard to find a good low sodium BBQ sauce, I recommend making your own at home! It really is very easy. I promise! The whole process only takes about 30 minutes!
Plus, this BBQ sauce only has 7mg of sodium per serving! This is about 98% less sodium than most store bought BBQ sauces.
Here are the key ingredients in my (delicious!) low sodium BBQ sauce recipe.
Low Sodium Ketchup
We need a nice tomato base for our BBQ sauce. Low sodium ketchup is perfect! I usually use Heinz No Salt Added Ketchup*.
If you can't find low sodium ketchup, you can use the regular stuff. Regular ketchup will increase the sodium to about 135mg of sodium per 2 tablespoons. This is still less than half the salt in most store bought barbecue sauces.
A possible benefit of using regular ketchup is that low sodium ketchup usually has potassium chloride in it. If you have kidney disease and need to limit how much potassium you eat, potassium food additives should be avoided.
No Salt Added Tomato Sauce
For an extra tomato boost, I added a small can of no salt added tomato sauce. You can usually find this ingredient near the canned tomatoes at the grocery store.
Brown Sugar
A sweet flavor is key to any BBQ sauce. I like brown sugar because it gives the sauce that caramel, warm flavor.
You could use granulated sugar or honey if you prefer.
Apple Cider Vinegar
I love vinegary BBQ sauces. This recipe has apple cider vinegar in it for that vinegar kick, and a little extra sweet flavor.
Molasses
Mmm! Molasses. It is for more than cookies! The molasses is key in this low sodium BBQ sauce for texture and flavor.
Spices
Without salt, we need lots of spices in our BBQ sauce to add lots of flavor! This recipes uses paprika, garlic powder, onion powder, pepper, cinnamon and chili powder. If you love spicy BBQ sauce, try adding a dash of cayenne as well!
How To Use Low Sodium BBQ Sauce
You can use this low sodium BBQ sauce however you use your favorite BBQ sauce!
Slather it on some chicken or salmon and throw it on the grill. For a more plant based meal, coat some portabella mushrooms in the BBQ sauce. Or, drizzle it over a salad!
You can always use this sauce in recipes that call for BBQ sauce too. This will help keep the sodium down in that recipe too! This sauce freezes well. So, it is easy to make in big batches and freeze to have on hand.
Happy Eating!
Melanie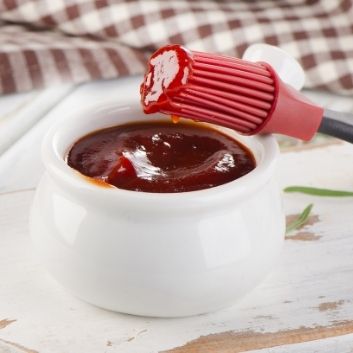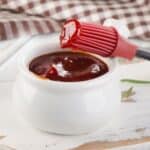 Print Recipe
Low Sodium BBQ Sauce
Sweet, vinegary low sodium BBQ sauce with a kick! Plus, 98% less sodium than most commercial BBQ sauce!
Servings:
22
2 tablespoons
Ingredients
1

cup

low sodium ketchup

1

cup

no salt added tomato sauce

1/3

cup

brown sugar

packed

2/3

cup

apple cider vinegar

1/4

cup

molasses

1/2

teaspoon

paprika

1/2

teaspoon

black pepper

1/4

teaspoon

garlic powder

1/4

teaspoon

onion powder

1/4

teaspoon

chili powder

1/4

teaspoon

ground cinnamon
Instructions
Combine all ingredients in a large saucepan over medium heat.

Once mixture is boiling, reduce heat and simmer for 20 minutes, stirring frequently to prevent burning. The sauce will get thicker and darker in color as it cooks.

Refrigerate sauce until use.
Notes
Nutrition Facts (per 2 tablespoons): 40 calories, 0g fat, 0g saturated fat, 0mg cholesterol, 10mg carbohydrate, 0g fiber, 8g added sugar, 0g protein, 7mg sodium, 15mg calcium, 133mg potassium, 8mg phosphorus, 3mg oxalate