Did you know that most refried beans are packed with sodium? Make your own refried beans at home for a healthy alternative!
Healthy Low Sodium Refried Beans!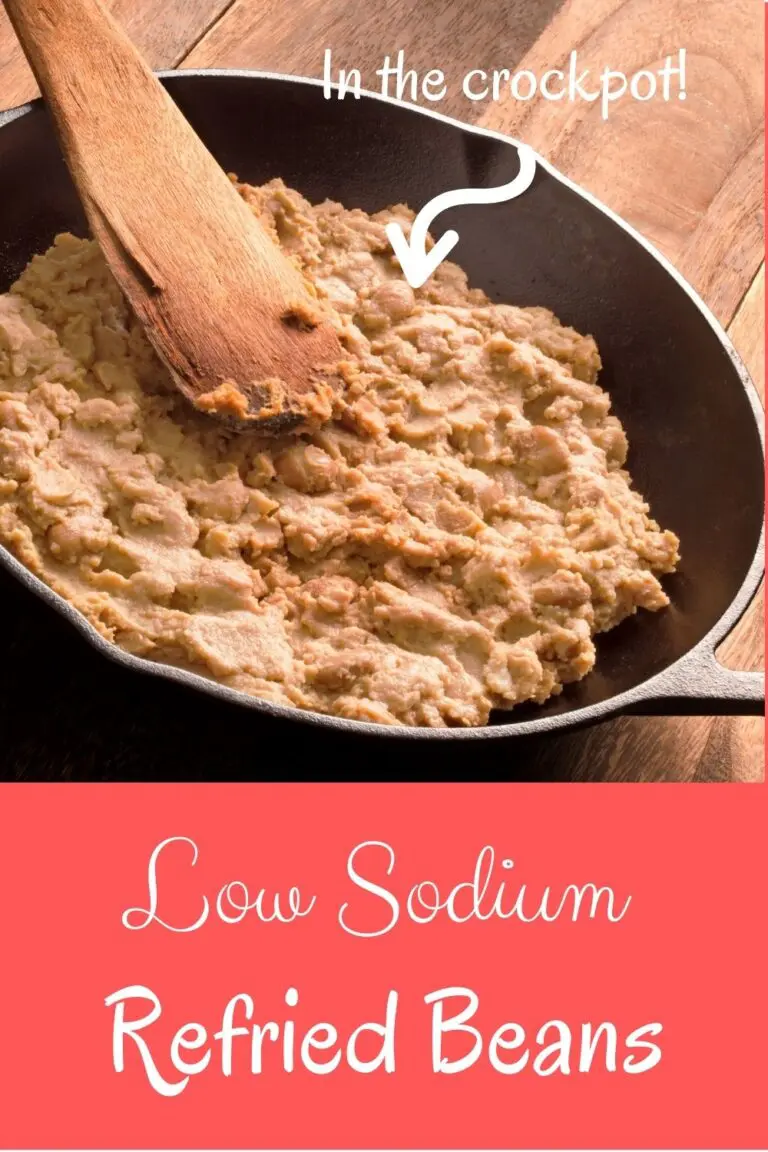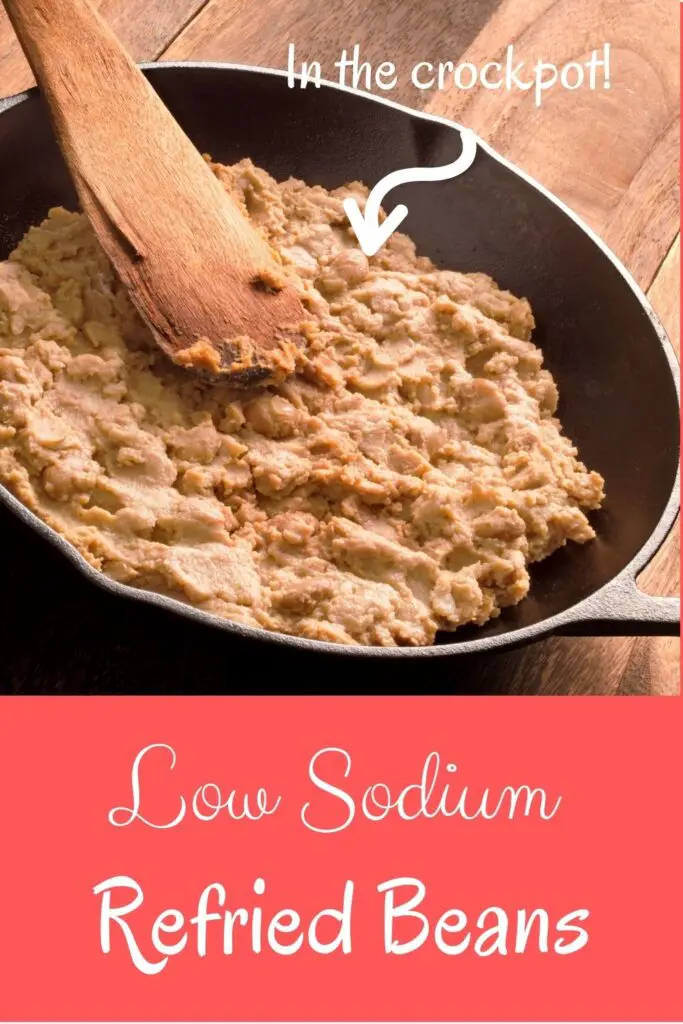 Low Sodium
Refried beans in a can or from a restaurant can have up to 500mg of sodium per 1/2 cup! This is nearly a third of the amount of salt you should have in an entire day! Eating too much salt can contribute to heart disease, stroke, kidney disease and kidney stones.
Plant Protein
But, if you do refried beans right, they can be very healthy! Beans are a great source of plant protein. Reducing animal protein (especially from animal flesh like beef, chicken and pork) and increasing plant protein is good for you! More plant protein is associated with less heart disease (1), kidney disease (2), high blood pressure (3) and cancer (4).
Packed with Fiber!
One of the biggest benefits of eating more beans is that they are packed with fiber! One 1/2 cup of refried beans has 8 grams of fiber. Getting in your fiber is good for your heart (5) and can help control blood sugar if you have diabetes (6). Of course, fiber also helps keep your bowels moving and can help stop constipation. (7)
Refried Beans & Kidney Stones
Yep! Refried beans can even fit on a low oxalate diet for people who have calcium oxalate kidney stones. These low sodium refried beans are made from pinto beans. Pinto beans have much less oxalate compared to higher oxalate beans like navy or black beans. One 1/2 cup portion of pinto beans has around 25 grams of oxalate, which can absolutely fit into a daily limit of 100mg oxalate. If you have high urine oxalate, limit oxalate to 100mg per day and eat enough calcium to bring urine oxalate down to a safe level. Remember that salt, protein and sugar can all play a role in kidney stones too!
Refried Beans & Kidney Disease
On the old renal diet, beans were considered a "never" food because they are "high" in phosphorus. But, we now know that most of the phosphorus in beans isn't absorbed. New guidelines from the National Kidney Foundation support allowing foods like beans, nuts, seeds and whole grains because our bodies don't absorb this phosphorus. (8)
Beans are also fairly high in potassium, but potassium needs are different for everyone with kidney disease. In addition, eating beans in place of meat at meals usually results in a healthy potassium amount. Ask your doctor or dietitian what is right for you!
Refried Beans in the Slow Cooker
What is better than coming home at night to the smell of dinner already cooked for you!? This is why I love to use my slow cooker as much as possible.
This low sodium refried bean recipe is perfect to throw together in the morning and eat for dinner that night. Because we want the beans to be nice and mushy for easy mashing, you can't really overcook them! Let them cook for at least 6 hours, but up to 12 hours is fine!
How To Serve Low Sodium Refried Beans
You can use low sodium refried beans however you would usually serve the traditional version.
I love to spread them on crunchy tostadas (try these low sodium tostadas*!) and top them with cheese, lettuce, tomato, onion and avocado. Try a little hot sauce too!
Use them to make tacos! Choose corn tortillas for a lower sodium swap for flour tortillas.
As a side dish! Low sodium refried beans are delicious all by themselves.
Try refried bean nachos with low sodium tortilla chips. Add a little cheese, lettuce, onion, fresh cilantro and you other favorite nacho toppings!
Happy Eating!
Melanie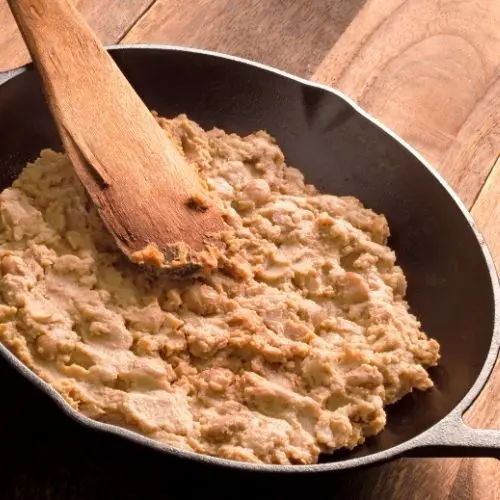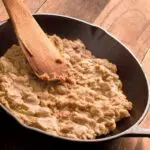 Print Recipe
Low Sodium Refried Beans
Kidney friendly low sodium refried beans! You'll never buy refried beans in a can again!
Ingredients
1

lb

dry pinto beans

8

cups

water

3

cloves

garlic

minced

1

onion

chopped

2

tsp

cumin

1 1/2

tsp

salt

1

tsp

black pepper

2

tsp

chili powder

1

tsp

garlic powder

1

tsp

onion powder
Instructions
Combine beans, water, garlic, onion, 1 teaspoon cumin, 1 teaspoon salt and 1/2 teaspoon pepper in a slow cooker. Cook on low at least 6 hours, until beans are very soft.

Drain water, reserving the liquid.

Using a potato masher, mash the beans. Add enough reserved liquid to meet your consistency preference.

Add remaining 1 teaspoon cumin, 1/2 teaspoon black pepper and chili powder, garlic powder, onion powder and 1/2 teaspoon salt. Add more spices to taste!
Notes
Nutrition Facts (per 1/2 cup): 132 calories, 0.5g fat, 0g saturated fat, 0mg cholesterol, 24g carbohydrate, 8g fiber, 0g added sugar, 8g protein, 125mg sodium, 45mg calcium, 406mg potassium, 135mg phosphorus, 25mg oxalate
Note: Most of the salt in this recipe is removed with draining the liquid! You can make this recipe even lower in sodium by omitting the salt. 
*Please note that this post contains clearly identified affiliate links. If you click on these links and choose to make a purchase, I may receive a commission (at no cost to you). As an Amazon Associate I earn from qualifying purchases.