You've been diligently following a low oxalate diet and you keep getting stones. How can this be? It is a terrible place to be in: thinking you are doing everything "right" and still getting stone after stone. There must be more to the puzzle.
Low oxalate diets are not necessarily the most effective way to prevent kidney stones. Healthy eating for kidney stones is about a lot more than oxalate. In fact, I don't even give many of my patients an oxalate food list! Healthy eating for stone prevention must be based on your individual urine risk factors. A low oxalate diet is only necessary if one of your risk factors is high urine oxalate.
Here are the most common mistakes I see people make with low oxalate diets.
1. You Don't Have Oxalate Kidney Stones
This happens all the time. Unfortunately, people are often told to follow a low oxalate diet without even knowing what kind of kidney stones they have. About 80% of kidney stones are calcium oxalate, so sometimes doctors assume kidney stones are calcium oxalate. However, there are many different kinds of kidney stones including phosphate, uric acid, struvite and cystine. A study found that emergency rooms often given inappropriate nutrition advice for kidney stones. (1)
If you do not have oxalate kidney stones, following a low oxalate diet is not going to prevent more kidney stones.
2. You Don't Have High Urine Oxalate
Even people who have oxalate kidney stones do not necessarily need to follow a low oxalate diet. Oxalate kidney stones can be caused by a variety of things. In fact, high urine calcium is the most common cause of oxalate kidney stones, not high urine oxalate. (1) Urine citrate, pH and other factors also play a role.
If you don't have high levels of oxalate in your urine, cutting back how much oxalate you eat isn't going to make much difference. Only a 24-hour urine test will be able to tell you and your doctor if you have high urine oxalate.
More about who needs a low oxalate diet in the first place!
3. You Aren't Drinking Enough Water
Drinking enough water is the most important part of kidney stone prevention. (1) No matter how healthy your diet is, if you are not drinking enough water, you may be at risk for kidney stones.
The American Urological Association recommends drinking enough fluid to make 2 1/2 liters of urine per day. (2) For most people, this means about 3 liters of fluid per day. Your goal might be more or less depending on your medical history and lifestyle factors. Ask your doctor or dietitian how much water is right for you.
Getting in this much water is no easy task! Many of my patients have found that using a smart water bottle, like the Hidrate Spark* to be incredibly helpful to meet their fluid goals!
4. You Aren't Eating Enough Fruits & Vegetables
Some people overdo the oxalate restriction and cut out too many fruits and vegetables. Contradictory oxalate food lists and websites spreading false, alarmist information about oxalate can scare people away from eating ANY healthy fruits and veggies. However, fruits and vegetables are non-negotiable for kidney stone prevention.
In every single study I've ever read, people who eat more fruits and vegetables are less likely to form kidney stones. (3) Although most fruits and vegetables do have a least a little oxalate, they also have all sorts of good things in them that can help prevent kidney stones. Citrate, potassium, magnesium and alkali are examples.(1) They are also a critical piece of a balanced meal. Without them, meals are usually too high in either protein or carbohydrate, which could contribute to stones as well.
A strict low oxalate diet of 50mg or less per day makes it very difficult to eat a variety of nutritious foods. And, may be doing more harm than good. For most people, simply avoiding foods very high in oxalate, along with eating enough calcium, is enough to bring urine oxalate down to safe levels.
Foods Very High in Oxalate
Spinach
Almonds & almond products
Beets
Rhubarb
Raspberries
Navy Beans
Miso
If taking these foods out of your diet doesn't lower urine oxalate, I usually recommend 100mg of oxalate per day. However, your diet should be individualized to your 24-hour urine results.
5. You Aren't Eating Enough Calcium
In a landmark study, people who ate enough calcium had a 50% reduced risk of kidney stones compared to people who limited calcium – both groups were following a low oxalate diet. (4)
Calcium is so important because it binds to oxalate in the intestine and reduces oxalate absorption. Eating enough calcium is a very effective way to reduce urine oxalate.
More about calcium and kidney stones.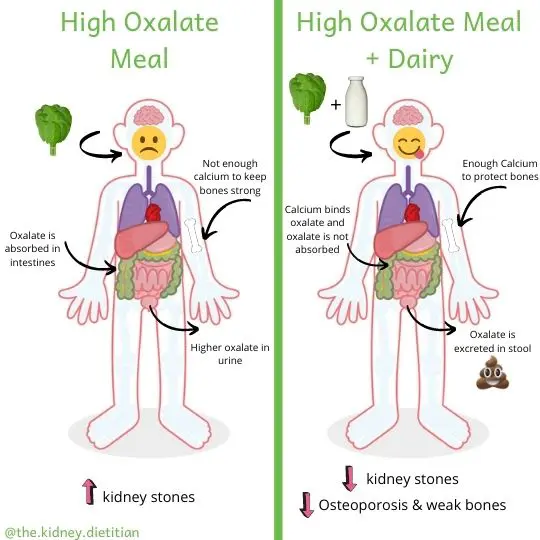 6. You Aren't Paying Attention To What You DO Eat
Healthy eating is never about just staying away from one nutrient. It is always more important to pay attention to what you ARE eating.
Oxalate is only one (possible) piece of kidney stone nutrition. Eating too much protein, sodium and added sugar can all play a role too. (3)
Learn more about healthy eating for calcium oxalate kidney stone prevention.
7. You Are Taking Vitamin C Supplements
Oxalate in your food is only one source of oxalate in the body. Your liver can make oxalate from certain things including some proteins, fructose and vitamin C. Vitamin C is a big one. In fact, a study found that vitamin C was the biggest contributor to oxalate in urine! (4)
If you have high urine oxalate, stay away from all types of vitamin C supplements. Yes, cough drops included! Vitamin C that occurs naturally in food is not a concern. People who eat lots of fruit are less likely to have kidney stones.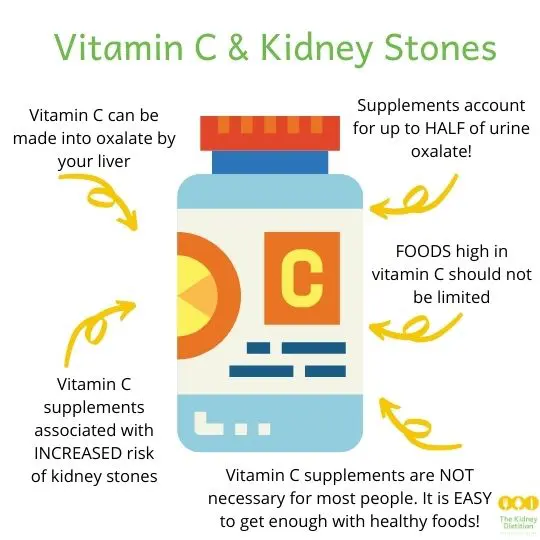 8. Kidney Stones Weren't Caused By Your Diet
Lastly, it is important to acknowledge the limitations of nutrition. Not all kidney stones are caused by what you eat. If diet is not the cause, changing it isn't going to help prevent kidney stones. It is important to find a doctor who specializes in kidney stone prevention to figure out the cause of your kidney stones and determine if eating (or avoiding!) certain foods will help you stay stone free!
Happy Eating!
Melanie