*Please note that this post contains clearly identified affiliate links. If you click on these links and choose to make a purchase, I may receive a commission (at no cost to you). As an Amazon Associate I earn from qualifying purchases.
So, your doctor told you to start following a low sodium diet. You are probably wondering how you can make your food taste good without the salt! The good news is that you absolutely can (and should!) eat flavorful, delicious meals on a low sodium diet. You just need to learn some new kitchen tricks!
Here is a complete list of healthy salt substitutes for kidney patients. And, which salt substitutes to avoid.
Low Sodium Diet for Kidney Disease
A low sodium diet is a pillar of healthy eating for nearly every health condition that affects the kidneys. People with Chronic Kidney Disease, Polycystic Kidney Disease, FSGS, nephrotic syndrome and kidney stones should all avoid too much salt.
A high salt diet can cause high blood pressure, which is harmful to kidneys. In fact, high blood pressure is the second leading cause of Chronic Kidney Disease in the United States. In addition, a high salt diet can make uncomfortable swelling, or water retention, worse for people with kidney disease.
For most people, a healthy daily sodium goal is 1,500-2,300mg per day. Only 1 teaspoon of salt has around 2,300 mg of sodium. This is less than half of what most people in the United States eat every day!
It is very important to realize that most of the salt we eat is already in our food. The best place to start removing salt from your diet is to eat foods low in sodium in the first place! Then, make those foods tasty with a healthy salt substitute for kidney patients!
Salt Substitute for Kidney Patients to Avoid
Artificial Salt Substitutes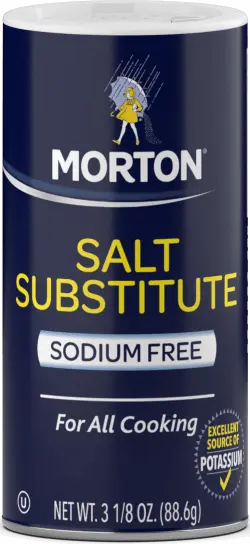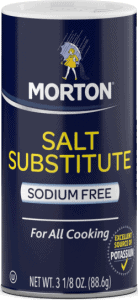 Products marketed as "salt substitutes" or "low sodium salt" can actually be dangerous for kidney patients. Most of these products replace sodium chloride (salt) with potassium chloride. For many kidney patients, these salt substitutes provide far too much potassium for kidneys to handle. Although not all kidney patients need to limit how much potassium they eat, I do recommend avoiding artificial potassium for anyone with kidney disease.
Salt substitutes can have a surprising amount of potassium in them. "Nu Salt" contains 3,180mg of potassium per teaspoon, which is more than many patients with kidney disease should eat in an entire day!
Examples of salt substitutes made with potassium. Kidney patients should avoid all of these salt substitutes.
Nu Salt (3,180mg potassium per teaspoon)
No Salt (2,560mg potassium per teaspoon)
Morton's Lite Salt (1,400mg potassium per teaspoon)
Morton's Salt Substitute (2,440mg potassium per teaspoon)
Diamond Crystal Salt Sense (unable to find potassium amount)
In addition, many of these salt substitutes have a somewhat bitter or metallic taste. Personally, I don't love the flavor!
Read Food Labels for Potassium
How do you know if your salt substitute has potassium in it? Check out the "Ingredients" section of the Nutrition Facts label. Look for potassium chloride, potassium iodide or any other ingredient that contains potassium.
Additionally, many low sodium food products are made with salt substitutes. For example, Healthy Choice canned soups are made with potassium chloride. A single cup of Healthy Choice Chicken & Dumplings soup contains 380mg of potassium. Make sure to check all food labels for potassium additives.
Spice Blends with Salt
Most spice blends you buy at the grocery store contain salt. For example, taco seasoning has a surprising amount of sodium in it. Many other spice mixes such as grilling seasoning, BBQ rubs, Italian seasoning, mesquite seasoning and stir fry seasoning have salt in them.
Not only do spice blends with salt add unnecessary salt to your food, they are expensive! Salt is very inexpensive, compared to dried herbs and spices. Salt is used as a filler in many spice blends. Save money and make your own salt free version at home!
Not all spice blends have salt in them. It is very product-specific. Always make sure to read Nutrition Facts labels to check for sodium content. You can also check out the ingredients to make sure salt is not added.
It is better to mix your own seasoning blend at home. Try this salt-free taco seasoning. Or, you can find many salt-free seasoning blends in the grocery store as well (keep reading for great salt-free options!).
Fancy Salts
There are many salts available that may appear to be healthier than traditional iodized salt. However, all of these specialty salts are still salt. They are not any healthier than regular salt.
Specialty salts for kidney patients to avoid. These all have the same amount of salt as plain salt!
Himalayan pink salt
Kosher salt
Sea salt
Rock salt
If you cook your food from scratch and choose primarily low sodium ingredients, there is room in a low sodium diet to add a small amount of salt to your food. If you prefer the taste of any of these fancy salts, then go ahead and use it! But, know that it is not any healthier than regular salt.
Lemon Pepper Seasoning
Traditional Lawry's Lemon Pepper seasoning contains a surprising amount of sodium. One teaspoon has 320mg of sodium.
Try Mrs. Dash's Salt Free Lemon Pepper*. Or, try making your own lemon pepper seasoning instead. Black pepper and fresh lemon juice is another great option.
Seasoned Salt
Lawry's Seasoned Salt has a large amount of salt (1,520mg of sodium per teaspoon) in it. It also has artificial phosphorus (via tricalcium phosphate) in it. Artificial phosphorus is harmful to people with kidney disease.
Top Salt Substitute for Kidney Patients
Herbs and Spices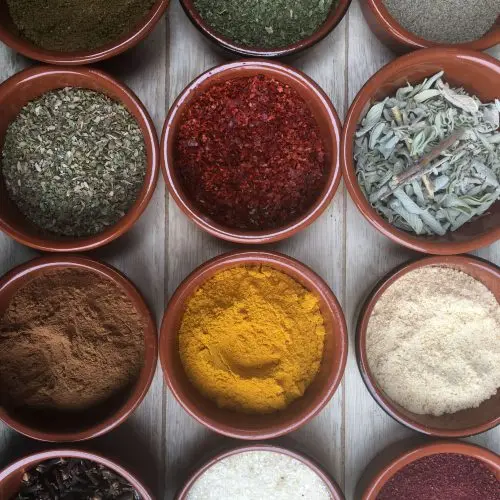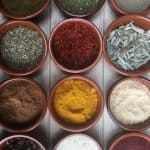 Simple, but true. Herbs and spices are the single best salt substitute for kidney patients. The best way to add flavor to your food without adding salt is to use them. A lot of them.
Any herb or spice is a wonderful option for people with kidney disease or kidney stones. Try experimenting with new flavors. You might find some new tastes you love. Here are my personal favorite herbs and spices to use.
Garlic & Onion Powder

Garlic and onion powder are great universal flavors that go on just about anything. Sprinkle these on chicken, steak, pork, fish or vegetables before (or after!) cooking.

Dill Weed

Probably one of my favorite flavors, dill also goes on just about anything. My favorite foods to season with dill are any kind of fish (especially tuna salad). Dill is also wonderful on chicken or pork. Try these roasted dill carrots!

Cumin

Cumin has a wonderful smoky, almost spicy, flavor. I love to add cumin to any Mexican inspired dish such as taco filling or breakfast tacos with onions and peppers. Cumin also goes wonderfully with beans and greens (try collards or mustard greens or kale). I also love it in these vegetarian stuffed peppers.
Cumin is frequently used in Indian dishes as well, along with many other tasty spices. Try this Indian Chicken Curry!

Chili Powder

Chili powder can be used for much more than just chili! Try making some butternut squash and poblano pepper tacos with a mix of chili powder and cumin to add flavor.

Rosemary & Thyme

Perfect for nearly all poultry dishes. Also delicious on fish and white beans.

Cinnamon & Nutmeg
Smoked Paprika

If you have never tried smoked paprika, pick it up next time you are at the grocery store. A little bit of this potent condiment goes a long way! Add it to soups, stews, greens or beans in place of smoked meat or sausage to mimic that smoky flavor!

Crushed Red Pepper Flakes & Cayenne Pepper

If you love spicy food, these two are your new best friends! Be careful, the longer you cook these spices, the hotter they get! Low sodium hot sauces are also an option for spicy food lovers.
Fresh vs. Dried Herbs
Both dried and fresh herbs and spices are wonderful additions to a low sodium, kidney healthy diet. Although fresh herbs tend to taste better, I generally use more dried herbs because they are cost-effective compared to fresh. However, I do love having fresh cilantro to make my own pico de gallo or to throw on top of Thai or Indian curry dishes. Also, what is better than the smell of fresh basil?
If you are able, growing your own herbs is a wonderful, cheap way to have fresh herbs at your disposal. I also love being able to harvest just the amount I need for a recipe.
It ultimately is a personal decision to use dried or fresh herbs. There is not a real nutrition benefit either way.
You can substitute dried for fresh herbs in recipes. A good rule of thumb is to use 1 teaspoon of dried herb, for every 1 tablespoon of fresh in a recipe. For example, if a recipe calls for 2 tablespoons of chopped fresh oregano, use only 2 teaspoons of dried oregano. Dried herbs are more potent than fresh!
Salt-Free Seasoning Mixes
There are many salt-free seasoning mixes available. The key is to never assume a spice does not have salt – always read the nutrition facts label! Here are some of the more more common salt-free seasoning blends available. Plus, some of my favorite brands!
Mrs. Dash
Mrs. Dash has become practically synonymous with a low salt diet. For good reason! Every Mrs. Dash seasoning blend is salt free and a great salt substitute for kidney patients!
If you haven't checked out Mrs. Dash in awhile, make sure to go down the spice isle next time you are grocery shopping. There are a ton of different flavors available, other than the original Table Blend*. Some popular flavors are:
McCormick Salt Free Seasoning Mixes
Not all of McCormick's seasoning mixes are salt free, but they do have many wonderful salt free choices. Notably, McCormick makes a salt-free onion & herb*, garlic & herb* and roasted garlic and bell pepper* seasoning mix. Make sure to pick the salt-free version of these mixes.
Recently, McCormick has released their "Perfect Pinch" seasoning mixes in many enticing flavors such as Caribbean Jerk, cajun and roasted garlic and bell pepper. Unfortunately, most of these mixes have salt in them. The Italian* flavor of the Perfect Pinch line is the only exception.
Penzey's Spices
If you haven't heard of Penzey's Spices, definitely give them a look. Penzey's is known for their tasty seasoning blends for every occasion and unique combinations.
Not all of Penzey's spice mixes are salt-free, but many are! Some great no salt options are:
Flavored Vinegar
Vinegar is perhaps the most underestimated salt substitute for kidney patients. Using a splash of vinegar near the end of cooking adds a ton of bright flavor to nearly any dish.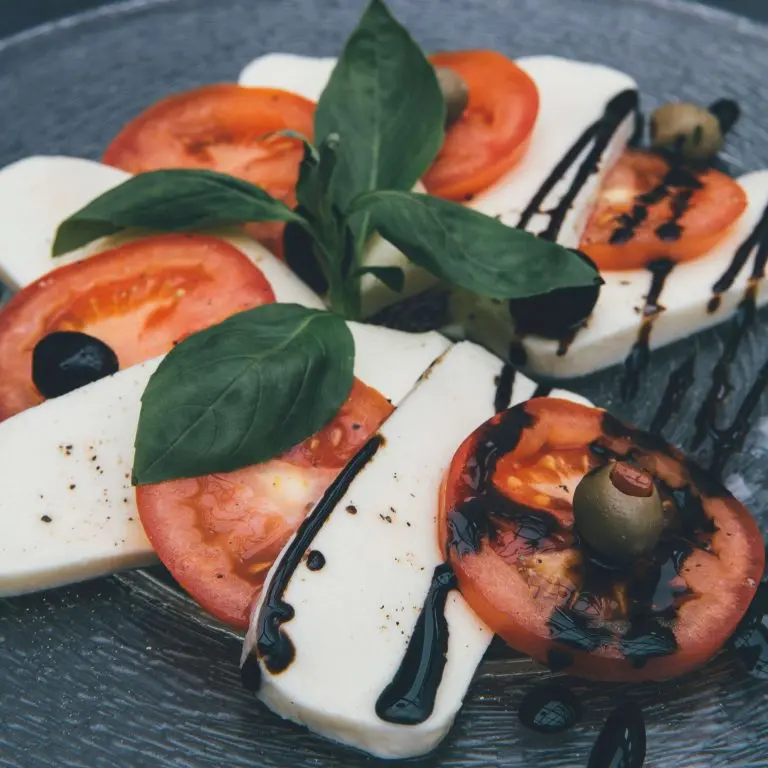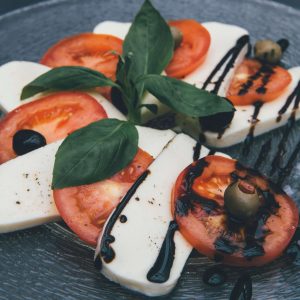 Here are my personal favorite flavors of vinegar:
Balsamic Vinegar

A classic! Try making your own salad dressing with balsamic vinegar. It is also delicious on poultry and fish. Balsamic vinegar is slightly sweet, so pairs wonderfully with bitter veggies like spinach, collards or kale. It can also help enhance the sweet flavor of slightly sweet veggies like sweet potatoes, butternut squash or pumpkin.

Grilled or caramelized onions with a splash of balsamic vinegar is a wonderful topping for sandwiches, pasta or salads. Or, just served as a side dish!
Also, if you haven't tried balsamic drizzle before, you are missing out! Balsamic drizzle is basically just balsamic vinegar boiled down until it is thick, sweet and even more full of flavor! You can make your own balsamic drizzle by bringing 1-2 cups of balsamic vinegar to simmer and cooking until thickened, 30-45 minutes. Or, you can buy it at most grocery stores. Trader Joe's Balsamic Drizzle* is my favorite.
For a fancy balsamic vinegar, try O White Balsamic Vinegar*. This vinegar is even sweeter than most balsamic vinegar, and a less harsh, acidic flavor.

Red Wine Vinegar

Red wine vinegar can add a ton of flavor to your food. Add some at the end of tomato based sauces or soups to elevate the flavor.

Sherry Vinegar

If you've never tried sherry vinegar, you haven't lived. Sherry vinegar has a slightly sweet, mellow vinegar flavor and is delicious to use on nearly anything. Add it to homemade sauces, soups or even egg dishes to truly elevate the flavor. O Aged Sherry Vinegar* is my favorite.
No Sodium Salad Dressing
Flavored vinegar makes a wonderful low sodium salad dressing. Simply whisk 1 tablespoon of your favorite flavored vinegar with 3 tablespoons oil (choose olive oil for a heart healthy fat!) and you are good to go!
If you would like to stop your vinaigrette from separating, add 1-2 teaspoons of Dijon mustard or mayonnaise to help it stay emulsified.
Fresh Lemon & Lime Juice
This is one of my favorite tricks for low sodium cooking. Citrus juices are wonderful salt substitutes for kidney patients. Try sprinkling fresh lemon juice on chicken noodle soup right before you eat it. Or, add it to baked chicken, fish, nearly any vegetable or pasta dish.
Add fresh lime juice on Indian or Thai curry for an amazing bright flavor. Lime juice also goes wonderfully with most Mexican-inspired dishes.
Fresh citrus will give you much more flavor. However, for convenience sake, bottled lemon or lime juice from concentrate also works!
Fresh Onion & Garlic
It may be odd to think about using onion and garlic as a salt substitute. However, using very flavorful ingredients like these help your food taste delicious without added salt.
A staple to nearly all types of cooking, you can't go wrong with fresh onion and garlic. Use these ingredients as a base for homemade soups, stews and sauces. I always recommend sauteing or roasting onion and garlic, as this will bring out even more flavor! For example, starting a soup with sauteing onion in some oil will add much more tasty flavor compared to adding them directly in the broth.
This trick works for dried spices as well! Toasting your spices in a small bit of oil (or even just in a dry pot) for a few minutes will enhance their flavor.
Happy Eating!
Melanie