This roasted red pepper sauce will be your new favorite weeknight sauce to jazz up your meal! With only about 5 minutes of hands-on cooking time, it is a quick and easy sauce anyone can make!
Making Roasted Red Pepper Sauce
Perhaps the best thing (besides the fact that it is delicious!) about this sauce is that it is so easy to make.
All you need to do is roast and peel the red peppers.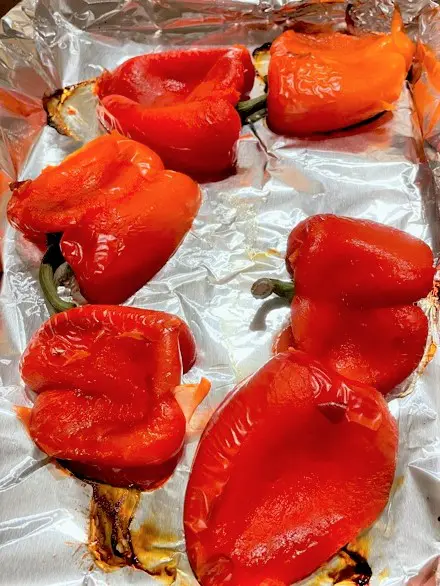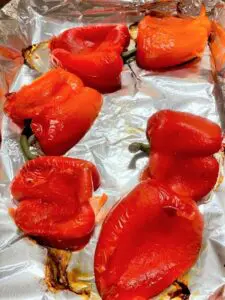 Then, throw the peppers into a food processor with the other ingredients. Blend and voila! Roasted red pepper sauce!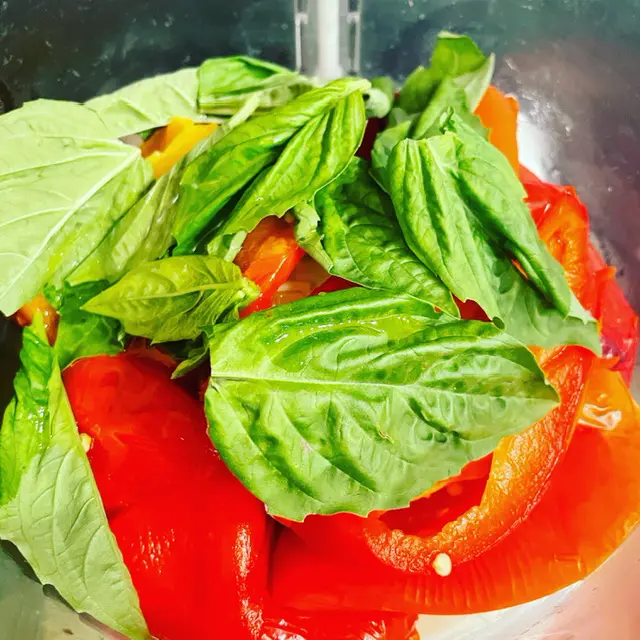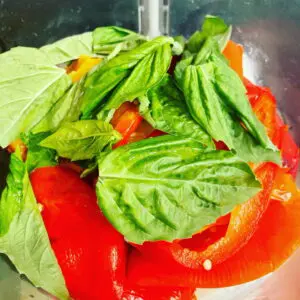 Serving Suggestions
Fish or Chicken
Try spooning this delicious roasted red pepper sauce over baked or broiled fish or chicken. I think this sauce tastes best with mild fish such as cod, tilapia or whitefish.
Serve this with a side of vegetables to complete your meal.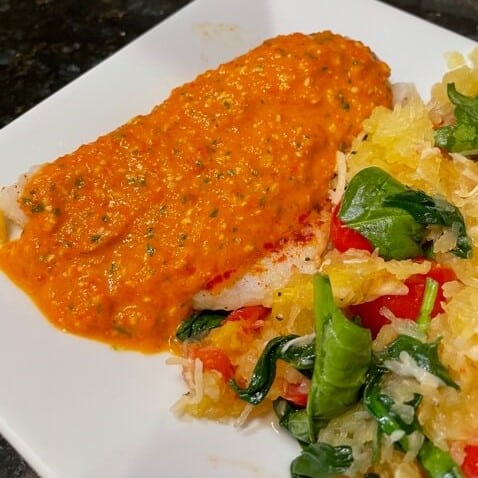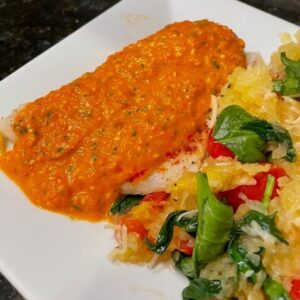 Pasta or Other Grain
This sauce is a delicious over your favorite pasta. It is a great way to sneak some veggies into Italian night!
You could also serve this sauce over other healthy whole grains such as brown or wild rice, couscous, bulgur or quinoa.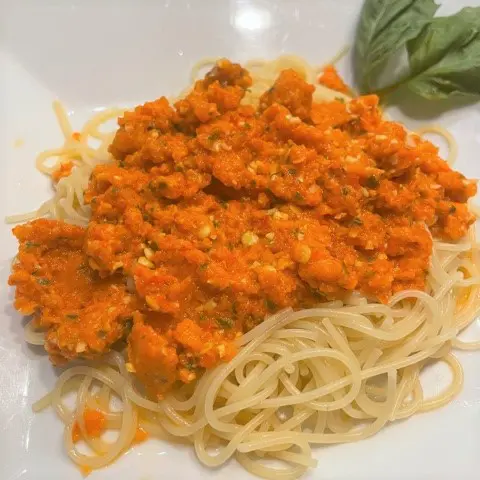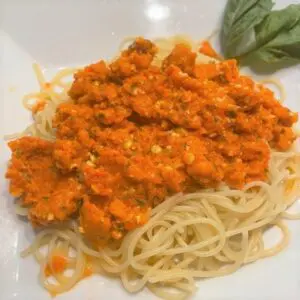 Vegetables
Serve this sauce with your favorite veggies to add delicious flavor without much salt! Try potatoes, asparagus, eggplant, cauliflower, parsnips, squash or zucchini.
Eggs
This sauce is an amazing way to elevate your eggs. Try with scrambled eggs or as a topping for omelets.
Flatbread Pizza or Crostini
Use this red pepper sauce in place of pizza sauce on flatbread or English muffin pizzas. Or, spread on toasted baguette slices with a sprinkle of cheese for a fancy appetizer!
Roasted Red Pepper Sauce vs. Tomato Sauce
Low Sodium
This roasted red pepper sauce is a tasty low sodium sauce. Making it an excellent option for people people with kidney disease, kidney stones, high blood pressure, liver or heart disease.
At only 72mg of sodium per 1/4 cup, it has about 1/3 of the sodium of jarred pasta, alfredo and most other sauces.
Remember that you can always make your own tomato sauce at home to keep it low sodium!
Low Oxalate
Although not everyone with kidney stones needs to limit oxalate, some people do. Always remember that healthy eating for kidney stones is much more than monitoring how much oxalate you eat.
Tomato sauce has about 60% more oxalate compared to this roasted red pepper sauce.
Low Potassium
This red pepper sauce has about half of the potassium in traditional tomato sauce. Some people with kidney disease need to avoid eating too much potassium. Swapping this sauce for tomato sauce in spaghetti or pizza can help cut back how much potassium you eat.
Happy Eating!
Melanie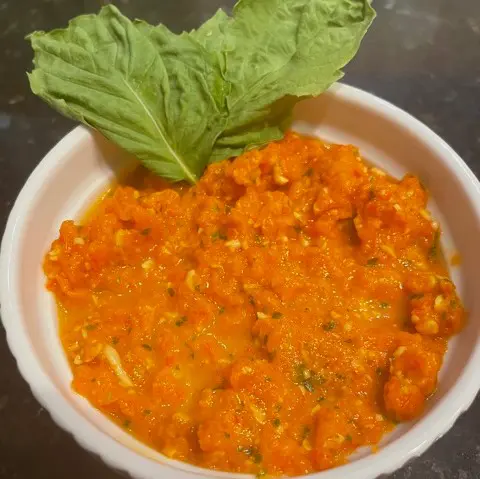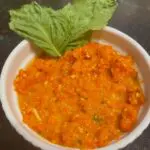 Print Recipe
Roasted Red Pepper Sauce
Flavorful, garlicky roasted red pepper sauce. Perfect for pasta, fish, chicken or vegetables!
Ingredients
3

large

red bell peppers

5

tbsp

Parmesan cheese

shredded

12

leaves

fresh basil

2

cloves

garlic

chopped

1/2

lemon

juiced (or more to taste)

2

tbsp

olive oil

1

tsp

red wine vinegar

(or more to taste)
Instructions
Slice peppers in half lengthwise and remove stem and seeds. Place on baking sheet and bake at 400'F for 30 minutes. Rotating pan halfway through baking.

Let peppers cool a few minutes. Peel the skin off peppers. The skin should be slightly charred and come off easily. If not, roast them for a few more minutes. It is okay if you don't get all of the skin off!

Combine peeled & roasted peppers with remaining ingredients in a food processor. Blend until smooth, about 1 minute. Serve immediately! You may want to heat the sauce on the stove or microwave.
Notes
Nutrition Facts (per 1/4 cup): 65 calories, 4.5g fat, 1g saturated fat, 3mg cholesterol, 72mg sodium, 5g carbohydrate, 1g fiber, 0g added sugar, 2g protein, 42mg calcium, 113mg potassium, 37mg phosphorus, 4mg oxalate