With so many veggie burger options out there, it can be overwhelming to find something that is kidney friendly and actually good for you!
Unfortunately, many of the "plant based" burgers and meat substitutes are packed with sodium and phosphorus additives. And, have just as much protein as beef.
Sodium in Popular Plant Based Burger Patties
The Beyond Meat Burger Patty: 350mg of sodium per 4oz patty (+potassium food additives)
Impossible Meat crumbles: 370mg of sodium per 4oz (no potassium or phosphorus additives)
Morning Star Grillers: 400mg of sodium per patty (no potassium or phosphorus additives)
Dr. Praeger's "Perfect Burgers": 380mg sodium per patty (no potassium or phosphorus additives)
Plus, these veggie burger options can be pretty pricey too!
What is a burger lover to do!?
As always, the best way to control sodium is make your own at home! These low sodium veggie burgers only have 114mg of sodium per patty. This leaves plenty of room in your sodium budget for your favorite burger toppings!
These homemade low sodium veggie burgers are a wonderful plant based meal option for people with kidney disease.
They are much lower in protein than many commercial plant based burgers (and definitely beef, turkey or chicken burgers!). A diet lower in protein can help stop kidney disease from getting worse.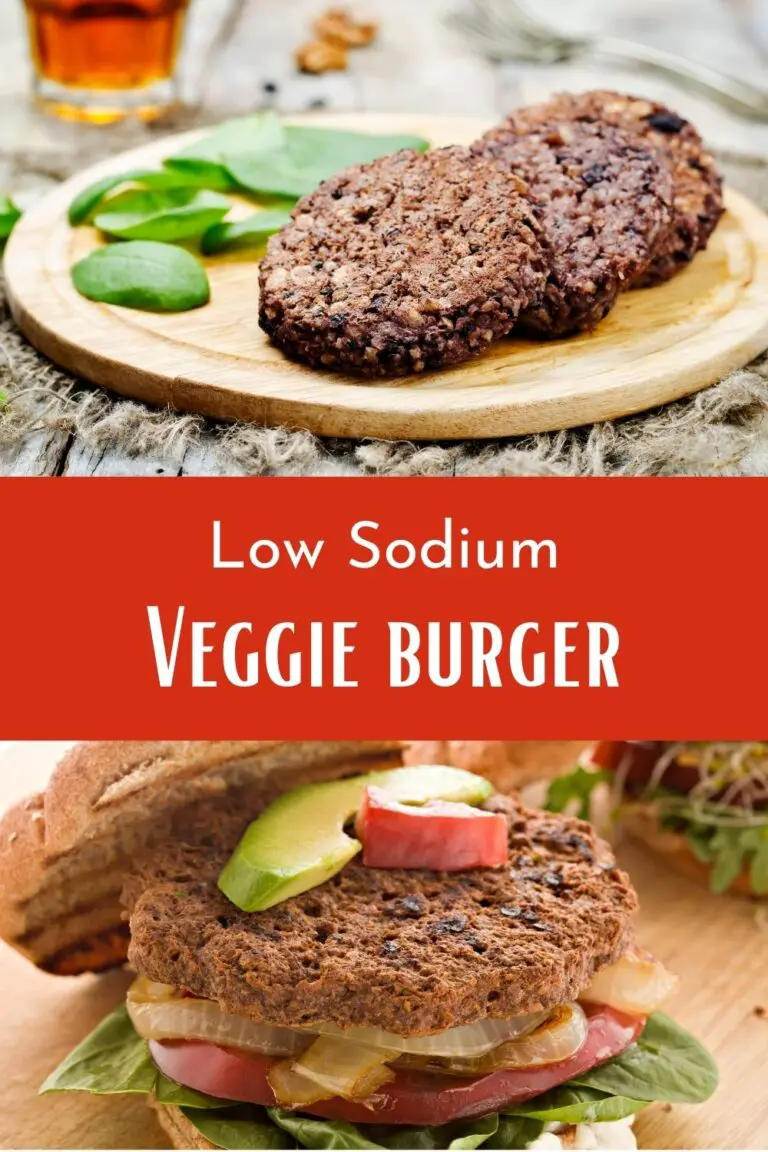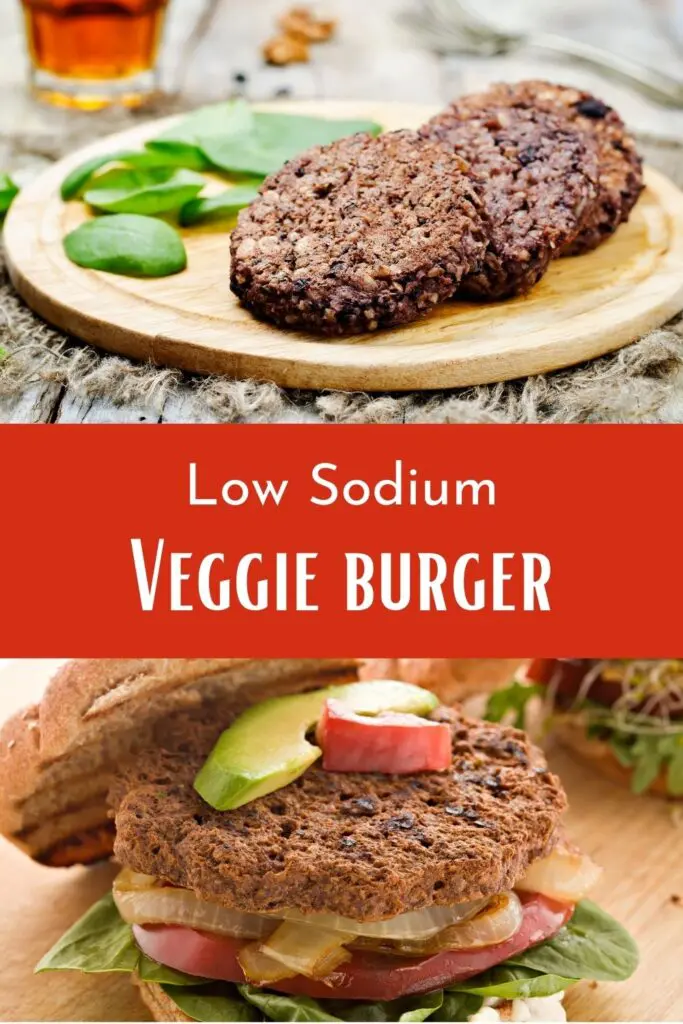 How to Serve Low Sodium Veggie Burgers
Enjoy this low sodium veggie burger with your favorite toppings! Pair it with a whole grain bun for some extra fiber. I also love these patties by themselves without a bun too. Seriously so good!
If I decide to go with a bun, here are my favorite burger toppings:
Romaine lettuce
Fresh tomato
Avocado
Caramelized onions
Add some creaminess and extra tang to your low sodium veggie burger with these tasty condiments:
Mashed avocado
A dollop of mayonnaise (try a plant based mayo if you prefer!)
Dijon mustard (I'm obsessed with this Horseradish mustard!)
Melty cheese! (learn more about low phosphorus cheese, or try a plant based cheese option)
Low Sodium Veggie Burger Ingredients
Mushrooms – for a "meaty" texture and flavor!
Low Sodium Canned Black Beans – even better, look for "no salt added" black beans
Broccoli – to sneak some extra veggies in there!
Red Onion – tons of flavor!
Eggs – to hold everything together
Stale White or Wheat Bread – to give the burger body and to hold it together! Making your own breadcrumbs is always the best way to go to keep it low sodium. You can also sub 2/3 cup panko breadcrumbs here. Panko breadcrumbs tend to be the lowest sodium option.
Garlic Powder & Black Pepper – for more flavor!
Worcestershire Sauce – for even more flavor! Look for low sodium Worcestershire to bring the sodium down even more
Olive Oil – to make these tasty patties nice and crispy
Happy Eating!
Melanie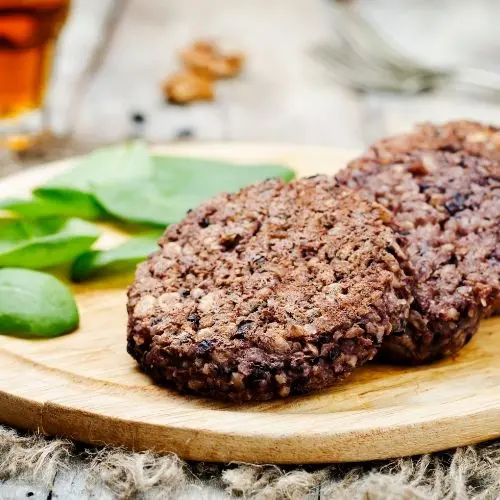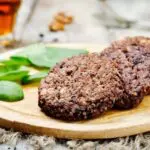 Print Recipe
Low Sodium Veggie Burger
Savory, crispy homemade veggie burger made with mushrooms, black beans, broccoli and onions.
Ingredients
2

cups

mushrooms

chopped

1

15oz can

low sodium black beans

drained & rinsed

1

cup

broccoli

minced

1/2

cup

red onion

minced

3

eggs

beaten

2

slices

stale white or wheat bread

(or, 2/3 cup panko breadcrumbs)

1

teaspoon

garlic powder

1/2

teaspoon

black pepper

1

teaspoon

Worcestershire sauce

1/4

cup

Parmesan cheese

shredded

2

tablespoons

olive oil
Instructions
In a food processor, process bread until crumbs are created. Making your own breadcrumbs usually is the best way to keep them low sodium. Panko breadcrumbs are usually the lowest sodium commercial option.

In a large bowl, add 3/4 of the black beans and mash them using a fork. Add remaining whole beans, breadcrumbs, mushrooms, broccoli, onion, egg, garlic powder, black pepper, Worcestershire sauce and Parmesan cheese. Shape mixture into 8 3-inch patties.

In a medium non-stick skillet, heat oil over medium heat. Place patties onto heated skillet and cook 3-5 minutes per side until golden brown and crust has formed on each side. Enjoy!
Notes
Nutrition Facts (per 1 patty): 155 calories, 7g fat, 2g saturated fat, 72mg cholesterol, 16g carbohydrate, 5g fiber, 0g added sugar, 8g protein, 114mg sodium, 95mg calcium, 277mg potassium, 139mg phosphorus, 24mg oxalate