All About Hummus
Who doesn't love hummus!?  This low sodium hummus is packed with lemon and garlic flavor – you won't miss the salt a bit!  Hummus is a healthy way to elevate otherwise somewhat boring celery and carrot sticks!
Hummus originated from Middle Eastern countries and literally means "chickpeas" in Arabic.  In the Middle East, hummus is commonly served as an a appetizer with pita bread or vegetables, as a condiment or as a spread on sandwiches.  Hummus has become incredibly popular in the United States.  In 2018, we spent nearly $800 million on the stuff! (1)
Hummus is full of fiber and healthy vitamins and minerals both from garbanzo beans and tahini, which is paste made from sesame seeds.  It is also generally gluten free, vegetarian/vegan and fits in nicely to most types of "plant-based" diets.
Why Make Your Own Hummus?
There is no shortage of hummus available at grocery stores these days.  My grocery store offers at least 10 different versions including everything from roasted garlic to spinach and artichoke.  Although the convenience is hard to beat, many of these pre-made commercial hummus products are full of sodium.  Most products I found had around 250mg per 1/2 cup or about 10% of your daily sodium goal.  I don't know about you, but there are many other ways I would rather eat my sodium!
This recipe has less than half the sodium in the commercial stuff!
Making your own hummus can also save you money!  Once you invest in a bottle of tahini (usually around $8/bottle, but you will get MANY batches of hummus from that bottle, and it stays well in the refrigerator!), the other ingredients are very inexpensive.
This homemade, low sodium hummus is also SUPER easy to make! Just puree everything in a food processor and you are good to go!
Most importantly, this hummus is delicious!  Honestly, it tastes much better than most hummus I've bought at the grocery store.
Low Sodium Hummus Serving Suggestions
Hummus is the perfect addition to a snack!  Add it to vegetables for some extra fiber, fat and protein to help keep you fuller longer.  If you are feeling extra fancy or serving this hummus at a party, top it with a sprinkle of paprika, fresh parsley and a drizzle of olive oil for color!  For the perfect snack, pair hummus with:
Raw veggies (carrots, celery, cherry tomatoes, cucumbers and bell peppers are my favorite!)
Low sodium pita bread
Low sodium pita chips
Hummus is delicious as a sandwich spread!  I love to make grilled veggie sandwiches (try eggplant, red onion and zucchini!) with a generous amount of hummus to add texture, flavor and protein.
This low sodium hummus can also be a tasty side dish to grilled chicken, homemade falafel or even served with bread on the side of an entree salad to help make the meal feel a little more hearty.
Low Sodium Hummus Toppings
Commercial hummus has so many enticing flavors.  Use this low sodium hummus recipe as a base, add a fun topping and transform it into almost any flavor!
Low sodium topping ideas:
Chopped roasted red peppers
Roasted minced garlic
Pesto
Olive oil & paprika
Chopped roasted red onion
Homemade tomato jam
Roasted tomatoes & basil
Balsamic drizzle
Chopped cilantro, jalapeno, tomato, chili powder & lime juice
Cumin, coriander and curry powder
Happy Eating!
Melanie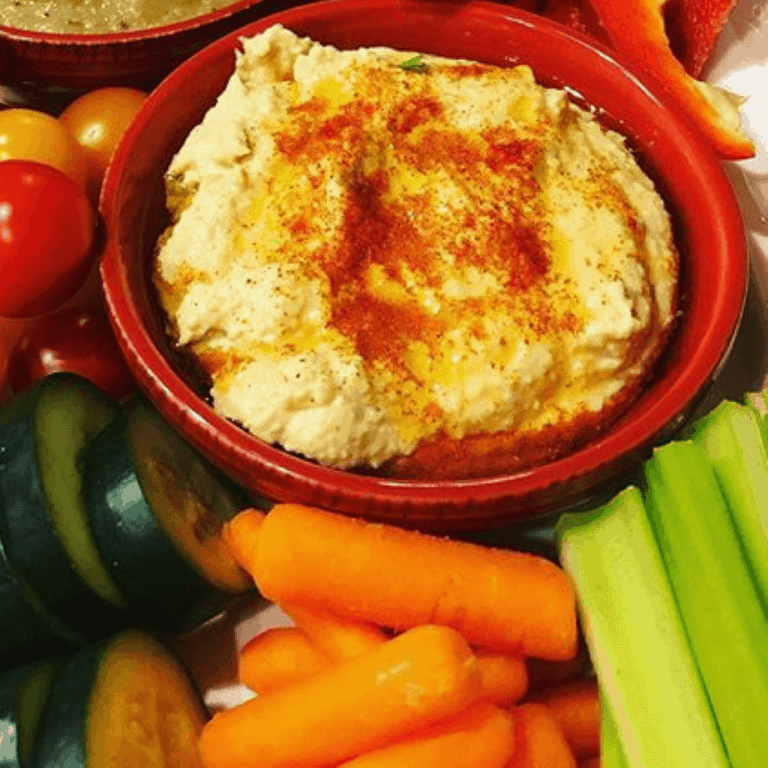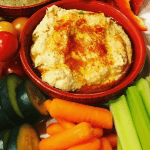 Print Recipe
Low Sodium Hummus
Tasty hummus filled with lemon and garlicky flavor - without the added salt!
Ingredients
2

cans

low sodium garbanzo beans

4

each

lemons

juiced

3

cloves

garlic

1/2

cup

tahini

1/4

tsp

salt
Instructions
Drain 1/4 of the liquid from both cans of beans. Add beans and remaining liquid to food processor.

Add lemon juice and garlic to food processor. Process mixture until smooth.

Add tahini and salt. Process until smooth and creamy.
Notes
Nutrition Info: 127 calories, 6.7g fat, 0.9g saturated fat, 0mg cholesterol, 64mg sodium, 14g carbohydrate, 4g fiber, 0g added sugar, 5g protein, 65mg calcium, 118mg potassium, 114mg phosphorus, 43mg oxalate