An exciting new article was published in the Journal of Renal Nutrition this month. Yes, I know I am a nerd – who else gets excited about scientific research papers?
This article is so exciting because it finally gives us an accurate amount of oxalate in coconut milk and other common plant based milks! Read on to learn about coconut milk in a healthy diet for kidney stones and finally get clarity about oxalate differences in plant based milks!
*Please note that this post contains clearly identified affiliate links. As an Amazon affiliate, I may earn a small commission on qualifying purchases (at no extra cost to you).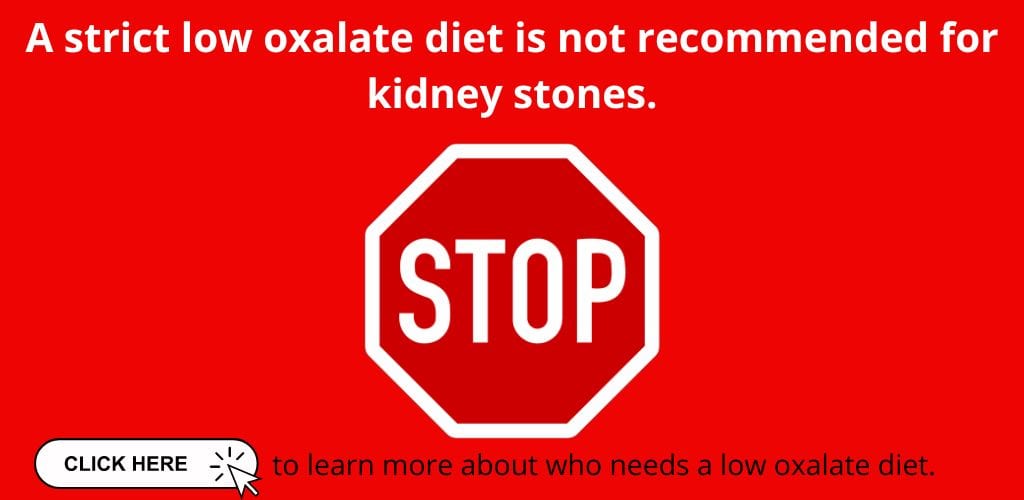 Popularity of Plant Based Milks
No doubt about it, plant based milks are popular. Sales of plant based milks reached $20 billion in 2020, a 20% increase from 2019. Plant based cheese and yogurt sales are also going up quite a bit. (1)
People report choosing plant-based milks due to perceived higher sustainability, animal welfare concerns, and generally trying to eat fewer animal products (2) (3) Almond milk tends to be the most popular plant-based milk, but coconut milk sales have also grown about 5% since 2016. (4)
How do these plant based milks stack up for kidney stone prevention?
Why Drink Coconut Milk for Kidney Stones?
Good Source of Calcium
The most important reason plant-based milks are good for kidney stone prevention is that they are a good source of calcium.
Eating (or drinking!) enough calcium is very important for people who have calcium kidney stones. Eating enough calcium has been shown to lower the risk of calcium oxalate kidney stones by about 50%. (3) Eating enough calcium can help reduce oxalate absorption, and is important for bone health! (4)
Generally, people with kidney stones should consume 1,000-1,200mg of calcium per day. (4)
One cup of So Delicious Unsweetened coconut milk* has about 100mg of calcium. Calcium will vary by brand of coconut milk.
Alternative for Dairy Intolerance
Although dairy is a wonderful source of calcium for kidney stones, not everyone can tolerate dairy. Or, you may avoid dairy for cultural reasons.
Coconut milk can also be a fun way to add variety to your calcium routine. Plain old cow's milk can get boring!
Coconut Milk is Delicious!
If you are a coconut lover (as I am!), you'll absolutely love the flavor of coconut milk! Coconut milk is delicious all by itself. Or, a great way to add calcium to oatmeal, cereal or other recipes that traditionally use cow's milk.
Cow's Milk vs. Coconut Milk
Plain old fashioned cow's milk is a healthy source of calcium and is usually the first recommendation for calcium stone formers. Of note, dairy has not been shown to cause inflammation in rigorous scientific studies. In fact, dairy has been shown to be anti-inflammatory in some cases. (5)(6)(7)(8)
However, some people cannot tolerate cow's milk. Or, choose plant-based milk for cultural reasons.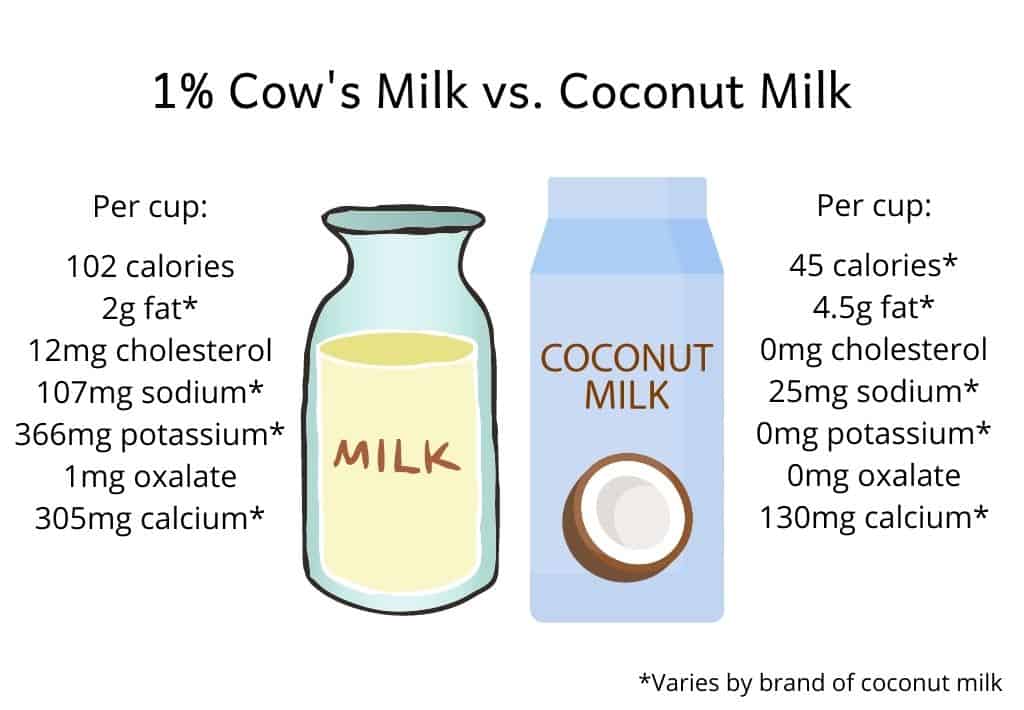 Both cow's milk and coconut milk are very low in oxalate. Cow's milk tends to have much more calcium, potassium and sodium. Coconut milk tends to have more fat compared to low-fat or skim milk. Fat content is similar between coconut and whole milk.
Oxalate & Kidney Stones
Why do we care about oxalate and kidney stones? Calcium oxalate stones are the most common type of kidney stone. They account for about 80% of kidney stones in the United States. (4) For some people, limiting the amount of oxalate can help lower urine oxalate and may reduce the risk of forming kidney stones.
Not everyone with kidney stones needs to limit oxalate. Learn more about who needs a low oxalate diet.
Oxalate in Coconut Milk
Researchers found that coconut milk had such little oxalate in it, it couldn't be picked up by the analyzer!
For our purposes, the oxalate in coconut milk is 0 milligrams. (9) If you need to limit how much oxalate you eat, coconut milk is a great choice!
Oxalate in Dairy Free Coconut Yogurt
Because coconut milk is oxalate free, other dairy substitutes made with coconut milk are also great low oxalate options!
I love So Delicious Coconut Yogurt*. This yogurt has twice the amount of calcium (200mg) as coconut milk. To keep added sugar in check, I recommend going with plain yogurt and adding some sweetness and flavor with fruit. Blueberries, peaches and strawberries are my favorite additions.
Other Dairy Substitutes for Oxalate Kidney Stones
If you don't love coconut milk, there are definitely other plant-based options for you! Here are how other popular plant-based milks stack up.
Almond Milk
Almond milk is very high in oxalate. One cup (8 fluid ounces) of almond milk has 27mg of oxalate. Almond milk had the most oxalate of any plant-based milk. (9)
Flax Milk
Flax milk also has 0mg of oxalate. (9) One of the more popular brands is Good Karma Unsweetened Flaxmilk*.
Oat Milk
Oat milk was another low oxalate option, at only 4mg oxalate per cup. (9) Oat milk is known for being an especially creamy plant-based milk option! It also tends to be higher in calcium than other plant-based milks. Oatly Oatmilk* is a good one to try!
Oxalate in Other Plant Based Milks
Here is a complete list of all the plant-based milks that were tested for oxalate. You can compare the amount of calcium, potassium, phosphorus and sodium as well to help you find the best plant-based milk for you!
Happy Eating!
Melanie