Along with watermelon and peaches, blueberries top my list of favorite summer fruits! What could be better than warm blueberries with a sweet, spiced cobbler topping? Literally nothing my friends!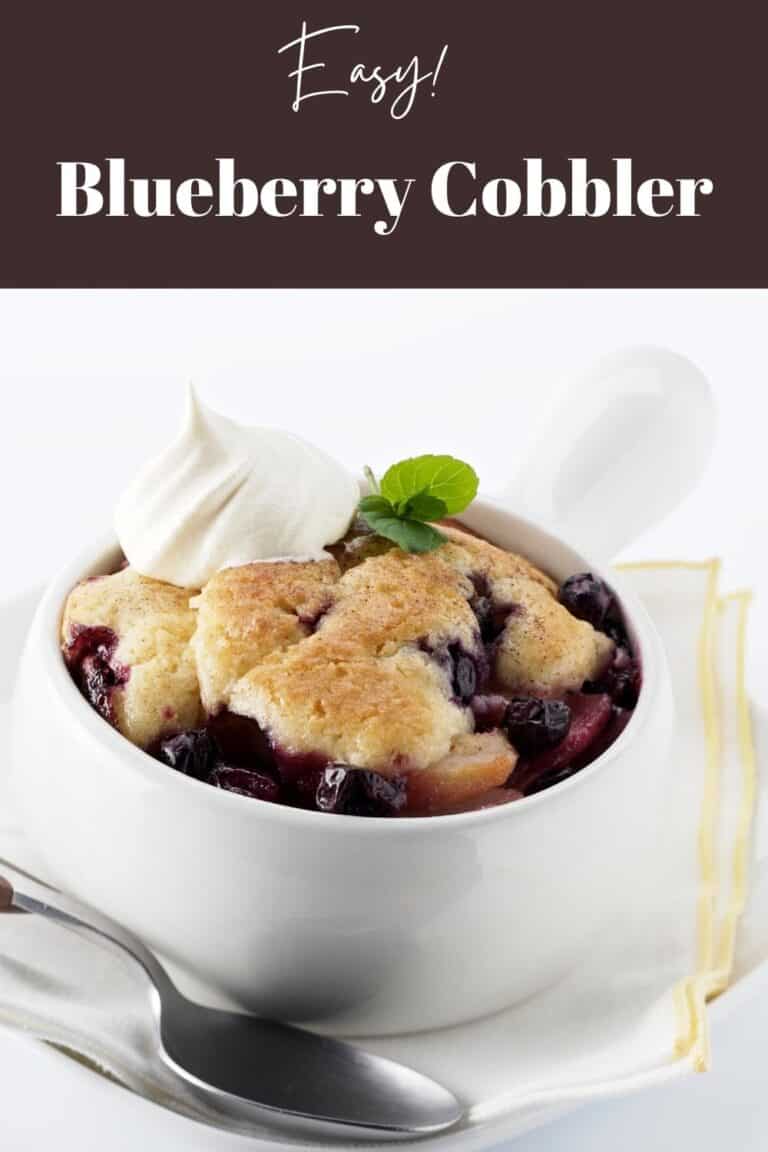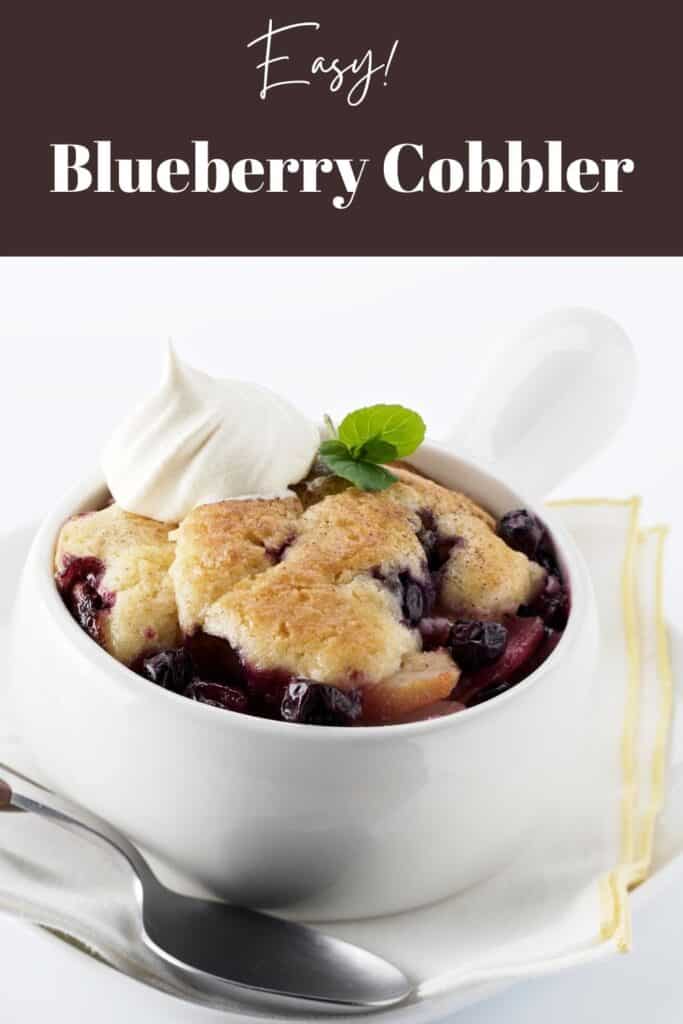 How Is This Healthy Blueberry Cobbler?
This healthy blueberry cobbler recipe is the perfect light dessert for summer.
It Has Fruit!
This blueberry cobbler is made mostly of – blueberries, of course! Like all berries, blueberries are packed with fiber, vitamins and minerals. Blueberries are also an amazing source of cancer-fighting antioxidants!
Less Sugar
This healthy blueberry cobbler recipe is also much lower in added sugar because sugar is not added to the berries themselves. Instead, we let the natural sweetness of the berries shine!
There is also less sugar in the topping than most traditional cobbler recipes.
Less Saturated Fat
Most traditional cobbler recipes use a pretty hefty dose of butter in the topping. Although some butter can absolutely fit in a healthy diet, a lot of butter can add quite a bit of saturated fat.
Instead, I've used a little bit of vegetable oil in place of the butter.
Healthy Blueberry Cobbler Ingredients
Blueberries – obviously a MUST for our healthy blueberry cobbler!
Lemon juice – to give a bit of brightness to the dessert
Cornstarch – this helps thicken the berry juices as the cobbler cooks
Flour – I went will plain old all-purpose flour for this cobbler topping. Try swapping out 1/2 for whole wheat flour for some extra fiber!
Sugar – just a touch of sugar for our healthy dessert!
Baking Powder – this helps the cobbler topping rise and be nice and fluffy!
Cinnamon & Nutmeg – these spices give a warm, toasty flavor to our cobbler
Vegetable Oil – we need some fat to help bring the dough together and for flavor. You could swap in nearly any other oil here.
Vanilla extract – for some more depth of flavor in our topping!
Eggs – to help keep our topping together
Healthy Blueberry Cobbler FAQs
Can I Use Other Fruits?
Sure! You could definitely swap in your favorite fruit for blueberries. This cobbler works with strawberries, blackberries, raspberries, peaches or apples.
How Should I Serve Healthy Blueberry Cobbler?
Blueberry cobbler is delicious all by itself! Or, if you are feeling extra fancy, serve it with a scoop of vanilla ice cream or a dollop of whipped cream.
Add a fresh mint leaf for a very special touch!
Can I Use Frozen Berries?
Absolutely! Frozen berries are nearly always a great, more cost-effective and convenient, swap for fresh berries. Most frozen fruit does not have sugar added to it – it is literally just berries!
Is Blueberry Cobbler Good For My Kidneys?
This dessert can absolutely fit in nearly any kidney friendly diet. Because this recipe is low in sugar, it can even be a good option for a diabetic renal diet!
Blueberries are also a wonderful low potassium and low oxalate fruit.
As always, a kidney friendly diet is different for everyone. Always ask your dietitian what is best for you!
Happy Eating!
Melanie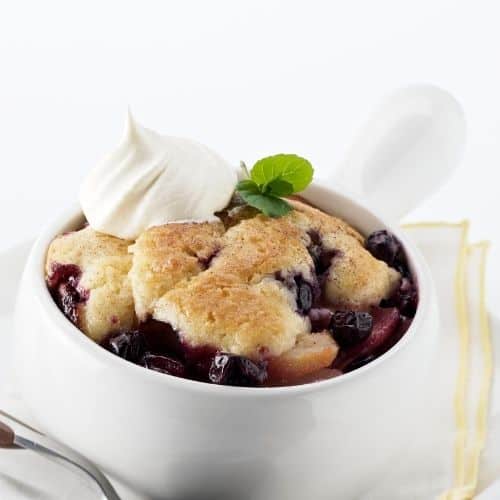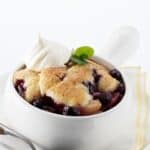 Print Recipe
Healthy Blueberry Cobbler
Healthy blueberry cobbler ready to go in the oven in only 10 minutes!
Ingredients
4

cups

blueberries

1

tsp

lemon juice

1

tbsp

cornstarch

1

cup

all purpose flour

1/3

cup

sugar

1

tsp

baking powder

1/2

tsp

ground cinnamon

1/4

tsp

ground nutmeg

1

tbsp

vegetable oil

1/2

tsp

vanilla extract

2

eggs
Instructions
In a large bowl, toss blueberries with lemon juice and cornstarch until evenly coated. Spray a 8×8 baking pan with cooking spray. Pour berries into baking dish.

In a medium bowl, combine flour, sugar, baking powder, cinnamon and nutmeg. Mix to combine.

In a small bowl, whisk together oil, vanilla and eggs. Pour egg mixture into flour mixture and mix, just until combined.

Dollop dough over berries, covering as evenly as possible. Bake at 350'F until dough is golden brown and cooked through, 40-50 minutes.

I recommend serving this healthy blueberry cobbler warm. Add a little ice cream for an extra treat!

The cobbler can be kept in the refrigerator for 2-3 days. If you don't eat it right away, I'd heat up a serving in the microwave for 30 seconds!
Notes
Nutrition Facts (per 1/9 pan): 152 calories, 3g fat, 0.6g saturated fat, 29g carbohydrate, 2g fiber, 7g added sugar, 3g protein, 69mg sodium, 43mg calcium, 82mg potassium, 54mg phosphorus, 3mg oxalate