Honestly, ice cream is my all time favorite dessert. You can take all the cake, cookies and pie away – but not my ice cream!
Can ice cream fit in a low potassium, kidney friendly diet? Of course! But, there is a lot to know about low potassium ice cream. Read on to learn how to make the best low potassium ice cream choice for you!
*Please note that this post contains clearly identified affiliate links.  As an Amazon affiliate, I may earn a small commission on qualifying purchases (at no extra cost to you).
Who Needs Low Potassium Ice Cream?
Not everyone with kidney disease needs to choose low potassium ice cream. In fact, a high potassium diet is good for some people with kidney disease.
Only people who have high levels of potassium in their blood should stick to low potassium ice cream. High potassium levels are more likely in advanced kidney disease.
Learn more about potassium and kidney disease.
Is Ice Cream High In Potassium?
So, is ice cream high in potassium in the first place?
Answer: yes. All kinds of dairy are fairly high in potassium. So, ice cream does have some potassium in it.
The exact amount of potassium varies by flavor. A 1/2 cup of vanilla ice cream has about 130mg of potassium. Strawberry has 125mg of potassium. Chocolate tends to have the most potassium. A 1/2 cup of chocolate ice cream has 165mg of potassium.
But, this doesn't mean ice cream is off the table!
Is Ice Cream Good For Kidney Disease?
Other than potassium, is there anything else you should look out for to make sure ice cream is kidney friendly?
Sugar in Ice Cream
Of course, ice cream has quite a bit of sugar in it. The American Heart Association recommends that women limit added sugar to 25 grams per day and that men limit it to 38 grams per day.
A 1/2 cup of ice cream has about 14 grams of sugar in it. But, sugar varies widely by brand. Make sure to check out the Nutrition Facts label to see how much sugar is in your favorite ice cream.
Too much sugar can be harmful to your heart. This is a pretty big deal for people with kidney disease because CKD increases the risk for heart disease.
If you have diabetes, eating lots of foods high in sugar can increase your blood sugar. High blood sugar can damage your kidneys.
As any sweet dessert, ice cream is a treat! Enjoy whatever kind of ice cream you choose in healthy portions and choose lower sugar desserts most often.
Phosphorus in Ice Cream
Like all dairy, ice cream has phosphorus in it. People with kidney disease should limit how much phosphorus they eat, especially from processed foods and animal products like meat, poultry, fish, eggs and dairy.
A 1/2 cup of ice cream has about 70mg of phosphorus in it. With this portion size, ice cream can definitely fit in a low phosphorus diet!
Ice cream made from milk substitutes like almond or oat milk tend to be lower in phosphorus (and potassium!). As always, watch out for phosphorus additives in these products.
Bottom line: ice cream can be eaten on a low potassium diet. But, enjoy ice cream in healthy portions and as a treat once in awhile!
Low Potassium Ice Cream Options
If you do need low potassium ice cream, never fear! Here are some great options for you!
Vanilla ice cream
Strawberry ice cream
Cherry ice cream
Caramel ice cream
Coffee ice cream
Cake batter ice cream
Most dairy substitute ice creams made from almond, oat, soy or other dairy substitutes. I love this vanilla bean almond milk* dessert!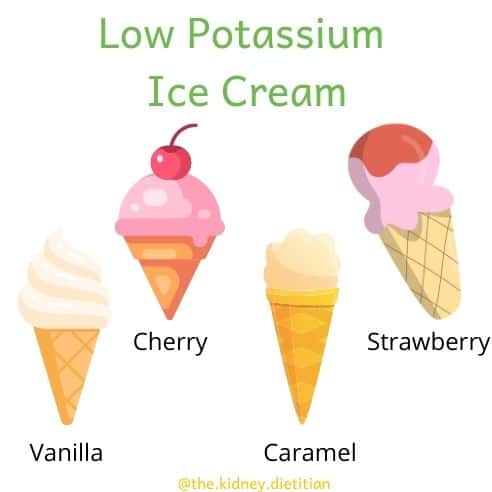 Low Potassium Ice Cream Toppings
What is ice cream without some fun toppings? Here are some fun, lower potassium ice cream toppings to try.
All potassium amounts given in 2 tablespoon portions, unless otherwise specified.
Marshmallow topping (1mg potassium)
Blueberries (15mg potassium)
Strawberries or raspberries (30mg potassium)
Pineapple (22mg potassium)
Caramel Sauce (24mg potassium)
Sprinkles (19mg potassium per 1 tablespoon)
Whipped Cream (5mg potassium)
Maraschino cherries (1mg potassium per cherry)
Strawberry sauce or topping (21mg potassium)
Toffee bits (15mg potassium per 1 piece toffee)
Crumbled graham crackers (18mg potassium)
Crumbled pretzels (11mg potassium)
Fruity candy (2mg potassium per 10 gumdrops)
Shredded coconut (40mg potassium per 2 tablespoons)
Higher Potassium Ice Cream Options
Some ice cream flavors and concoctions are higher in potassium than others.
If you need a low potassium diet, limit these high potassium ice creams:
Ice cream with nuts such as butter pecan or pistachio
Banana ice cream or banana splits
Ice cream with chocolate chips or chocolate cookies (cookies n' cream, cookie dough)
High Potassium Ice Cream Toppings
Similarly, some ice cream toppings add a fair amount of potassium.
Watch out for these high potassium ice cream toppings if you need a low potassium diet:
All potassium amounts given in 2 tablespoon portions, unless otherwise specified.
Nuts (129mg potassium per 2 tablespoons peanuts)
Chocolate or fudge sauce (48mg potassium)
Peanut butter (90mg potassium per 1 tablespoon)
Hard chocolate coating (48mg potassium)
Chocolate chips (76mg potassium)
Peanut butter chips (106mg potassium)
Chocolate cookies (66mg potassium per 2 Oreo cookies)
Brownie bits (45mg potassium per 1 bite size brownie)
Peanut butter cups (48mg potassium per 2 bite size cups)
Bananas (121mg potassium per 1/4 banana)
Other Low Potassium Dessert Ideas
Other than these low potassium ice cream options, there are plenty of other low potassium desserts!
Here are some of my favorites:
Sherbet
Italian Ice
Popsicles
Vanilla wafers
Gelatin
Fruit desserts with low potassium fruits like apples, berries or cherries
More low potassium dessert ideas!
Happy Eating!
Melanie