This article was written by dietetic student Maria Vargas Guzman & reviewed by Melanie Betz MS, RD, CSR, CSG.
You may be feeling overwhelmed and frustrated by finding a healthy diet for kidney disease – especially low potassium desserts! What's life without chocolate milk and banana pudding?
It is important to know you can still enjoy these high potassium foods and be good to your kidneys. The key is how often you eat these foods and portion size. Keep reading to learn more about kidney disease, and our favorite low potassium dessert ideas.
*Please note that this post contains clearly identified affiliate links. As an Amazon affiliate, I may earn a small commission on qualifying purchases (at no extra cost to you).
Wait, Why is Potassium Even Important?
Potassium is one of the most important minerals in our bodies. This essential mineral keeps blood pressure in the right range, heartbeat steady and muscles healthy.
Your body can't make potassium, so we rely on our diet for potassium to regulate nerve function and muscle contraction. Potassium is found in many fruits, vegetables, seeds, dairy products, and YES, chocolate (HA!). (1)
Can you get potassium from dietary supplements? Yes, you can. However, it is not recommended to rely on supplements. Following a healthy diet can provide you with all the nutrition you need, including potassium!
Why Do Some People Need Low Potassium Desserts?
As you might know, the main function of your kidneys is to remove excess fluid and waste products from your blood. In addition, your kidneys keep electrolytes, such as sodium, phosphate, and potassium at stable levels.
People with chronic kidney disease (CKD) have a decreased kidney function. Consequently, your kidneys are sometimes unable to remove potassium as well as they should. If your kidneys can't remove excess potassium, potassium can build up in your body and cause harm. High levels of potassium in your blood, also called hyperkalemia, can cause fatigue and nausea. In extreme cases, hyperkalemia can lead to a cardiac arrest, meaning that your heart stops beating. (2)
Most people don't experience any symptoms from hyperkalemia. However, symptoms may include:
Weakness or tiredness
Numbness or tingling
Difficulty breathing
Nausea and fatigue
It is VERY important to know that not everyone with CKD has to follow a low potassium diet or choose low potassium desserts. Your doctor will check your potassium levels with a simple blood test. Your doctor and dietitian will work together to determine how much potassium you should eat each day – always taking your food preferences, eating patterns, culture, and overall nutrition into consideration!
High Potassium Desserts to Limit
Just like the heading suggests, limit these high potassium desserts if your blood potassium is high. It doesn't mean you can't have them sometimes. If you need to limit potassium, choose low potassium desserts (ideas below!) more often. Or, enjoy these high potassium desserts in very small portions.
Chocolate
Even though chocolate is delicious and has some health benefits, it is a very high potassium food. A small (2.6 ounce) bar of dark chocolate bar contains around 360mg of potassium. White and milk chocolate tend to have less potassium.
Dairy Ice Cream
Who doesn't love ice cream? We all do. However, dairy can pack a lot of potassium. Potassium amount varies by ice cream flavor. A 1/2 cup of regular vanilla ice cream contains only 131mg of potassium. But, a 1/2 cup of chocolate or butter pecan has closer to 170g.
Tip: Sherbet is a great low potassium dessert swap for ice cream. A 1/2 cup contains around 70 mg of potassium.
Nut Desserts
Nut desserts, such as pecan pie can add a lot of extra potassium to your day. Most of nuts are high in potassium, specifically pecans. 1 slice (133g) of pecan pie has 162mg of potassium. 
Banana Pudding
As you might already know, bananas are really high in potassium. Banana flavored pudding only has about 70mg of potassium. But fancy banana pudding with actual bananas could add an additional 100-150mg per serving.
If you want to learn more about which foods are high in potassium and which one are low, check my PDF Potassium Food List and this post to learn more about ways to reduce potassium intake.
Sugar in Low Potassium Desserts
Of course, even low potassium desserts can have a lot of added sugar. Eating too much sugar, especially if you have diabetes, can increase blood sugar and damage kidneys. Lots of added sugar can also harm your heart.
The American Heart Association recommends that men limit added sugar to 36 grams per day. And, that women limit it to 25 grams each day. (3)
However, some sweet desserts can absolutely fit in this sugar limit! It is completely OK to have desserts on occasion.
Work with your dietitian to know how much sugar is right for you!
Top 5 Easy Low Potassium Desserts
NO NEED TO GIVE UP SWEETS! Yes, even on a low potassium or kidney friendly diet.
The good news is there are plenty of delicious sweet, low potassium desserts you can enjoy!
Here are my favorite quick low potassium desserts: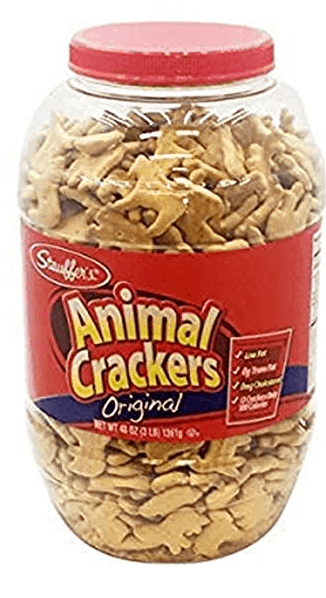 These fun and delicious crackers are made of enriched flour, sugar, canola oil, baking soda, salt, and artificial flavors. All these ingredients are considered low potassium foods.
One ounce (about 11 crackers) only has 28mg of potassium.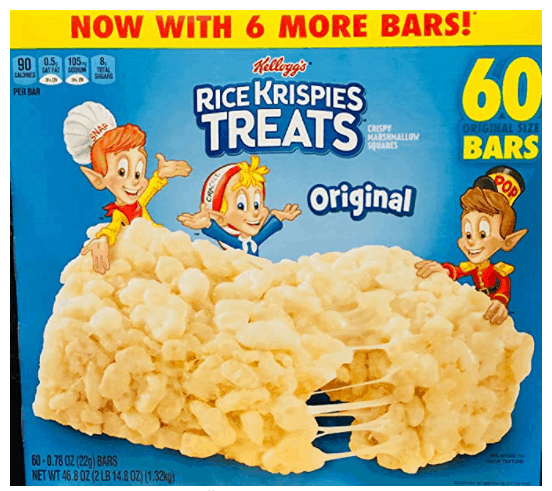 Very cheap and made of toasted rice cereal and sugar. One treat only has 9mg of potassium! Make them at home, or the store-bought treats* are phosphorus additive free!
Sherbet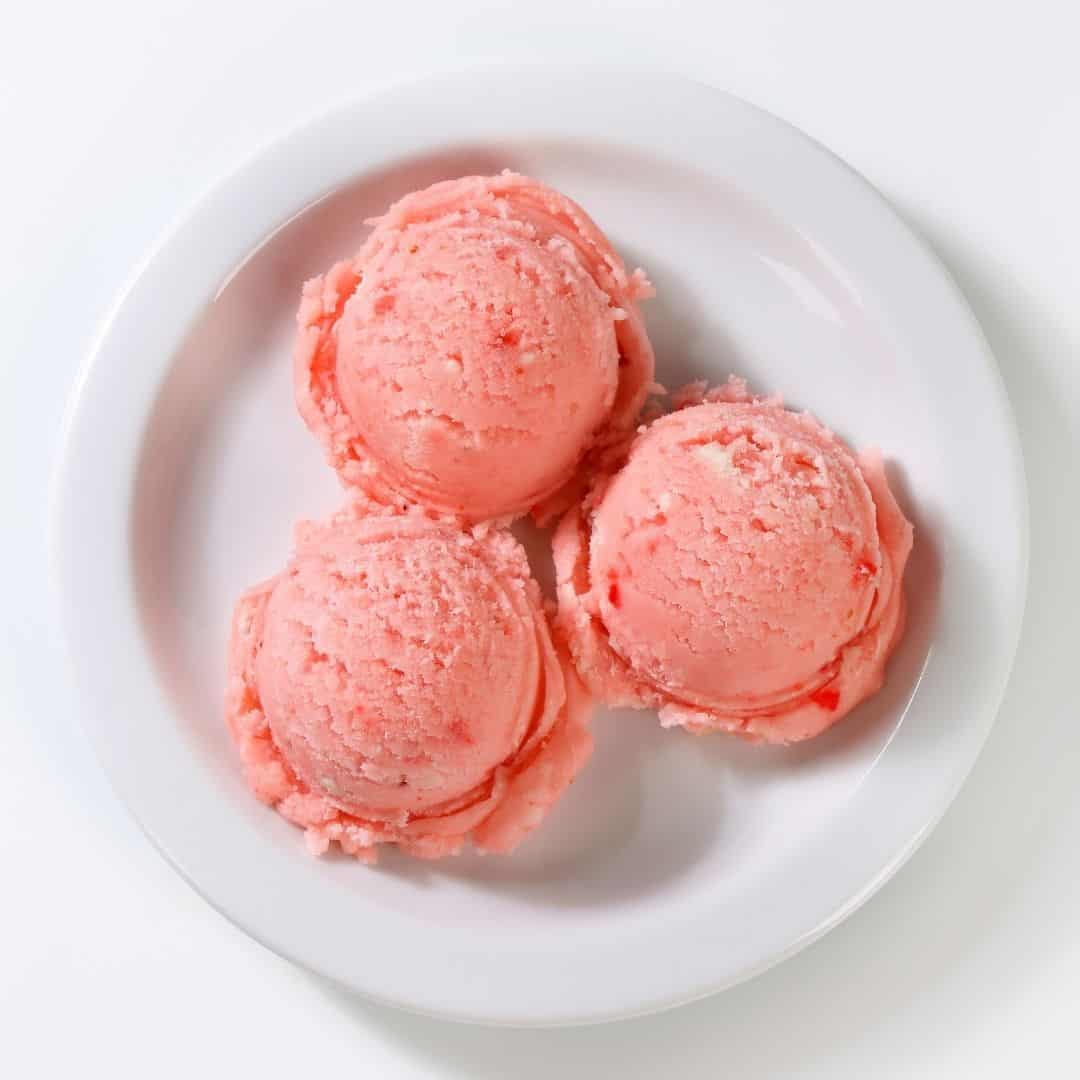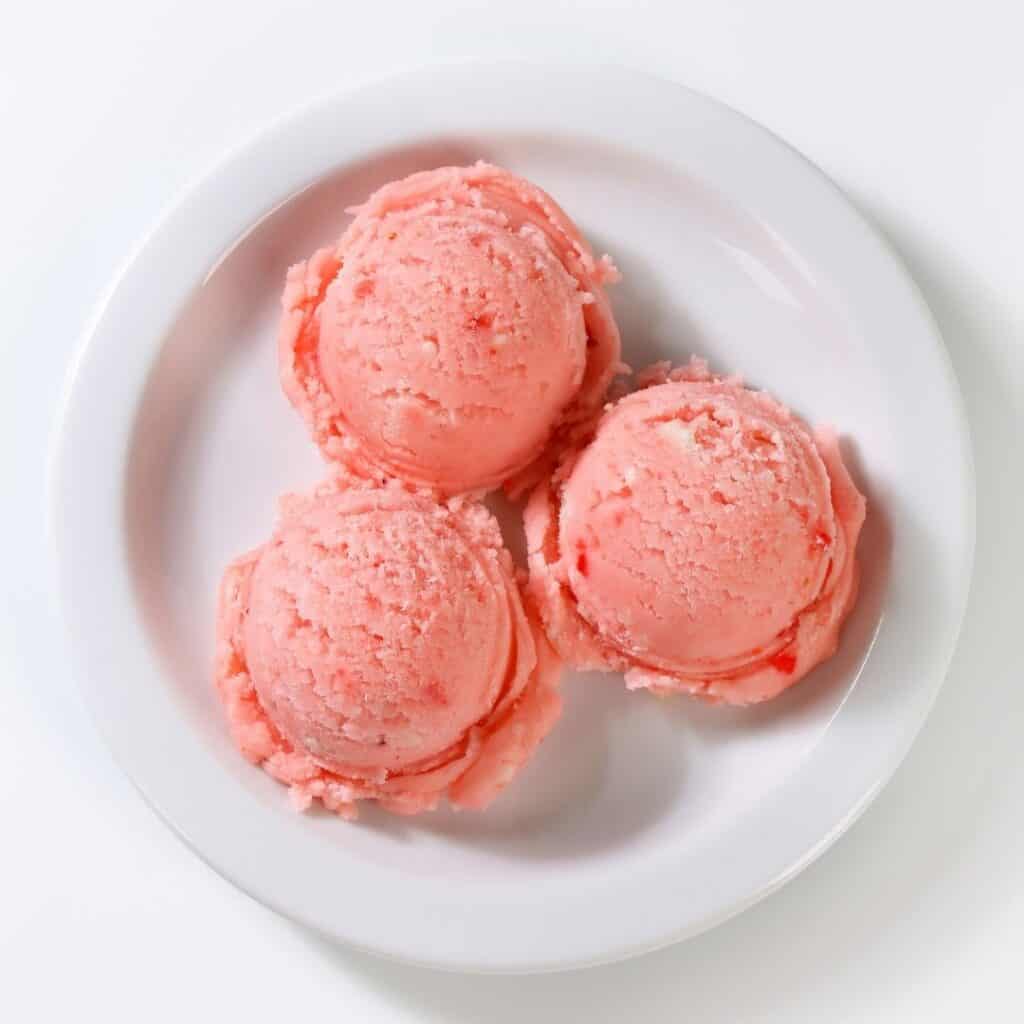 A 1/2 cup of sherbet only has 40-70mg of potassium – depending on the flavor!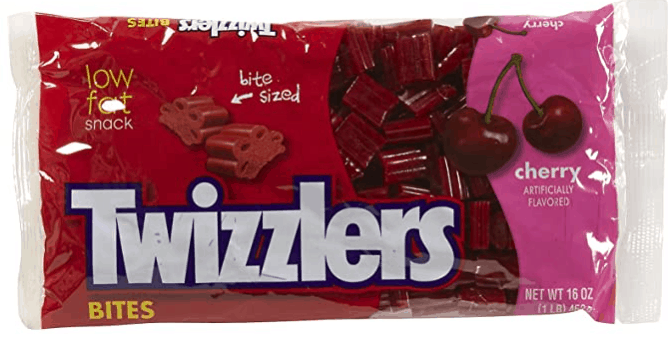 So fun and delicious! 18 pieces have only 6 mg of potassium.
Strawberries and Whipped Cream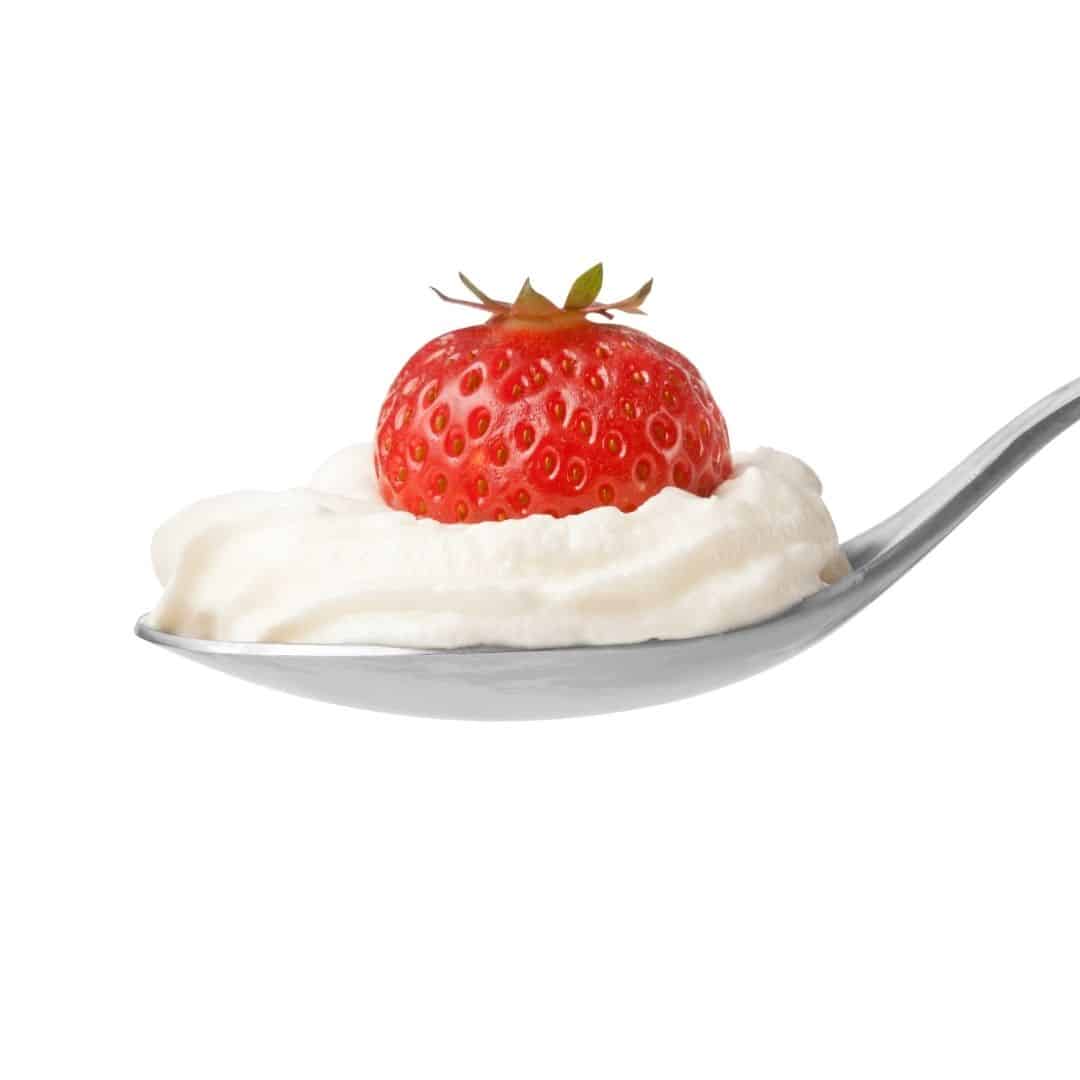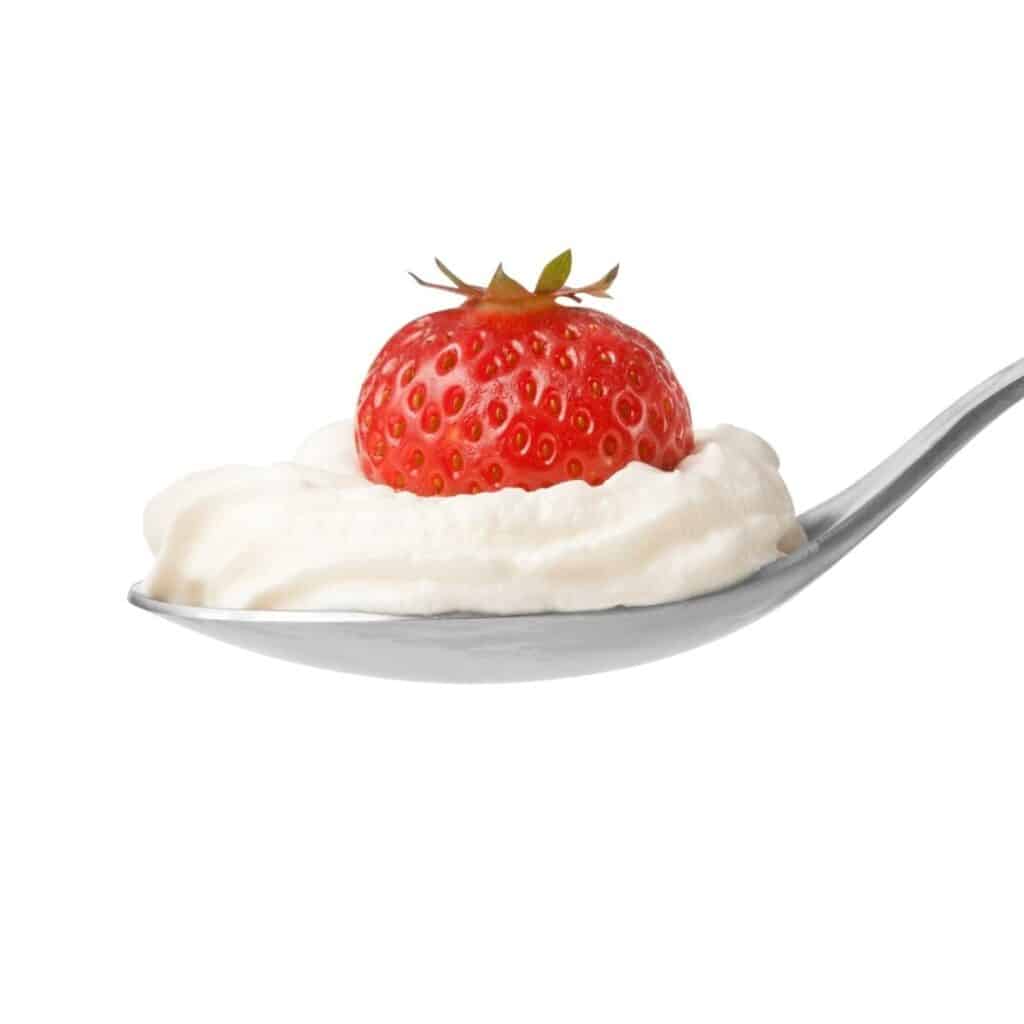 You can always buy some strawberries and add some whipped cream. A 1/2 cup of sliced strawberries with 2 tablespoons of whipped cream has about 80mg of potassium. Top it with some fresh mint leaves to make this low potassium dessert extra fancy. Very delicious and refreshing!
Feeling Creative? Try These Low Potassium Dessert Recipes