Are you struggling to find new and exciting low oxalate breakfast ideas that are also healthy for kidney stones? You are not alone. Figuring out tasty and healthy breakfast ideas is one of the most common questions I hear. It can seem like all "healthy" breakfasts are on your "no" list. However, there are many healthy, low oxalate breakfast choices out there! Hopefully you will some options here that look tasty to you!
Before you dive into my low oxalate breakfast ideas, make sure you understand what oxalate is and who needs to avoid dietary oxalate. Not everyone with calcium oxalate kidney stones need to strictly avoid oxalate. It is always important to find the least restrictive diet that is healthy for you. Overly restrictive diets can lead to frustration, disordered eating and malnutrition. I never want to recommend diet restrictions for people who don't need them!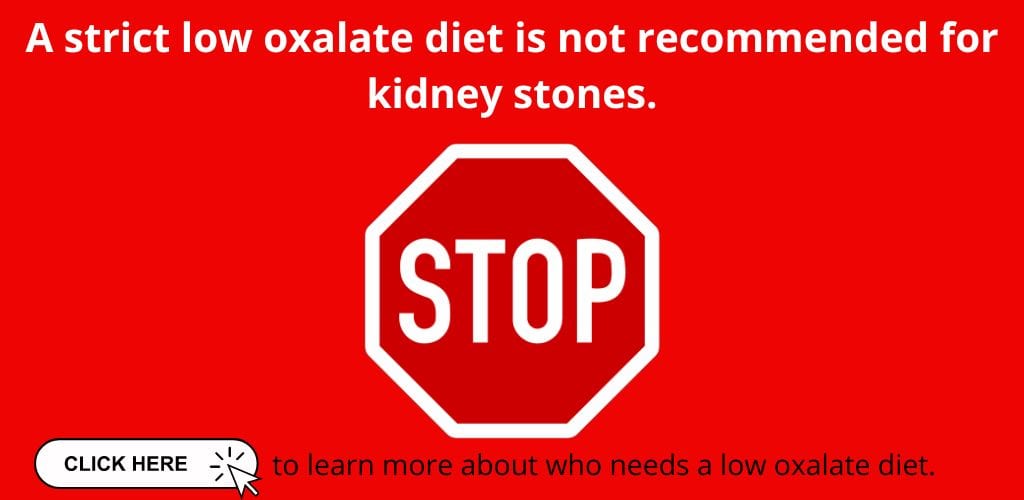 1. Scrambled Eggs with Low Oxalate Vegetables
Total oxalate: 3mg (1/2 bell pepper + 1/2 onion + 2 eggs)
Breakfast is often a missed opportunity to sneak extra vegetables into your meals! Mixing eggs with your favorite vegetables is an easy, filling and healthy meal! My go-to vegetables for scrambled eggs are bell peppers and onions. You can play with adding your favorite vegetables.
Instructions: Slice or chop 1/2 a bell pepper (any color will do!) and 1/2 a small onion. Saute the veggies in a little olive oil. Add garlic if you are feeling extra fancy! When the veggies are almost cooked, push them to 1 side of your skillet. Add 1 or 2 eggs (go ahead and use the whole egg! Eggs are NOT associated with heart disease, as we once thought) with some black pepper and just a pinch of salt. Continue cooking, stirring occasionally, until eggs are cooked. Toss the cooked eggs with the veggies, top with 1-2 tablespoons of shredded cheese and you are ready to go!
Add some fruit to this meal if you are extra hungry! My favorites are apples, peaches, pears, fresh pineapple or strawberries.
2. Low Oxalate Breakfast Cereal with Blueberries & Milk
Total oxalate: 6mg (1 cup cereal + 1/2 cup milk + 1/2 cup blueberries)
Rice Chex, Rice Krispies, cornflakes and Cheerios are very low oxalate cereal choices. Because these cereals are made from refined grains (not whole grains), they are missing fiber. Add some fruit (I think blueberries or strawberries work best here!) to help add that fiber back to your meal.
Some cold cereals are very high in oxalate – be careful to avoid bran flakes (yes, that includes Raisin Bran), rice bran and shredded wheat. These all have more than 25 grams of oxalate per serving.
Adequate dietary calcium is crucial for people with kidney stones. Adding milk to your cereal is a great way to add dairy to your meal!
3. Low Sodium Frittata
Total oxalate: 2mg (1/8 frittata)
Frittatas are an easy and delicious low oxalate breakfast idea! Also, a great way to get more vegetables in your diet.
This Crustless Zucchini Quiche is one of my favorites!
4. Overnight Oats
Total oxalate: 4mg (1/2c dry oats + 1/2c milk + 1/3c yogurt + 1T flax + 1/2t vanilla + 2t honey + 2T cranberries + 2T pecans)
If you haven't jumped on the overnight oats bandwagon yet, you should probably consider doing so soon.
Oatmeal is a wonderful whole grain that is also low in oxalate. You could just make oatmeal the old-fashioned way (make sure to use milk instead of water to add calcium!), but elevating oatmeal with overnights oats makes it feel extra fancy.
My favorite overnight oats recipe is simply combining 1/2 cup dry oats with 1/2 cup low-fat milk, 1/3 cup low-fat plain yogurt, 1 tablespoon flax seed, 1/2 teaspoon vanilla, 2 teaspoons honey, 2 tablespoons dried cranberries and 2 tablespoons chopped pecans (a low oxalate nut choice). Mix it all together, let it sit in the refrigerator overnight and voila! An, easy, peasy low oxalate breakfast will be ready for you in the morning.
5. Low Sodium Pancakes with Low Oxalate Fruit
Total oxalate: 15mg (2 pancakes + 1/2 banana)
Good news! Pancakes can be a part of a healthy breakfast! To keep with healthy kidney stone recommendations, avoid pancakes (or waffles!) from prepared mixes or frozen packages. One medium pancake from mix can have up to 325mg of sodium! Commercially made pancakes tend to have much more added sugar and salt than we need! Plus, it is so easy to make them at home. Find any pancake recipe and omit the salt and reduce the sugar if the recipe calls for much more than 2 tablespoons.
For a well-rounded breakfast, add some fruit! I love to top my pancakes with some sliced banana for extra sweetness – but any low oxalate fruit will do! Try strawberries, blueberries, peaches, apricots, blackberries or fresh pineapple. Drizzle a little syrup over the top (or choose a low sugar syrup if you know you won't be able to stop with a little!) and enjoy!
6. Avocado Toast
Total oxalate: 15mg* (1 slice whole wheat* bread + 1/4 avocado + drizzle of honey + 2T pistachios); *14mg oxalate if made with white bread
Avocado toast has become very trendy over the past few years – for good reason! It is delicious!
Toast 1 slice of bread (whole wheat if you don't have to be too strict in oxalate, wheat if you do) or English Muffin and top if with 1/4 of a mashed avocado. Top the avocado with your favorite things! If I am feeling sweet, I love a drizzle of honey with chopped pistachios. For a more savory version, I love quick-pickled shallots and balsamic drizzle. I also love to top avocado toast with an over-easy egg.
Avocado sometimes gets a bad rap as a "high oxalate food". However, if you watch your portion, 1/4 an avocado only has 5mg of oxalate.
7. Veggie Hash
Total oxalate: varies depending on vegetables used
I love any excuse to eat more vegetables! A tasty veggie hash made with low oxalate vegetables is a great way to sneak in a few extra servings.
Hashes traditionally have loads of potatoes in them. Depending on how strictly you need to avoid oxalate, you could just just a few potatoes or, just leave them off completely. My favorite low oxalate breakfast veggie hash starts with 1 small red potato chopped into 1/4″ chunks. I saute the potato in a little olive oil until it starts to get soft. Then, I'll start adding whatever vegetables I have in my fridge such as bell pepper, onion, tomato, celery or carrots and continue to cook until the veggies are done. Season with a touch of salt and pepper and plate your hash. Top your hash with an over-easy egg (or the way you prefer your eggs!) and you are ready to go!
8. Yogurt with Fruit and Granola
Total oxalate: 3mg (3/4 cup yogurt + 1/2 cup strawberries)
Easy and classic! Yogurt with a low oxalate fruit is a quick low oxalate breakfast idea. I recommend low-fat, plain yogurt to avoid too much added sugar. The fruit will add plenty of sweetness! Great low oxalate fruit choices are strawberries, blueberries, fresh pineapple, peaches, pears, grapes, mango or banana. Top with a little granola. Be careful to find granola that doesn't have almonds or too much sugar or almonds in it. I really like this Maple Pecan granola. Pecans are a lower oxalate nut choice compared to almonds.
Greek yogurt has less calcium (and more protein) compared to regular yogurt. For people with kidney stones, I recommend old-fashioned plain yogurt over Greek. Greek yogurt has taken over the yogurt case at most grocery stores, but you probably will still be able to find some of the non-Greek stuff! I usually buy Dannon Plain Low-Fat yogurt.
9. English Muffin with Sunbutter
Total oxalate: 10mg* (1 white English muffin* + 2T sunflower butter); *14mg if made with whole wheat English muffin
I think English muffins are one of the most under-rated breakfast foods. I love them! Something about all those nooks and crannies…
Traditional peanut butter is fairly high in oxalate (13mg per tablespoon), but Sunbutter (made with sunflower seeds) is much lower! Enjoy a tablespoon on an English muffin for a tasty breakfast.
I also love to spread around 2 teaspoons of unsalted butter and a drizzle of honey on English muffins as well! However, this option is lacking in protein and I usually find myself hungry about 20 minutes later! If you go the butter and honey route, I recommend adding some fruit or 1-2 hard boiled eggs to bulk up your meal!
10. Hard Boiled Eggs with Your Favorite Sides
Total oxalate: 0mg
Easy, portable and perfectly portioned! Hard boiled eggs are an excellent low oxalate breakfast idea. Pair them with a slice of toast and/or some fruit and you are good to go!
Build Your Own Low Oxalate Breakfast Ideas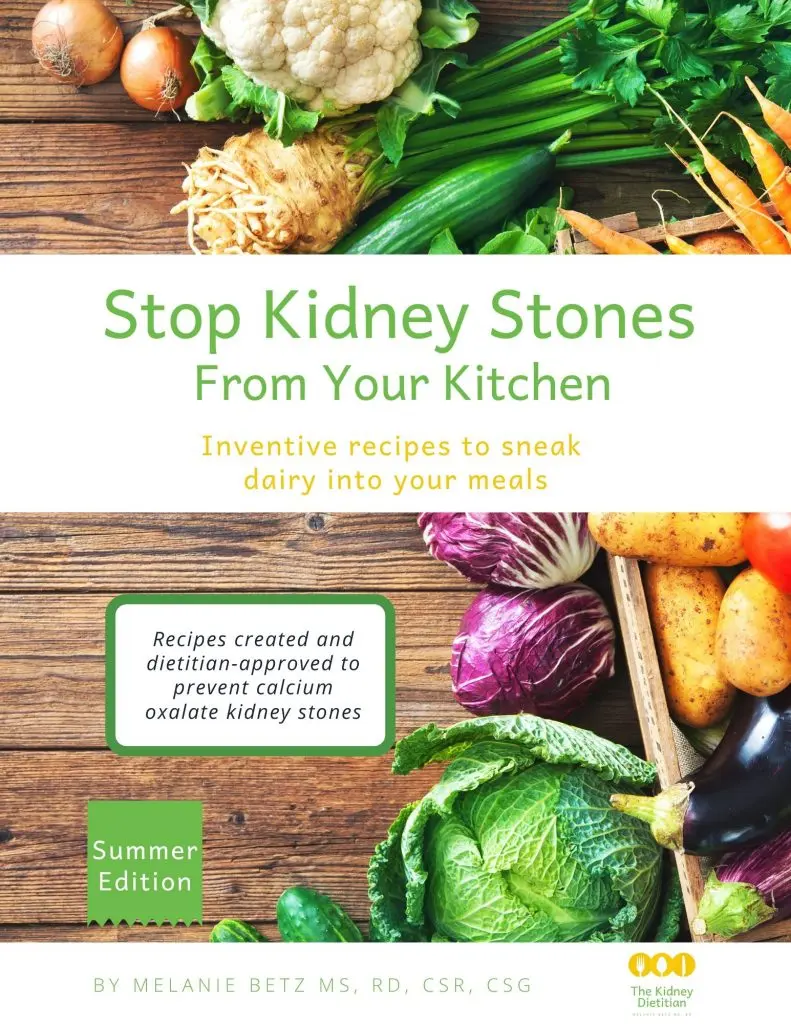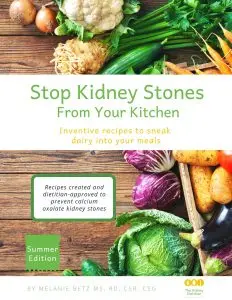 Here are some common breakfast foods you can use to create your own kidney stone friendly breakfasts:
Eggs (0mg)
White/Whole Wheat Bread (5 or 6g per slice)
Cheerios, Rice Krispies, Special K, Crispix, Kix, Rice Chex or Corn Flakes (3-5mg per 1 cup)
Oatmeal (0mg)
Milk (1mg per cup)
Yogurt (2mg per cup)
Ricotta cheese (0mg per 2T)
Low sodium cottage cheese (0mg)
Onions (0mg)
Kale (1mg per 1/2 cup)
Bell Peppers (1mg per ring)
Blueberries (2mg per 1/2 cup)
Strawberries (2mg per 1/2 cup)
Pineapple (2mg per 1/2 cup)
Melon (1mg per 1/2 cup)
Also, check out my oxalate food list for further inspiration to create your own low oxalate breakfast ideas!
Drop your favorite low oxalate breakfast ideas below. I'd love to learn from all of you!
Happy Eating!
Melanie
For more support with a healthy kidney stone diet, become a member my Kidney Stone Facebook Community!