Panzanella Toscana is one of those recipes I look forward to making every summer. There is something about the combination of fresh basil, tomatoes, cucumbers and those crusty bread cubes soaking up that delicious dressing that I find irresistible! Toss in a few salty capers and I am in heaven!
What Is "Panzanella"?
Panzanella is a salad made with chopped vegetables and crusty bread cubes. Panzanella is most popular in the Tuscan region of Italy and is traditionally made with day-old bread, fresh tomatoes, chopped basil leaves with anchovies and an oil & vinegar dressing. The red, green and white colors from the tomatoes, basil and bread reflect the colors of the Italian flag quite well!
Health Benefits of Panzanella Toscana
You might be thinking: "Melanie, you are crazy! How can a bread salad be healthy?" I'm here to tell you this Panzanella Toscana is an incredibly healthy recipe to include in a kidney (or almost any!) diet.
Bread has unfortunately gotten such a bad reputation with the low carb and keto craze. Bread and carbs CAN (and SHOULD!) be a part of a healthy diet for kidney disease or kidney stones. Ideally, a majority of the carbs we eat should be from whole grain sources to help us get in enough fiber. We should also be mindful of carb portion sizes, which tend to be much larger than healthy portions. Think of large plates of pasta or Italian sub rolls – that is a LOT of bread! Instead, focus on healthfully incorporating carbs in sandwiches with 1-2 regular slices of whole grain bread, vegetables over about a 1/2 cup of brown rice or quinoa salads with vegetables.
This Panzanella Toscana is the perfect example of healthfully incorporating carbohydrate. The 1 cup portion of this salad provides only 12 grams of carbohydrate because there is a reasonable amount of bread mixed in with all those vegetables!
Lots of Veggies!
This salad is made mostly from fresh vegetables, which is something all of us should probably be eating more! Panzanella is a delicious way to get more vegetables in your diet.
Getting in those extra servings of vegetables can help delay the progression of kidney disease, reduce the risk of kidney stones, diabetes, heart disease and acidosis, and help control blood pressure.
Low Sodium Panzanella Toscana
Although this recipe does include a few "high sodium" ingredients such as capers, there are used sparingly. The total sodium content comes to only 145mg of sodium per 1 cup serving. Most of the flavor comes from the fresh basil, wine vinegar and the fresh vegetables!
Low Potassium Panzanella
Some people with kidney disease need to reduce how much potassium they eat. It is important to note this is not the case for most people with kidney disease. If you do fall into the low potassium camp, this recipe can easily be modified to be lower potassium. Swap the tomatoes for an extra cucumber. This will reduce the potassium content by about 20%.
Serving Suggestions for Panzanella Toscana
I usually make this Panzanella Toscana as a main dish. I love it so much, I am more than happy to fill up on a big plate of this salad! If used as a main dish, I would serve about 3-4 cups. This would provide 2-3 servings of vegetables toward your daily goal of 5 servings!
Panzanella Toscana is also a tasty side dish. Serve it with grilled or baked salmon or chicken.
You could also add a can of rinsed low sodium beans (Garbanzo or chickpeas are my favorite here!) to add a little extra protein for a plant based meal! Perfect for meatless Mondays!
Happy Eating!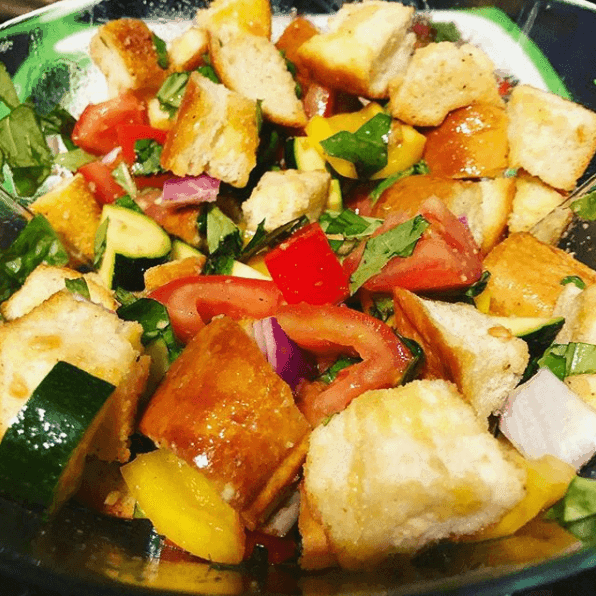 Print Recipe
Panzanella Toscana
Panzanella Toscana is wonderful light, healthy and refreshing meal or side dish for summer meals. Panzanella is an Italian bread salad made with crusty bread cubes, ripe tomatoes, fresh basil, cucumbers, bell peppers and red onion. The salad is full of flavor from bursts of vinegary capers and a flavorful red wine Dijon vinaigrette.
Ingredients
3

tablespoons

olive oil

4

cups

sourdough bread

1" cubes

2

large

tomatoes

1" chunks

1

cucumber

1" chunks

1

red bell pepper

1" chunks

1

yellow bell pepper

1" chunks

1/2

red onion

1" chunks

20

fresh basil leaves

roughly chopped

3

tablespoons

capers

2

cloves

garlic

minced

1

teaspoon

Dijon mustard

3

tablespoons

white or red wine vinegar

1/2

cup

olive oil

1/2

teaspoon

black pepper
Instructions
Preheat oven to 375'F. Drizzle 3 tablespoons olive oil over bread cubes and place on baking sheet. Bake about 10 minutes, until bread is toasty and slightly browned. Set bread cubes aside.

Place tomatoes, cucumber, bell peppers, red onion, basil and capers in a large salad bowl.

Whisk garlic, mustard, vinegar, olive oil and black pepper together.

Add bread and dressing to salad bowl. Toss to combine. Let sit at least 10 minutes to allow the bread to soak up some of the dressing.
Notes
Nutrition Facts (per 1 cup serving):
191 calories, 16g fat, 2g saturated fat, 0mg cholesterol, 145mg sodium, 12g carbohydrate, 2g fiber, 1g added sugar, 2g protein, 23mg calcium, 206mg potassium**, 38mg phosphorus, 10mg oxalate
**For a lower potassium version, omit tomato and increase cucumbers to 2.  Total potassium per 1 cup serving = 165mg.