If you've ever wondered about the impact of food on body acid levels, this article is for you! PRAL is a measurement of the acid (or alkaline) produced from your diet in your body. People with kidney disease, and some other chronic conditions (including kidney stones!) can make changes to their diet to reduce PRAL, or dietary acid, to help improve health.
PRAL is anything but straightforward, so let's start at the beginning.
What is PRAL?
"PRAL" stands for Potential Renal Acid Load.  PRAL is a measurement of the amount of acid, or base (aka "alkali") your diet produces in your body.  Higher PRAL values indicate more acid is produced from your food.  Negative PRAL values indicate that base (the opposite of acid) is produced. 
The total PRAL of your diet is the balance of the acid and base produced by your diet throughout the day. PRAL is measured in milliequivalents of acid per day. (1)
The pH in your body is the amount of acid relative to the amount of base.  Your body is constantly striving to keep pH at healthy levels, and is tightly regulated by your lungs and kidneys.  Acid is produced in our bodies from normal processes such as digestion and metabolism.  Your body relies primarily on the kidneys to get rid of extra acid your diet generates. Your lungs help a little too!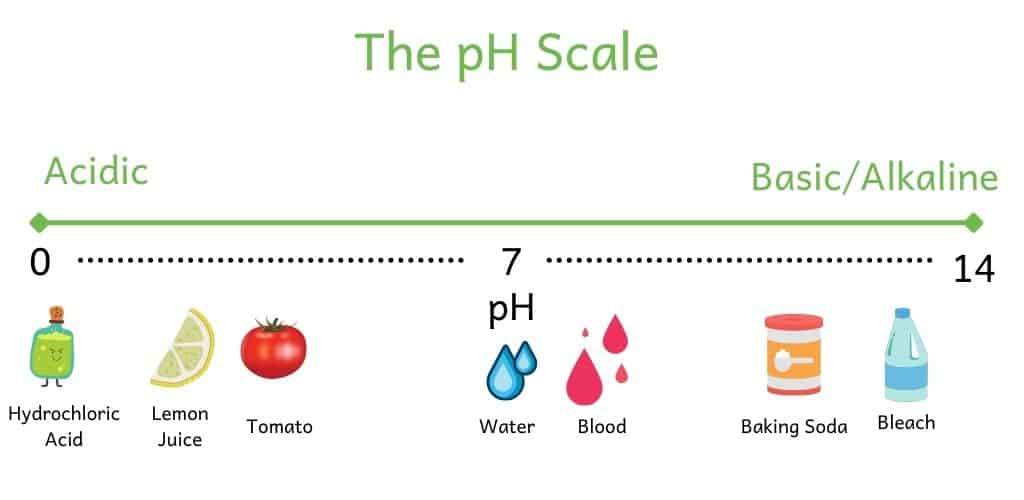 PRAL is becoming more and more common in nutrition research. More dietitians and doctors are beginning to recommend eating based on the principle of PRAL.  Keep reading to learn more!
PRAL Calculation
PRAL is calculated from 5 nutrients that create either acid or base in our bodies.  Protein and phosphorus create acid during metabolism; whereas potassium, magnesium and calcium produce base.  By far, protein is the biggest determinant of PRAL. The more protein a food has, the higher the PRAL value. (1)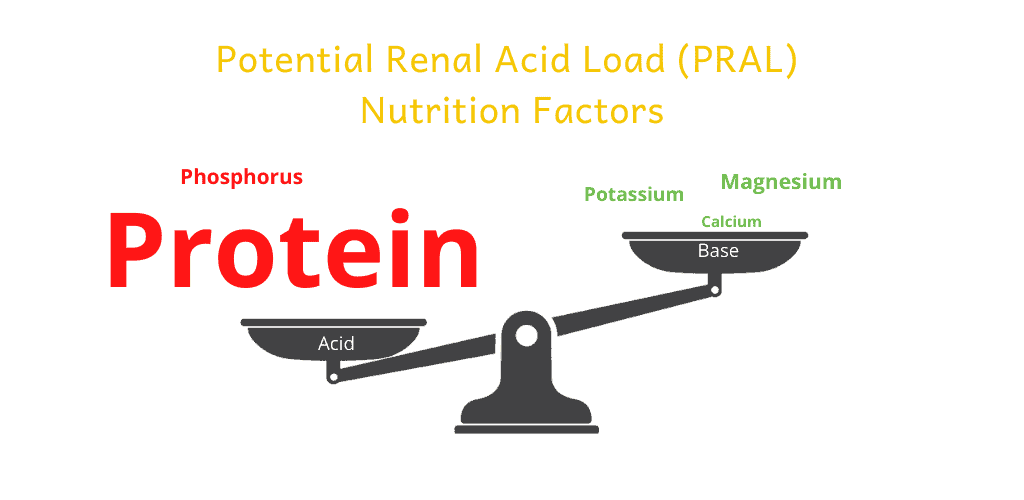 PRAL and Food
PRAL is best used for evaluating an entire diet, not just a single food. However, for the sake of education, I think it is useful to compare the PRAL for single foods to understand the benefit of eating more (or less!) of those foods.
To reduce the acid load on our kidneys, our goal is to reduce the amount of protein in our diet (acid producing), and increase the amount of foods that produce alkali or base.  What does this mean for our actual meals?
Take a look at this chart. Notice that most animal proteins such as beef and chicken have a very high PRAL value.  This is because most animal proteins have a lot of protein and phosphorus, and are relatively low in potassium, magnesium and calcium.  Most plant proteins (such as lentils, beans and nuts) have a negative PRAL value, representing that these foods produce base in our body.  In addition, most fruits and vegetables have a negative PRAL.
PRAL for Individual Foods
| | Portion Size | Potential Renal Acid Load (PRAL, mEq/day) |
| --- | --- | --- |
| Proteins | | |
| Beef Steak | 4oz, cooked | 12.9 |
| Chicken | 4oz, cooked | 16.3 |
| Cod | 4oz, cooked | 13.5 |
| Shrimp | 4oz, cooked | 14.5 |
| Black Beans | ½ cup, cooked | -2.6 |
| Lentils | ½ cup, cooked | -1.5 |
| Walnuts | ¼ cup | 1.7 |
| Egg | 1 whole | 3.7 |
| Grains | | |
| Whole Grain Bread | 1 slice | 1.8 |
| White Bread | 1 slice | 0.8 |
| Brown Rice | ½ cup, cooked | 2.2 |
| Quinoa | ½ cup, cooked | 2.1 |
| Dairy | | |
| 2% milk | 1 cup | -1.5 |
| Low Fat Plain Yogurt | 1 cup | 0.4 |
| Cheddar Cheese | 1 slice | 3.5 |
| Fresh Mozzarella Cheese | 1 slice | 3.8 |
| Fats | | |
| Olive Oil | 1 tablespoon | 0.0 |
| Unsalted Butter | 1 tablespoon | 0.1 |
| Vegetables | | |
| Broccoli | 1 cup, cooked | -5.5 |
| Green Beans | 1 cup, cooked | -3.5 |
| Tomatoes | ½ cup, chopped | -3.7 |
| Carrots | 1 cup, cooked | -6.4 |
| Fruits | | |
| Banana | 1 medium, raw | -8.2 |
| Peaches | 1 medium, raw | -4.7 |
| Blueberries | 1 cup, raw | -1.5 |
| Pineapple | 1 cup, cubes | -3.6 |
PRAL Food Chart
To make this a little easier, I classified foods into what group they generally fall into.  Our goal is balance the higher PRAL foods we eat, with enough negative PRAL foods.
PRAL Food Table
| High PRAL Foods (Acid Producing) | Overall Neutral PRAL Foods | Negative PRAL Foods (Base Producing) |
| --- | --- | --- |
| Beef | Fats & Oils | All fruits |
| Pork | | All vegetables |
| Lamb | | Beans |
| Chicken & Turkey | | Legumes |
| Fish & Seafood | | Milk & Yogurt |
| | | |
| **Moderately acid producing foods** | | |
| Grains | | |
| Eggs | | |
| Cheese | | |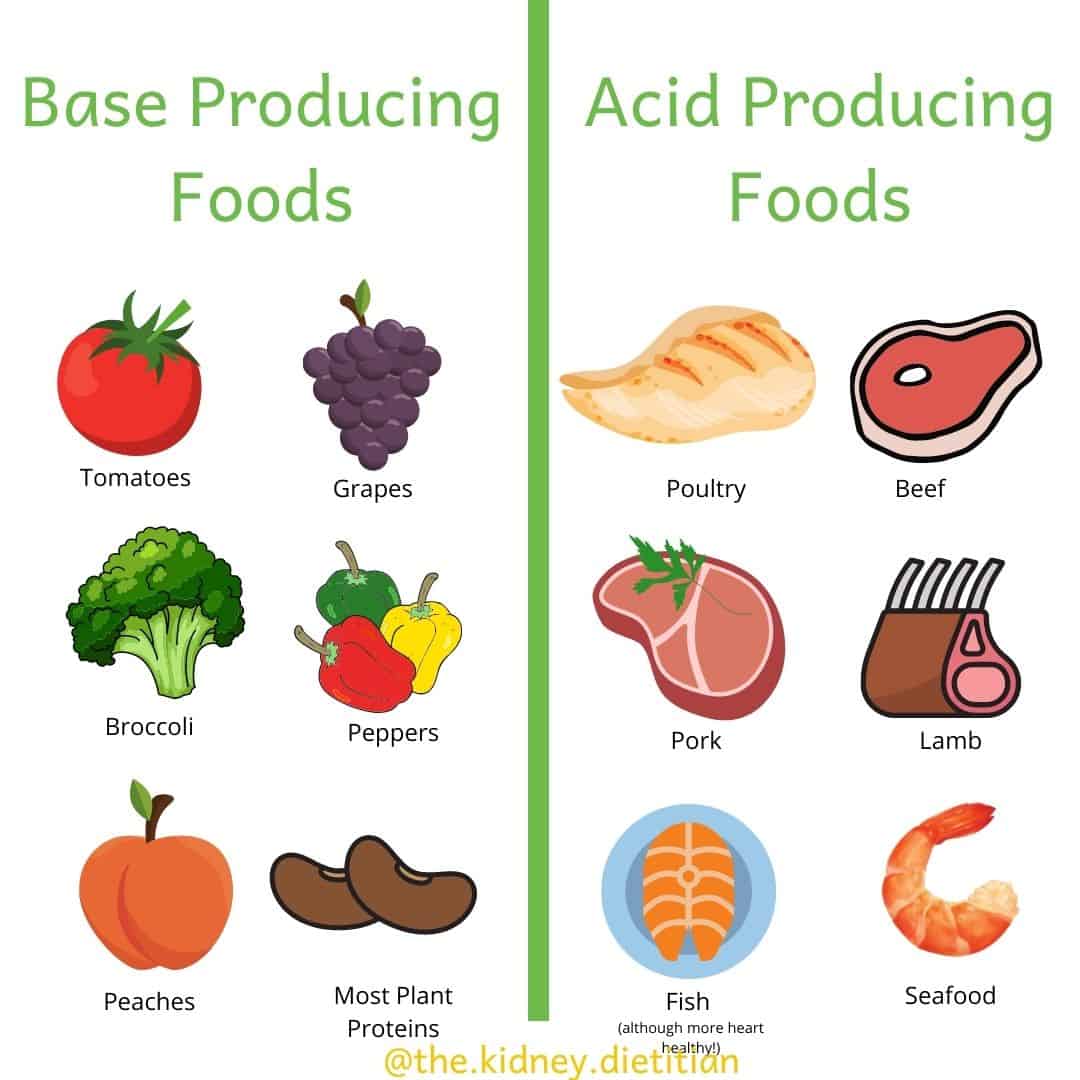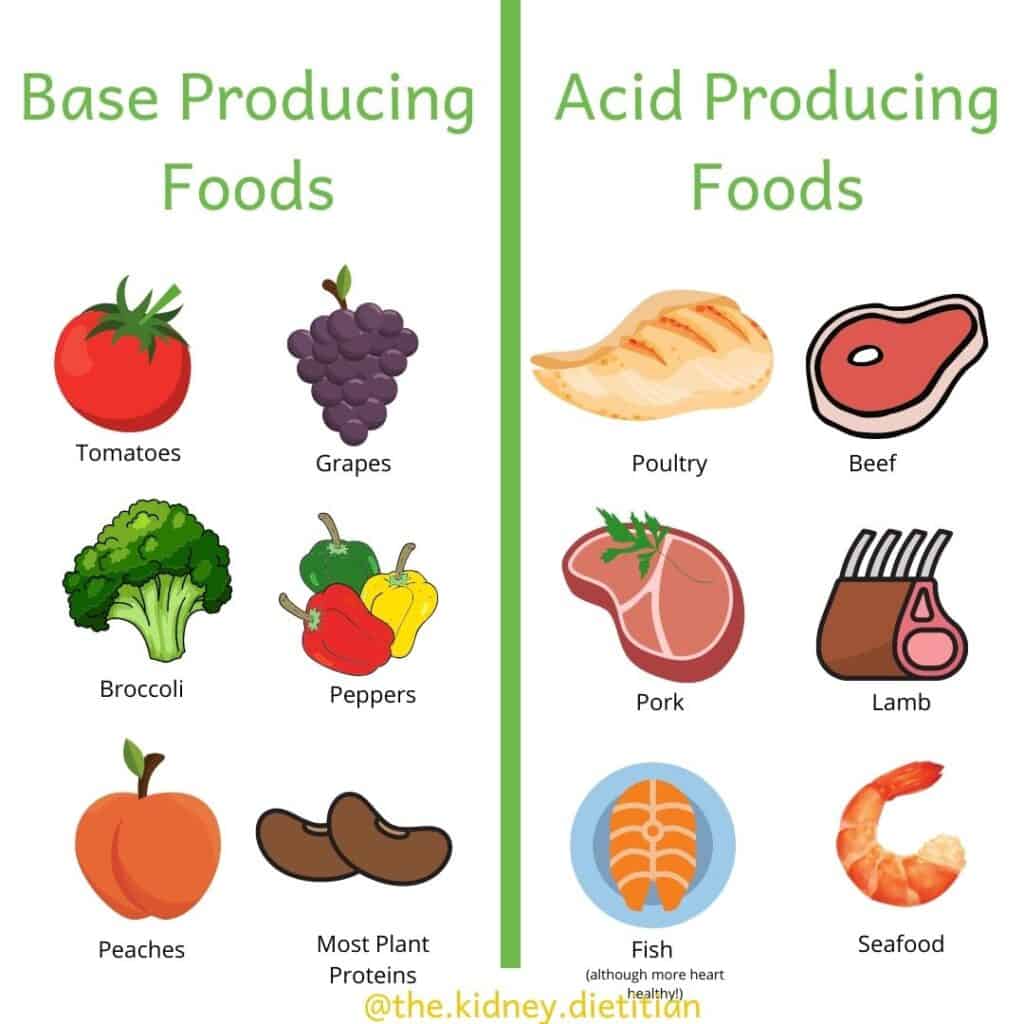 Side Note: High PRAL Foods vs. Acidic Foods
High PRAL foods are not necessarily foods that are acidic. This can be confusing and is an important difference. High PRAL foods are usually not acidic before we eat them. For example, tomatoes and pineapple are acidic, but they have a negative PRAL value. This is because the acid in food is very different than the acid PRAL measures. The acid in food is neutralized by hydrochloric acid in our stomach and does not increase the amount of acid in our bodies. PRAL measures the acidity of food's metabolites, not the food itself.
People with heartburn or gastroesophageal reflux (GERD) may find relief from avoiding acidic foods such as tomatoes, orange juice, pineapple or vinegar. Of course, if you suffer from this condition and avoiding these foods helps your symptoms, by all means, avoid these foods! However, if you tolerate these foods just fine, there is absolutely no reason to avoid acidic foods.
Diet Patterns and PRAL
Of course, none of us live off only one food.  What a terribly boring life that would be! Because we eat a variety of foods, it is most important to consider PRAL for your entire diet. The goal is not to demonize all high PRAL foods and elevate only negative PRAL foods.
Reducing the PRAL of your diet really boils down to three important points:
Eat more foods that produce base. This will help neutralize acid from the protein that you do eat. Your body does need some protein! This means eating large amounts of vegetables and fruits.  Yet another reason fruits and veggies are good for us!
Eat the right kind of protein. Plant proteins like beans, lentils and nuts create much less acid in our bodies compared to meat, poultry and fish. Many plant proteins even produce base!  Swapping out meat for plant-based proteins, even for just 1 meal per day, can help reduce the PRAL of your diet.
Eat the right amount of protein. No matter what kind of protein you are eating, if you eat a very high protein diet, it will have a high PRAL value. It is important to work with a Registered Dietitian to understand how much protein is right for you.
Popular Diet Patterns and PRAL
A couple popular dietary patterns fall into these three recommendations to reduce PRAL nicely. 
The Dietary Approaches to Stop Hypertension (DASH) diet focuses on eating at least 10 servings of fruits and vegetables per day.  In addition, the DASH diet recommends 3 servings of dairy with a focus on incorporating plant-based proteins. Dietary patterns consistent with DASH would have a low PRAL value.  In addition, DASH as been shown to be incredibly effective at lowering blood pressure! (2)
Check out more info about the DASH diet, or download this handout.
The Mediterranean Diet is another popular, well-researched, dietary pattern that has a low PRAL value.  The Mediterranean diet is most known for its benefit on heart health. (3)  It has also shown benefit in reducing risk for Alzheimer's, dementia and cognitive decline in old age. (4) (5)
Read more about the Mediterranean diet.
Who Should Follow a Low PRAL Diet?
A low PRAL diet will always be high in fruits & veggies, keep meat portions reasonable, and will likely include more plant proteins.  Honestly, these dietary changes are probably good practice for almost everyone!
There are some specific health conditions a lower PRAL diet has been shown to be helpful.
Chronic Kidney Disease (CKD)
A low PRAL diet is probably most known for it's benefits for chronic kidney disease. Dietary patterns lower in PRAL can help control acidosis and have been shown to slow the progression of kidney disease.
To understand how PRAL can impact kidney disease, let's understand a little more about acid, food and your kidneys.
Acid and Kidney Disease
Your diet is the biggest factor that determines how much acid your kidneys have to deal with. (6)  For most people, your kidneys get rid of this extra acid and it does not cause any problems.
In kidney disease, kidneys cannot get rid of extra acid as well as they should.  This causes acid to build up in your blood. This is called "acidosis", and has many negative health effects.
Acidosis is very common in people with kidney disease.  An estimated 13% of people with CKD stage 3 have acidosis, and this increases to almost 40% by CKD stage 4. (7)  Even people with earlier stages of kidney disease (CKD stages 1 and stage 2) keep more acid in their bodies compared to people without kidney disease. (8) Your doctor will frequently check how much carbon dioxide (CO2) is in your blood.  C02 is a measurement of how acidic your body is.  Most doctors want your C02 level to be 22 mEq/L or higher5. (9)
Consequences of Acidosis
Weak bones and osteoporosis
Faster progression of kidney disease
Muscle loss
Possible worsening of heart disease and inflammation
Taste changes
Poor appetite
Fatigue
Headache (10)
Treatment for Acidosis
Acidosis in kidney disease is usually treated with a medication called sodium bicarbonate. (10)  This medication gives you a large dose of base, which helps neutralize extra acid in your body.  Potassium citrate is another common medication to treat acidosis.  However, potassium citrate is not used as much for people with kidney disease because of the large amount of potassium in it.
I know all this acid talk can sound sort of scary.  But, I have good news! What you eat directly impacts how much acid you have in your body.  In fact, some foods can actually help get rid of extra acid.  You can use diet to help treat acidosis! This is where PRAL comes in.
Eating a diet lower in PRAL can help prevent and treat acidosis for people with kidney disease. In fact, fruits and veggies have been found to be almost as effective as sodium bicarbonate in preventing acidosis! (11) (12)
Potassium, PRAL & Kidney Disease
Some people with advanced kidney disease need to limit how much potassium they eat.  If you fall into this category, some fruits and vegetables are not the best choice for you, even though they have a low PRAL. 
However, acidosis can make high blood potassium levels worse. So, eating as many low PRAL fruits and vegetables as possible might actually help potassium levels in the end by improving acidosis, even though they technically have more potassium. (13) Always ask your Registered Dietitian what is best for you.
More about potassium and kidney disease. 
Kidney Stones
Lower PRAL dietary patterns may also help prevent certain types of kidney stones. (14) (15)
The PRAL of your diet directly impacts the pH of your urine. Your body's main way of getting rid of extra acid is via urine. So, the more acid you eat, the more acid ends up in your urine, which lowers your urine pH.
How Does PRAL Impact Kidney Stones?
Urine that is too acidic (or, has a low pH), makes it easier for both uric acid and calcium oxalate kidney stones to form. This is especially true for uric acid kidney stones. Low urine pH is the biggest driver of uric acid kidney stones. (16)
So, eating a lower PRAL diet can help reduce urine acid, and prevent these types of kidney stones.
A lower PRAL diet can also help increase urine citrate. Citrate is a powerful inhibitor of kidney stones, so higher levels of urine citrate is a good thing for kidney stone prevention. (17)
Low PRAL Food Patterns & Kidney Stones
The connection between PRAL and kidney stones goes beyond this very "sciency" explanation. We see this science and biochemistry play out in real life!
People who eat lower PRAL diets have about a 50% reduced risk of kidney stones. (14) (15) In addition, dietary patterns that would inherently have a lower PRAL such as the Dietary Approaches to Stop Hypertension (DASH) and a Mediterranean diet have also been associated with a lower risk of kidney stones. (18) (19)
Kidney stone nutrition is very different for every single person, depending on their 24-hour urine test results. Kidney Stone Nutrition School will help you come up with a personalized kidney stone prevention plan.
Other Health Conditions
Although most of the research about the health benefits of PRAL are around kidney health, a lower PRAL diet may be helpful for many other chronic conditions.
PRAL has been associated with improvements in diabetes & insulin resistance, heart disease and bone health. (20) (21) (22) (23)
Combating a High PRAL Diet with Supplements?
A Google search will reveal endless supplements and food products claiming to reduce acid in your body and cure all ailments from anxiety to diabetes.  Most of this is completely unsupported by research and I generally do not recommend them.
Some of these products, such as alkaline water, have not been shown to be effective to improve health. It is difficult to know if alkaline water and other supplements are just alkaline themselves, or if they actually produce alkali during metabolism. The production of alkali is what we are really after.
Even if these products do produce alkali, getting alkali (or base) from specialized foods or supplements robs you of the benefit of getting alkali from fruits and vegetables. Fruits and vegetables have countless benefits other than just alkali. 
In addition, as with any dietary supplement, there is a danger of getting too much alkali.  It would be almost impossible to get too much alkali from food as your body has all sorts of checks and balances in place to regulate reasonable doses of acid and alkali from food.
Happy Eating!
Melanie