*Please note that this post contains clearly identified affiliate links.  If you click on these links and choose to make a purchase, I may receive a commission (at no cost to you). As an Amazon Associate I earn from qualifying purchases.
Paneer is a cheese traditionally used in Indian cooking. Paneer cheese has a very mild flavor, similar to fresh mozzarella. Learn more about how to make paneer cheese and how to use it!
What Kind of Milk Should I Use?
I like to use whole milk to make paneer. The higher fat content adds a delicious creaminess and flavor. However, you can absolutely make paneer with lower fat milk – even skim milk!
Make sure that whatever milk you use is not "UHT pasteurized". UHT stands for ultra high temperature pasteurization. UHT pasteurization causes some of the milk proteins to breakdown, which will inhibit the curdling necessary to make paneer cheese. Most milk in the United States is not pasteurized with this method.
What Do I Do With Paneer?
Paneer is typically used in Indian curries. Just cut your paneer into cubes and gently stir it into your favorite curry. Some great options are saag paneer, matar paneer, or this veggie paneer.
Paneer is also a delicious snack! It will keep in the fridge for a few days. What is better than a few cheese cubes and crackers as a snack to tide you over until the next meal?
Not that paneer does not melt especially well. I would not recommend using it on a grilled cheese sandwich, pizza or other melty cheese dish. Choose mozzarella for a great low sodium cheese choice for these meals.
Paneer Nutrition Benefits
Low Sodium
As far as cheeses go, paneer is definitely on the lower sodium side. One ounce of paneer has about 50mg of sodium. Compare this with cheddar, which has around 180mg of sodium per ounce. Or, feta and parmesan cheese, which both have over 300mg of sodium per ounce.
A great thing about making your own cheese at home is being able to control the salt! If you buy paneer at the grocery store, there could be a lot of salt added. If you make paneer at home, you can add just as much (or as little!) that you want. A low sodium diet is very important for people with kidney disease, kidney stones and many other health conditions including heart disease or high blood pressure.
I do add a little salt to this paneer recipe for just a touch of salty flavor. You could make this recipe without any salt to bring down sodium even more. If you plan on using the paneer in a flavorful curry, you may not even miss the salt!
Great Source of Calcium
As most cheeses are, paneer is a wonderful source of calcium. One ounce has about 200mg of calcium, or about 20% of your daily needs.
Calcium is important for everyone to prevent osteoporosis. Certain people are more at risk of osteoporosis, such as people who are underweight, women, or people who take steroids for long periods of time.
For people with kidney stones, eating enough calcium is critical to prevent more kidney stones.
How To Make Paneer
Making your own cheese can seem overwhelming. But, I promise it is much easier than you think! Make this cheese once, and you'll want to make it over and over again! All you need is some milk, vinegar and some cheesecloth*!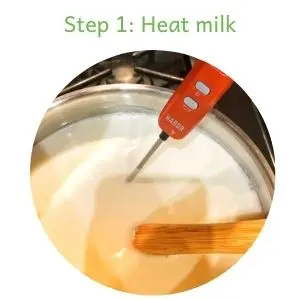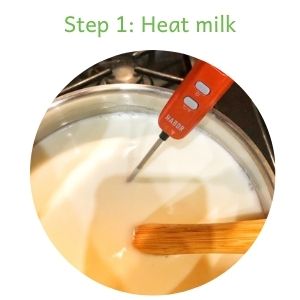 In order for your milk to curdle into delicious cheese, it needs to be warm. Heat your milk in a sauce pot over medium heat until it reaches about 200'F. Stop heating the milk right when it gets to a very gentle simmer.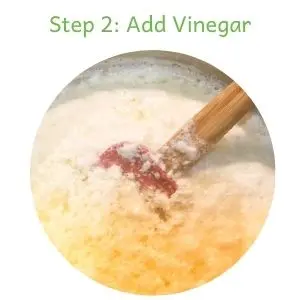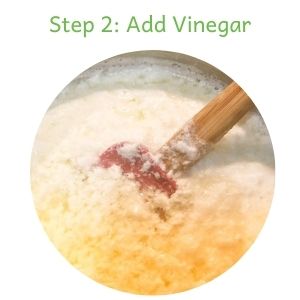 Turn off the heat. Add vinegar to the milk and give it a quick stir. The milk will begin to curdle immediately. Let it sit for about 10 minutes to fully curdle. This step does look somewhat unappetizing, but I promise it will come out as tasty cheese!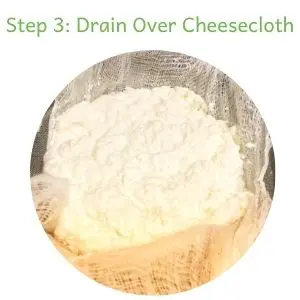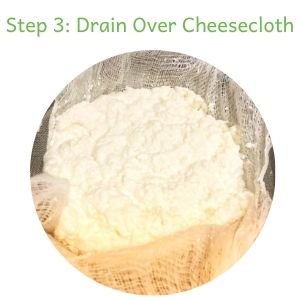 Place a piece of cheesecloth* over a colander. Drain the curdled milk over the cheesecloth, being careful to catch all of the cheese curdles on the cheesecloth.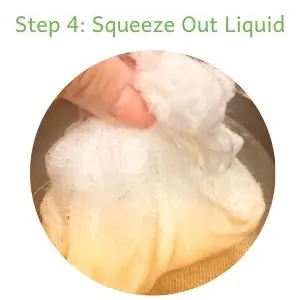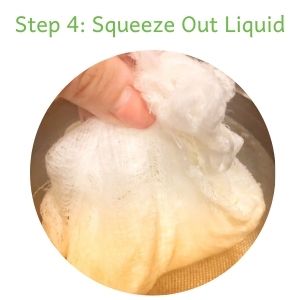 Let the cheese curds drain for a few minutes while the cheese cools. Make sure to let it cool to avoid burning yourself! Gather the cheesecloth around the cheese curdles. Squeeze out as much of the liquid as you can.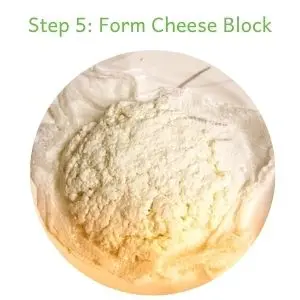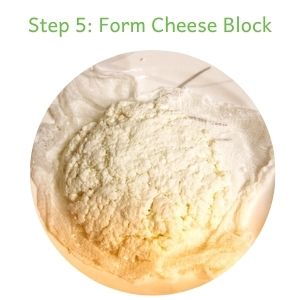 Transfer your cheese in the cheesecloth to a large dinner plate. Sprinkle the curds with salt. Press the curds into a cohesive block.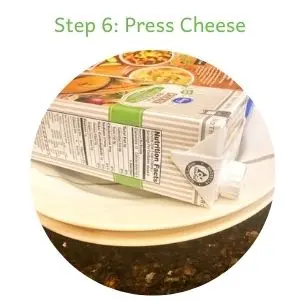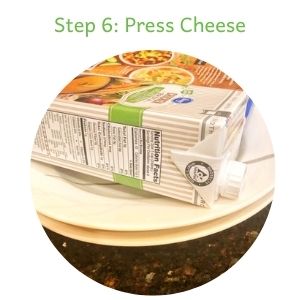 Place another dinner plate over your cheese block. Put something heavy on top of the second plate. I like to use two cartons of chicken broth 32oz cans. Anything heavy you have around the house will work!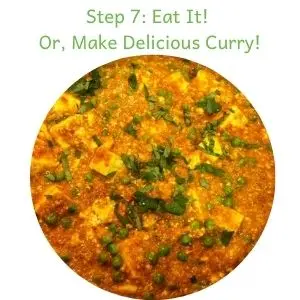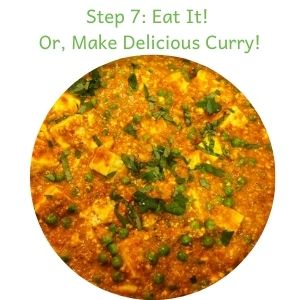 After an hour, your cheese is ready to go! You can wrap your cheese in plastic wrap and refrigerate it until you are ready to use it. If you let the cheese sit in the refrigerator for a day or two, it will get less crumbly. I prefer the less crumbly version to cut into cubes and use in curries. However, you can absolutely use it right away!
Happy Eating!
Melanie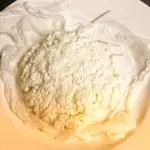 Print Recipe
Paneer Cheese
Don't be intimidated to make your own paneer cheese at home! You'll never need to search for paneer at the grocery store again after trying this easy, delicious paneer. Perfect for Indian curries or, as a tasty snack.
Ingredients
1/2

gallon

whole milk

NOT UHT pasteurized

1/4

cup

distilled vinegar

1/4

tsp

salt
Instructions
Pour milk into a large saucepan. Warm the milk, stirring occasionally, to just barely simmering. You don't want the milk to get warmer than 200'F.

Add vinegar and stir to combine. The milk will begin to curdle immediately. Let sit for about 10 minutes.

Line a strainer with cheesecloth. Carefully pour the curdled milk over the cheesecloth, catching all the curds. Collect the liquid (whey) to use in other recipes if you want!

Collect the cheese curds in the cheesecloth and squeeze out as much of the liquid as you can. You may have to let the cheese cool before you can touch it!

Place the curds (in the cheesecloth) on a large dinner plate. Sprinkle with salt. Gently press the curds into a rough 6-inch square.

Place another dinner plate on top of the curds. Put something heavy on the top plate. I like to use a large 32oz can or 2 boxes of broth!

Let the cheese sit for 30-60 minutes. Use immediately, or keep in refrigerator for up to 3 days. The cheese will be less crumbly if you refrigerate it.
Notes
Nutrition Facts (per 1oz): 90

calories, 7g fat, 5g saturated fat, 25mg cholesterol, 1g carbohydrate, 0g fiber, 0g added sugar, 6g protein, 50mg sodium, 200mg calcium, 20mg potassium, 130mg phosphorus, 0mg oxalate