It is common knowledge that fluid is good for kidney stones. But what kind of fluid is best? Is Gatorade good for kidney stones? What about other drinks?
Read on to learn everything you need to know about kidney stones, Gatorade and fluid!
*Please note that this post contains clearly identified affiliate links.  As an Amazon affiliate, I may earn a small commission on qualifying purchases (at no extra cost to you).
Why Are Drinks Important For Kidney Stones?
Drinking…a lot…of fluid is the most important thing you can do to prevent kidney stones. The more fluid you drink, the more urine you make. This makes your urine less concentrated.
The more concentrated your urine is, the more likely kidney stones become.
Nutrition is different for different kinds of kidney stones. But, drinking a lot of fluid is key to preventing kidney stones no matter what kind of kidney stone you have. (1)
How Much Fluid Do You Need?
Most people with kidney stones should drink enough fluid to make 2 liters of urine each day. (1)
We lose some fluid from breathing, sweat, feces and even during digesting food. For most people, drinking 3 liters of fluid will be enough to meet the goal of 2 liters of urine.
But, your fluid goals may be different. They could be higher if you live in a very hot climate or exercise a lot. They could be less if you have a small body size or have heart, liver or kidney failure.
Ask your doctor how much fluid is right for you.
Gatorade 101
Gatorade is most known as a sports drink and a way to hydrate after exercise. When you sweat, you lose electrolytes that your body needs. Sodium makes up the majority of electrolyte loss in sweat. But, potassium, magnesium and calcium are also lost in smaller amounts.
Nutritionally speaking, Gatorade contains primarily sugar, sodium and potassium. Gatorade, and other sports drinks, can help you replace the electrolytes and fluid lost during exercise and sweating.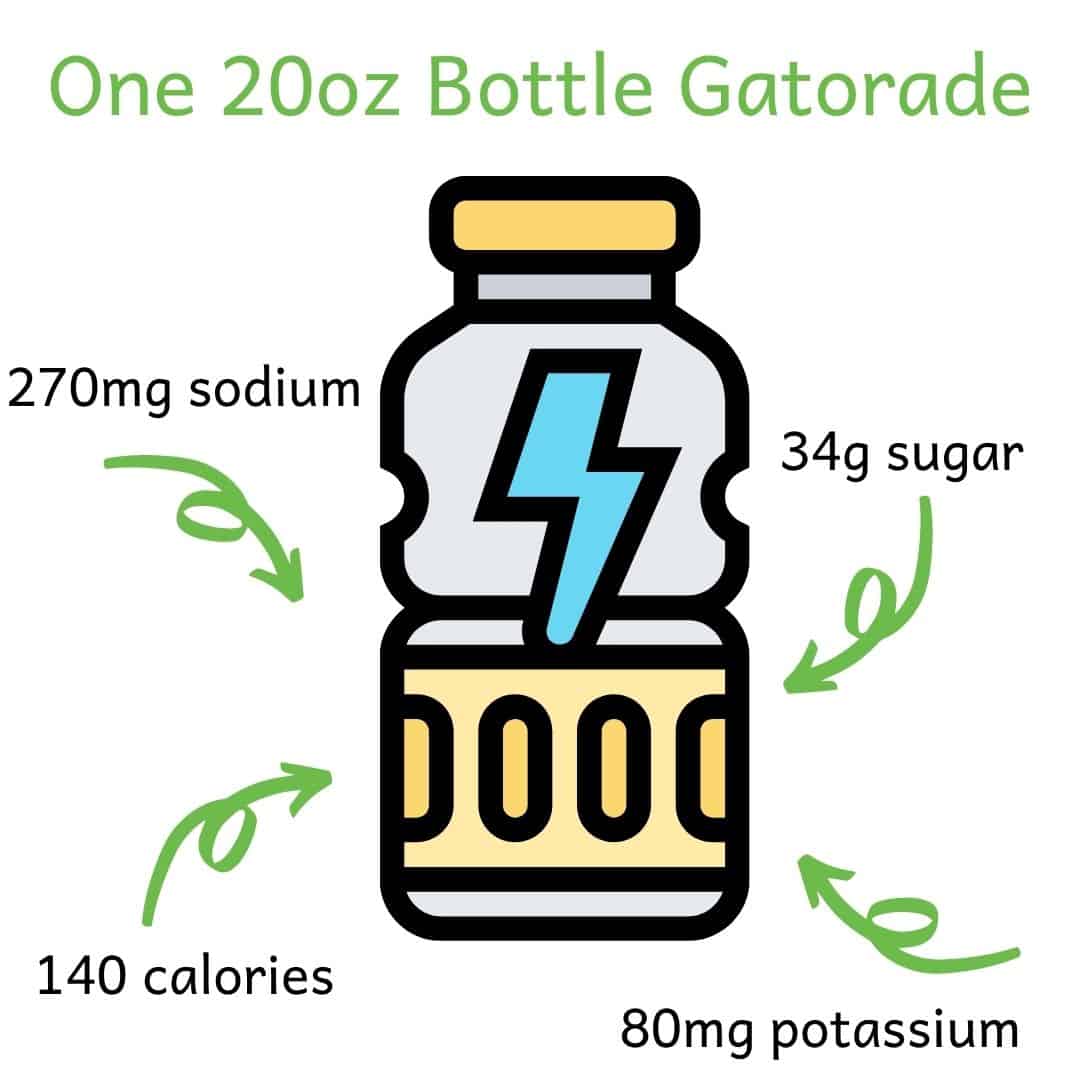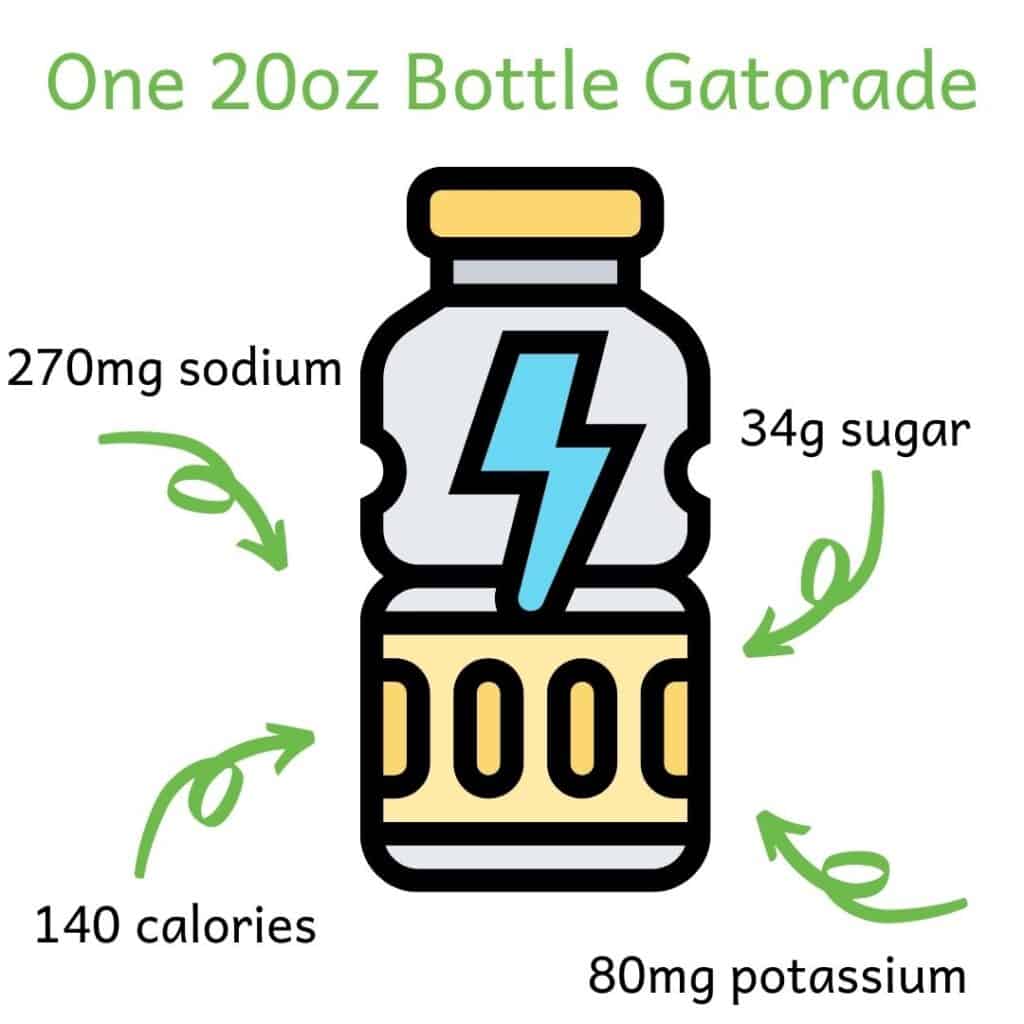 A 20oz bottle of Thirst Quencher Gatorade contains:
140 calories
270mg of sodium
34g of sugar
80mg of potassium
Different Kinds of Gatorade
Gone are the days of the only Gatorade options being "blue", "orange" and "red. (Can you tell I am a 90's kid?)
There are many different types of Gatorade available on the market now.
This is essentially the original Gatorade sports drink. It contains 34 grams of sugar, 80mg potassium and 270mg of sodium per 20 ounces.
This is sugar free Gatorade. G Zero has 0g of sugar, 320mg sodium and 100mg of potassium per 24oz bottle.
This Gatorade option is the lower sugar option. A 24oz bottle has 14g of sugar, 320mg of sodium and 100mg of potassium.
More Gatorade Options
Gatorade offers many other options including drinks with added ingredients such as caffeine and B-vitamins for "energy", antioxidants and even organic options. The company also sells protein drinks, powders and bars. As well as energy gels and chews for endurance athletes.
Do You Need Gatorade?
Most of us do not exercise (or sweat!) enough to need electrolyte replacement from drinks like Gatorade. If you exercise at a low intensity level. Or, exercise at a high intensity level for less than 1 hour, chances are that plain water is the best option for you. You can easily replace electrolyte losses with healthy food. (2)
If you do exercise at a high intensity level for more than 1 hour, you might benefit from Gatorade or other sports drinks. Ask your dietitian what is best for you.
If you have had severe vomiting or diarrhea, Gatorade may be a good option to help replace lost fluid and electrolytes.
Is Gatorade Good For Kidney Stones?
No research has investigated if Gatorade is good or bad for kidney stones. However, we can deduce if Gatorade is good for kidney stones by looking at the nutrition information.
Although hydration is very important, Gatorade is not the best way to hydrate for kidney stones.
Sodium in Gatorade
Most of us are eating way more sodium than we need. The Dietary Guidelines for Americans recommend we eat no more than 2,300mg of sodium per day. The average American is eating closer to 3,400mg of sodium. (3)
Consuming a lot of salt can make kidney stones worse. A high sodium diet can cause high urine calcium, which can cause kidney stones. People with kidney stones should also limit sodium to 2,300mg per day. (1)
Gatorade has a surprising amount of sodium. For most Gatorade varieties, one serving (1/2 a bottle!), has 160mg of sodium. This is higher than the definition of a low sodium food, which is less than 140mg sodium per serving.
Because of sodium, Gatorade is not a good choice for kidney stones.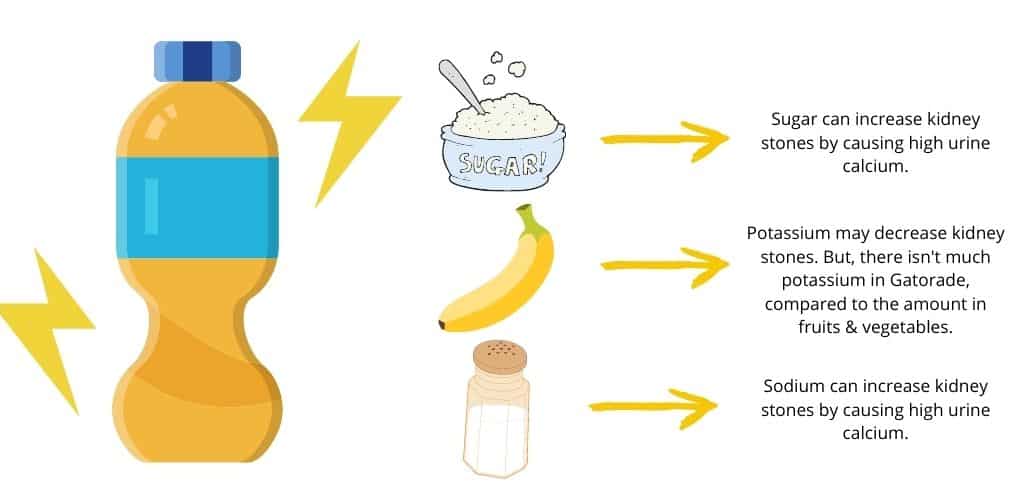 Sugar in Gatorade
Although there are sugar-free Gatorade options, many Gatorade products have a lot of sugar in them. Most bottles have more sugar in them than you should have for an entire day.
Although this sugar can be useful to endurance athletes, most of us do not need that extra sugar.
Also, we know that sugary drinks like soda, sweet tea, punch and most fruit juices increase the risk of kidney stones. (4) It is reasonable to think that the sugar in Gatorade is similar to sugar in these drinks. So, Gatorade could make kidney stones worse.
Potassium in Gatorade
Potassium is a good thing for kidney stones. People who eat lots of potassium-rich foods like fruits and vegetables tend to have less kidney stones. (5) Also, potassium in your urine can inhibit kidney stones. (6)
Although Gatorade has some potassium in it, there likely isn't enough to help kidney stones. A bottle of Gatorade has about 100mg of potassium. One banana has around 420mg of potassium. One apple has 200mg of potassium.
You are much better off getting potassium from fruits and vegetables, instead of Gatorade.
Are Other Sports Drinks Good For Kidney Stones?
Most sports drinks have similar nutrition content to Gatorade. So, I'd steer clear of most sports drinks for kidney stones unless you need them for other reasons.
Powerade
Propel
BODYARMOR
NOOMA
Vitamin Water (this has vitamin C in it, which can also cause kidney stones)
Liquid I.V
Best Drinks for Kidney Stones
So, what should you drink for kidney stones? Of course, old fashioned water is by far the best option for kidney stones.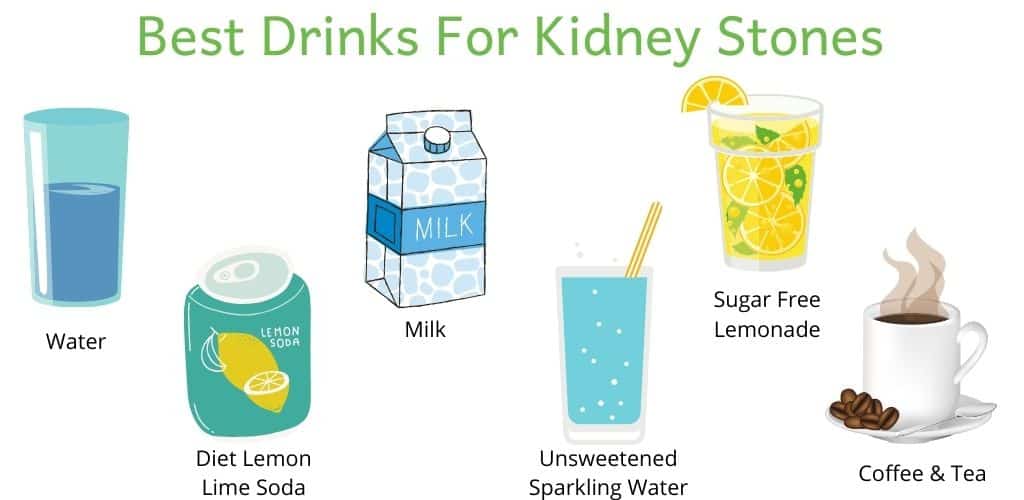 Here are some other healthy drink options to mix it up:
Drinks to Avoid for Kidney Stones
Other than Gatorade, here are some other drinks to avoid for kidney stones:
Happy Eating!
Melanie