Yes! Low oxalate greens do exist. Unfortunately, many people are given general advice to "avoid all green vegetables" on a low oxalate diet. But, this is just simply lazy and false information. There are plenty of low oxalate greens that can (and should!) be eaten on a healthy low oxalate diet.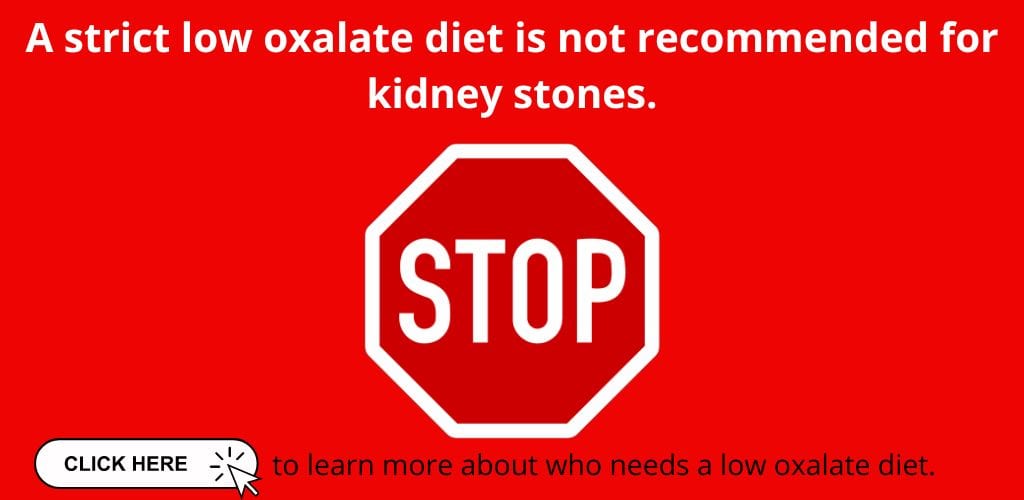 Who Needs Low Oxalate Greens?
I always like to add this (strong!) disclaimer to all of my information about low oxalate foods. Not everyone with kidney stones needs a low oxalate diet. In fact, not even everyone with oxalate kidney stones needs a low oxalate diet.
Only people with high urine oxalate need to follow a low oxalate diet. Hint: the most common cause of calcium oxalate stones is high urine calcium, not high urine oxalate.
In fact, the American Urological Association recommends that people with high urine oxalate limit how much oxalate they eat. (1) A 24 hour urine test is the only way to know if your urine oxalate is high.
If you do need a low oxalate diet, then choosing low oxalate greens is a key part of healthy eating for you!
It is very important to know that oxalate is only a piece of the puzzle. Learn more about all aspects of your diet that can impact calcium oxalate kidney stones.
High Oxalate Greens
Honestly, the list of high oxalate greens is much shorter than the list of low oxalate greens. However, these high oxalate greens are very high in oxalate. So, it is important to know about them if you need a low oxalate diet.
For example, raw spinach has around 656mg oxalate per cup. This is more than 40x higher than most other vegetables.
High oxalate greens:
Spinach (656mg oxalate per 1 cup, raw)
Chard (350mg oxalate per 1 cup, raw)
What Is a Low Oxalate Green?
There is no official definition of a low oxalate green. In fact, there is no definition or cut-off for what a low oxalate food is.
This is complicated by the fact that there isn't an official definition of what a "low oxalate diet" is either. There isn't an official amount of oxalate you should eat per day for a low oxalate diet. Instead, the amount of oxalate that is right for you should be individualized to your 24-hour urine results. Ideally, by a Registered Dietitian who takes the amount of calcium and your other kidney stone risk factors into account.
For most people with high urine oxalate, I recommend an oxalate amount of around 100mg per day. So, I used a definition for low oxalate greens to be any green with 10mg or less of oxalate per serving.
Top 10 Low Oxalate Greens
Here is the good stuff! These are my favorite low oxalate greens for people who have high urine oxalate.
Arugula
0mg oxalate per 1 cup
Probably my favorite low oxalate green, arugula is tasty in salads or as a topping for pizza and flatbreads. It is one of my go-to toppings for avocado toast.
I even love to sauté arugula for about 1 minute to wilt it just a bit and mix it into scrambled eggs and omelets.
Romaine Lettuce
0mg oxalate per 1 cup
Classic and crunchy! I love to mix some romaine lettuce into my salads for that crunch. It is the base of my Tomato & Mozzarella Salad!
Iceberg Lettuce
0mg oxalate per 1 cup
Iceberg lettuce gets a bad rap for having no nutrition. But, I beg to differ. It is a great source of fiber and water (which just happens to be critical for kidney stone prevention).
Plus, it is very low in oxalate!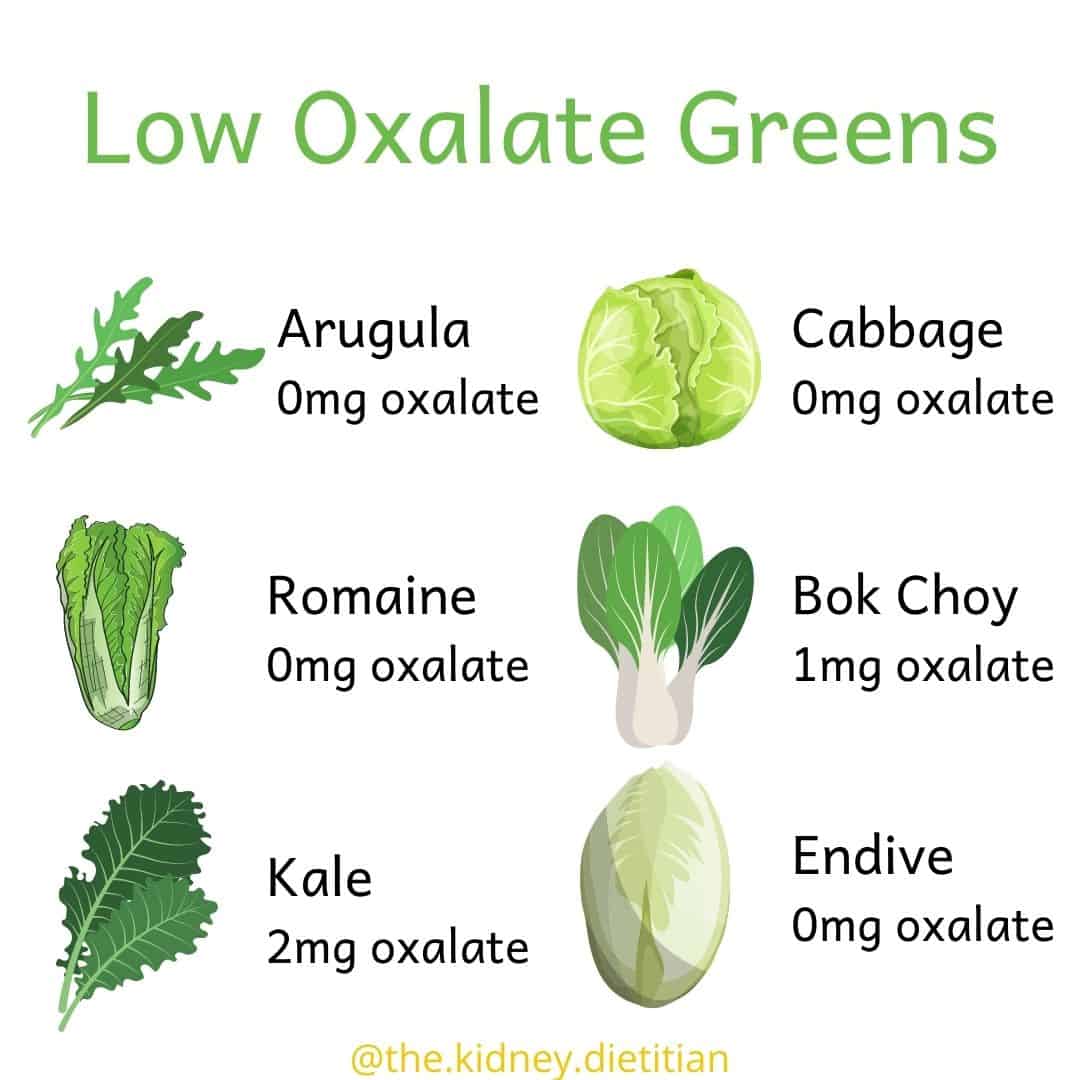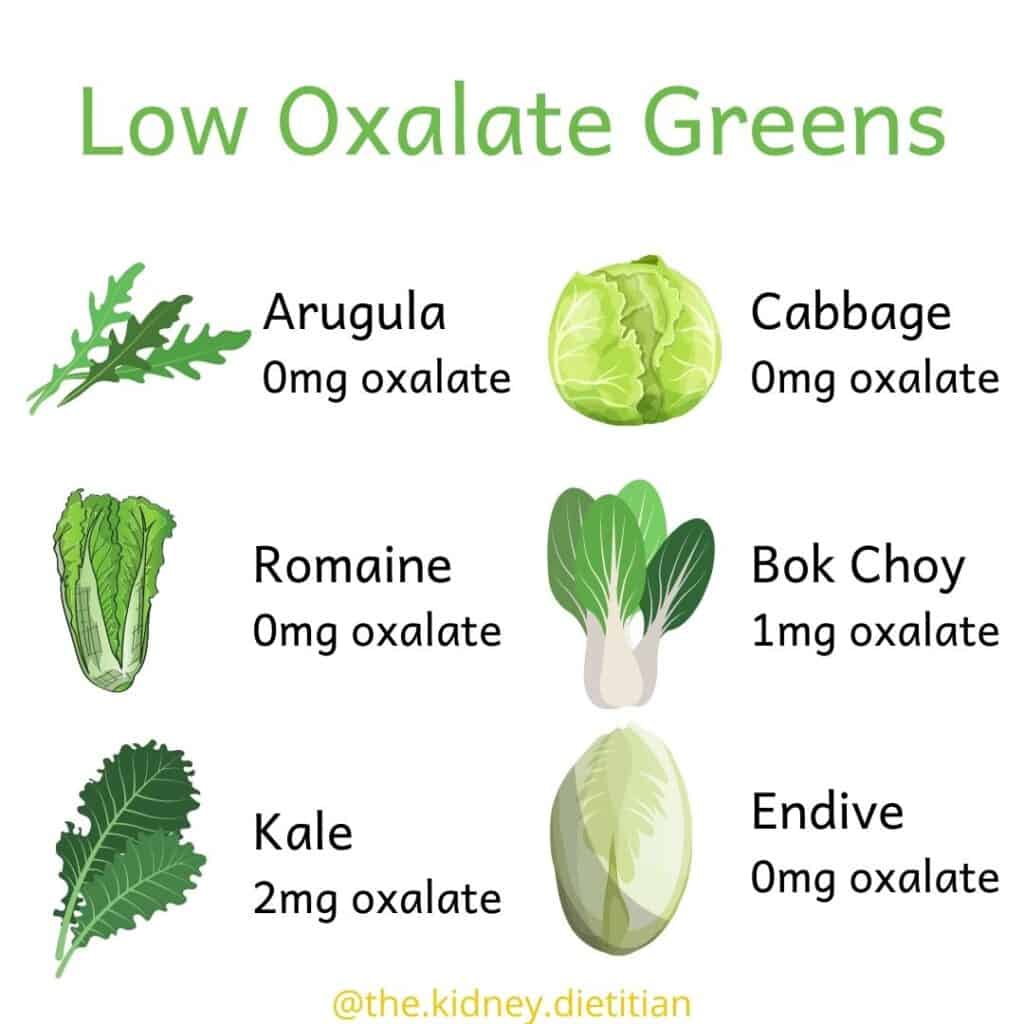 Kale
2mg oxalate per 1 cup
Yep! Kale is surprisingly low in oxalate. Kale is a great low oxalate green substitute for spinach in salads and other recipes.
Cabbage
0mg oxalate per 1 cup
All kinds of cabbage are low in oxalate. Savoy, Napa and purple cabbage are all low oxalate.
I think cabbage is one of the most under-rated vegetables. It is just so versatile! Sautéed cabbage is an excellent side dish for pretty much any entrée. Also, who doesn't love a crunchy cabbage slaw on top of fish tacos?
Mustard, Turnip and Collard Greens
4-10mg oxalate per 1 cup
Yet another surprising low oxalate green, greens such as mustard, turnip and collard greens are a great option!
Check out this lower sodium traditional Southern Collard Greens recipe! Or, you can eat greens raw like this Mustard Greens Salad with Apples and Dill. Yum!
Bok Choy
1mg oxalate per 1 cup
Bok choy is a great way to mix up your veggies. Chop it up and mix it into your favorite stir fry.
Or, Bok choy is a great low oxalate side dish. This Lemon Garlic Sautéed Bok Choy is delightfully tasty and easy!
Watercress
0mg oxalate per 1 cup
Watercress is another lesser utilized low oxalate green – coming in at ZERO oxalate.
Watercress is delicious raw in salads or cooked! Give this Gingered Watercress a try.
Butter Lettuce
5g oxalate per 1 cup
Butter lettuce is another low oxalate green to add to your rotation. It adds a bright green color and a soft (buttery, if you will!) texture to salads.
Endive
0mg oxalate per 1 cup
Endive is our last low oxalate green. It is delicious cooked (try this Braised Endive) or raw.
This low oxalate green makes adorable bite-sized appetizers. Stuff endive with a tasty filling like blue cheese and apples!
Other Low Oxalate Green Vegetables
Other than low oxalate greens, there are plenty of other green vegetables you can enjoy on a low oxalate diet!
Here are some of my favorites:
All oxalate amounts based on 1 cup raw vegetable, unless otherwise specified
Green Peas (1 mg)
Zucchini (1mg)
Green Onions (0.5mg per 2 stalks)
Broccoli (2mg)
Celery (5mg)
Asparagus (6mg per 4 spears)
Green Bell Peppers (10mg)
Brussels Sprouts (4mg)
Cucumbers (2mg)
Happy Eating!
Melanie