Shrimp and grits is one of my all time favorite Southern dishes. You'll fall in love with this lightened version: shrimp and polenta!
Tell Me About Polenta
Personally, I think polenta is one of the more underrated dishes. Polenta is actually quite versitile and can be prepared many different ways!
This particular shrimp and polenta recipe uses polenta as a creamy base under a spicy mixture of shrimp, onions and sweet red bell peppers. A creamy polenta base is also delicious under many different toppings! Try topping polenta with a mushroom ragu (which I actually served as the vegetarian option at my wedding!), Italian beef ragu, a mix of spring veggies and tofu or this chicken cacciatore over polenta.
You can also make polenta into a firmer, cut-able cake and serve it under tasty toppings. Try these eggplant polenta stacks, mushroom and caramelized onion polenta bites or this pan fried polenta with spicy tomato sauce.
Polenta can also be made into a casserole. Try this white bean & tomato polenta casserole, or this casserole with mushrooms and swiss chard.
Grits vs. Polenta
Surprisingly, there are more similarities than differences between polenta and grits. Polenta is made from hydrating yellow cornmeal to make it into a yummy, creamy dish. Grits are made from white cornmeal.
Because of the coarser texture of yellow cornmeal, polenta usually has more structure and texture compared to grits. Grits are traditionally served as a hot breakfast cereal; often with butter & sugar or cheese added. In addition, creamy grits are the star of the famous southern classic, shrimp and grits.
Polenta is more popular in Italian cooking, as it originated in Northern Italy. Traditionally, polenta was an easy and cheap dish, popular among working class families.
Healthy Shrimp and Polenta
This recipe is inspired by my love of southern shrimp and grits. Traditional shrimp and grits is usually made with lots of cream, cheese and salt. The grits are usually topped with a salty mixture of shrimp and sausage.
To make this dish a bit healthier, I used skim milk to make the polenta rather than cream. The milk still gives the polenta some creaminess, but without the saturated fat and calories of cream. I added a little parmesan cheese to give the polenta a bit of a cheesy flavor.
For the topping, I left out the sausage and added more flavor with extra onion and sweet red bell pepper. Paprika and chili powder give the shrimp and slightly smoky flavor. And, garlic gives the dish an extra kick of flavor.
Happy Eating!
Melanie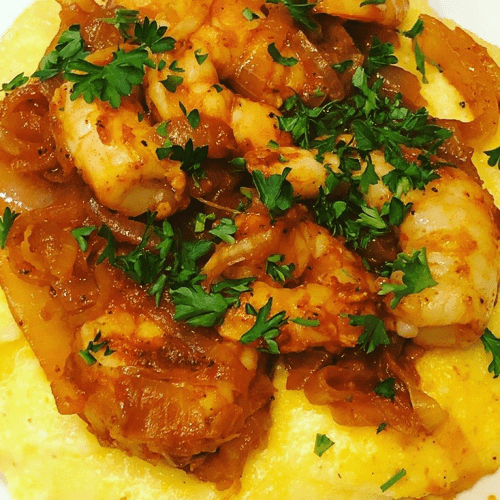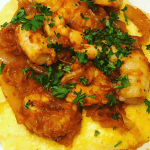 Print Recipe
Shrimp and Polenta
Quick and easy spicy shrimp with peppers and onions over creamy polenta
Servings:
4
1/2 cup shrimp + 3/4 cup polenta
Ingredients
1

tbsp

olive oil

2

cloves

garlic

minced

1

onion

thinly sliced

1

red bell pepper

thinly sliced

1

lb

shrimp

cleaned, deveined & tails removed, patted dry

1

tsp

paprika

1/2

tsp

cayenne

1/2

tsp

chili powder

4

cups

skim milk

1

cup

dry polenta (or cornmeal)

1/3

cup

parmesan cheese

1/8

tsp

salt

1/2

tsp

black pepper

1/4

cup

fresh parsley

chopped
Instructions
Hear olive oil in sauce pan over medium heat. Add garlic and cook until fragrant, 30 seconds. Add onion and bell pepper. Continue to cook until vegetable are soft, 5-10 minutes.

Combine shrimp, paprika, cayenne and chili powder. Add to pan with vegetables and cook until done, about 5 minutes.

Meanwhile, bring milk to a boil in a large pot. Add polenta and whisk, continuously, until cooked, about 8 minutes. Add cheese, salt and pepper.

Serve shrimp over polenta. Garnish with fresh parsley.
Notes
Nutrition Information (per 1/2 cup shrimp + 3/4 cup polenta): 346 calories, 7g fat, 2g saturated fat, 139mg cholesterol, 339mg sodium, 42g carbohydrate, 3g fiber, 0g added sugar, 29g protein, 370mg calcium, 622mg potassium, 447mg phosphorus, 29mg oxalate