Welcome to a world of tantalizing flavors and wholesome goodness! Let's dive into the realm of low sodium salmon recipes, where taste and health unite in perfect harmony. Whether you're a seafood enthusiast or simply looking to add more nutritious options to your kidney-friendly diet, you're in for a treat. Get ready to savor the delectable flavors of salmon while keeping your sodium intake in check.
Health Benefits of Salmon
Promote Heart Health
Salmon is a rich source of omega-3 fatty acids, known to reduce inflammation and lower blood pressure. Omega-3 fatty acids help decrease the risk of heart disease, arrhythmias, and stroke.
Salmon's high levels of potassium may further support heart health by regulating blood pressure.
Enhance Brain Function
Omega-3 fatty acids in salmon are essential for brain development and function. They support cognitive function, memory, and concentration.
Studies suggest a potential role in reducing the risk of neurodegenerative disorders, such as Alzheimer's disease.
Provide Essential Nutrients
Salmon is an excellent source of high-quality protein, essential for tissue repair and muscle growth. If you have kidney disease or kidney stones, it is important to know how much protein is right for you.
It is also rich in vitamin D, which promotes bone health and helps regulate the immune system. A 3oz portion of cooked salmon has about 450 IU of vitamin D , meeting 55-75% of your daily needs!
Salmon is also a good source of selenium, an antioxidant mineral that contributes to thyroid function and DNA synthesis. A 3oz portion has just over half of your daily selenium needs.
Why Low Sodium Salmon?
As you may know, too much sodium can spell trouble for your blood pressure, heart health and your kidneys! With the wrong recipe, salmon could pack quite a sodium punch!
By opting for low sodium recipes, you can still indulge in the incredible flavors of salmon without compromising your well-being.
Tips to Find Low Sodium Salmon
Not all salmon is created equal on the sodium front. Salmon naturally has a tiny bit of sodium in it. A 3oz portion has around 50mg of sodium.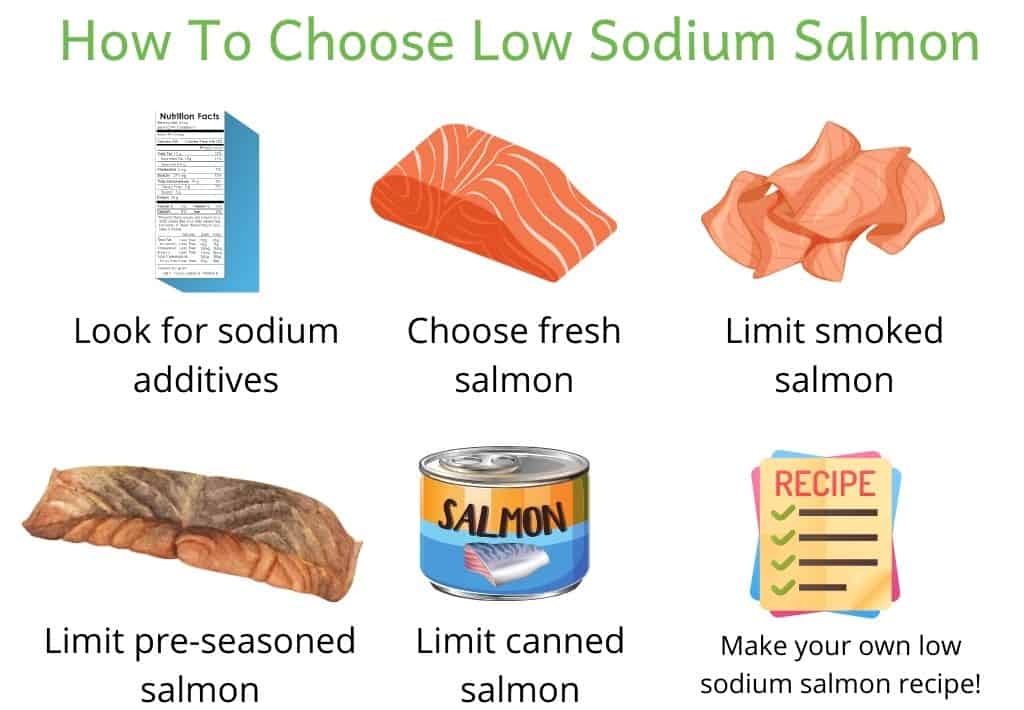 Avoid Sodium Solutions
Unfortunately, some salmon that appears to be "just salmon" is packed with sodium to help keep it fresh and moist. Always look at the Nutrition Facts labels to make sure extra sodium hasn't been added to your salmon.
Limit Higher Sodium Salmon Choices
Flavored Salmon
Salmon that is already seasoned probably has quite a bit of sodium in it. This includes frozen flavored salmon, as well as salmon from the meat counter that already has seasoning or marinade on it.
Smoked Salmon
Smoked salmon is packed with sodium. A 3oz portion of smoked salmon has 570mg of sodium. This will vary significantly by brand.
Salmon Made with High Sodium Ingredients
Of course, if you add salty ingredients, you can easily add a ton of sodium to your salmon.
Here are some common ingredients in salmon recipes you want to look out for:
Soy sauce
Teriyaki sauce
Seasoned breadcrumbs
Canned Salmon
Canned salmon has nearly 600% of the sodium in fresh salmon. Eeek!
Low Sodium Salmon Recipes
Let's dive right into the heart of the matter—the recipes! We've curated a collection of mouthwatering low sodium salmon recipes with no more than 450mg sodium per serving. In all of these recipes, omit the salt to keep them low sodium!
They all have plenty of flavor from other ingredients – you won't even miss the salt. I promise!
Fruit salsa is one of my favorite ways to jazz up fish. Mango and pineapple salsas are my fav!
This mango tomatillo salsa is delicious! Try it on cod or chicken too!
A classic combo! Lemon pepper salmon is a staple! BUT, did you know most lemon pepper seasonings have sodium in them! Lawry's Lemon Pepper has 90mg sodium per 1/4 teaspoon.
Use Mrs. Dash's Lemon Pepper Seasoning* in this recipe for a low sodium salmon sensation!
Air fryers are ALL the rage these days. Why not make salmon in it? YUM.
I've been told this air fryer* is the best!
Just make sure the frozen salmon you buy doesn't have sodium added to it already. Pair it with this low sodium pesto to keep the sodium down even further!
From yours truly! This low sodium salmon recipe is in my regular rotation. So easy, quick and delicious! Your whole family will be happy with this one!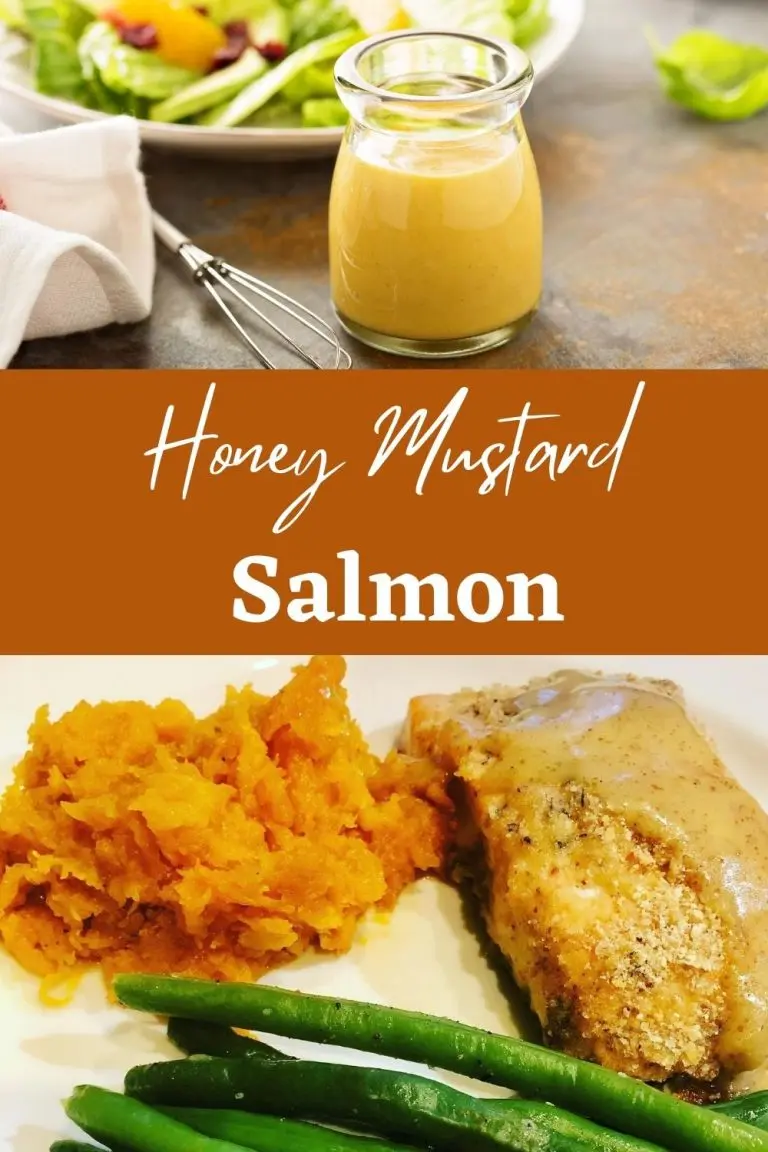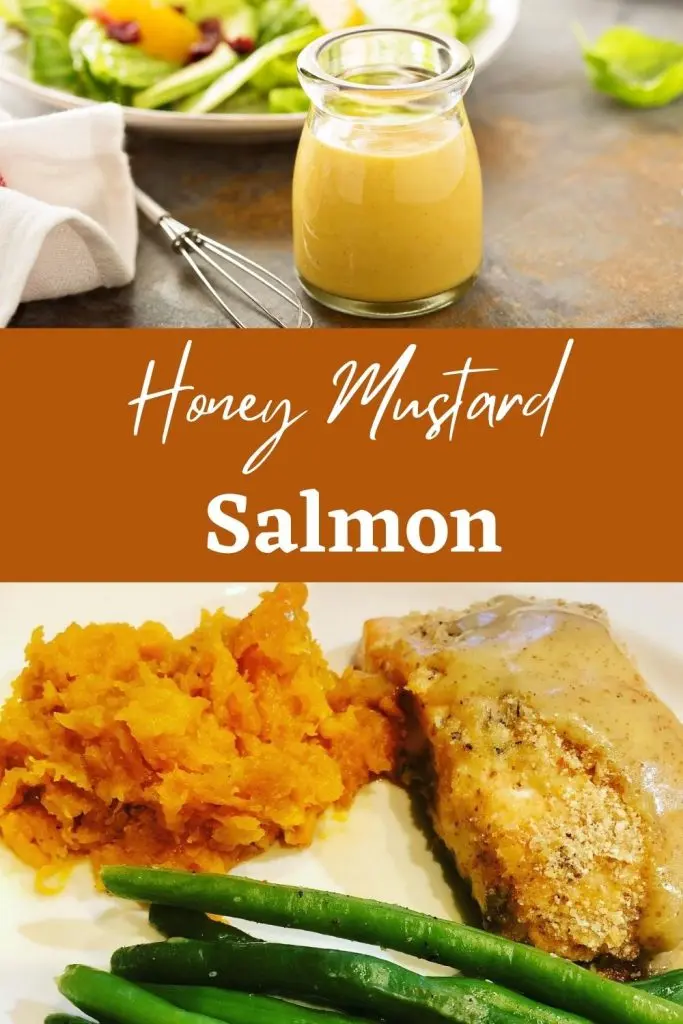 One of the best things about salmon is it is SO versatile! You can bake, grill, sauté or broil it! Broiling is one of my favorite weeknight ways to cook salmon because it is so quick and easy!
This low sodium salmon recipe is packed with flavor from orange marmalade and Dijon mustard. YUM!
Yes! Salmon cakes can be low sodium. Just be sure to use cooked, fresh salmon rather than canned salmon. Canned salmon has around 320mg sodium per 3oz portion. This is about 6x more sodium than fresh salmon.
The Creamy Dill Sauce that goes with it is a great low sodium recipe too!
This is a great way to use up leftover salmon. You certainly don't want that sitting around too long stinking up your fridge!
Mustard is SUCH a great way to add a ton of flavor to almost any dish without a lot of sodium. Add in some maple flavor and you've got yourself a match made in heaven!
I cannot even count how many times I've made this low sodium salmon. The smokey grilled salmon and the freshness of the oranges and fresh herbs is divine.
Giada really outdid herself on this one!
Salmon with fresh garlic, parsley and lemon. What's not to love?
Salmon packed with flavor from oranges, lemons, mint and oregano. Perfect for a leveled-up summer grill out!
Build a Healthy Low Sodium Salmon Meal
The options are endless! I usually recommend a vegetable and a whole grain with your low sodium salmon entrée.
My favorite vegetable pairings with salmon are:
Grilled or Roasted Asparagus
Roasted Green Beans
Roasted Carrots
Add a side of fiber-rich carbohydrate and you are good to go! My favorite carbs with salmon are:
Roasted Potatoes
Couscous – this Herbed Citrus Couscous is fantastic if you want to get fancy!
Butternut Squash
Happy Eating!
Melanie