Enjoy the comforting flavors of cornbread while prioritizing your kidney health with this delicious low sodium cornbread recipe.
Sodium in Cornbread
Sodium plays a significant role in the overall taste and texture of cornbread, but it's important to be mindful of our sodium intake, especially for individuals with kidney health concerns.
Traditional cornbread recipes often call for ingredients high in sodium, such as regular baking powder, salted butter, salt and buttermilk. A piece of cornbread typically has around 360mg of sodium.
Never fear! By making simple adjustments, like omitting salt, using unsalted butter and a trick of buttermilk, we can significantly reduce the sodium content without compromising on flavor.
With a few adjustments, we can savor the deliciousness of cornbread while maintaining a low-sodium diet for optimal health.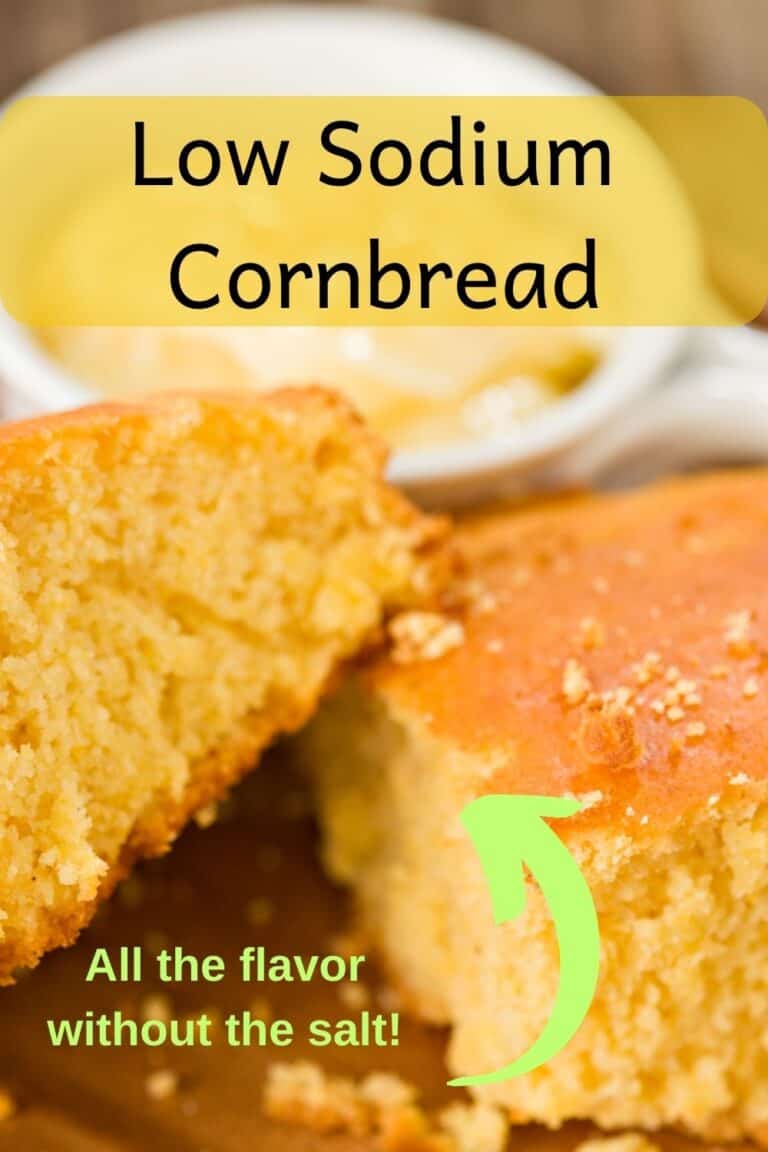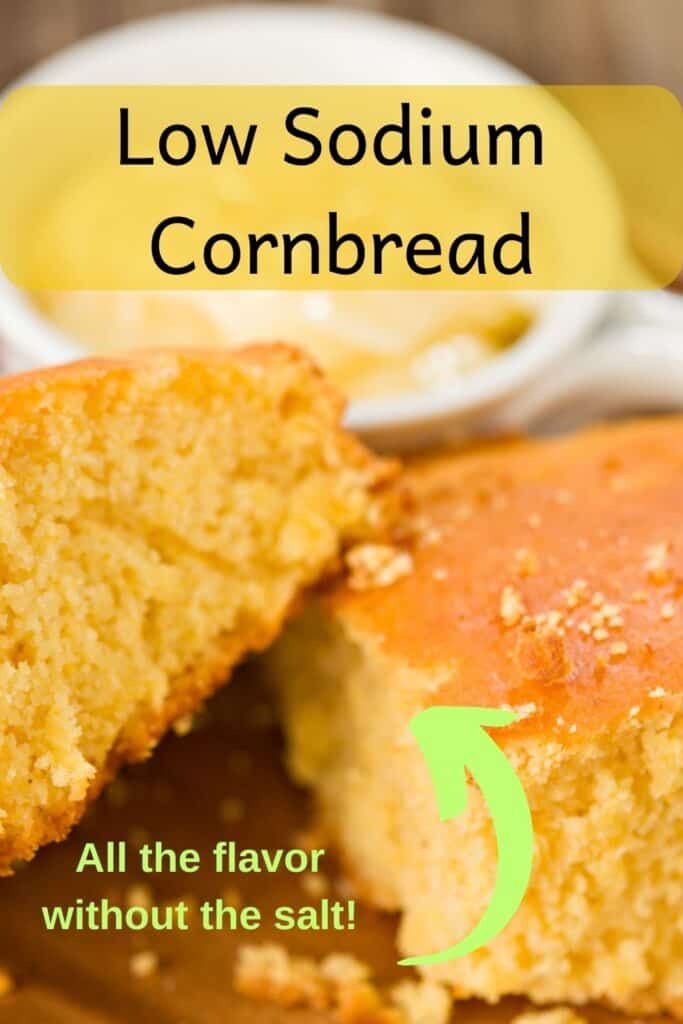 Low Sodium Cornbread Ingredients
Milk & Vinegar
Vinegar might seem like an odd ingredient for cornbread. Cornbread often calls for buttermilk for a tang. Buttermilk is higher in sodium. So, we make our own buttermilk using vinegar!
Flour
I went with classic all-purpose white flour for this low sodium cornbread.
You could choose to swap the white flour for whole-wheat for some extra fiber, protein and minerals. However, the cornbread will be a bit more dense. Try half white flour and half whole-wheat flour for a good balance.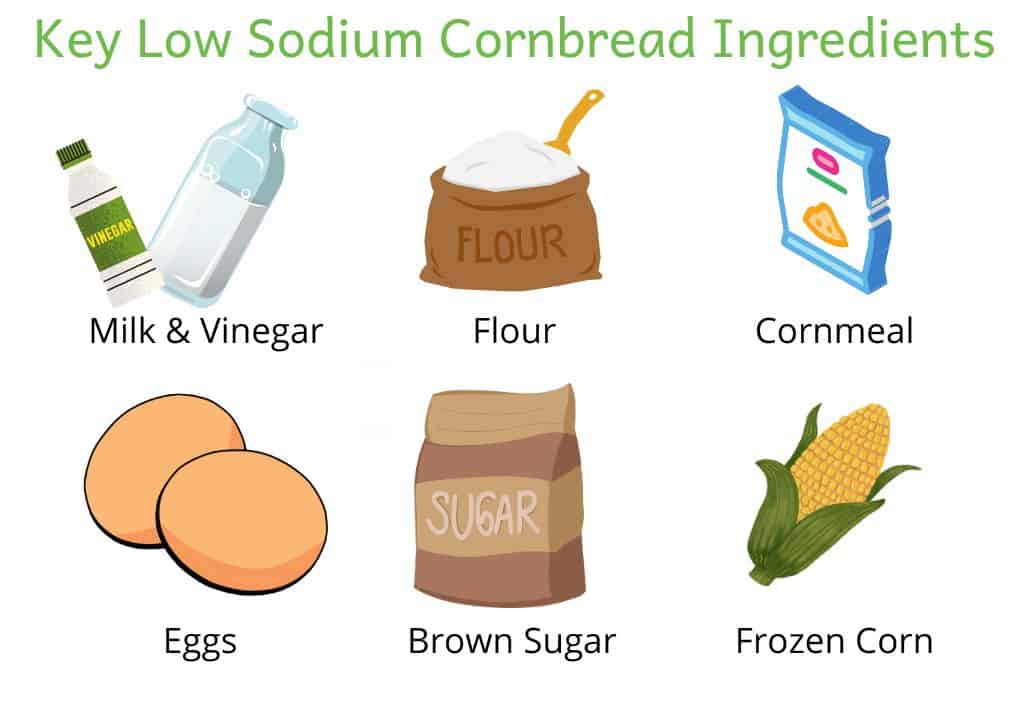 Cornmeal
A MUST for any cornbread recipe!
Cornmeal is often cited for it's "high" oxalate content. However, I don't worry too much about oxalate for the vast majority of kidney stone formers. Plus each serving only has 11mg of oxalate anyway!
Baking Powder & Baking Soda
These ingredients are where nearly all of the sodium comes from in this low sodium cornbread. Baking powder and baking soda are inherently high in sodium.
You could use Hain Sodium Free Baking Powder*. This would reduce the sodium to only 50 mg sodium per serving. However, this also adds potassium and phosphorus additives, which can be a problem for people with chronic kidney disease.
I dive into low sodium baking powder in my Low Sodium Biscuits recipe!
Brown Sugar
Cornbread isn't cornbread without a little sweetness! A small amount of brown sugar bumps up the natural sweetness of the corn.
I love brown sugar for the richer flavor. You can substitute white granulated sugar.
Frozen Corn
I LOVE any cornbread recipe that has actual corn. Many recipes call for a can of creamed corn. This can add a TON of sodium. Instead, I used frozen corn kernels for that REAL corn flavor.
Eggs
Eggs add richness and texture to this low sodium cornbread!
Butter
This also adds richness and mouthfeel. Make sure to look for unsalted butter. Regular salted butter adds 720mg sodium to the recipe.
Take Low Sodium Cornbread to the Next Level!
This cornbread is delicious as it. But, especially if you do find yourself missing the salt, you can UP the flavor even more with some delicious mix-ins!
Fold in any of these ingredients to your cornbread right before pouring into the baking dish. You could even try a combo!
1 cup cheddar cheese, shredded (adds 60mg sodium per serving)
1-2 fresh jalapenos, minced (adds 0mg sodium)
1/2 cup crumbled blue cheese (adds 64mg sodium per serving)
1 roasted red bell pepper, chopped (adds 0mg sodium)
1/4 cup green onion or chives, chopped
1/4 cup sundried tomatoes, chopped (adds 30mg sodium per serving)
1/4 cup fresh basil, chopped (adds 0mg sodium)
1 teaspoon cinnamon, nutmeg or pumpkin pie spice (adds 0mg sodium)
Dash of cayenne pepper (adds 0mg sodium)
1 teaspoon chili powder (adds 0mg sodium)
How to Serve Low Sodium Cornbread
You can enjoy this low sodium cornbread exactly as you would enjoy the full salt stuff!
As a Side
I simply cannot have chili without cornbread. My Spicy Black Bean Soup is one of my favorites! It also goes wonderfully with Red Beans & Rice.
Low sodium cornbread is also wonderful to bring to to any potluck or as a side with any summer BBQ!
With a Fancy Topping
You can elevate the vibe and flavor of low sodium cornbread with a fun topping! Try:
Maple butter (just leave the salt out of this recipe!)
Chili and cheese (look for low sodium chili!)
Sour cream & chives
Fresh berries and whipped cream (for a fun cornbread dessert!)
Avocado slices & fresh lime juice
Happy Eating!
Melanie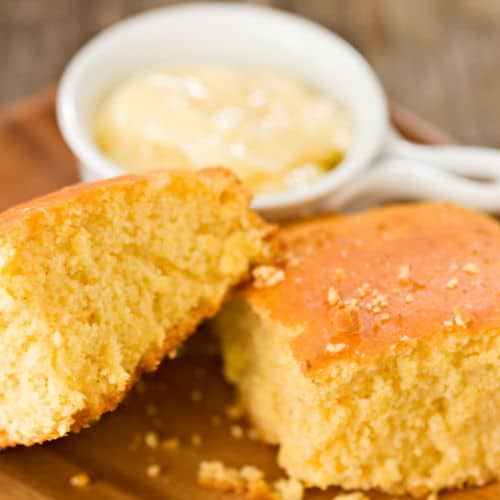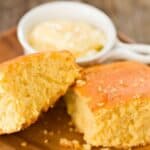 Print Recipe
Low Sodium Cornbread
Enjoy the comforting flavors of cornbread while prioritizing your kidney health with this delicious low-sodium recipe.
Ingredients
14

tablespoon

low-fat milk

2

tablespoons

white vinegar

1 1/2

cups

all purpose flour

1

cup

yellow cornmeal

2

tsp

baking powder

1/4

tsp

baking soda

1/4

cup

brown sugar

packed

3/4

cup

frozen corn kernels

thawed

2

eggs

1/2

cup

unsalted butter

melted
Instructions
Pre-heat oven to 400 degrees F. Spray an 8-inch square baking pan with cooking spray.

Combine milk and vinegar. Let sit for 3-5 minutes. It will slightly curdle (this is ok!).

In a large bowl, whisk together flour, cornmeal, baking powder and baking soda.

In a food processor or blender, combine brown sugar, corn and milk mixture. Process JUST until combined (we still want some whole pieces of corn!). Add eggs and process again for a few seconds (we still want some corn chunks!).

Add the blended corn mixture to bowl with dry ingredients. Fold just until combined. Add butter and continue to fold just until combined.

Pour into prepared baking pan. Bake 25-30 minutes until toothpick inserted into center of cornbread comes out clean. Let cool. Enjoy!
Notes
Nutrition Facts (per 2×2 square): 205 calories, 9g fat, 5g saturated fat, 52mg cholesterol, 132mg sodium, 27g carbohydrate, 1g fiber, 4g added sugar, 4g protein, 81mg calcium, 106mg potassium, 96mg phosphorus, 11 mg oxalate
Recipe adopted from America's Test Kitchen All-Purpose Cornbread