I have only been to New Orleans once, but that is all it took to fall in love with the city. I loved the art, culture and of course, the FOOD! My first experience with red beans and rice was in New Orleans. Of course, this was not vegetarian red beans and rice, but it inspired this recipe!
Traditional Cajun/Creole food is known for being flavorful and hearty. With small modifications, much of this food can be made kidney friendly! Vegetarian red beans and rice is a great example of modifying a traditional recipe and making it a healthy option.
Flavor Without The Meat
Red beans and rice traditionally gets it's scrumptious, smoky flavor from meat. Generally salt pork, andouille sausage or tasso ham is added. Unfortunately, these ingredients add quite a bit of salt. To keep the dish low sodium, I avoided using these ingredients.
Instead, the smoky flavor in this dish comes from chipotles in adobo. Usually used in Mexican cooking, these canned chiles add a ginormous flavor punch. Beware, they are incredibly spicy. You can use more for your vegetarian red beans and rice if you like, but be careful of the spice. A little goes a long way!
Smoked paprika also gives these red beans and rice a ton of flavor. Make sure to use smoked paprika, as traditional or sweet Hungarian-style paprika will not give us the same flavor profile. Save the sweet paprika for chicken paprikash!
The green onion garnish and splash of red wine vinegar also provide a ton of fresh flavor to this dish!
White vs. Brown Rice
For most people, brown rice is a healthier choice. Brown rice has more fiber than white rice (1.5g of fiber in brown rice vs. 0.3g in white rice per 1/2 cup cooked rice). I chose to use white rice in this recipe because I personally just love the fluffy texture of white rice in this dish. However, you can absolutely use brown rice if you want that extra fiber. It is up to you!
Brown rice also has more potassium and phosphorus in it. However, the extra potassium is not a concern for many people with kidney disease, and the extra phosphorus isn't very well absorbed.
Hot Sauce for Vegetarian Red Beans and Rice
If you are like me, you can't have red beans and rice without hot sauce! Louisiana hot sauce happens to be my favorite. Be aware of how much sodium is in the hot sauce that you use. It can add up quickly!
This recipe only has 394mg of sodium, or about 20% of your daily sodium goal. Likely leaving some room for a dash of hot sauce.
Happy Eating!
Melanie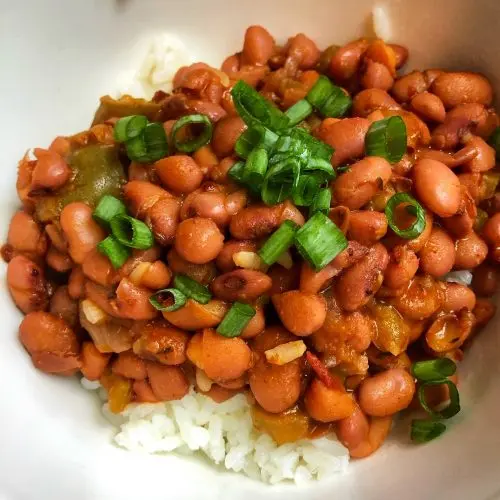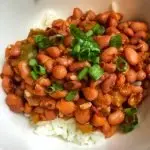 Print Recipe
Vegetarian Red Beans and Rice
Tasty vegetarian red beans and rice recipe with just the right amount of spice and smoke.
Ingredients
1

lb

small dried red beans

picked over & rinsed

3

tbsp

unsalted butter

1

onion

chopped fine

1

green bell pepper

chopped fine

2

celery stalks

chopped fine

3/4

tsp

salt

4

cloves

garlic

chopped

2

chipotles in adobo sauce

chopped fine

2

tsp

smoked paprika

2

tsp

dried thyme

2

bay leaves

1/8

tsp

cayenne pepper

1/2

tsp

black pepper

1

tbsp

red wine vinegar

1

bunch

green onions

chopped

2

cups

white rice

dry
Instructions
Soak the beans overnight. Combine dried beans with 2 quarts (8 cups) of water. Let soak at least 12 hours and up to 24 hours. Rinse beans.

Melt butter in Dutch oven or large soup pot. Add onion, bell pepper, celery and 1/2 teaspoon salt. Cook until vegetables are soft, about 7 minutes.

Add garlic, chipotles, paprika, thyme, bay leaves, cayenne and black pepper. Cook until fragrant, about 30 seconds.

Add beans and 9 cups of water. Bring to a boil. Reduce heat to a vigorous simmer and cook until liquid begins to thicken, about 45 minutes.

Add vinegar and remaining 1/4 teaspoon salt. Continue to simmer until thickened and creamy, about 30 more minutes.

Meanwhile, cook rice according to package instructions. Do not add salt, butter or oil for the nutrition information to match what is listed below.

Serve 1/2 cup beans over 1/2 cup cooked rice. Serve with plenty of green onion!
Notes
Nutrition Facts (per 1/2 cup beans + 1/2 cup rice): calories: 255, total fat: 3.7g, saturated fat: 2g, cholesterol: 8mg, sodium: 188mg, total carbohydrate: 46g, fiber: 6.7g, added sugar: 0g, protein: 10g, calcium: 55mg, potassium: 466mg, phosphorus: 170mg, oxalate: 20mg
Nutrition Facts (per 1/2 cup beans): calories: 152, total fat: 3.5g, saturated fat: 1.9g, cholesterol: 8mg, sodium: 187mg, carbohydrate: 23g, fiber: 6.4g, added sugar: 0g, protein: 8g, calcium:47mg, potassium: 438mg, phosphorus: 136mg, 18 mg oxalate
Inspired by America's Test Kitchen: Red Beans and Rice (and my trip to New Orleans!)