Who doesn't love sloppy joes?  There is something about them that just screams comfort food and throws you back memories of childhood.
Sloppy Joes are notoriously high in sodium, but they can be a delicious low sodium option if done right.
Sodium In Traditional Sloppy Joes
Traditional sloppy joes made with Manwich or other canned sauce can pack quite the sodium punch.  The meat in one sandwich can have up to 650mg of sodium, or about 28% of your total sodium goal for the entire day!  Add cheese, coleslaw, pickles, fries and a high sodium bun and that salt will add up even faster.
Even traditional homemade sloppy joe recipes with large amounts of ketchup, Worcestershire sauce and canned tomatoes can have too much sodium in them.
This low sodium sloppy joe recipe only has 240mg of sodium per 2/3 cup of mixture – about 1/4 the salt in many sloppy joes!
How Did You Get So Much Flavor?
The key to this tasty sloppy joe without the added salt is sauteing the onions, extra garlic (always extra garlic!) and cooking the tomato paste until it gets toasty. Taking time to cook aromatics like onion and garlic will definitely pay off in the long run in terms of flavor.  Thing about the difference between sauteed onions versus onions that have just been thrown in soup and boiled.  No comparison!
Letting the tomato paste cook until it gets to a nice maroon color and has a toasty smell is also important.  This adds a much richer flavor.  Keep this tip in mind when you use tomato paste in other recipes like marinara or pizza sauce.
Another secret to the flavor in this recipe is the apple cider vinegar.  Vinegar is my secret weapon in making many low sodium recipes.  The acidity vinegar adds to food is so good and it really helps brighten the flavor without salt.
Can I Use Ground Turkey?
Of course!  Really any ground meat will work in this low sodium sloppy joe recipe.  I personally prefer the beef flavor with sloppy joes and lean ground beef has a very similar nutrition profile to ground chicken or turkey.
The key is choosing the right lean ground beef.  I always look for ground sirloin, or the 93/7 ground beef option.  Th 93/7 on the package indicates that the meat is 93% lean and 7% fat.  Ground sirloin has about 170 calories, 8 grams fat and 3 grams saturated fat per 4 raw ounces.  Higher fat ground beef, like 75/25 option has much more fat in it (around 350 calories, 34g of fat and 13g of saturated fat for 4 raw ounces). You can buy pretty much any percent fat option in between these two.
Lean ground beef  actually has about the same nutrition profile as ground turkey or chicken.  Ground chicken has about 160 calories, 9g fat and 3g saturated fat for 4 raw ounces.  Ground turkey has 160 calories, 9g fat, and 2 grams saturated fat.
It really just comes down to personal preference!  Ground sirloin, ground chicken or ground turkey are healthy options that work in this recipe.
What About the Bun?
For most people, I recommend choosing a whole wheat bun for extra fiber and nutrition compared to a white bun.  Yes, whole wheat is best even for people with kidney stones or advanced kidney disease!  Most people with kidney stones do not need to worry about the oxalate.  The phosphorus in whole grains is only about 50% absorbed.
Make sure to read the Nutrition Facts label of whatever bun you buy.  Bread products can have a surprising amount of sodium in them. Pepperidge Farms Whole Wheat Hamburger buns are widely available and only have 210mg of sodium per bun, which is pretty good!
Serving Suggestions
Traditional sides of French fries, coleslaw or creamy macaroni salad can also add quite a bit of sodium to your meal.  Try to make sure the side you eat with your sloppy joe has some vegetables in it.
I like to serve it with a simple side lettuce salad, raw vegetable sticks or a marinated cucumber salad.
Can This Sloppy Joe Be Even Lower Sodium?
One can always take even more sodium out of recipes.  You could use low sodium ketchup, low sodium mustard and no salt added tomato paste to bring the total sodium down even lower.  However, some sodium in your food is okay!  You need a little sodium in your food for flavor.  250mg of sodium for the sloppy joe meat is only 11% of your daily sodium goal, which can easily fit into your daily sodium allotment!
You can certainly choose to use the lower sodium ingredients and see how it tastes!
Happy Eating!
Melanie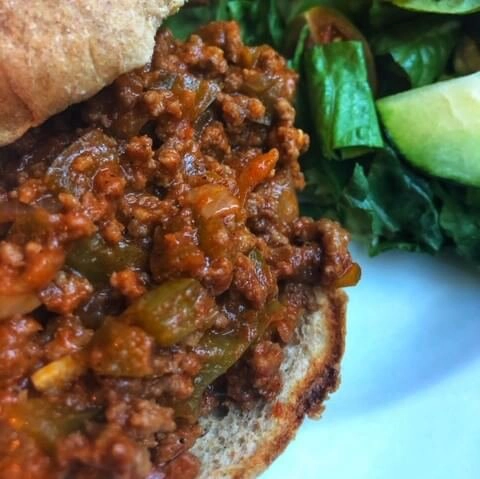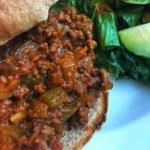 Print Recipe
Low Sodium Sloppy Joes
Meaty, flavorful sloppy joes without the salt! This recipe has 75% LESS SALT than most sloppy joes. Even better, this recipe is SO easy and quick to whip up on a weeknight.
Ingredients
1.25

pound

ground sirloin

2

tbsp

low sodium tomato paste

1/2

large

onion

diced

1/2

large

green bell pepper

diced

3

cloves

garlic

minced

2

tbsp

chili powder

2

tsp

brown sugar

1 1/2

tsp

ground mustard

1/8

tsp

crushed red pepper flakes

2

tbsp

apple cider vinegar

5

tbsp

ketchup

1/3

cup

water
Instructions
In a large saute pan, brown the ground sirloin. If you don't use lean ground sirloin, drain the excess fat after browning.

Add tomato paste and cook 1-2 minutes until tomato paste has deep red color. Add onion, green pepper and garlic. Continue to cook 3-5 minutes until vegetables are slightly softened.

Add remaining ingredients. Mix well. Cover and cook 10-15 minutes.
Notes
Nutrition Facts (per 2/3 cup): 148 calories, 10g carbohydrate, 1.6g fiber, 3.9g added sugar, 4g fat, 1.6g saturated fat, 60mg cholesterol, 19g protein, 238mg sodium, 25mg calcium, 437mg potassium, 169mg phosphorus, 5mg oxalate