A quick vegetable hash is one of my go-to's for an easy elevated weekend breakfast. Vegetable hash is a wonderful way to get in a few extra servings of vegetables at breakfast!
I just love the pineapple in this recipe. It adds a ton of flavor to the dish and helps keep it lower sodium. Something about the combination of sweet potatoes and pineapple I just can't get over it!
This recipe is very high in potassium. This is a good thing for some people with kidney disease, but may be too much for others. You can leave off the avocado, which would reduce the potassium to 584mg per 1 cup serving.
You can create your own hash by combining your favorite veggies and spices. Try an Italian inspired hash with potatoes, artichoke and tomato seasoned with basil, rosemary and thyme. Or, experiment with Greek flavors using potatoes, chickpeas, zucchini and a few olives seasoned with oregano and garlic. The possibilities are endless!
Happy Eating!
Melanie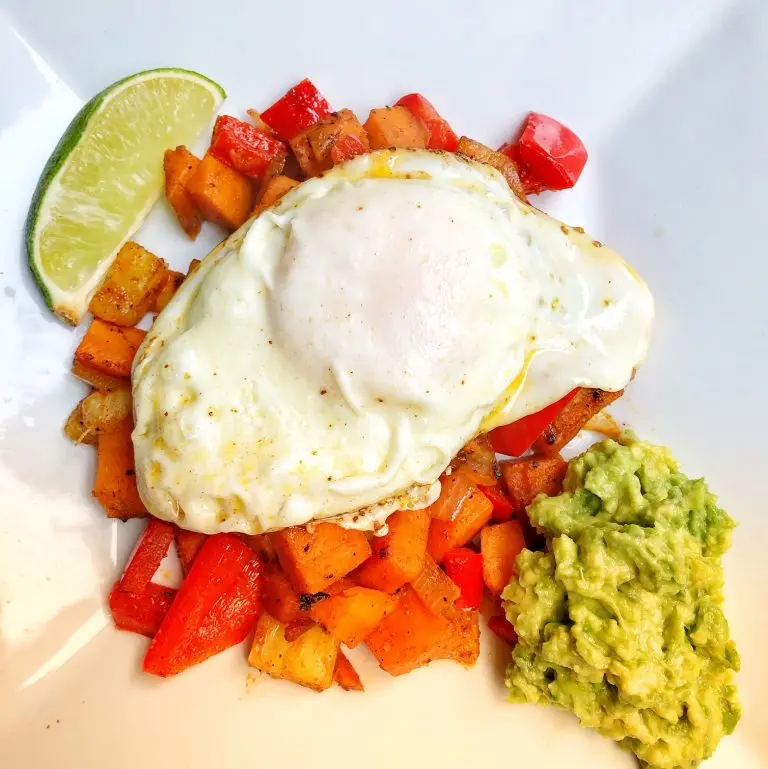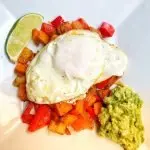 Print Recipe
Southwest Sweet Potato & Pineapple Hash
Quick and easy southwest inspired breakfast hash!
Ingredients
2

small

sweet potatoes

peeled & cut into 1/2" chunks

2

tsp

water

1

tbsp

vegetable oil

1

medium

onion

cut into 1/2" chunks

1

red bell pepper

cut into 1/2" chunks

1

tsp

ground cumin

1

tsp

chili powder

1/4

tsp

black pepper

1

cup

pineapple

cut into 1/2" chunks

1

avocado

1

lime

4

eggs

over easy
Instructions
Put sweet potato and water in a microwave safe bowl. Cover with plastic wrap. Microwave for 4 minutes, or until potatoes are tender. Remove plastic wrap (be careful – the steam is very hot!) and drain potatoes. Dry on paper towels.

In a nonstick skillet, heat oil over medium high heat. Add onion, bell pepper, microwaved potatoes, spices and 1 dash of salt. Cook until peppers are soft, about 5 minutes, stirring occasionally.

Add pineapple. Cook, stirring occasionally, until pineapple is warmed.

Mash avocado with juice from 1/2 the lime. Add 1 dash of salt. Cut remaining half of lime into 4 wedges.

Serve 1 cup hash with 1 egg (cooked to your preference), 2 tablespoons mashed avocado and lime wedge. Enjoy!
Notes
Nutrition Facts (per 1 cup hash + 1 egg + 2 Tbsp avocado): 246 calories, 14g fat, 3g saturated fat, 187mg cholesterol, 140mg sodium, 23g carbohydrate, 5.2g fiber, 0g added sugar, 9g protein, 67mg calcium, 593mg potassium, 149mg phosphorus, 23 mg oxalate