*Please note that this post contains clearly identified affiliate links. If you click on these link and choose to make a purchase, I may receive a commission (at no cost to you). As an Amazon Associate I earn from qualifying purchases.
Finding a good low sodium pasta sauce is key to following a healthy kidney diet! Pasta sauce seems to sneak into SO many dishes other than spaghetti! And, since traditional jarred marinara sauce can have up to 600mg per 1/2 cup, it can add quite a bit of sodium to your diet.
I found many low sodium pasta sauce recipes were quite bland and not very exciting. Check out this recipe for low sodium pasta sauce. I promise you, you'll never go back to the jarred stuff!
How Is this Low Sodium Pasta Sauce Different?
This low sodium pasta sauce is full of flavor, compared to many other recipes I have tried. This sauce is more robust than a traditional marinara. It is a bit thicker and has a deeper flavor from the wine compared to the bright flavors of a traditional marinara. I promise you will love it!
I used all the tools in my low sodium toolbox to really pump up the flavor in this recipe.
Red Wine
The biggest punch of flavor comes from the red wine. Don't worry, simmering the sauce for 30 minutes removes any alcohol and just leaves a deep, rich flavor. Make sure to choose a dry red wine for this recipe – a sweet red will not have the same effect.
Here is my secrets for cooking with wine. I always keep tiny, single serve bottles* of red and white wine in my pantry to use for cooking. As a self-proclaimed wine expert, this is somewhat embarrassing to admit. I have absolutely heard you should never cook with wine you are not willing to drink. However, sometimes I just don't want to open an entire bottle of wine just for 1/2 cup in a recipe. These tiny bottles work perfectly on that occasion! Or, if you want to use this recipe as an excuse to open a bottle of your favorite wine, please, don't let me stop you!
Garlic & Onion
A secret to almost any low sodium recipe, this recipe has plenty of garlic and onion. I started the sauce by sauteeing these ingredients in olive oil. This brings out even more flavor, rather than just adding them to the sauce and letting them simmer.
Red Wine Vinegar
Another one of my secret low sodium weapons. Flavored vinegar is a wonderful addition to nearly any savory recipe. I added red wine vinegar after the sauce cooks for some extra punch. The recipe calls for just a teaspoon, however, you can add much more if you like! Vinegar has almost no sodium, calories, fat or sugar. So, it is a great way to add flavor without touching the nutrition content!
How Much Sodium is in Your Low Sodium Pasta Sauce, Melanie?
This low sodium pasta sauce recipe only has 70mg of sodium per a 1/2 cup serving! This is about 85% less sodium compared to the whopping 480mg in Prego, 460mg in Ragu and 490mg in Newman's Own marinara sauces.
You can find low sodium or "heart healthy" versions of jarred pasta sauce. However, most of these sauces still have about 350mg of sodium per 1/2 cup. Also, low sodium products often have added potassium, which can be a problem for some people with kidney disease.
Making pasta sauce at home tastes SO much better anyway! But, the lower sodium versions of the jarred pasta sauce are certainly better than the full sodium version in a pinch!
Be Choosy with Ingredients
Be careful to use No Salt Added canned tomatoes and tomato paste for this recipe. Regular canned tomatoes and tomato paste can add a lot of sodium to your cooking.
I found that many tomato pastes do not have have salt added*, even though it does not advertise as being low sodium! Just make sure to check the food label.
I chose to use canned diced tomatoes in this recipe. Many pasta sauce recipes call for crushed canned tomatoes, but I have a harder time finding low sodium crushed tomatoes. As a result, this recipe comes out a little more chunky than many pasta sauces. If you do not prefer a chunky sauce, simply blend the sauce to the consistency you would like after cooking. Or, if you can find no salt added crushed tomatoes in your grocery store, they would make a fine substitute for the diced tomatoes in the recipe.
Low Sodium Pasta Sauce Serving Suggestions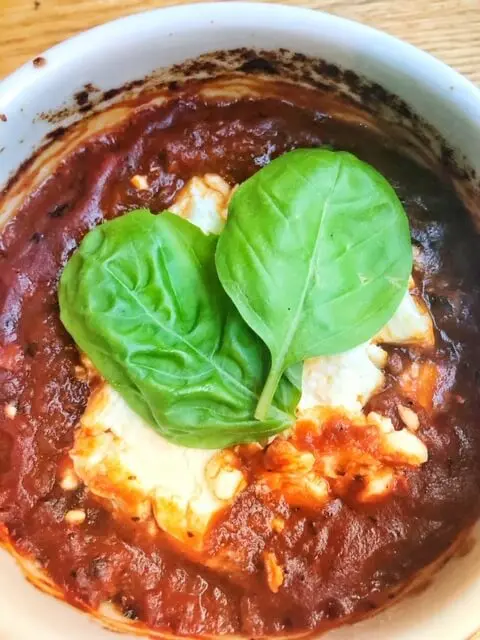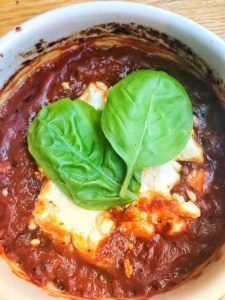 This low sodium pasta sauce can be used for so much more than pasta. Although, I certainly highly recommend it for spaghetti!
Inspired by my love of small plates and Spain, I love to make this low sodium pasta sauce into a baked goat cheese dish. Spoon some of the sauce into an oven-safe bowl and plop a chunk of goat cheese on top of the sauce. Bake at 450'F for around 10 minutes, or until the sauce gets bubbly and the cheese is nice and soft and even a little charred on the edges. Serve with some sliced baguette. You'll be in heaven!
Other ideas for this low sodium pasta sauce:
Homemade pizza
Spoon over grilled veggies (zucchini, eggplant and yellow squash are my favorite!)
Homemade lasagna
Use as a base for soups, such as minestrone or cream of tomato
Serve with homemade meatballs
Freeze It!
Low sodium pasta sauce freezes very well. I like to make it in big batches and freeze 2 cup portions. Then, I can easily grab one of my small containers, defrost it, and I have just enough for another healthy low sodium spaghetti night! A perfect low sodium weeknight meal idea.
You could easily double or triple this recipe to have plenty leftover to freeze!
Happy Eating!
Melanie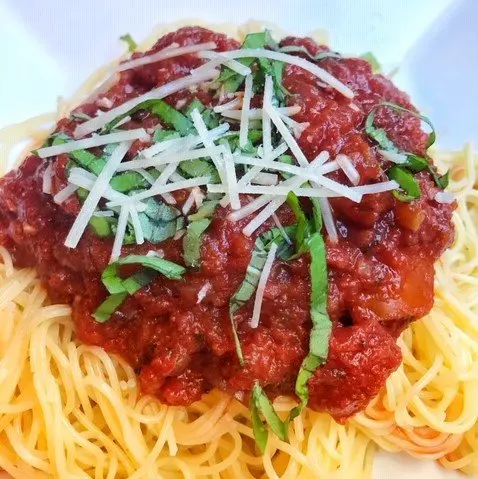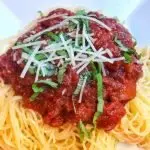 Print Recipe
Low Sodium Pasta Sauce
Robust, flavorful low sodium pasta sauce with only 15% the sodium of jarred pasta sauce!
Ingredients
3

Tbsp

olive oil

1

medium

onion

diced

4

cloves

garlic

minced

6

oz

tomato paste

no salt added

3

14.5oz can

diced tomatoes

no salt added

6

fl oz

dry red wine

1

cup

water

1

tsp

dried oregano

1

Tbsp

dried basil

1

Tbsp

dried parsley

1/2

tsp

black pepper

1/4

tsp

crushed red pepper flakes

1/4

tsp

salt

1

tsp

sugar

1

tsp

red wine vinegar
Instructions
Heat olive oil in a large pot over medium high heat. Add onion and cook until softened, about 5 minutes.

Add garlic. Cook until fragrant, about 30 seconds.

Add tomato paste. Cook, stirring constantly, 1-2 minutes or until tomato paste develops a deep color.

Add diced tomatoes, wine, water, spices, salt and sugar. Bring to a simmer and cook 30 minutes, stirring occasionally.

Optional: Depending on your sauce consistency preference, blend sauce using an immersion blender or traditional stand blender. I like to leave mine a little chunky, but it is completely up to you how smooth you want to make your sauce!

Add vinegar. Feel free to add more to taste!
Notes
Nutrition Facts (per 1/2 cup serving):
79 calories
3.8g fat
0.5g saturated fat
0mg cholesterol
70mg sodium
8.5g carbohydrate
3g fiber
0.35g added sugar
1.8g protein
57mg calcium
393mg potassium
39mg phosphorus
25mg oxalate