Most kidney stones are made of calcium. So, a logical next question is "does milk cause kidney stones"?
Our bodies are a complicated place. What goes in isn't necessarily exactly what comes out. Let's dive into everything milk and kidney stones!
What Are Kidney Stones?
Kidney stones are hard crystallizations. They form in your urine when it is too saturated with stone making molecules. The most common molecules that make kidney stones are calcium and oxalate. About 80% of kidney stones are calcium oxalate. (1)
Other common types of kidney stones are uric acid and calcium phosphate.
Does Milk Cause Kidney Stones?
Milk is notoriously a good source of calcium. Since most kidney stones are made out of calcium, does milk cause kidney stones?
No! Milk does not cause kidney stones. In fact, milk can help prevent kidney stones.
Milk is a great source of calcium. Eating enough calcium can reduce the risk of kidney stones by up to 50%. (2) Study after study finds that people who eat enough calcium have fewer kidney stones. (3) This might seem counterintuitive. Here is how this works.
Calcium and oxalate love to bind. This is how they make kidney stones! But, if you eat enough calcium, the calcium will bind with oxalate in your intestine. This will block a lot of the oxalate in the food you eat from getting absorbed. Instead, that oxalate is excreted in your feces.
When you do not eat enough calcium, more oxalate is absorbed and is excreted in urine. Higher urine oxalate can contribute to kidney stones.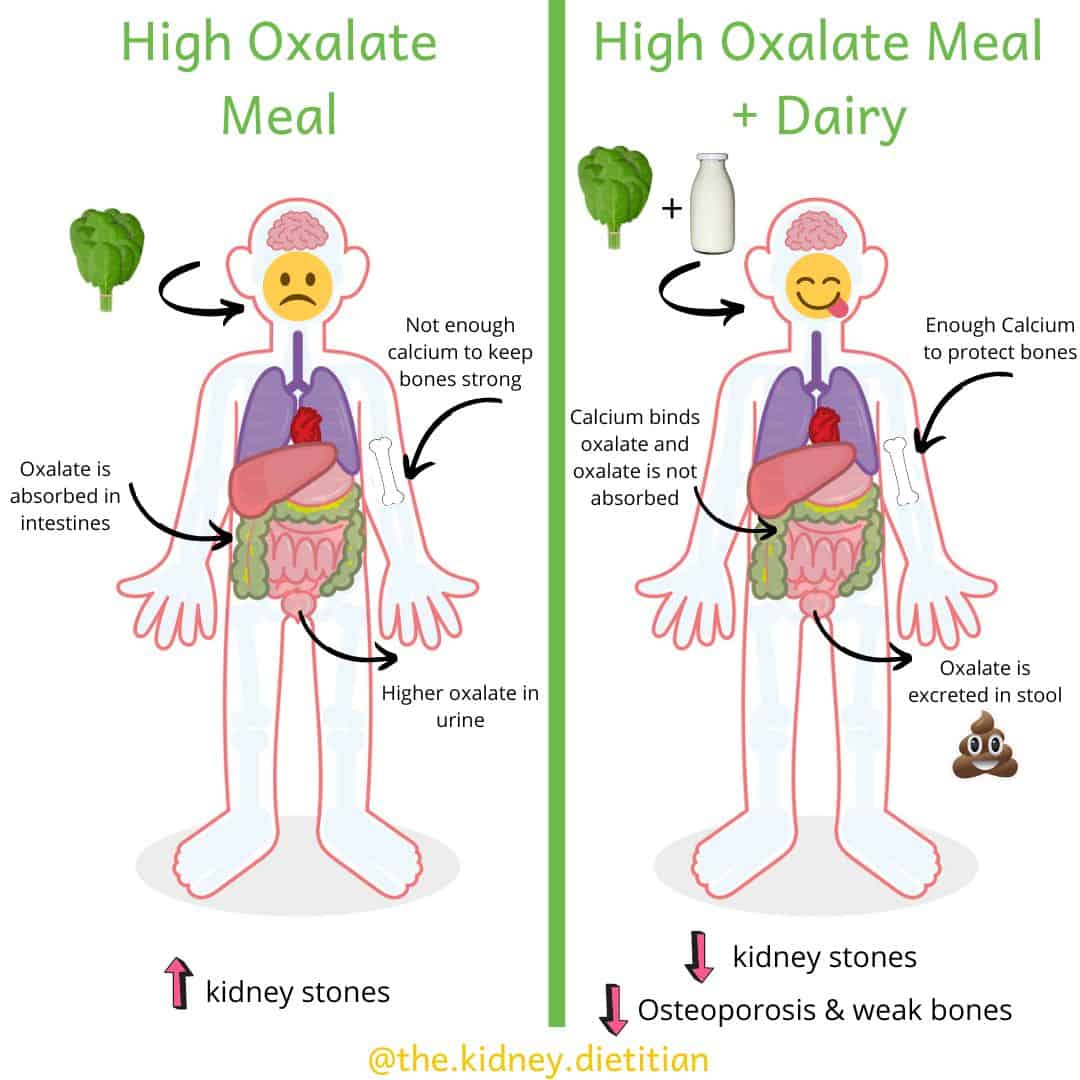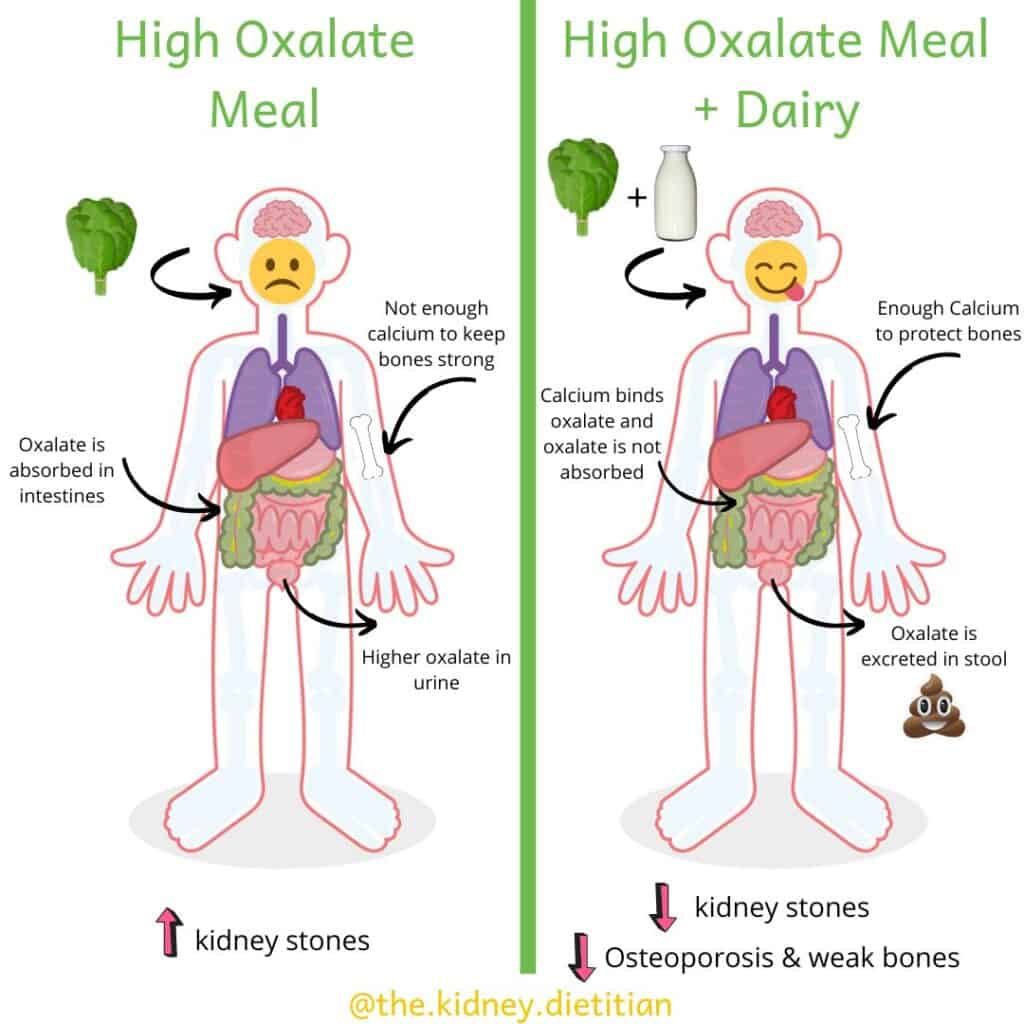 Milk, Kidney Stones & Bone Health
Bone health is another reason it is important for people with calcium kidney stones to eat enough calcium.
People who have calcium kidney stones tend to have a lower bone mineral density and have a higher risk of osteoporosis. (4) High urine calcium is one of the most common causes of calcium kidney stones and can be a sign your body is breaking down bone. This is likely the link between osteoporosis and kidney stones.
Getting enough calcium is important to help prevent osteoporosis. (5) Nutrition for kidney stones and osteoporosis go hand-in-hand!
What Kind of Milk for Kidney Stones?
For most people, I recommend cow's milk for kidney stones. Milk and other dairy like yogurt and cheese is one of the few foods that is naturally high in calcium.
For people who can't tolerate or choose to avoid dairy, milk substitutes can be an option. However, remember all milk substitutes are supplemented with calcium. They they are not naturally good sources of calcium. Calcium supplements may increase risk of kidney stones. (6) No studies have looked into the risk of calcium supplemented products and risk of kidney stones.
Some vegetables are high in calcium as well. Spinach, kale, broccoli and other greens tend to be higher in calcium. However, the calcium in vegetables is not as available as calcium from dairy. They also tends to have much less calcium per serving compared to dairy. Calcium is so important for oxalate kidney stones, I usually tell my students to focus on dairy or dairy substitutes.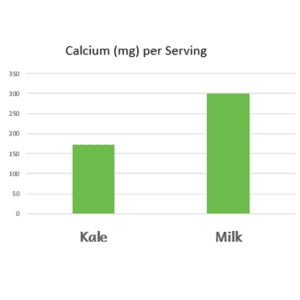 How Much Milk Do You Need For Kidney Stones?
The American Urological Association recommends that people with calcium kidney stones and high urine calcium consume 1,000-1,200mg of calcium per day from food. (7) The Dietary Guidelines for Americans also recommend 1,000-1,200mg calcium per day for general health. (8)
Eating three servings of dairy per day is good way to make sure you are getting enough calcium. A serving is:
One cup (8 fluid ounces) of milk
3/4 cup yogurt
1 ounce cheese
Learn more about the best sources of calcium for kidney stones.
Calcium Supplements & Kidney Stones
Although calcium rich foods are very good at preventing oxalate kidney stones, calcium supplements are not.
One of the most common urine risk factors for kidney stones is high urine calcium. The more calcium in your urine, the more likely you are to make kidney stones. Calcium supplements increase urine calcium MUCH more than natural sources of calcium, like milk. In fact, calcium supplements are associated with higher kidney stone risk. (6)
Calcium supplements can be a good option to help reduce oxalate absorption and reduce risk of kidney stones for some people. Most notable, people who have kidney stones as a result of bariatric surgery or bowel disease. But, for most people, calcium supplements are not ideal. Nutrition for kidney stones must be personalized to your 24-hour urine risk factors.
What Else Causes Kidney Stones?
Nutrition for kidney stones is much more than milk! Many other things can contribute to kidney stones. Some of the most common nutrition causes of kidney stones are:
Learn more about nutrition for calcium oxalate or uric acid kidney stones.
A kidney stone diet is different for everyone! To know what you can do to prevent kidney stones, you must have a 24-hour urine test to know what caused your kidney stones. Without that test, you could be focusing on entirely the wrong things!
I help people prevent kidney stones with a personalized, science-based (and delicious!) approach in Kidney Stone Nutrition School!
Happy Eating!
Melanie