Love flavorful steak but don't want all of that salt? Look no further! This tasty No Salt Steak Seasoning is the solution.
*Please note that this post contains clearly identified affiliate links.  As an Amazon affiliate, I may earn a small commission on qualifying purchases (at no extra cost to you).
Why Should You Use No Salt Steak Seasoning?
One of the most common fears after your doctor says "you need to be on a low sodium diet" is that food will be flavorless Yuck! Nobody wants to eat bland food!
Actually Taste Your Steak!
Never fear! Low sodium food doesn't have to taste like cardboard. In fact, quite the contrary! Starting a low sodium diet is an opportunity to experiment with a whole new world of flavors. So much of the "flavor" in our food is actually just salt. Although a little salt is definitely important (and 100% okay!) to enhance the flavor of your food, it doesn't need to be the primary source of flavor.
Cutting back on salt can allow you to actually taste the delicious flavor of your food! You'll be amazed at how much flavor steak already has. Use this No Salt Steak Seasoning to enhance that flavor, not cover it up!
Cut WAY Back on the Salt
The best way to enhance the flavor of your food on a low sodium diet is with herbs and spices! Herbs and spices have no salt in them whatsoever. The possibilities are endless and it can be fun to discover new favorite flavors!
Nearly any dried or fresh herb and spice you find at your grocery store is free game! But, be careful of spice mixes and seasonings. These blends often have salt in them, including most steak seasonings.
Salt is often the first ingredient in seasoning mixes. For example, the first ingredient in McCormick Perfect Pinch Steak Seasoning is salt. This steak seasoning has 260mg of sodium in only 1/4 teaspoon.
This No Salt Steak Seasoning recipe has 0mg of sodium per 1/2 teaspoon.
If you have kidney disease, be careful of "salt substitutes" like Nu Salt or Lite Salt. These products can be dangerously high in potassium for people with kidney disease.
No Salt Steak Seasoning Ingredients
Use this recipe as a starting point to create your own favorite no salt steak seasoning! Here are the ingredients I like to use.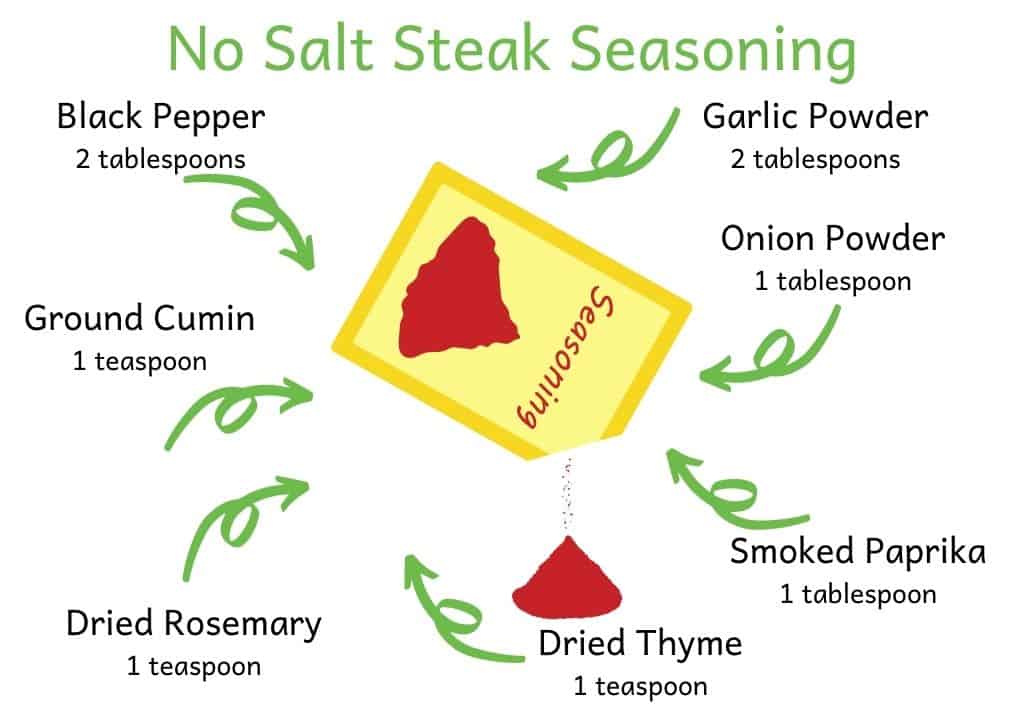 Black Pepper
Adds a bit of heat and is a classic ingredient in steak seasoning.
Garlic Powder
Who doesn't love garlic?
Smoked Paprika
This is where the seasoning mix gets most of its smoky flavor, that goes so well with steak!
Be warned that this stuff is SPICY (but OH so good!). If you aren't a spicy person, cut the smoked paprika to just 1-2 teaspoons. Or, substitute regular paprika.
Smoked paprika may not be a pantry staple. You can easily grab some online*.
Onion Powder
Pairs well with that garlic powder!
Dried Thyme & Rosemary
These savory spices help balance out all the other more powerful flavors in the seasoning blend. Rosemary and thyme go perfectly with most beef, lamb or other red meat dishes.
Ground Cumin
Adds just a touch of a different smoky flavor than the smoked paprika.
Brown Sugar (Optional)
I love to add 1-2 tablespoons of sugar to my steak seasoning. This touch of sweet is fantastic with the smoky flavors of paprika and cumin.
The amount of added sugar you add with this is minimal.
How to Use No Salt Steak Seasoning
Sprinkle this No Salt Steak Seasoning on steak before grilling or searing for a TON of flavor.
No Salt Steak Seasoning can be used for SO much more than steak! This smoky, slightly spicy seasoning is good on plenty of other foods.
Here are some of my favorite ways to use this No Salt Steak Seasoning:
Chicken
Pork chops
Salmon or catfish
Mushrooms! Add to mushrooms before you sauté or grill them. Add to a grilled portobello mushroom cap for a plant based burger replacement.
Roasted red potatoes.
So many other veggies! This seasoning is amazing on nearly all grilled veggies. My favorites are grilled onions, zucchini or yellow squash.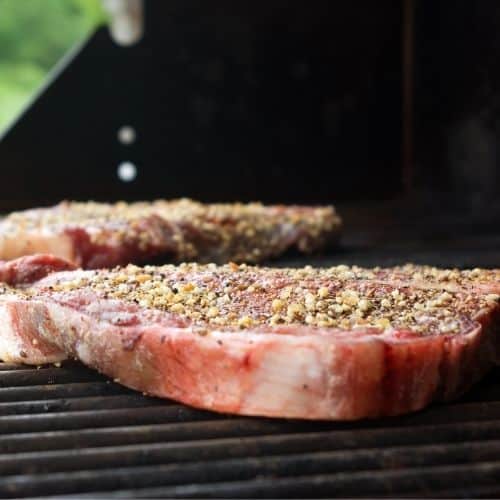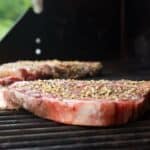 Print Recipe
No Salt Steak Seasoning
Flavorful, smoky no salt steak seasoning. All the flavor of steak seasoning, without ANY salt. For so much more than steak!
Servings:
84
1/4 teaspoon
Ingredients
2

tablespoons

black pepper

2

tablespoons

garlic powder

1

tablespoon

smoked paprika

1

tablespoon

onion powder

1

teaspoon

dried thyme

1

teaspoon

dried rosemary

1

teaspoon

ground cumin
Instructions
Combine all spices. Store in airtight container until ready to use.
Notes
Nutrition Facts (per 1/4 teaspoon): 2 calories, 0g fat, 0g saturated fat, 0mg cholesterol, 0g carbohydrate, 0g fiber, 0g added sugar, 0g protein, 0mg sodium, 2mg calcium, 8mg potassium, 2mg phosphorus, 2mg oxalate
My Favorite Commercial No Salt Steak Seasonings
Of course, you don't need to make your own No Salt Steak Seasoning. There are a few options available to buy pre-made! Although, making your own does tend to be cheaper, and is so easy!
Here are the most flavorful No Salt Steak Seasonings I could find. You can even order all of them online!
Happy Eating!
Melanie