Who doesn't love a bowl of steaming hot oatmeal for breakfast? It is good for the body AND soul! But, is oatmeal good for kidney stones?
Yes! Oatmeal is good for kidney stones. Read on to learn everything you need to know about oatmeal and why it is good for kidney stones.
Benefits of Oatmeal for Kidney Stones
It's not just oatmeal that is good for kidney stones. All whole grains are good foods to eat as a part of a balanced diet for kidney stones.
Yes, whole grains tend to be higher in oxalate. However, whole grains have lots of benefits for kidney stones too! Plus, not everyone with kidney stones needs to avoid high oxalate foods, especially whole grains.
Magnesium
Oatmeal is a good source of magnesium. One cup of cooked oatmeal has about 60mg of magnesium.
Dietary patterns high in magnesium diet may help prevent oxalate kidney stones. (1) And, low magnesium levels have been tied to higher risk of stones. (2) Magnesium binds to oxalate in the intestine, which reduces oxalate absorption and the risk of calcium oxalate kidney stones.
Other foods high in magnesium include nuts, seeds, green leafy vegetables and other whole grains.
Phytate (aka Phytic Acid)
Oatmeal is also a great source of phytate. Although phytate is usually seen as an "anti-nutrient" and something to be avoided, phytate can be good for kidney stones!
Phytate can bind with calcium, which makes that calcium less likely to form a kidney stone. We know that people who eat more phytate are less likely to have kidney stones. (3) (4)
Plus, phytate is found in lots of very healthy foods like oatmeal and other whole grains, nuts, seeds and legumes.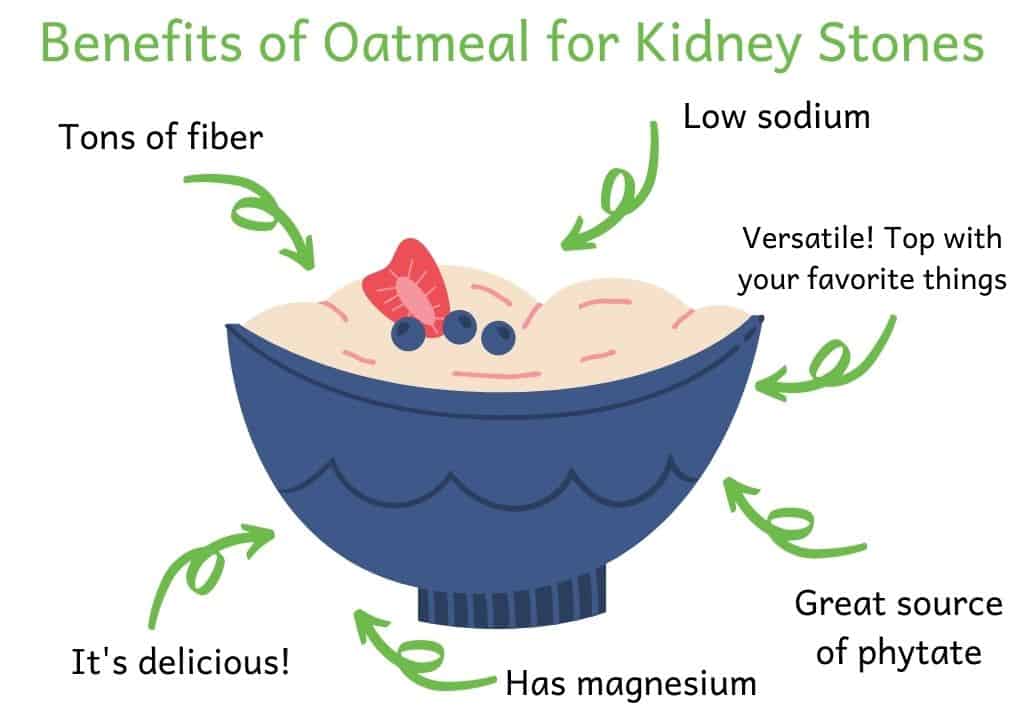 Fiber
Oatmeal and other whole grains are an important source of fiber. Fiber helps fight off constipation and keep our gut healthy!
A high fiber diet is also good for your heart. This is especially important for people with kidney stones because they have a higher risk of heart disease. (5)
Eating a lot of fiber has also been linked to a lower risk and better control of diabetes, cancer, stroke and some intestinal diseases. (6)
Oxalate, Kidney Stones & Oatmeal
Unfortunately, advice to follow a low oxalate diet is often the only advice for kidney stones. A low oxalate diet will NOT help prevent kidney stones for everyone.
A low oxalate diet only matters if you have high urine oxalate on a 24-hour urine test. Many people with calcium oxalate stones do not! If you haven't had this test, ask your doctor for one ASAP to know what will help your kidney stones. Here are some talking points to help you ask your doctor for this test!
A strict low oxalate diet is not healthy, even for people with high urine oxalate. A strict low oxalate diet will limit other healthy things for calcium oxalate kidney stones like citrate, magnesium and phytate. (7) Ask your Registered Dietitian what is right for you!
P.S – Oatmeal is a low oxalate food anyway!
Oatmeal Serving Suggestions
Make Oatmeal with Milk!
Eating enough calcium is key to calcium oxalate kidney stone prevention. Oatmeal made with milk is a great way to sneak in some extra calcium!
Top with Fresh Fruit
People who eat more fruit (and vegetables!) are less likely to have kidney stones. Add some fruit to your oatmeal to add some more fruit to your day!
Fruit is also a great way to add some sweetness to oatmeal without a ton of added sugar. Too much added sugar (especially from drinks!) can cause kidney stones. (8)
Here are my favorite fruits to add to oatmeal:
Fresh berries (especially blueberries!)
Bananas
Peaches
Pears
Cherries
Go Nuts!
Yes, nuts are traditionally a "bad food" for kidney stones. They are touted as "dangerous" because they tend to be higher in oxalate. However, nuts are also a great source of magnesium, phytate and plant protein!
Oatmeal by itself isn't a very filling breakfast. Add some nuts for extra fiber, protein and heart healthy fat to keep you going until lunchtime!
If you do have high urine oxalate, not all nuts and seeds are high in oxalate. Some of my favorite lower oxalate nuts and seeds are:
Pistachios
Pecans
Walnuts
Macadamia Nuts
Pumpkin Seeds
Flax Seeds
Try Overnight Oats
Experimenting with overnight oatmeal is a great way to add transform oats into a completely different dish!
Simply mix about a 1/2 cup dry oats with a 1/2 cup of milk. You can adjust these ratios depending on what consistency you like! Mix in your favorite fruit, nuts, and maybe even some chocolate chips! Let it sit in the fridge overnight and you have a tasty breakfast ready for you in the morning!
Make it Savory!
Oatmeal isn't just for breakfast anymore. Topping oatmeal with savory ingredients like eggs, cheese and veggies is actually quite trendy!
Check out this Savory Oatmeal with Cheddar & Fried Egg. Yum!
More Breakfast Ideas for Kidney Stones
Of course, oatmeal every day for breakfast gets terribly boring. Variety is the spice of life!
Here are some other breakfast ideas for kidney stones to mix it up:
Egg scramble with onions and peppers
Overnight oats
Low sodium pancakes topped with your favorite fruit
Avocado toast
Yogurt with fruit & granola
Happy Eating!
Melanie