What is better than a filling fall-inspired butternut squash salad!? This delicious butternut squash and goats cheese salad is one of my all time favorite meals in the fall. The sweet roasted butternut squash, crunchy pecans and creamy goats cheese covered in a sweet maple vinaigrette makes the salad irresistable!
How to Serve Butternut Squash and Goats Cheese Salad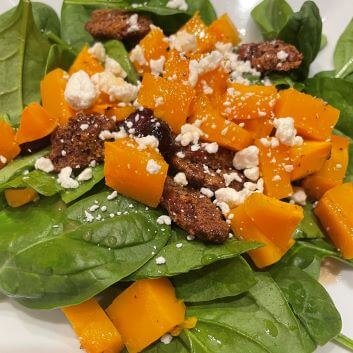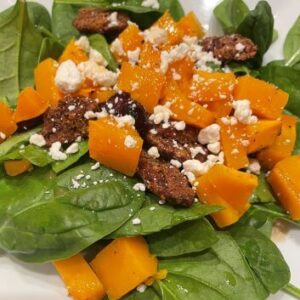 This salad makes a wonderful meal all by itself! The salad has all components of a healthy meal including veggies (spinach!), carbohydrate (butternut squash) and some protein (pecans and goats cheese). If you are enjoying this salad as a main dish, I would double the portion size!
The salad is also a wonderful side dish to elevate any dinner. Serve as an accompaniment to your favorite meal!
This salad is also perfect to impress your friends – without putting in much effort! I brought this salad to a dinner party – everyone thought I was quite fancy!
Goats Cheese
It is hard to tell what the star of this salad is: the toasty pecans, sweet butternut squash, zesty and sweet maple vinaigrette or the goats cheese. Personally, I think the goats cheese really makes it.
Goats cheese is wonderful way to make a basic salad feel very fancy. Goats cheese is also a great source of calcium and tends to be much lower in salt compared to other cheese.
Candied Pecans
For an extra treat, substitute the roasted pecans with some candied nuts! This will add a little sugar and a few calories to the dish, but the portion size makes this treat fit easily in a healthy diet! You can buy pecans that are already candied, or make your own!
You can absolutely swap out the pecans for your favorite nut if you prefer.
Butternuts Squash and Goats Cheese Salad for Kidney Stones
Do you have a history of calcium oxalate kidney stones and need to watch how much oxalate you eat? Hint: not everyone does! With a few modifications, this salad can be a great low oxalate option for a healthy diet for calcium kidney stones!
Nearly 100% of the oxalate in this recipe comes from the spinach, which is notoriously high in oxalate. Swap out the spinach for romaine lettuce to lower the oxalate to only 10mg per serving.
Nuts are also notoriously high in oxalate. However, pecans are a much lower oxalate choice! The portion size of pecans in this salad make it a healthy option for people who need to limit oxalate.
Happy Eating!
Melanie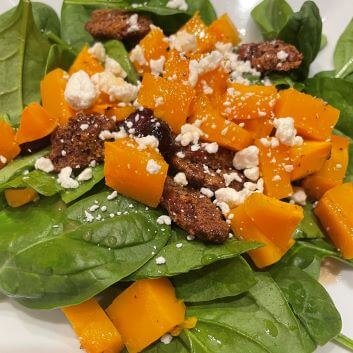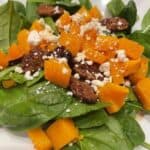 Print Recipe
Butternut Squash and Goats Cheese Salad
Sweet, crunchy and creamy salad full of spinach, goats cheese and sweet pecans!
Ingredients
1

cup

roasted butternut squash

cubed

4

cups

spinach

loosely packed (or, romaine lettuce)

1/4

cup

dried cranberries

1/3

cup

goat cheese

crumbled

1/4

cup

roasted pecans

roughly chopped

1

tbsp

maple syrup

1

tbsp

olive oil

2

tbsp

red wine vinegar

1

tsp

Dijon mustard
Instructions
Roasted Butternut Squash
To roast the squash, peel and cut the squash into 1/2-inch cubes. Toss with a little olive oil on baking sheet. Roast at 450'F for about 20 minutes, until just tender.
Make the Salad
In a large bowl, combine roasted squash, spinach, cranberries, cheese and pecans. Whisk together syrup, olive oil, vinegar and mustard to make dressing. Toss dressing with salad. Enjoy!
Notes
Nutrition Facts (per 1 1/2 cup serving): 203 calories, 13g fat, 3.5g saturated fat, 9mg cholesterol, 105mg sodium, 19g carbohydrate, 3.5g fiber, 10g added sugar, 4.5g protein, 97mg calcium, 380mg potassium, 94mg phosphorus, 350mg oxalate
**Substitute romaine lettuce for spinach to lower oxalate to 10mg and potassium to 329mg