Smoothies can be a wonderful way to sneak in a few extra servings of fruits and veggies. But, if you aren't careful, smoothies can be dangerously high in oxalate. This is a problem for people who have calcium oxalate stones, AND have high urine oxalate levels (not everyone who has calcium oxalate stones does!).
Read on for a low oxalate smoothie recipe. Plus, my tips to create your own low oxalate smoothie!
*Please note that this post contains clearly identified affiliate links. If you click on these links and choose to make a purchase, I may receive a commission (at no cost to you). As an Amazon Associate I earn from qualifying purchases.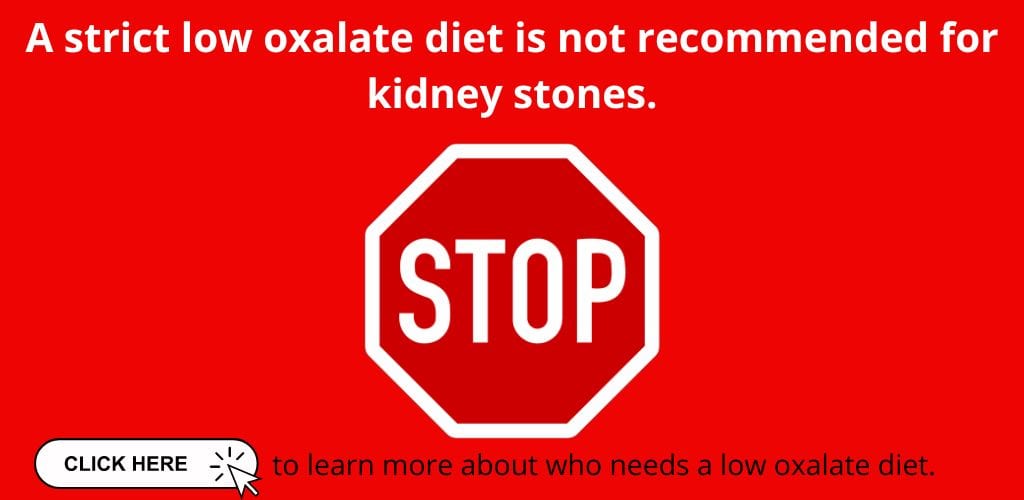 Are Low Oxalate Smoothies Good for Kidney Stones?
They can be! If done right, smoothies can be a very healthy meal or snack or people with kidney stones.
Here are the aspects of smoothies that are good for kidney stones!
Lots of Fruit
Fruit (and vegetables!) are ALL really good sources of citrate. Citrate is a powerful inhibitor of nearly all types of kidney stones. Smoothies are packed this this kidney stone prevention powerhouse!
Dairy
Counterintuitively, calcium is incredibly important for people with calcium kidney stones. Calcium can reduce how much oxalate is absorbed from the food you eat.
Plus, people with calcium kidney stones are at much higher risk of osteoporosis and weak bones. Calcium is important to keep your bones strong!
Fluid
Fluid is important for any type of kidney stone. Of course, most of your fluid should be water. But, all fluids count! Milk or other liquids in your smoothie can count towards your daily fluid goal.
Low Oxalate Ingredients (Optional)
Oxalate is not an issue for everyone with kidney stones.
IF you have high urine oxalate levels on a 24-hour urine test, using low oxalate ingredients for your smoothie is a good idea. This recipe is formulated for people who do have high urine oxalate.
Red Flags for Smoothies & Kidney Stones
If you aren't careful, smoothies can get people with kidney stones in trouble. Here are the most common mistakes I see people make. These smoothie additions could make some types of kidney stones worse.
Protein Powders
Too much protein can make calcium oxalate and uric acid kidney stones worse. Despite what the guy at your gym and the food industry want you to think, most of us are eating much more protein than we need.
Smoothies are a common a vehicle for protein powder. For most people, protein powder just adds extra, unnecessary protein to your day. This extra protein can increase urine acid, urine calcium and even urine oxalate. I recommend most people with kidney stones avoid protein powder.
However, protein powder can be helpful for some people. If you are malnourished, or have higher protein needs due to a medical condition, protein powder can be beneficial. Ask your dietitian how much protein is right for you.
A Lot of Very High Oxalate Ingredients
Although not everyone needs a low oxalate diet, smoothies are the perfect storm for incredibly high amounts of some very high oxalate foods.
Some of the more common very high oxalate ingredients I see used in smoothies are:
Nut butters, especially almond butter
Spinach
Swiss Chard
Beets
Almond milk
Soy milk
Green and "superfood" powders
If you have calcium oxalate kidney stones, it is best to avoid these very high oxalate ingredients in your smoothie.
What If I Have Diabetes?
Never fear! You can still have smoothies, even if you have diabetes.
People with diabetes should NEVER completely avoid carbohydrate. Instead, the goal for diabetes is to eat carbohydrate in healthy portions, many times throughout the day.
It all comes down to portion size. Many smoothie ingredients, like yogurt, milk and fruit have carbohydrate. If you aren't careful, smoothies can easily pack quite a bit of carbohydrate!
If you have diabetes, make sure you eat the right amount of carbohydrate at once. Your dietitian can help you learn how much carbohydrate is right for you.
Also, this smoothie is packed with 6 grams of fiber! Having fiber (and protein!) with carbohydrate can help stabilize blood sugar.
How To Make a Low Oxalate Smoothie
Gather Your Low Oxalate Smoothie Ingredients
Here are all the ingredients in this low oxalate smoothie.
Banana
I love bananas in smoothies. They give an unbeatable creaminess and delicious flavor.
Frozen Fruit
I went with frozen cherries for this low oxalate smoothie. But, you can use any low oxalate fruit you love!
Frozen fruit is perfect for smoothies because it adds some texture. Plus, it tends to be cheaper than fresh fruit and doesn't go bad in your refrigerator! Just double check that the fruit you buy doesn't have added sugar. Most doesn't!
Fresh or canned fruit works perfectly well too! Look for canned fruit in juice or light syrup to keep added sugar down.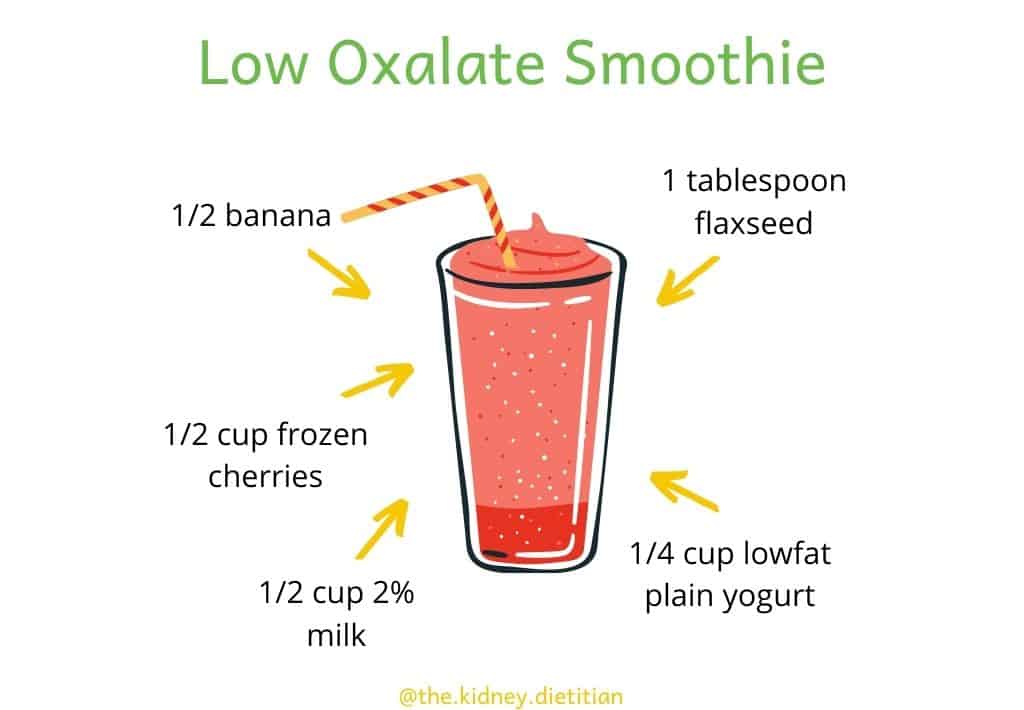 Milk & Yogurt
These ingredients give our low oxalate smoothie some protein and a ton of calcium. All this calcium is a huge bonus for people with calcium oxalate kidney stones!
Flaxseed
Flaxseed gives some extra body and texture to our smoothie. Even better, flaxseed gives our smoothie a huge boost of fiber!
Don't worry, flaxseed is a low oxalate seed.
Get the Right Smoothie Making Equipment
Of course, you can't make a tasty, smooth smoothie without the proper tools. Unfortunately, most stand or stick blenders just won't do the trick. Especially if you use frozen fruit (or ice!).
I'm obsessed with my NutriBullet Pro*! I especially love that you can make your smoothie in the same cup that you drink it in. Who doesn't love cutting down on dishes? Plus, the NutriBullet Pro* doesn't take up much space on my counter.
Make Your Own Low Oxalate Smoothie!
The options for low oxalate smoothies are endless. This recipe is one of my favorite combinations, but I highly encourage you to experiment with your own favorite ingredients!
Step 1: Choose Your Liquid
Plain old cow's milk is an ideal calcium source for people with calcium oxalate kidney stones. But, if you prefer, here are some other great options to add liquid to your smoothie:
Coconut milk
Rice milk
Hemp milk
Oat milk
Water will work too!
If you have high urine oxalate on a 24-hour urine test, be mindful of the oxalate in some plant based milks.
I would also advise against fruit juice. Fruit juice adds extra sugar, without more fiber. Plus, your smoothie liquid is a chance to get in that very important calcium!
Step 2: Mix It Up with Low Oxalate Fruits
I love cherries! But, there are tons of other wonderful low oxalate fruits to use. Here are some of my other favorites:
Blueberries
Strawberries
Pineapple
Mango
Melon
Grapes
Banana
Apples or unsweetened applesauce
Plums
Peaches
Pears
Step 3: Consider Low Oxalate Nuts & Seeds
Nuts and seeds add a little protein, tons of fiber and heart healthy fat to your smoothie. Nuts and seeds are often ostracized on a low oxalate diet, but there are plenty of low oxalate nuts & seeds to choose from!
Step 4: Add Low Oxalate Veggies (optional)
I personally don't love vegetables in my smoothie. I prefer to get my veggies in at other meals. But if you love veggies in your smoothie, you can absolutely add them!
Here are some great low oxalate options:
Kale
Carrots
Celery
Avocado
Cauliflower
Peas
Cucumber
Remember, if you don't have high urine oxalate, ANY vegetable (even the high oxalate ones!) are great additions for your smoothie.
Can you Make a Low Oxalate Green Smoothie?
Of course! You just need to use lower oxalate green ingredients to make a low oxalate green smoothie. Many "go-to" green smoothie ingredients, like spinach, are very high in oxalate
Check out this post about low oxalate greens to get some ideas!
Happy Eating!
Melanie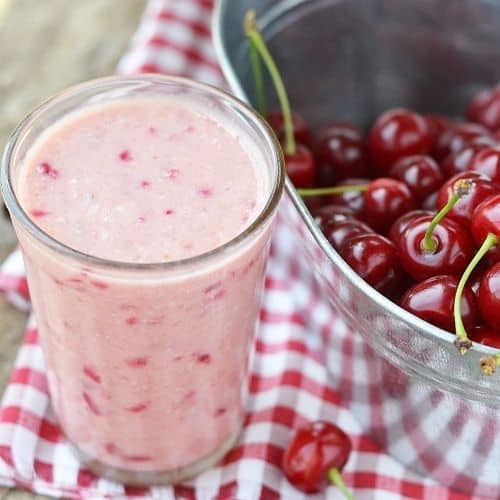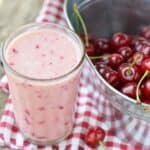 Print Recipe
Low Oxalate Smoothie
Quick and easy low oxalate smoothie packed with fiber and oxalate lowering calcium!
Ingredients
1/2

banana

1/2

cup

frozen cherries

(or other low oxalate fruit)

1

tablespoon

flaxseed

1/2

cup

2% milk

(or plain kefir)

1/4

cup

lowfat plain yogurt
Instructions
Combine all ingredients in a blender.
Notes
Nutrition Facts (per 1 serving): 256 calories, 39g carbohydrate, 6g fiber, 0g added sugar, 8g fat, 3g saturated fat, 13mg cholesterol, 11g protein, 104mg sodium, 298mg calcium, 782mg potassium, 297mg phosphorus, 7mg oxalate